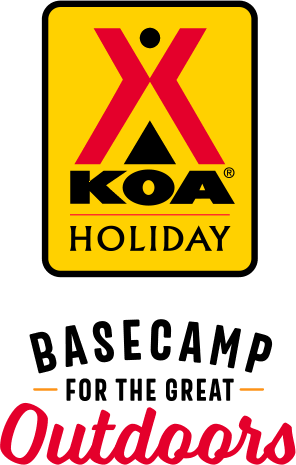 KOA Holiday Campgrounds
Whether you're exploring the local area or hanging out at the campground, KOA Holidays are an ideal place to relax and play. There's plenty to do, with amenities and services to make your stay memorable. Plus, you'll enjoy the outdoor experience with upgraded RV Sites with KOA Patio® and Deluxe Cabins with full baths for camping in comfort. Bring your family, bring your friends, or bring the whole group – there's plenty of ways to stay and explore.
KOA Holidays Feature:
RV Sites with a KOA Patio®
Deluxe Cabins with full baths
Premium Tent Sites
Group meeting facilities
Directions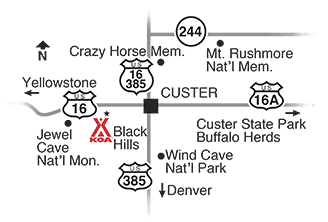 3 miles west of Custer, on Hwy 16, on the way to Jewel Cave and Newcastle, WY.
GPS reliability is inconsistent across brands and types, and some campers have been misdirected when entering only our address.
GPS Coordinates:
Latitude: N 43.74143
Longitude: W 103.65418
Call us when you get close, and we'll bring you home!
Get Google Directions
Oct 10, 2022
Very clean and conveniently located campground in the heart of Custer.
Oct 04, 2022
The bathrooms connected to the main building were not up to any KOA Holiday standard. They were filthy.
Oct 04, 2022
It was a good campground close to the many popular attractions in the area but not so close to them that we were overwhelmed with the tourist crowds, traffic and noise. Very nice patio sites and a laundry room where all washers and dryers actually worked! Good customer service and very well maintained.
Oct 03, 2022
We thoroughly enjoyed our stay at Custer KOA. We were there for 15 days, and each day was great. We had site #200 which was very spacious with a large concrete pad, 2 water taps, electric and sewer. It was easy in/ easy out. Our hosts were very kind and helpful. The guests at the campground were all very pleasant. Quiet time begins at 10 pm and no one abused this regulation. We will return soon.
Oct 03, 2022
Cabin was clean and comfortable how ever with my heart condition the steps were hard on me. The cost was expensive so with the steps and cost we probably will not return.
Oct 03, 2022
Super well maintained and helpful staff. Campground built on hill so sites not totally level but not a big issue. Distance from attractions very good and town of Custer has restaurants, etc. nice stay!
Oct 03, 2022
The staff were wonderful and the facility is centrally located. My only complaint was the cabin door had a large gap on the bottom so bugs and critters could get in. I told the owners son about it but nothing was done. We put a case of water in front of it to keep the critters out. Barbara and Rose were amazing!
Oct 03, 2022
Everything was great! Cabin was clean, bathroom was clean and staff was friendly
Oct 02, 2022
What a great KOA and location. Mt Rushmore, Hill city 1880 train, Crazy Horse, Jewel Cave, Custer State Park and much more. We spent 6 nights and still did not see everything in the area. Great bike trails also. We have plans to return in the future.
Oct 02, 2022
We appreciated the clean cabin and restrooms, and also the small details like enough hooks for jackets and towels, and even a fly swatter!
Oct 01, 2022
Great place to stay. Very friendly and helpful staff. We enjoyed out week there very much.
Sep 30, 2022
Great place to stay. Staff are very friendly and helpful.
Sep 30, 2022
thank you for security lighting and separate secured bathrooms for men and women also thank you for cleaning with products that don't have an overwhelming smell thank you for being set back as far as possible from the road Thank you for being friendly and helpful
Sep 29, 2022
The team was SO nice and the property was spotless! Rose is just the kindest person you would ever meet. I'm so glad we had the chance to stay here!!!
Sep 28, 2022
Great campground, loves everything
Sep 27, 2022
As usual a few things the campgrounds are awesome located great however KOA'S ARE TO EXPENSIVE.
Sep 26, 2022
Loved the manicured grass area for our doggie!
Sep 25, 2022
Friendly staff, clean bathrooms close to Badlands sightseeing
Sep 24, 2022
Very well kept, enjoyed our stay
Sep 23, 2022
Very clean, friendly/helpful staff, perfect location to explore SW South Dakota!
Sep 23, 2022
Very friendly staff, clean bathrooms and grounds. Very nice campground. I do have 2 recommendations. The cabins need one more outlet by the night stand and a small lamp and the beds are very uncomfortable so I highly recommend thicker mattresses.
Sep 22, 2022
We arrived late night which the staff accommodated. The only issue I had was arriving late made it very hard to find our spot to camp. The map was great but the site marker itself was hard to find. I also didnt know where I was supposed to park. I suggest putting the marker closer to the road because I had to get out and search for it with a flashlight. Other than that everything else was amazing.
Sep 20, 2022
Excellent site and great staff!
Sep 20, 2022
Location was awesome �ϸ best Central location to everything! A must stay!! Staff was wonderful!
Sep 20, 2022
The campground and our site was clean. We used the laundry and showers they were both well maintained. We look forward to returning in the spring when we resume our jobs in Yellowstone NP.
Sep 20, 2022
Spent a pleasant 3-day stay with you. Facilities were clean which is always appreciated!
Sep 19, 2022
Didn't like the campsite. Good location for sightseeing.
Sep 19, 2022
Excellent facility, great staff - good food. Beautiful location.
Sep 19, 2022
Beautiful camping area.
Sep 18, 2022
Friendly and helpful staff! Clean showers and restrooms. Staff provided recommendations for car rental, which allowed us to rent a keep and tour the area. Good food too at the cafe.
Sep 18, 2022
Great setting and staff.
Sep 18, 2022
The new owners (this year) were warm and welcoming,and made us feel right at home. Will be back!
Sep 18, 2022
Friendly Staff, clean facilities, great location.
Sep 28, 2022
Great place to camp!
- michael davis on Google
Sep 17, 2022
Very nice campgrounds! All the employees were nice and friendly, the bathroom and showers also very clean. Also it was just a few minutes from all the attractions and town. We found it very hard to leave here after 5 nights it felt like home!
- GARY COUCH on Google
Sep 08, 2022
By far the favorite KOA of our Summer Vacation. Easy access, clean, friendly, large sites. Close to all the major national parks.
- TerryAnn Qualls on Google