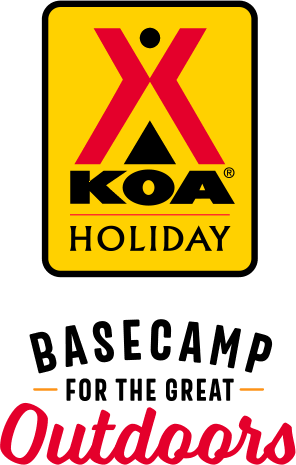 KOA Holiday Campgrounds
Whether you're exploring the local area or hanging out at the campground, KOA Holidays are an ideal place to relax and play. There's plenty to do, with amenities and services to make your stay memorable. Plus, you'll enjoy the outdoor experience with upgraded RV Sites with KOA Patio® and Deluxe Cabins with full baths for camping in comfort. Bring your family, bring your friends, or bring the whole group – there's plenty of ways to stay and explore.
KOA Holidays Feature:
RV Sites with a KOA Patio®
Deluxe Cabins with full baths
Premium Tent Sites
Group meeting facilities
Directions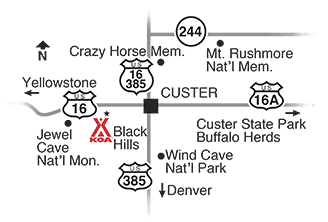 3 miles west of Custer on Hwy 16 on the way to Jewel Cave and Newcastle, WY.
GPS reliability is inconsistent across brands and types and some campers have been misdirected when entering only our address.
GPS Coordinates:
Latitude: N 43.74143
Longitude: W 103.65418
Call us when you get close and we'll bring you home!
Get Google Directions
Oct 18, 2021
Stayed here for 5 nights while seeing the sights in & around the Black Hills of South Dakota. Excellent park. Very clean. Staff very friendly & helpful.
Oct 18, 2021
Cabin was dirty and the lady in the office was very rude and offensive. I would never recommend this place or stay there ever again!
Oct 14, 2021
Great people! Bathroom updated and clean! Free coffee. Sites could be leveled out more.
Oct 09, 2021
A very good place for a family who has dogs �ϋ�
Oct 06, 2021
The staff were very kind and helpful. Very clean facilities!
Oct 05, 2021
nice park, nice sites, friendly helpfull staff.
Oct 04, 2021
Love the area!!
Oct 04, 2021
Very accommodating and ready to assist .
Oct 04, 2021
Very clean restrooms and shower facility.
Oct 04, 2021
Friendly staff - nice property
Oct 04, 2021
Excellent back in site #46 Very private with view.
Oct 04, 2021
This was a great campground, wasn't overly large. The staff were very friendly. The jumping bean and the park is a blast for the kids. Will definitely be staying here again!
Oct 04, 2021
What a perfect spot to stay. It was close to everything we wanted to see, and it was lovely. As a bonus, we had absolutely wonderful neighbors! The staff who welcomed us were fabulous.
Oct 03, 2021
Everything was neat and clean. Friendly staff. Beautiful campground and close to town. Only thing was a problem with one of the washing machines which did not work.
Oct 03, 2021
Very friendly staff and very nice grounds.
Oct 03, 2021
Great site. Bathrooms were very clean and spacious. Staff were very courteous and friendly. Thanks for a great stay.
Oct 02, 2021
This was our favorite KOA of the 10 we stayed at while exploring out West! Super friendly, helpful staff - beautifully kept grounds. This campground is so convenient to all the major attractions in the area. Of course, our 2 Australian shepherds ALWAYS appreciate the K9 enclosure KOAs offer! Thank you! We'll be back!
Oct 02, 2021
Great service and beautiful campground!
Oct 02, 2021
While we were there our camp spot was used mainly for sleeping as we were out seeing Mt Rushmore, Crazy Horse, Custer State Park and all the BUFFALO'S, Sturgis, Spearfish Canyon, Wind Cave, Badlands National Park, Mammoth Cave in Hot Springs. Our camp spot was clean and the people friendly and helpful. We would come back here again.
Oct 02, 2021
The campground was very nicely lade out. Showers, bathrooms and laundry room were very clean and well maintained. The staff were very friendly, cordial, and helpful. I will definitely be staying there again next season!!!
Oct 01, 2021
No cable access. Very friendly staff. Some were not well informed about local activities such as the buffalo round-up. Gave incorrect information to us by a SD resident who works there.
Oct 01, 2021
Friendly staff. Golf cart escort to campsite. Super clean restrooms. Pasture with deer. Easy drive to Rushmore and Crazy Horse. Nice picnic tables.
Sep 30, 2021
Had very low voltage issues the whole time. We notified the office and my husband evan offered to check there panel as he is a electrician but they said they were old have it checked. The whole 5 nights we were there it was between 106 to 112. Thankfully we never needed our ac as that would have burned it up. We just opened our windows and uses fans.
Sep 30, 2021
Great park, very accommodating
Sep 30, 2021
Great location! It is close to Rushmore, Crazy Horse, and Custer State Park! Sites were clean and the staff was friendly!
Sep 30, 2021
Everyone was extremely curtes and helpful the cabin was super. We did have some trouble with heat they were willing too finish a heater, we had one we had brought with us.
Sep 30, 2021
Decent campground. Nice staff.
Sep 29, 2021
Great back-in spot that backs up to the woods. Nice clean showers and restrooms. Great central location to shops, restaurants and Custer State Park. Highly recommend!
Sep 29, 2021
It was amazing!! Help was available for late check in and the directions for early check out were very easy to follow. The bathrooms were spotless and the other visitors very respectful and friendly!! Will absolutely be back :)
Sep 29, 2021
Super friendly staffed and joyed visiting with them very nice cabin clean bathrooms clean and smelled really nice
Sep 28, 2021
12days and met lots of other friendly people as well as the hosts and workers. Helpful in giving info and answers to our questions
Sep 28, 2021
Easy check-in. Site was extremely small - hard to fit vehicle and camper in spot and had very little room outside to enjoy. Also had a large pine branch that hung directly over camper and side branches did not allow for us to put our awning out.
Sep 28, 2021
The bath house was cold lol
Sep 27, 2021
Likes the campground and the staff were very friendly and helpful. However, we had extremely low water pressure.
Sep 27, 2021
As always this KOA is very clean. Bathroom/showers clean. The KOA staff was friendly and always ready to help when needed. Thank you
Sep 27, 2021
Another excellent stay - thanks for the great accommodations!
Sep 26, 2021
Staff was very pleasant and helpful. The restrooms were very clean all week. The park was quiet and pleasant.
Sep 26, 2021
They were great and super helpful. Unfortunately we had to cut our stay short by several day due to an illness. They could not have been more helpful and understanding. Will definitely be back.
Sep 28, 2021
Amazing experience here. When we arrived we realized our travel trailer tire was nearly flat and the folks working at the campground went way out of their way to help us block up our trailer extra while we waited for a tire change. They had all the amenities anyone would need, sites were large, campground was quiet, nice amount of tree coverage. Will definitely return!
- Jennifer Johnson-Blanchard on Google
Sep 25, 2021
Friendly staff,convenient location, peaceful. Stayed 12 nights .Would stay again.
- Philip Jens on Google
Sep 22, 2021
We were so lucky to have found this place. After seeing a ton of other campgrounds while we were here this is the place. You don't feel like your in a parking lot. This places gives you plenty of space and your surrounded by tall trees. The bathrooms and showers are very clean. Staff is also amazing.
- Lindsays A Happy Camper on Google