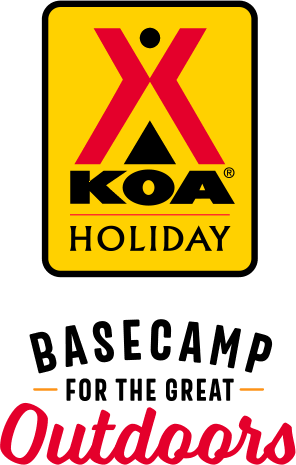 KOA Holiday Campgrounds
Whether you're exploring the local area or hanging out at the campground, KOA Holidays are an ideal place to relax and play. There's plenty to do, with amenities and services to make your stay memorable. Plus, you'll enjoy the outdoor experience with upgraded RV Sites with KOA Patio® and Deluxe Cabins with full baths for camping in comfort. Bring your family, bring your friends, or bring the whole group – there's plenty of ways to stay and explore.
KOA Holidays Feature:
RV Sites with a KOA Patio®
Deluxe Cabins with full baths
Premium Tent Sites
Group meeting facilities
Directions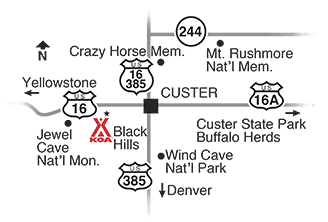 3 miles west of Custer on Hwy 16 on the way to Jewel Cave and Newcastle, WY.
GPS reliability is inconsistent across brands and types and some campers have been misdirected when entering only our address.
GPS Coordinates:
Latitude: N 43.74143
Longitude: W 103.65418
Call us when you get close and we'll bring you home!
Get Google Directions
Oct 08, 2020
Well located in relation to the state park making it easily accessible to come and go to the park. We planned to stay for five nights and had to extend due to an unexpected illness on the part of our son-in-law and his hospitalization. You made it easy on us to do so. Thank you. The showers and laundry were always very clean and appreciated.
Oct 06, 2020
Wi-Fi didn't work at all, front desk was not helpful.
Oct 05, 2020
love the stay great host
Oct 05, 2020
Good stay. Clean facility. I was in a tent so road noise was evident.
Oct 01, 2020
Clean, friendly and great location to everywhere! The staff here is absolutely wonderful! The showers were extremely clean and the staff could not be more helpful. We will absolutely be back.
Oct 01, 2020
Stay was awesome! Beautiful site. Very friendly and helpful staff.
Oct 01, 2020
Very convenient to the Custer State Park wildlife loop, and, quiet too!
Sep 30, 2020
Very Friendly Staff!! There were some beautiful campground spots there, we just weren't fortunate enough to get one. The space we were in was very narrow with little room to do anything. We ate dinner at the provided picnic table within feet of the next spots' sewer and the high voltage power outlet. We had toddler. Hookups worked well, Bathrooms were very clean and showers were wonderful.
Sep 29, 2020
It's always a pleasure to stay here!
Sep 29, 2020
Loved your deluxe cabin. Very lovely KOA! Thanks too for all the info that was given prior to our stay.
Sep 29, 2020
Very friendly staff, clean facility, near attractions.
Sep 29, 2020
Very friendly staff. Nice gentleman led us to our site. We expressed a satellite friendly site as a requirement and would have stayed longer but could not pick up a signal due to trees. Our Site 91 was at the bathhouse so people were walking close to coach. Not necessarily big rig friendly.
Sep 28, 2020
Friendly and helpful staff. Very nice setting for a campground. Lots of trees and nice amenities for dogs and kids.
Sep 27, 2020
The camp area was clean, quite, the rest rooms very nice and clean. Personal very help and kind. Great location easy to get in and out. Everything was great.
Sep 27, 2020
Met some very nice folks, quiet,beautiful trees ,roomy spaces. great hosts. Location for visiting the entire area is wonderful Thank You.
Sep 27, 2020
Very clean and bathroom and showers were very clean too.
Sep 27, 2020
We didn't use any of their amenities because of the Covid, we were self contained. But the site was very nice.
Sep 26, 2020
I try to stay at Custer KOA any time I go to the Black Hills. Had to stay at another camp ground last year and was very disappointed. Staffs friendly there deer on the grounds. Only thing is it's an older camp ground and the spaces aren't very wide.
Sep 26, 2020
Staff excellent n friendly. Grounds are very clean. Laundry room was immaculate. Would stay here again
Sep 25, 2020
Location location location , great location for seeing it all. Was made to feel right at home by the staff. Call out to Dan & Debbie for taking us under their wings. Easy in and easy out, site 88 was long. Our left side of camper wheels on our 5th wheel were raised. Clean laundry room and bathhouse. The campground it's self needs a little love.
Sep 25, 2020
Very helpful and friendly
Sep 25, 2020
Nice campground with wide campsites.
Sep 25, 2020
Great accommodations and friendly staff! Would be back. Jump pad for the kiddos actually was up and running! Thanks for the great stay
Sep 24, 2020
very good about changing our stay because of weather.
Sep 24, 2020
Staff were friendly, bathrooms were always clean . Wifi was lame at best.
Sep 24, 2020
Very clean park very helpful staff
Sep 24, 2020
We loved our stay. Nice and quiet, bathrooms were clean, the staff was friendly and helpful. Definitely would stay here again!
Sep 24, 2020
We liked the location, close to restaurants and shopping. Our granddaughter enjoyed the bouncy pad. Restrooms were very clean. Staff was friendly and helpful. Best KOA experience so far.
Sep 24, 2020
Friendly Staff very helpful very clean park
Sep 22, 2020
The state was great, however I called ahead to ask about a grill/fire pit and was told that the pitch wouldn't have one so I went out and bought one. Turns out the pitch did have a grill/fire pit, I feel the staff member could've asked my name and done a bit more research, that's my only criticism other than that we had a wonderful time and thank you!
Sep 22, 2020
Nice and very clean!!!
Sep 21, 2020
We enjoyed our time. Service was great. Someday we will come back:) thank you
Sep 21, 2020
Excellent stay it always is. we have been going there for over 45 years Jim & Deb are such good people.
Sep 20, 2020
Nice location
Sep 20, 2020
Wish we could have stayed longer. Beautiful location and awesome cabin!!
Sep 20, 2020
Cabin was awesome. It was clean and quiet. The staff was always friendly and helpful. Would defiantly stay there again.
Sep 20, 2020
Nice slots, very good bathroom facilities. Night lights on the entry sign later in the evening would help.
Sep 19, 2020
Space was narrow, no grass, minimal shade. Staff were good. Laundry good
Sep 19, 2020
Clean. Big sites. Pull throughs!
Oct 01, 2020
Very nice & clean KOA & peaceful. We lived it there.
- Linda Luff on Google
Sep 18, 2020
Awesome!
- Brad Taft on Google