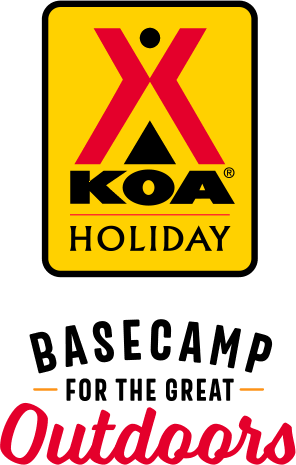 KOA Holiday Campgrounds
Whether you're exploring the local area or hanging out at the campground, KOA Holidays are an ideal place to relax and play. There's plenty to do, with amenities and services to make your stay memorable. Plus, you'll enjoy the outdoor experience with upgraded RV Sites with KOA Patio® and Deluxe Cabins with full baths for camping in comfort. Bring your family, bring your friends, or bring the whole group – there's plenty of ways to stay and explore.
KOA Holidays Feature:
RV Sites with a KOA Patio®
Deluxe Cabins with full baths
Premium Tent Sites
Group meeting facilities
Directions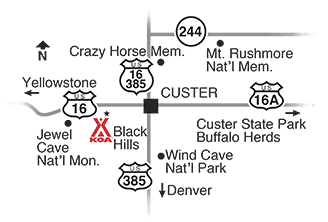 3 miles west of Custer on Hwy 16 on the way to Jewel Cave and Newcastle, WY.
GPS reliability is inconsistent across brands and types and some campers have been misdirected when entering only our address.
GPS Coordinates:
Latitude: N 43.74143
Longitude: W 103.65418
Call us when you get close and we'll bring you home!
Get Google Directions
Sep 13, 2021
Quiet and lotta space for tent campers. Great staff well-stocked store. The women's bathroom and showers were recently remodeled 5 Stars.
Sep 13, 2021
Very clean facility, great staff-could tell they enjoyed what they do, very friendly and helpful!
Sep 12, 2021
I had a lovely stay! The customer staff was amazing!
Sep 12, 2021
We camped in a beautiful spot with clean facilities and friendly staff.
Sep 09, 2021
Clean showers, nice campsite. VERY nice staff!!
Sep 04, 2021
Staff was extremely friendly and went above and beyond to accommodate our sleeping needs. Will definitely be back.
Aug 31, 2021
Great location.
Aug 29, 2021
Very clean. Nice facility. More space between campsites than other KOAs I have been to. Very nice staff.
Aug 29, 2021
The staff was really nice. We really enjoyed the campground. The bathrooms were clean and very nice.
Aug 22, 2021
It was great. The KOA was a perfect family camp site for our adventures on SD. If only we had better weather— rain and lightning made our stay more challenging.
Aug 21, 2021
This was the absolute nicest KOA I have ever stayed at, and I've stayed at quite a few. From the moment I checked in to the moment I left, the staff was SO friendly, the restrooms were always clean, and the campsites were well kept. There was even a storm that rolled through during our stay, and someone came by to let us know about it ahead of time. I'll definitely be back!
Aug 17, 2021
The cam sites have no shade and run down. There was a broken fence behind us and the maintenance area was unsitely.
Aug 11, 2021
Great stay. Nice campground.
Aug 08, 2021
Very friendly. Very clean. Only recommendation is to move the fire pit on campsite 10. We were afraid to use it because it was in the middle of three trees.
Aug 06, 2021
Great time! Staff were all friendly and helpful. The location is great too. The campground was clean and so were the amenities. We would definitely stay again!
Aug 06, 2021
Stayed one night and had great service, campground was clean and comfortable
Aug 01, 2021
Excellent as always. Thank you for a wonderful accommodations.
Jul 31, 2021
Really conveniently located to easily see much of the Black Hills and the staff is super helpful and friendly. It was our first time in a KOA campground and we're definitely using them in the future--a great balance between enjoying nature and having comfortable amenities when needed.
Jul 30, 2021
We tent camped, they gave us a sight with no grill and a street light over our tent. The bathrooms were clean but was a long way away.
Jul 29, 2021
We had a very pleasant visit. Everything was as expected.
Jul 28, 2021
We tent camped for 3 nights and enjoyed the easy access to all the things the Black Hills has to offer. We were pleasantly surprised to find a great Forest Service road across the street-Wabash Springs, where we could hike and run! So beautiful. The staff were professional and helpful and the restrooms were very clean. The only thing that would make it better would be if they had recycling there.
Jul 27, 2021
Tent camping site #33 is the best. We were right next to a forested area so it felt like we were in a forest. So nice to have trees at our site.. There were motion detector lights all along the way from our site to the bathroom so getting around after dark was nice. The bathroom was clean. The staff was friendly and attentive. It was quiet at the campgrounds. Accessible to great hiking
Jul 21, 2021
It was well located and the staff were VERY helpful and friendly. The bathrooms were well maintained.
Jul 21, 2021
Staff was great. The tent area was towards the front of the property and had a lot of noise from the highway. The picnic table at our site needs to be repainted badly. I love the dish washing area and the amenities for the kids.
Jul 20, 2021
It was good I do wish the tent site were a little bigger as my 10 man didn't really fit we may it work other than that our 2 night stay was good. I wish I had known the town close up at 8 to 9 as we got there at 8 set up and went to get something to eat but there was nothing to get.
Jul 19, 2021
Definitely one of the nicer KOAs. The location is so perfect. The facilities were clean and well maintained. I'd definitely stay again.
Jul 19, 2021
Great location. Helpful staff. Beautiful grounds
Jul 12, 2021
The stay was excellent, very well kept campground. Bathrooms were spotless, hot water in the shower. It was great if you need ice, fire wood, or even more water, they would deliver it to your campsite so you didn't have to carry it back. Everyone was very polite and very helpful. Highly recommend staying at this KOA location
Jul 06, 2021
The hosts were excellent. We needed a place to stay on a busy holiday weekend and they had one tent space available. We decided we could make it work. They were very helpful and kind. Great customer service.
Jul 04, 2021
VERY small tent sites on the inside of the park. AWESOME dog run!
Jul 01, 2021
Still an amazing place to stay. Not far from activities & tourist attractions. I've been coming here since I was a little girl. It has always been a pleasure to stay here.
Jun 28, 2021
Great stay. Wonderful for kids. They had a blast on the jumping pillow and in the pool. Restrooms are updated and clean. Great tent sites.
Jun 26, 2021
Beautiful camp ground. The grounds, bathrooms, showers were always clean. The people running the campground were very friendly and personable. The little store was very well stocked with just about anything a person needed.
Jun 25, 2021
On a long and wearing trip, the staff at KOA Custer/Mt Rushmore really shined and saved our vacation when a situation arose, no fault of theirs, and almost sent us to a local Inn. We have been and will continue to recommend this specific KOA to our friends and family. We have need of traveling through this area again for the next several years and will Definitely Stay Here Again!
Jun 20, 2021
We got in late and left early. They were very gracious and flexible with us. The bathrooms were close by and clean. Beautiful area. Wish we had more time to spend here!
Jun 19, 2021
Very clean! Super nice campsite with nice bathrooms
Jun 17, 2021
The Reservations were so easy to make over the phone being out first time ever. East to find and awesome hosts!!! Camp/tent sites, family activities, restrooms and shower services were well cared for and exceeded our expectations. Loved it! Will get away from hotels and do KOA more often for future family vacations for sure!!! Thank you!
Jun 15, 2021
Stay was very nice. It is located in the woods (off the roadside) on a hill, but very nice.
Jun 13, 2021
The KOA was very clean. Bathrooms were excellent. The sites were Too Close to each other.
Jun 12, 2021
I only stayed one night but the park was awesome. The customer service was excellent; very helpful.
Jun 09, 2021
The KOA here is the best! If you're going to visit Mount Rushmore and want to camp, I highly recommend this place. The campground is safe, very clean restrooms/shower rooms. The staff are friendly and helpful. Love it here!
Sep 11, 2021
This area of National Parks, state parks and scenic byways is a must see and experience for every American. I will love to return someday.
- Norma Haynes on Google
Sep 10, 2021
Very nice campground. Wish my site was more level.
- Tesh Watson on Google
Sep 07, 2021
This is a wonderful campground whether staying for a night or two weeks. The staff is very friendly, the public spaces are well cared for. It is convenient to many sites such as Custer State Park, Jewel Cave, and Mt. Rushmore. The sites are also good for a quiet day at the campground if that is what you need. Highly recommend.
- Peggy Mollema on Google