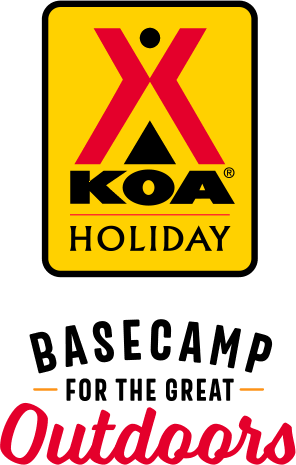 KOA Holiday Campgrounds
Whether you're exploring the local area or hanging out at the campground, KOA Holidays are an ideal place to relax and play. There's plenty to do, with amenities and services to make your stay memorable. Plus, you'll enjoy the outdoor experience with upgraded RV Sites with KOA Patio® and Deluxe Cabins with full baths for camping in comfort. Bring your family, bring your friends, or bring the whole group – there's plenty of ways to stay and explore.
KOA Holidays Feature:
RV Sites with a KOA Patio®
Deluxe Cabins with full baths
Premium Tent Sites
Group meeting facilities
Directions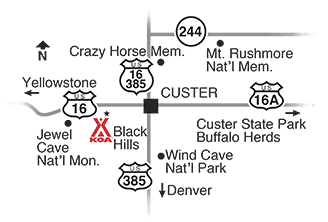 3 miles west of Custer on Hwy 16 on the way to Jewel Cave and Newcastle, WY.
GPS reliability is inconsistent across brands and types and some campers have been misdirected when entering only our address.
GPS Coordinates:
Latitude: N 43.74143
Longitude: W 103.65418
Call us when you get close and we'll bring you home!
Get Google Directions
Aug 18, 2021
Great location for the Badlands visit. Great staff well maintained campground.
Aug 18, 2021
Staff are great! Perfect location between Custer and Jewel Cave. Our kids liked the jumping pillow and little pool. Sites are close together like all KOAs but it was well kept and the bathrooms/showers were very clean.
Aug 17, 2021
Jimi and Debi have been there 11 of the 12 yrs. we've been there but are now semi-retiring. We will miss them. We are part of 8 parties that used 8 spots averaging 6-7 nights for 12 yrs. The rates next year 2022 are increasing $15-20/ night during the Sturgis week. This is too much of an increase and we feel that increases during this week only is unfair. We request that the rates be less.
Aug 17, 2021
We had lots of room on our site and the facilities were very clean.There was lots of space in the showers. The only issue is that wifi was unreliable and cell service was extremely spotty. That was an issue in this area, in general, but it is something that campers need to be made aware of. I would definitely stay at this campground again but would make other arrangements for wifi.
Aug 17, 2021
Everything was fantastic on koa side. Its the guests dogs on the other hand was an issue for me. Very inconsiderate
Aug 17, 2021
The cam sites have no shade and run down. There was a broken fence behind us and the maintenance area was unsitely.
Aug 17, 2021
Very busy place. Friendly staff. Good place to relax before a busy day. Good spot to adventure in any direction. Well kept.
Aug 17, 2021
Was a wonderful trip! Moved to a new space for several more nights.
Aug 16, 2021
Staff was helpful, showers & restrooms were clean. Boys enjoyed the pool. Location is perfect for day trips to explore the Black Hills
Aug 16, 2021
This was our 3rd stay, and we will be back again!
Aug 16, 2021
The problem with this RV park is the internet. We needed it to keep in touch as our Verizon hot spot and phones wouldn't work this far out of town. The front desk said because they were quite full it would be problematic. However after the first night, many people left and the campground was 1/2 full and we still couldn't get it to work. Very disappointing.
Aug 15, 2021
Sewer line under repair so a bit inconvenient. Staff nice.
Aug 14, 2021
Very friendly people.
Aug 14, 2021
People were very kind and the campground was well kept. The sites are very close together but for an overnight stay, or if you're out visiting sites all day, it works.
Aug 12, 2021
The pool was very clean And so was the restrooms
Aug 11, 2021
Clean, quiet a, friendly,accommodating and loved the dog park. Wish dogs were allowed by the pool
Aug 11, 2021
Great stay. Nice campground.
Aug 10, 2021
Helpful and concerned staff. Quiet campground. Great place to visit the Black Hills. area.
Aug 10, 2021
Great location! Very helpful & friendly! Great staff!!
Aug 10, 2021
I've been to some KOA locations with friendly staff, but this one has got the friendliest staff ever! Made me feel welcome, and they were very helpful. Makes plans for next year easier, since I want to come back and stay longer. Very much appreciated, and the breakfast they told me about was great, too. That being said, the restroom could use more lighting at night, I needed a flashlight
Aug 10, 2021
We had a terrific stay! Very well laid out campground with all amenities. Clean and well cared for. The office staff were very pleasant and helpful. It will be our home away from home the next time we visit western South Dakota
Aug 09, 2021
Staff were super friendly and helpful! Campsite clean and quiet.
Aug 09, 2021
Very friendly staff, nice roomy site. The bathrooms were fantastic, updated and clean. Verizon and WiFi were spotty for us at the back of the campsite.
Aug 09, 2021
Beautiful space, facilities and staff.
Aug 09, 2021
Couldn't have been better. Convenient to everything and friendly people!
Aug 09, 2021
Wonderful people working, very clean and comfortable cabin. Met a ton of great folks during our stay! Highly recommended.
Aug 09, 2021
Our third stay here. Very relaxed and quiet camping even at the onset of Sturgis. Nice people. Hope to come back soon.
Aug 08, 2021
Our stay was wonderful. The staff were helpful and very friendly. Thank you for a great stay.
Aug 08, 2021
Very friendly. Very clean. Only recommendation is to move the fire pit on campsite 10. We were afraid to use it because it was in the middle of three trees.
Aug 08, 2021
the customer service was great, really enjoyed our stay, bathrooms was spotless - so clean, was going to a hotel
Aug 07, 2021
The people were great the site was nice with a pad and all. No cable and garbage pickup maybe I was getting spoiled by all the other KOA offering it but loved the location
Aug 07, 2021
Great family camping experiences at this KOA. Close enough to Custer and Mt Rushmore to explore these treasures but far enough to feel relaxed and unhurried.
Aug 07, 2021
Only wished we had a refrigerator… great location really enjoyed our visit
Aug 06, 2021
Nice people nice campground.
Sep 15, 2021
Wonderful staff, very friendly and welcoming. Clean campground and bathrooms. Showers get a little busy mid morning so it pays to be an early bird. Only night time noises were a bit of traffic from the road and the pack of night-owl coyotes down yonder. Will definitely go back. Had a great time.
- Mary Bongard on Google
Sep 11, 2021
This area of National Parks, state parks and scenic byways is a must see and experience for every American. I will love to return someday.
- Norma Haynes on Google
Sep 10, 2021
Very nice campground. Wish my site was more level.
- Tesh Watson on Google