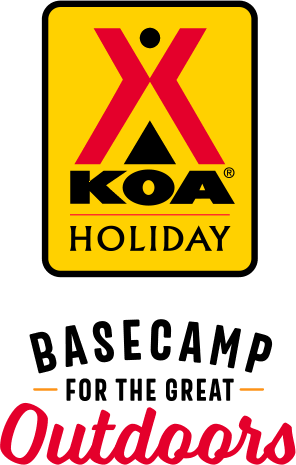 KOA Holiday Campgrounds
Whether you're exploring the local area or hanging out at the campground, KOA Holidays are an ideal place to relax and play. There's plenty to do, with amenities and services to make your stay memorable. Plus, you'll enjoy the outdoor experience with upgraded RV Sites with KOA Patio® and Deluxe Cabins with full baths for camping in comfort. Bring your family, bring your friends, or bring the whole group – there's plenty of ways to stay and explore.
KOA Holidays Feature:
RV Sites with a KOA Patio®
Deluxe Cabins with full baths
Premium Tent Sites
Group meeting facilities
Directions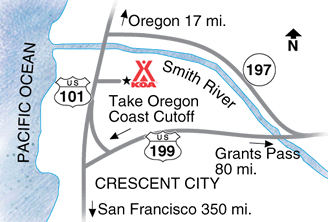 5 miles north of Crescent City on US Hwy 101 North. GPS: N41.822826, W124.145387
Get Google Directions
Apr 05, 2021
Great campground to stay at as a jumping off point for the Redwoods. Some of the tent sites are actually in the redwoods! There are tent sites, RV sites and cabins, something for everyone. I highly recommend staying here.
Apr 03, 2021
Beautiful campground that exceeded our expectations! We were booked for Prairie Creek Redwoods Gold Beach campground and it was cancelled a week before due to road closure. We booked this KOA because all of the State Parks were full-We were not disappointed!! KOA campsites were beautiful and lush and the bathrooms and showers were clean! We would definitely stay here again!!! Thank You!!!
Mar 31, 2021
The group next to us had a generator running all night that was loud and the people running the campsite never told them anything.
Mar 30, 2021
Nice campgrounds! Clean hot showers! Would definitely stay here again!
Mar 29, 2021
Great campsites, very clean bathrooms and hot water. We enjoyed our stay very much and said we'd be coming back before we even left.
Mar 26, 2021
Clean, well kept bathhouses and rest rooms. Quiet and beautiful in the Redwoods.
Mar 25, 2021
it was a quiet peaceful stay with all the needs necessary,. I loved being close to nature, while the office personal were welcoming.
Mar 23, 2021
We had a great tent site, 113. A little brook ran near the site, crickets chirped, and although it rained during the night, the whole experience was tranquil. The bathrooms were also very clean. We would defiantly stay again.
Mar 15, 2021
Our stay was wonderful! Very clean restrooms and showers. Staff was very helpful in answering and handling my last minute questions/changing reservations. Will definitely be staying here again! We had a tent site and loved the area. Convenient spot to camp if you're heading down into the Redwoods a little further.
Feb 18, 2021
It was beautiful and the trees were blooming, but the wifi was pretty poor and the bathrooms far from the office were seasonally closed.
Jan 04, 2021
I had a wonderful two night stay at tent site 113. Good space between the sites, clean bathrooms. Highly recommend ! Also, very easy access to the state parks
Dec 24, 2020
We found our stay at KOA to be very comfortable, the campground was clean and felt safe and staff are super friendly and nice!
Nov 15, 2020
We had a quiet and enjoyable stay here. We would totally come back.
Oct 22, 2020
Enjoyed the quietness, the farm animals, and the Redwood forest camping sites. Beautiful place to stay and not too expensive as well.
Oct 16, 2020
Beautiful campgrounds- if you're lucky to get one back in the woods. So beautiful. So serene. Creates the illusion of camping in the woods, but with access to a shower!!
Oct 05, 2020
We ran out of gas and they got it for us. They also fetched us some wood. The facilities were great!
Oct 05, 2020
One of the nicest camps I've ever stayed at. The woods were peaceful at tent site 903!
Oct 03, 2020
Crescent City is a nice KOA integrated into redwoods
Oct 02, 2020
Very nice facilities and campsites. Was a little hard to find tent campsite in the dark because numbers were hard to find!
Sep 30, 2020
When I reserved it online it said grass tent pad. When I got there, I was sent to a site buried in trees and so many pine needles on the ground my dogs couldn't walk around. I immediately left and didn't stay there. I spent the night in another campground.
Sep 13, 2020
Nice quiet campground. Staff friendly and helpful
Sep 12, 2020
Amazing sites in old growth redwoods. Friendly and clean.
Sep 11, 2020
Due to fires, we were unable to stay at the Crescent City KOA. We are disappointed because we stayed here 6 years ago and loved the camp. We are now KOAing our way back home to Los Angeles from Seattle via Idaho, Utah and Nevada. We hope to discover new adventures and new KOAs. Be safe out there!
Sep 11, 2020
Very cozy, quiet, and affordable
Sep 10, 2020
Campground is nice and cozy.
Sep 08, 2020
We love this place. Even with new owners, they have kept it looking lovely and clean.
Sep 08, 2020
Loved it and can't wait to come back! Especially appreciated the peace and tranquility on a busy Labor Day weekend.
Sep 07, 2020
Space for a tent site was very good. Secure and wide with many trees. Shower and restroom facility were clean too. Only problem was wife access. There was no signal in my tent site even though the office gave me a security code for it.
Sep 07, 2020
It was incredible to sleep among the beautiful redwoods while still having access to showers and bathrooms. Loved our stay and would definitely come back!
Sep 04, 2020
Beautiful area and friendly staff, lot's of employees around. Stayed a total of 4 nights over the course of a month. The restrooms were dirty every time I needed to use one, not even soap in the bathrooms at times. Especially disheartening during COVID, clean bathrooms are a reason we choose KOAs.
Sep 03, 2020
It was a beautiful campground, very nice helpful friendly staff! Our site was beautiful but little small, almost too small to park our car. The bathrooms were usually pretty clean, but occasionally looked messy and ran out of soap. Overall, a great stay and would definitely come again.
Sep 03, 2020
Loved the location and being able to make a last minute reservation. I think people just need to make sure they clean up after themselves. Price was great!
Sep 02, 2020
AMAZING location, very cool being situated right in the Redwoods.
Sep 01, 2020
The people that works there Tyler Lily Debbie and others were so nice I could say more than that it was a pleasant stay.
Apr 14, 2021
Beautiful place!
- Jack Houpe on Google
Apr 09, 2021
The camping cabins are gorgeous. The campgrounds are beautiful and our spot was awesome surrounded by trees. It was like camping in a cabin right in the heart of the Redwood Forest.
- Janine Jones on Google
Feb 27, 2021
Love this place!!
- Antonia Contreras on Google