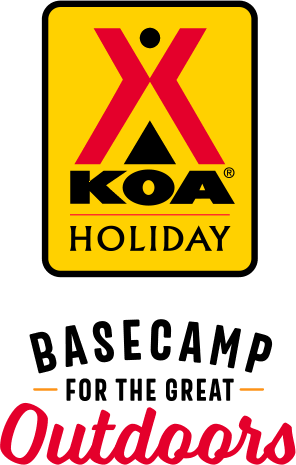 KOA Holiday Campgrounds
Whether you're exploring the local area or hanging out at the campground, KOA Holidays are an ideal place to relax and play. There's plenty to do, with amenities and services to make your stay memorable. Plus, you'll enjoy the outdoor experience with upgraded RV Sites with KOA Patio® and Deluxe Cabins with full baths for camping in comfort. Bring your family, bring your friends, or bring the whole group – there's plenty of ways to stay and explore.
KOA Holidays Feature:
RV Sites with a KOA Patio®
Deluxe Cabins with full baths
Premium Tent Sites
Group meeting facilities
Directions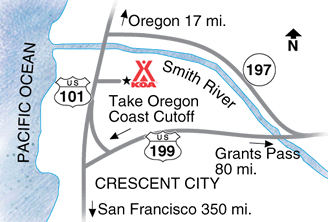 5 miles north of Crescent City on US Hwy 101 North. GPS: N41.822826, W124.145387
Get Google Directions
Jul 21, 2021
The staff were very friendly and helpful. The facilities were clean. We stayed in a cabin and the cabin was also clean. The staff at this KOA has done an amazing job!
Jul 21, 2021
Bathrooms , washing machine, dryer, and some arcade games were out of order our entire stay. Didn't seem put any on priority to fix them. Store closes at 6 pm some nights. Quite early when you are out sight seeing and come back and expect to buy wood and ice for the evening. Not much for kids at all. Staff are not friendly. We were very disappointed in this KOA compared to all the othe
Jul 21, 2021
only stayed 1 night, would like to have stayed more.
Jul 19, 2021
Everything about your park is 5+ STARS. The people were so friendly and helpful, the grounds were clean and well kept and the walk among the Redwoods in your park was magical. I walked your Redwoods every day. Just beautiful. Your location is perfect to Crescent City and Brookings OR. Everyone needs to eat at the Fat Irish Kitchen and Pub in Brookings.
Jul 19, 2021
Loved the cabin we stayed in. Great place to take the family. Wonderful amenities. Close to everything.
Jul 19, 2021
The location and sites were great. The restrooms and their cleanliness weren't. The restrooms need to be cleaned more than once a day.
Jul 19, 2021
Muy relajante buen servicio y muy limpios los baños
Jul 18, 2021
Two days tent camped under the redwoods. How does it get better. This is our yearly visit to Crescent City and always a pleasure to stay here,
Jul 17, 2021
Our site wasn't available so we were moved to an area that wasn't on the map. It was a really nice, big, private, shaded spot, but unfortunately it was a black hole for our Verizon service and the WiFi didn't reach us. This was a problem since we were working remotely. The women's bathroom door couldn't be closed, so it was cold after a shower.
Jul 17, 2021
The staff was friendly and the all the campers were great as well. We felt comfortable leaving our stuff there while we did other things and had a great time at our campsite. Bathrooms were clean and everything was tip top.. We will return
Jul 17, 2021
Great tent site! Clean and orderly
Jul 17, 2021
Perfect secluded place to stay!
Jul 17, 2021
We loved our cabin in the forest. The giant redwoods make for the best playground. We'll be back!
Jul 17, 2021
What a beautiful location! We loved our stay despite being double booked with another camper.
Jul 17, 2021
They were so nice! Got us in early., saved us from another terrible site we wanted to leave and did!! Bathrooms were clean, staff was friendly, our doggy loved the goats and chickens. Very quiet, and the store had a good selection of things you might need or forgot! Thanks for taking care of us!
Jul 17, 2021
It was short but the spaces easy to pull in and hook up. The personnel were very friendly got us checked in fast and courteous.
Jul 17, 2021
Staff was very informative, and friendly.
Jul 16, 2021
It was clean but very crowded. We were in site C8 which was short and narrow. I was not overly impressed. It was okay. I would say a 3.5 star.
Jul 16, 2021
It is a beautiful campground with some beautiful camping sites. However, the buildings are not well maintained. The front bathroom has three showers, one of them was out of order; the hand dryer didn't work and there were no paper towels; there was mold in the showers. The laundry room had a dryer that wasn't working. I know I'm camping but we stay at KOAs, and not other places, for a reason.
Jul 16, 2021
Just the restroom was not that great.i know you clean every day but the showers were not very good.the tube does not get you very wet. The staff was great! The place is beautiful.
Jul 16, 2021
Great spot but only one working warm shower (out of 3) in one restroom, and the lock on the women's restroom door was broken. The other restroom only provided lukewarm water for a shower...maybe because everyone was going to that one instead of the broken one? The gal doing the checking in was very friendly. :)
Jul 16, 2021
I love KOA, great location! Close to town, but far enough to enjoy the outdoors. Great trails & walking areas for the dogs & kids w/the safety of the campgrounds!!�
Jul 16, 2021
Nice little park. The woman on the desk was very friendly! It was great to receive such a warm welcome! The women's bathroom stall had a broken latch - oh well. Also, it might be helpful when you advertise a 50/30 amp connection that you also say campers need to bring their own adapters. Not a huge problem for us but it might be something others would appreciate knowing in advance.
Jul 15, 2021
We stayed in a cabin, with only electricity. We had no problem with that in fact we were surprised when we realized it had electricity. It also came with a very small but very powerful electric heater. It worked almost too good. The campgrounds were very clean, very family oriented. The only thing I could fuss about is maybe the playground not being very up to date, but it's no bother to me. 10/
Jul 14, 2021
Everything was wonderful, but it would have been great to know about the road closure that delayed our arrival by 4 hours. Maybe send an email to folks letting them know the schedule?
Jul 13, 2021
We really appreciated the helpfulness of the staff and the cleanliness of the facilities.
Jul 13, 2021
Hi, there was a problem with the septic on our campsite and we should have been alerted to it before we tried to dump our grey water. But these things happen. Otherwise this campground was well designed with lots of privacy for each campsite and little to no highway noise + we got the easiest back-in spot imaginable.
Jul 13, 2021
Great local, beautiful stop to camp!
Jul 13, 2021
Had a wonderful time loved the cabin very clean and comfortable. Definitely will come back.
Jul 13, 2021
Loved campground and host.
Jul 13, 2021
Front desk person Leslie was extremely helpful with us. I messed up our reservation and she helped us figure out how to make it work. Also Lilli cleaned our cabin K1 and did a great job! The common areas were clean and well maintained.
Jul 13, 2021
Beautiful camp ground!
Jul 12, 2021
it was good...clean, quiet for the most part, and pretty. we were in a very biusy space, but over all everything was good. It would be nice next time to be farther to the north side in the trees. Would stay again.
Jul 12, 2021
We loved that you changed our spot to a shaded area closer to the dog park and trees after hearing about our suburban overheating... the bathroom were fabulous and clean.
Jul 12, 2021
was very pleasant and close to everything that we wanted to see.
Jul 12, 2021
For a Holiday level - not having a pool, arcade (rec room was was really nothing), and not serving food made us wonder how this was a Holiday. Beautiful campground, and well maintained.
Jul 22, 2021
This was my first experience at a KOA ever -- and based on this stay, it won't be the last. What a great place to camp. The tent sites are set up in such a way as to give each camper privacy (versus cheek to jowl tent sites at other RV parks). The scenery was beautiful, the facilities clean, contactless check-in. Definitely recommend. Note: my camp space was 902 -- beautiful, but definitely shady -- something I preferred, but if you're looking for a sunny spot, you may want to inquire with the host which sites might meet your needs. I'll definitely be back!
- ReadLit247 on Trip Advisor
Jul 21, 2021
I have been on vacation for 3 days i ha e stayed 2 nights at koa campgrounds and in diffrent states i must say its been a very pleasant experience. They are clean and well kept even the bathrooms!
- Roxanna Long on Google
Jul 18, 2021
Spent 9 days here on our vacation. I am glad that we chose to tent camp. The area for trailer camping is nice but not as beautiful as the area for tent camping. Surrounded by trees with large sites. Campground is close enough to town if items are needed. Would strongly suggest staying if in the area
- Rick Chamness on Google