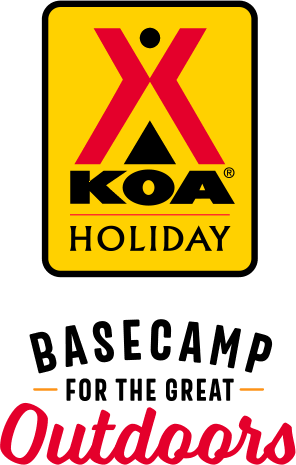 KOA Holiday Campgrounds
Whether you're exploring the local area or hanging out at the campground, KOA Holidays are an ideal place to relax and play. There's plenty to do, with amenities and services to make your stay memorable. Plus, you'll enjoy the outdoor experience with upgraded RV Sites with KOA Patio® and Deluxe Cabins with full baths for camping in comfort. Bring your family, bring your friends, or bring the whole group – there's plenty of ways to stay and explore.
KOA Holidays Feature:
RV Sites with a KOA Patio®
Deluxe Cabins with full baths
Premium Tent Sites
Group meeting facilities
Directions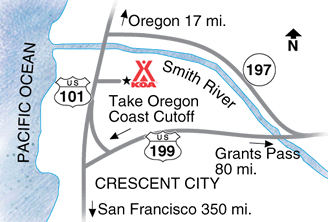 5 miles north of Crescent City on US Hwy 101 North. GPS: N41.822826, W124.145387
Get Google Directions
May 04, 2021
What a lovely campground. The cabin was perfectly outfitted and the staff was friendly and helpful .
May 04, 2021
Lovely place
May 04, 2021
Really nice campground! The redwood trees are great to walk thru. Washers & dryers really need updating.
May 02, 2021
Enjoyed our stay didn't use any of the offered facilities but the park was nice. Do need to fix those pot holes though.
May 02, 2021
We love the Crescent City/Redwoods KOA - we have visited many times! However, this past stay we were disappointed that the dog park had been overlooked. The rest of the park was very well maintained and groomed, but not the dog park. It hadn't been mowed or cleaned up and the poop bags were empty for many days. It didn't feel safe to take the dogs in there. Otherwise, love this camping park!
May 01, 2021
It was fine. Staff shortages makes it hard to get personal service because of limited office hours. The location is beautiful and it's kept tidy. It's centrally located to all state and National parks as well as airport.
May 01, 2021
Perfect and beautiful lot B3. Staff were very friendly and knowledgeable of their area.
May 01, 2021
We had a wonderful time at this KOA. Our friends stayed in a rustic camping cabin that was charming and perfect for their needs. We stayed in a deluxe cabin because traveling with a toddler. The cabin was very accommodating and clean, with lots of thoughtful touches. We enjoyed going between the two cabins, making smores at the rustic campsite and then walking back for a hot shower!
Apr 30, 2021
The pot holes in the driveway entering this campground were very big and deep. It was painful entering. We loved this camp except for the pot holes. We hope they will be fixed soon.
Apr 30, 2021
We were just there overnight. In space 404 we had great WiFi, which has been rare in our experience.
Apr 30, 2021
Wonderful KOA. Staff is very accommodating and competent, the restrooms were clean and functioning, the sites or well-maintained. And nicely positioned with privacy. I totally enjoyed myself there! Thank you guys. Highly recommended. The info sheets of interesting things to experience while in the area along with the directions - superb. Stout Grove. Fern Canyon. Thanks Leslie Julie Steve egg man!
Apr 29, 2021
Very quiet, easy in easy out.
Apr 29, 2021
great location , very close to some great hiking, the tent sites are really in under some redwood trees, clean showers, BUT the entrance road is more potholes than road ,needs to be fixed ASAP
Apr 29, 2021
Horrible entrance and exit with nasty pot holes, very bumpy. Lawns uncut, doggie bag stations left unfilled, basic maintenance unattended to, we were very disappointed in the overall experience we had there this time.
Apr 29, 2021
Beautiful surrounding and park is clean. Didn't like all the chuck holes in entrance though.
Apr 29, 2021
Perfect! Great location, beautiful spaces and very clean.
Apr 27, 2021
This KOA has its own Redwood grove. The area grove is with it's dense canopy provides protection from the sun and a light rain. Our site was a full hook up pull through with deluxe patio. The site was easy to navigate, level, and clean.
Apr 27, 2021
Clean and quiet, beautiful trees and grounds. Well organized.
Apr 27, 2021
Always enjoy staying there. Especially when I stay in Cabin K9 after doing a dog transport to Brookings,
Apr 25, 2021
Very nice spot - especially those sites separated in the trees.
Apr 25, 2021
Peaceful,clean
Apr 24, 2021
Very nice and clean camp ground. Wish the store was open later.
Apr 24, 2021
Nice people quite spot. Perfect to visit the Redwoods!
Apr 24, 2021
Very clean and quiet. Nice RV park.
Apr 23, 2021
Clean and staff helpful and friendly
Apr 23, 2021
One of the best KOA campsites I have stayed at. Having the opportunity to camp within the redwood forest was an amazing experience and my girlfriend was so impressed/amazed by it. I always saw staff members cleaning the site. From the man who drove his golf cart around to ensure a clean site to the women dusting the cobwebs off the walls, the people who operate this obviously care. A+
Apr 23, 2021
Check in was quick and easy with very friendly staff.
Apr 23, 2021
Great place Will return again
Apr 23, 2021
The place is so nice I would have loved to stay there longer
Apr 21, 2021
This was the second time we stayed here. This visit was a bit disappointing in that the men's restroom was not serviced during our stay and both toilets were stuffed with toilet paper and not useable. We likely won't return.
Apr 20, 2021
We stayed for a couple days and everyone was very friendly, the bathrooms were clean and we had a good time.
Apr 20, 2021
Nice grassy camping spots, very peaceful and quiet. Lots of fun things to do and explore in the area. We adventured a ton. Would have liked paved roads throughout the campground though.
Apr 19, 2021
Beautiful park, very clean and well maintained. One of the best parks we have visited. Great staff
Apr 19, 2021
We loved our time here! Our sites overlooked a beautiful open meadow that was lovely view for all of our meals! This camp is conveniently located to so many redwood groves and adventures! Be advised of the current closures on the 101 due to the landslide... open for 1 hour and then closed for 2 hours throughout the day.
Apr 19, 2021
The campground is beautiful and location is great! We all loved exploring the redwoods! The cabin I booked did not match the floor plan shown online, it was a little smaller. We couldn't get the TV to work and asked the staff to help with no response or resolution. We didn't NEED the TV since we were in the redwoods, but would have been nice for our kids to have it for late night/early morning
Apr 19, 2021
We stayed in a cabin, it was squeeky clean. Bathrooms were super clean and showers hot! Overall a great place to spend our nights after exploring the Redwood forests during the day!
Apr 19, 2021
Easy check-in, especially for us arriving so late. Beautiful camp spot that was clean and well taken care of. The bathrooms were not in a great state, as the showers were plugged up and unable to be used. Would stay here again!
Apr 14, 2021
Loved it! I have already recommended it to a friend
Apr 14, 2021
The staff was nice, bathrooms and shower were maintained and the kampground was beautifully set in the woods. I would stay here again and would recommend to anyone.
Apr 14, 2021
This is mine and my families favorite place to stay we go there a lot employees are wonderful the campground is very clean the bathrooms are very well-kept up there's a lot to do there it's very peaceful the cabins are very nice you won't regret staying at this KOA it's close to the beach it's close to the river it's in the redwoods it's just amazing
May 05, 2021
We stayed for three weeks at this KOA, on our journey north to Oregon. What a perfect setting! Despite being on US101, it is very quiet and the staff are attentive and informative. With easy access to Crescent City, the coast and Oregon, it is a perfect location for activities or relaxation. A herd of wild elk are regular visitors to the neighbouring field, Blacktail Deer and a wide rang of birds can be seen, all from the comfort of your site! We would definitely stay here again!
- Scotlyon369 on Trip Advisor
Apr 22, 2021
Super awesome , we had a red wood right in our camp spot, super clean,lots of amenities, friendly staff and reasonably priced
- Bird Parker on Google
Apr 21, 2021
Clean park, good location with easy access to sights throughout the area.
- Jim Gardner on Google