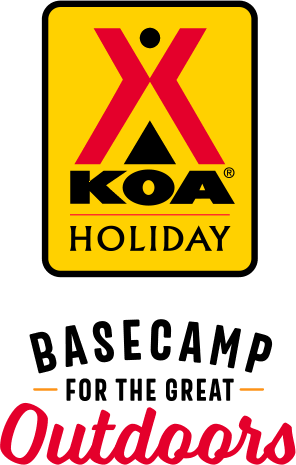 KOA Holiday Campgrounds
Whether you're exploring the local area or hanging out at the campground, KOA Holidays are an ideal place to relax and play. There's plenty to do, with amenities and services to make your stay memorable. Plus, you'll enjoy the outdoor experience with upgraded RV Sites with KOA Patio® and Deluxe Cabins with full baths for camping in comfort. Bring your family, bring your friends, or bring the whole group – there's plenty of ways to stay and explore.
KOA Holidays Feature:
RV Sites with a KOA Patio®
Deluxe Cabins with full baths
Premium Tent Sites
Group meeting facilities
Directions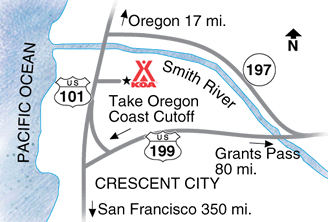 5 miles north of Crescent City on US Hwy 101 North. GPS: N41.822826, W124.145387
Get Google Directions
Oct 19, 2021
It would be a 5-star if they had decent WIFI
Oct 19, 2021
Had a great time. Loved the cabin!
Oct 19, 2021
Lovely little spot with clean easy in and out cabins. They leave the light on if you show up late and I have never had an issue with my cabin rentals.
Oct 19, 2021
All was good except - just before sundown a couple of young people began riding a very loud dirt bike and a small 4-wheel atv quad that was not quite as loud. The vehicles were kept in a garage/shop building within the campground. This noisy and annoying activity continued until after dark. My assumption is that the young people are the children owners/operators of the campground.
Oct 18, 2021
Friendly staff and a great location.
Oct 17, 2021
Excellent accommodation!
Oct 17, 2021
Very friendly checking in. Nice to walk thru the park.
Oct 16, 2021
we booked online and giving a spot to small for our 25' Airstream. We were then told they could move us to overflow for one night and then another spot the next night but could not take care of us the last or 3rd night and we would have to find another campground. The only saving was the attended on duty found someone the left early and would give us our three nights. However it was not a good sig
Oct 16, 2021
Loved camping in the forest! This was our favorite campground we stayed in during our trip.
Oct 16, 2021
This was our 3 rd visit to your Koa we enjoyed our previous stays tremendously BUT not this visit. We arrived at 5 ate our food cleaned up there was garbage overflowing and I noticed the sink didn't get warm by 7 when we showered there was NO hot water.the next morning I mentioned it to the office and they knew about it. I feel they should've told us when we checked in we wouldn't have stay
Oct 15, 2021
Love the redwoods sites! This was my second visit and the staff was even more friendly than the first time!
Oct 15, 2021
Park is over grown, and very tight
Oct 15, 2021
We thoroughly enjoyed our stay as first time to CC KOA. Extremely nice staff, and grounds. However, did feel the bathrooms needed paper towels, and could have been maintained a little better, but definitely will be back. Thank you Julie and Leslie for being so helpful!
Oct 15, 2021
Great. the only downside was I kept bumping my head on the roof overhangs on the cabin.
Oct 15, 2021
Nice campground, both wooded and open. Sites are spacious, place is clean. About a 5 min. drive to Crescent city.
Oct 14, 2021
We had a great time! The cabin we used was clean and comfortable. The bathroom was also clean, and when there was a problem, I brought it to the attention of the office and it was resolved immediately. We hope to visit again.
Oct 13, 2021
We stayed in a deluxe patio site. Very roomy and comfortable. The grounds in the back are full of redwood trees for tent campers and a great place to take the dog for a walk. Only a couple miles from Cresent City and some great hikes. Very clean campground
Oct 13, 2021
Loved this campground's location amongst the beautiful and majestic redwoods!
Oct 12, 2021
Hosts and staffs were very accommodating. Nice cabin, though ours should need more update and attention. Otherwise will recommend to friends !
Oct 12, 2021
We had a great time, plus the 6 hr road trip up there. Cabins were nice. Everything we needed was there to use, plus BBQ pits. The park was clean, very friendly, nice area for the kids, and pet friendly. Town was not far away to do shopping there, instead of packing everything to take on the road trip before hand.. Beautiful weather and good fishing for the whole family. We will be BACK!
Oct 12, 2021
Ladies bathroom needs work and more cleanings per day.
Oct 11, 2021
Nice campground. The WiFi definitely needs to be upgraded to a new system. Didn't work well for us at all. Kept disconnecting as soon as we got something loaded.
Oct 11, 2021
The W & E spaces tucked into the redwood forest are the prettiest we have ever seen. Full hookup sites not so much. We are so glad to have stayed at this park. Highly recommended.
Oct 11, 2021
Great staff, nice campground
Oct 10, 2021
The cabin was perfect for our short stay. The attendant was kind, helpful and professional. The bathrooms and laundry facilities were clean. The location was very convenient; close to dining, shopping, beaches, and recreation. We will definitely stay there again soon.
Oct 10, 2021
The pull thru site assigned to us was small and disshovled. We had to prop our picnic table up w wood pieces we brought in order to use and prevent it from rocking. In the afternoon the women's bathroom heater had been unplugged so not conducive to taking a much needed shower. There were about 20 or so Harley bikers that kept there bikes on and reeved engines unnecessarily. WiFi spotty. Won't b ba
Oct 10, 2021
Great location. Helpful staff. Sewer drain very slow. Restrooms are worn.
Oct 06, 2021
The campground and facilities were clean, and the staff were helpful and friendly. I wish the quiet hours were better enforced though. A group came into camp late in the evening and we're quite loud-chopping firewood and talking on speaker phone.
Oct 05, 2021
Nice stay quiet park good location
Oct 05, 2021
Best KOA I've ever stayed at! I am just learning to camp and this spot got me into camping. Only improvement I'd like to see: in the mens bathroom stalls i'd like there to be mini garbage recepticles like there are in womens stalls. This will help save your septic system, and I've seen other KOAs do this too since some men do use sanitary wipes.
Oct 04, 2021
The cabin was roomy, the beds comfortable, and we loved the swing on the front porch.
Oct 04, 2021
One of the women's toilets was out of order and all of the men's toilets were clogged in the breeze way building. This was a significant problem and shouldn't happen.
Oct 04, 2021
Water pipes showing above ground by 108 and mane more. Beautiful setting and nice people. Will hope to stay again someday
Oct 04, 2021
Cable did not work had to call the office 3 times. The maintenance worker came said he would be right back. Did not come back for 2 hours. Finally came back was not able to fix it. The girl in the office was not friendly at all.
Oct 04, 2021
Dear Fallon family, We love your campground. We have been coming there for many years. Would have been a lot nicer if the refrigerator in cc3 would have been working. But we enjoyed our stay and thank you for the discount for the refrigerator. Hopefully we'll see you next year. Thanks John & Peggy McLaughlin
Oct 03, 2021
Good as it gets!
Oct 02, 2021
Their map needs improvement, and the restroom should not have windows wide open for when you are wanting to take a shower. I didn't take one while there as it was too cold. The location in the woods was beautiful!
Oct 01, 2021
Very friendly staff and clean camp sites. Will visit again!
Sep 30, 2021
Extremely friendly, helpful. We had an emergency & had to go home early & they refunded me 1 night stay.
Sep 30, 2021
Really liked this KOA that was in the middle of large Redwood trees. It was fun walking through the trees. Kids would love climbing around them. The campsite was plenty long enough for my tow vehicle. The showers were good. My only concern was how tight it was for some longer vehicles to navigate the roads in the trees.
Oct 14, 2021
The check in staff was so friendly and helpful! We camped in a tent here and it was a good spot. We had some grass, protection from the wind, a fire pit, and a bench. Meeting room is closed, but there is a game room that is pretty cool. Bathrooms are pretty nice and there is hot water! The office also sells groceries and souvenirs. Be sure to pet the goats, they are so friendly and cute!
- Sarah DuFresne on Google
Oct 12, 2021
Great family road trip up North to Crescent City KOA park. We had a really good time. Friendly, nice area for the kids to play, dog friendly, the place was clean. Good fishing and sight seeing for the family. We rented 2 cabins Deluxe and Regular, worked out great for the 11 of us. Just a perfect family vacation. We will be back again..thank you from the Sonoma County Family...Santa Rosa, CA
- Member Services on Google
Oct 11, 2021
Great experience
- Wesley Sauder on Google