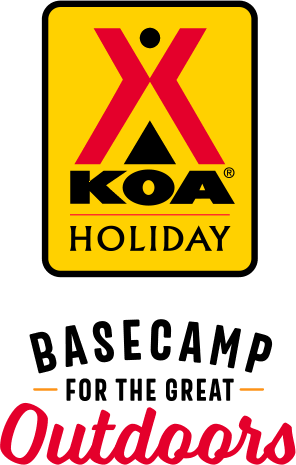 KOA Holiday Campgrounds
Whether you're exploring the local area or hanging out at the campground, KOA Holidays are an ideal place to relax and play. There's plenty to do, with amenities and services to make your stay memorable. Plus, you'll enjoy the outdoor experience with upgraded RV Sites with KOA Patio® and Deluxe Cabins with full baths for camping in comfort. Bring your family, bring your friends, or bring the whole group – there's plenty of ways to stay and explore.
KOA Holidays Feature:
RV Sites with a KOA Patio®
Deluxe Cabins with full baths
Premium Tent Sites
Group meeting facilities
Directions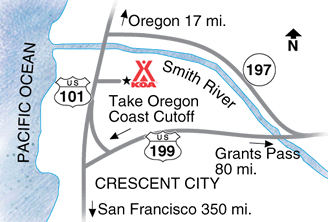 5 miles north of Crescent City on US Hwy 101 North. GPS: N41.822826, W124.145387
Get Google Directions
Feb 03, 2023
Quiet and comfortable
Jan 31, 2023
Great stay. Clean cabin and clean facilities. Pet friendly. Would gladly stay again.
Jan 27, 2023
Absolutely beautiful location. Huge Redwoods throughout the park. A little tight maneuvering if your pulling a 44ft toyhauler but doable. Facilities were clean. We would highly recommend this location to anyone traveling up 101 . Very easy to access off the highway.
Jan 27, 2023
Great staff, pleasant stay, convenient location!
Jan 26, 2023
Very friendly staff yes and a wonderful site right next to the cabins and the beautiful tall trees. How are huskies enjoy walking around this camp. Always clean.
Jan 24, 2023
Bathhouse could use updating. Staff was nice but the campground had several people working on cars and trailers. Several campers appeared not to move.
Jan 24, 2023
A bunch of old friends playing poker at night, golfing in the day. KOA provided a deluxe cabin. Great time!
Jan 22, 2023
Julie, at the front desk was wonderfully helpful and accommodating. The campground is very quiet and cozy, even with the terrible rainstorms going on
Jan 21, 2023
A magical setting in the tall, tall trees
Jan 20, 2023
This was just an overnight stop along my route south. The lady in the office was wonderful; very friendly and gave good recommendations on where to eat. I did not really use any of the amenities here.
Jan 17, 2023
Very nice spot, easy to get to. Beautiful area. We will be returning again to stay there!
Jan 14, 2023
Was a very nice view there with all the redwoods. Water was a little bit dirty but I had bottles of water in my camper. Other than that I would love to come back there!! Am traveling around the USA!!!
Jan 11, 2023
Very friendly and helpful staff!
Jan 11, 2023
Pretty setting and nice staff, but seemed to be a number of long term stay guests who let their dogs run loose.
Jan 10, 2023
We stayed 3 nights and was told it was going to be one of the worst storms in a long time when we arrived. Our site was directly under a large tree full of dead branches!!!! I know they can't control the weather, but seriously???? Wish they would have been more "camper friendly". And ZERO, Zilch, non-existent WI-FI at our site!!!!! And we paid for a "delux" site.
Jan 09, 2023
Very clean campground, amazing and super friendly staff!
Jan 08, 2023
The place is not the quality I would expect at a KOA.
Jan 03, 2023
Long term…great people here, they make your day!
Dec 31, 2022
Cable was horrible as well as Wi-Fi Laundry room needs a little love, however what a great base camp to do exploring!! Loved the area
Dec 25, 2022
Even raining it was a good experience. A bit muddy where more gravel would help. A great park like setting. We will stay again as we travel through that area.
Dec 16, 2022
Convenient location for Jedidiah Redwoods and close to the ocean. We were near a maintenance building and a few evenings they had really loud music playing. It was not during quiet time but it was still loud and annoying. We did not use facilities so can not comment on those.
Dec 13, 2022
Despite experiencing a terribly windy/rainy storm with multiple power outages, we still managed to enjoy our stay! Thank you.
Dec 13, 2022
Only an overnight stay, but materials were ready for our late check-in, site was in top shape, services (restrooms and showers) were clean and operating properly and the stay was enjoyable. Thanks
Dec 07, 2022
We had a very enjoyable stay at this KOA in Crescent City. The staff that I met were very friendly. The cabins were clean, warm and comfortable. I would absolutely stay here again and recommend this KOA to friends and/or family.
Dec 02, 2022
Best place to stay on north coast, staff here are the best people anywhere!!!
Nov 30, 2022
We love this KOA, but unfortunately, our 400 dollar cooler with a lot of food inside was stolen from under our camper. This is in no way the KOA'S fault, just a heads up to keep everything locked up. Great staff, so much to do in the area, and the pure beauty you're surrounded by will give you some great memories to make.
Nov 30, 2022
Cable did not work with 1/2 the available channels telling you how to program your Dish Network. I don't own Dish. Network. If you want to catch a favorite program on cable tv forget about it…road to campsite was horrible with deep potholes all over the roads. I will not be back
Nov 29, 2022
Everything was good except for one thing. No handicap friendly bathroom or showers. Need to upgrade your showers with seat and hand held water spray nozzle.
Nov 27, 2022
We've stayed her twice. Love the setting of the cabin. Thank you for providing a heater. Just wish the bathrooms were all open and had some heat as well. And please let us use game room in the evening.
Nov 26, 2022
We are big fan of koa camping, and this time we got guest from Philadelphia, and we said you have to experience this and that. But we are disappointed, both the bathrooms (boys and girls) were not cleaned at all.
Nov 25, 2022
Campsite was nice but washrooms closed at main building. Exit was very narrow for our 42ft 5th wheel. Fire pit had cay or cement dumped over the grill. Looked gross and didn't want to use it. Patio we paid extra for was dirty and needed sweeping/cleaning. Loved the trees and the petting zoo. Staff we saw( only one) was very pleasant.
Nov 24, 2022
Nice long sites under the trees. Clean facilities and great staff. On 101 for convenience but far enough in so that highway noise is no factor. WiFi non-existant so that's where they lose a star.
Nov 23, 2022
The campground is beautiful and the cabins are clean. However the cleaning products used to clean the cabin made the cabin smell like a men's urinal. The industrial strength Pinesol was so strong. I have asked for a partial refund on our stay due to the strong smell of the cabin and have not heard back. I would come back to the area with an RV but absolutely would not stay in a cabin .
Nov 21, 2022
The site was a pull through (w/full hookups) and very level but kind of narrow. Had to take a tree into consideration to open up the awning. Did not use the amenities, but the park was clean, quiet, and close to town and it's sights and the Redwoods. Easy in and out access right off a main road (but no road noise). Staff were friendly and overall a nice spot to land.
Nov 18, 2022
We had a great campsite and if we needed anything it was provided. The bathrooms were very clean! Pretty impressive!
Nov 17, 2022
This campground is near some really wonderful places to visit. The spots were separated from each other offering a bit of privacy. The staff were very nice. The facilities were clean and well maintained. I plan to stay here again.
Feb 07, 2023
Quiet campground. The RV pull through sites are some of the more private sites we've stayed at this year (21 RV parks since September). We stayed here three weeks and we loved it. Lots of redwood trees on the property. The area coastline is beautiful. We will stay here again if we ever travel up or down Rt. 101 again.
- Mark Dow on Google
Jan 29, 2023
Nice clean cabin. Pet friendly with no additional fee. Nice campsite.
- N A on Google
Nov 11, 2022
Great little place with amenities, finally got to do laundry and have a warm shower. Laundry is paid, shower is not.
- Jesse Wheeler on Google