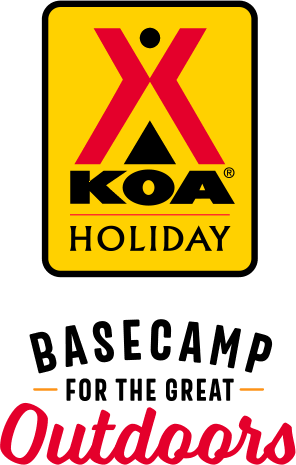 KOA Holiday Campgrounds
Whether you're exploring the local area or hanging out at the campground, KOA Holidays are an ideal place to relax and play. There's plenty to do, with amenities and services to make your stay memorable. Plus, you'll enjoy the outdoor experience with upgraded RV Sites with KOA Patio® and Deluxe Cabins with full baths for camping in comfort. Bring your family, bring your friends, or bring the whole group – there's plenty of ways to stay and explore.
KOA Holidays Feature:
RV Sites with a KOA Patio®
Deluxe Cabins with full baths
Premium Tent Sites
Group meeting facilities
Directions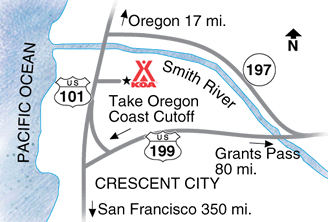 5 miles north of Crescent City on US Hwy 101 North. GPS: N41.822826, W124.145387
Get Google Directions
Apr 06, 2021
Only thing i really didnt like about the place is that the office closes in the middle of the afternoon....WTF ??? 4pm....C'mon man...Other than that would recommend without doubt...
Apr 06, 2021
Our first time at a KOA, and we only stayed 1 night on our way home to Oregon from CA. The grounds were very clean, well-manicured and family-friendly. We wished we had more time to hike the grounds and explore the area more, but we hope to be back at some point.
Apr 05, 2021
First time we ever have been here and won't be the last! It was a perfect amount for exploring in the woods with our kids and lots to do in the area! Beach or the redwoods, what more could you ask! Campground was nice and clean, and everyone was friendly!
Apr 04, 2021
Campground was very nice. Staff was helpful & friendly. My only complaint would be the potholes in the gravel entering into the facility
Apr 04, 2021
It was great
Apr 03, 2021
Beautiful spot will go there again
Apr 03, 2021
Friendly, clean campground. All the services you expect from KOA. We will definitely be back.
Apr 02, 2021
I call an reserved a site but when I arrived office was closed an there wasn't site for me yet 6 others had a site listed on door. Fortunately I found a cleaning lady that helped me. There were 5 sites listed an I took one.the next morning I was accused of making up a story an was told I would have to move not in a nice way! The only helpful person was the young cleaning person. Full of pot hole
Apr 01, 2021
Driver beware! Many deep potholes in driveway, knocked stuff off our shelves in Rv.
Mar 31, 2021
No paperwork, was listed but no site map or WiFi pw. 30 amp service tripped the breaker while just watching tv. Called and left message, no return call after 4 days. Poor management and zero follow thru. I would like to have my money refunded!
Mar 29, 2021
Nice sites, basic amenities, good location. Not paved so it was not good for skateboarding or scooters. Nice wooded sites for tents, too.
Mar 29, 2021
Our stay was wonderful The staff was great. The potholes everywhere in the driveway were terrible.The driveway sits below the grade level of the main highway as well. Hard to get onto rhe highway safely.
Mar 27, 2021
Very nice people at check in. The park is clean and well maintained.
Mar 27, 2021
We had a good time. Unfortunately, the site was a bit of a mess. The grass needed to be cut and the site was muddy. The sewer Iine was pretty full also. I'm hoping in the future that KOA will allow guests to pick their camp site so we don't get stuck in a spot that doesn't suit our needs. Thanks
Mar 27, 2021
The bathrooms were frequently stopped up. It would probably be helpful to have signage encouraging plumbing-safe behaviors by campers.
Mar 27, 2021
I arrived late. It was difficult to find my way around campground at night. The site I had booked was unusable for my 24' rig in soft grass. It was not graveled or paved. We had to leave because there was no alternative. We had to sleep in Walmart parking lot. I asked for a refund and have not been given the courtesy of a response. Today I am irritated at my KOA experience.
Mar 25, 2021
Great campground if you don't mind a little mud!
Mar 25, 2021
The KOA is nice, clean, and everything worked as expected. The location is convenient for the beach, lighthouses, and redwoods. The staff gave us a great map of Jedediah Smith park for hiking and experiencing the redwoods. The RV spaces are close to each other, though. Close enough we had to ask neighbors to turn it down after quiet hours.
Mar 23, 2021
This was a beautiful campground. Multiple options, RV/trailer sites, cabins, park models, tent sites, fenced dog park, playground and large grassy area. The entire staff was friendly and welcoming. We will be back!
Mar 23, 2021
Muddy , the septic tank hook up was full when I opened the cap to hook up my black and grey water. CHP chased a guy into the entrance at 6 am . Apparently he fled into the park by foot after stealing a van.
Mar 23, 2021
lots of potholes to avoid. Site was fine. Close to highway so a little noisy.
Mar 22, 2021
Great park! Only issues which weren't much was that it was nonsmoking, yet someone was smoking marijuana in the cabin near our RV space and numerous potholes coming in off the highway.
Mar 21, 2021
Good location and nice facility. Centrally located even though not on the ocean it is close enough to really the Redwood National/State Parks as well as ocean beaches minutes away by car.
Mar 20, 2021
Bathrooms/shower house were very nice! Hot showers! Wish we would have had a site more in the trees but easy back in. Quiet. Limited hours at office. Needed quarters for laundry but office not open. Maybe limited due to time of year or Covid???
Mar 16, 2021
Great spot easy access and close to everything. Store is sparse compared to other KOA's but good customer service.
Mar 10, 2021
Very nice clean place. Women working at desk super sweet.
Mar 10, 2021
Front desk staff was extremely helpful. Some pull-through are more visibly appealing. Fantastic place to park your RV and explore the redwoods!
Mar 03, 2021
The staff here are excellent!!!
Mar 03, 2021
Very nice park. The staff was extremely helpful and friendly. Would definitely stay there again.
Feb 24, 2021
Nice and quiet. Surrounded by redwood trees. Minutes away from the ocean. Spacious rv sites.
Feb 23, 2021
the park is nice,the enterance the park it self is nice.the entrance could really use some help MANY pot holes.we had to backout of a pull thru site,that was not easy,park staff was very helpfulI, felt maybe a discount for the extra work that was envolved would have been nice,but in all fairness i did not not ask for one
Feb 17, 2021
We love your campground! We were high school sweethearts and were apart for 38 years, we rekindled our romance hiking in the redwoods and were married last December. We will return every year.
Feb 10, 2021
Very clean camp grounds, great staff
Feb 10, 2021
Very nice campground, would definitely recommend to friends and family
Feb 07, 2021
Even though the paperwork you get says that noise from campers will be strictly enforced, it was not. There was a couple of different groups that were yelling, playing music an no one did anything about it.
Jan 24, 2021
Office closed unexpectedly, we were not informed of the closure. None of our information for our reservation was left out for us to gather. We had to call the number listed on the door three times before someone answered, in which they had to hang up and call someone else which was another 20 minute delay.The lady who answered was pleasant enough, but the whole operation was highly unprofessional.
Jan 23, 2021
Beautiful campground and really nice hosts and staff.
Jan 23, 2021
Clean bathrooms, campsites were well kept, easy to find (right off the 101) but still quiet
Jan 23, 2021
Amazing campsite 401 in the redwoods. It was so great to be able to camp within those gigantic trees! Everything we needed to know was explained when we arrived and the bathrooms and amenities were clean and great! We will for sure be back again! Thank you!
Jan 23, 2021
We had a great stay. We hope to stay longer next time.
Jan 23, 2021
We love this campground! It's close to everything and has a wonderful store. The spots are spacious and we like that there is a laundry facility. Highly recommend!!
Apr 14, 2021
Beautiful place!
- Jack Houpe on Google
Apr 09, 2021
The camping cabins are gorgeous. The campgrounds are beautiful and our spot was awesome surrounded by trees. It was like camping in a cabin right in the heart of the Redwood Forest.
- Janine Jones on Google
Feb 27, 2021
Love this place!!
- Antonia Contreras on Google