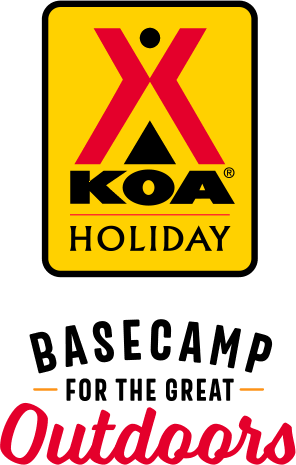 KOA Holiday Campgrounds
Whether you're exploring the local area or hanging out at the campground, KOA Holidays are an ideal place to relax and play. There's plenty to do, with amenities and services to make your stay memorable. Plus, you'll enjoy the outdoor experience with upgraded RV Sites with KOA Patio® and Deluxe Cabins with full baths for camping in comfort. Bring your family, bring your friends, or bring the whole group – there's plenty of ways to stay and explore.
KOA Holidays Feature:
RV Sites with a KOA Patio®
Deluxe Cabins with full baths
Premium Tent Sites
Group meeting facilities
Directions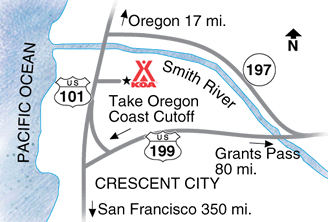 5 miles north of Crescent City on US Hwy 101 North. GPS: N41.822826, W124.145387
Get Google Directions
Sep 08, 2020
Everything was great and love the staff!
Sep 08, 2020
Polite staff, clean cabin, saw elk next door!
Sep 08, 2020
Our Cabin was located back in the wooded section and the facilities were great. Well taken care of. Loved it.
Sep 05, 2020
We purposely got a deluxe cabin ao aa to havw running, hot, water, yet we had to takw showers at the public shower, because the water would only stay hot fpr about 30 seconds. We did notify someone and was told it waa fixed but it wasn't.
Sep 05, 2020
The cabin and facilities were clean. We loved walking through the redwoods. I wish the store would've opened before 9am. We wanted to use the microwave for breakfast and needed to leave earlier than 9am.
Sep 03, 2020
Friendly staff, camp grounds where clean and will kept. Nice and quiet. Close to town,
Sep 01, 2020
Liked the 2 room cabin, great for families and friends. Convienent to parks and hiking. Would like to have seen trails closed on website. Not enough soap in bathrooms-
Sep 01, 2020
This camp ground is magical and in the heart of the Redwoods. You cannot get a better location. The camp sites are large and really well maintained. The facilities like the bathroom, showers, laundry were all very clean and everything worked as expected. The staff is helpful and friendly. It doesn't get better than this KOA.
Sep 01, 2020
We stayed 2 nights 1st night we stayed at 801 tent site it was clean spacious and shaded. Unfortunately because of my daughter's shoulder injury we could not do another night in a tent. But Amanda at the front desk was able to get us in a cabin the next day by 11am and saved our mom & daughter vacation. Cabin site 4k was private clean & just what we needed thank you Amanda and KOA
Aug 31, 2020
Enjoyed how clean it was, the noise level was low, it was easy getting to the campground. If I had to really be picky - I'd say the bathrooms were a little too far from our cabin. Also - It would be nice to have paper towels instead of the blower to wipe hands dry and be able to open doors without having to touch anything during this pandemic. Thank you - our stay was enjoyable!
Aug 31, 2020
We stayed in a cabin, it was cute and quaint. No bedding which thank God theres a walmart about 3 miles away. The mattress was hard and rubber so didnt get the best sleep.
Aug 28, 2020
Neat, clean, and safe
Aug 27, 2020
The Cabin was great! It was just big enough for the 4 of us. The grounds were very clean as were the bathrooms and showers. Laundry was easy and a good price. All n all, if we made another trip back down there, we'd definitely stay there again.
Aug 27, 2020
Our camping cabin was cozy and clean - a delight! This campground is in an idyllic setting, the grounds are beautiful, people were friendly, and we can't wait to come back.
Aug 25, 2020
This is our third year staying at Crescent city Redwood KOA. We really enjoy it there. However, this year the dog park was very dirty. There were no doggy bags to collect the dog waste, and many people did not take their own! Also, we have asked each year that you do something about the bathroom doors which do not lock. It would take a very simple hook and eye on the bathroom door, very inexpensiv
Aug 24, 2020
We absolutely loved the cabin we had the deluxe with a bathroom and full size kitchen wish they had more of these on the property. My kids enjoyed all of the open space to run and play a very well-kept playground our dog enjoyed the very large enclosed dog area to run and fetch his ball, the property was clean and kept up especially in the time of covid everything was very sanitary.
Aug 24, 2020
I'm not a camper and my girls and I rented a cabin on a whim! We enjoyed our stay and already looking forward to going back! Everything was clean and well kept up!
Aug 23, 2020
Clean, comfy cabins in the redwoods!
Aug 23, 2020
Counter lady throws more information at a person than can be understood in 30 seconds. I walked out trying to remember everything she hit me with. Was wanting to pay cash but she charged my card in a hurry. The highway is so close you wake up listening to traffic rushing by. Wasn't the worst place by far but not what I was hoping for. Location relative to town was good. Easy access. Good for kid
Aug 22, 2020
It's was a wonderful stay!!!
Aug 22, 2020
Loved the deluxe cabin!
Aug 22, 2020
Very nice campground right at Redwoods.
Aug 20, 2020
We wish the mask requirement was enforced in the restrooms. Also. I found that the bunk mattresses in the cabin were overly soft.
Aug 15, 2020
It had been many years since we visited the area and stayed at the Crescent City KOA. The staff there was friendly and helpful. The cabin was clean and met our needs. Of the 4 nights we stayed there we only had one night where our "neighbor" across from us wasn't very quiet. Otherwise we had a nice stay.
Aug 14, 2020
Fantastic!! The staff was great, the campground amazing. The facilities were spotless. What more can you ask?
Aug 13, 2020
We had a wonderful stay! Wish we could've stayed longer than only 1 night. The cabin was absolutely wonderful! It's a trip my children will never forget! Thank you!
Aug 12, 2020
Clean bathrooms and showers, well kept camp grounds (tent and kabin) and friendly staff made us very reluctant to leave! Well certainly be back again.
Aug 11, 2020
Great staff and a beautiful campground . The cabin was nice also. Will go back for sure
Aug 11, 2020
The lady at the desk was extremely rude. She was very pushy, didnt want to answer questions, and her tone was just nasty. It was completely uncalled for. But that was our only problem. The cabin was clean. The store was nice if you didnt have to deal with her.
Aug 09, 2020
This is meant as constructive criticism. I have stayed at this KOA on several occasions dating back to 1999. Under Kevin Fallon's ownership this place was immaculate! He was always on site and cleanliness was obviously a priority. I was diappointed on this stay to find the restrooms dirty at almost any time of day. It's obvious the bar is set much lower for the current staff. Unfortunate!
Aug 07, 2020
Amazing grounds tucked in amongst the trees. It's the kind of place where you take a picture of your campsite to share it with friends.
Aug 03, 2020
We enjoyed our stay. The RV site was very nice, my only compliant is the tent sites were too close which made it not very private
Aug 02, 2020
The most beautiful KOA we've ever stayed in.
Aug 01, 2020
Very relaxing. Easy check in, beautiful scenery.
Jul 31, 2020
We loved camping in our cabin in the Redwoods. The trails were wonderful to walk through for a forest bath. Having the dog park was an added bonus for our dogs. The young man who just started working there was super helpful and we enjoyed our conversation with him regarding the local area. He drives the cart and was so kind with regards to our two elderly dogs. We highly recommend this KOA.
Jul 28, 2020
Location is great...surrounded by redwoods. Bathrooms didn't work & this KOA seems to cater more to the RV camper rather than nature.
Jul 28, 2020
We will be back!!! We had a wonderful time and stay!
Jul 27, 2020
It was a beautiful campground, my family had a wonder time there, the Redwoods were amazing to camp in. thanks
Jul 27, 2020
Had a wonderful stay. The only thing I'd like to see added to cabins are the small standing grills seen at other KOA''s. Thank you �
Jul 27, 2020
The staff in the office were very kind and professional. I appreciated the cleanliness of the campground and bathrooms and liked being able to buy wood and ice cream onsite. There were a few glitches: The internet was practically nonexistant, and there was some very toxic poison being sprayed in the bushes near the bathroom next to my cabin. Please don't do this when people are cooking dinner!
Jul 26, 2020
It was perfect. Very relaxing and close to beautiful state and national parks and the wonderful Smith River. The KOA staff is the best. Thank you.
Jul 26, 2020
amazing area have never seen such a beautiful koa
May 12, 2021
Outdoor space great . cozy cabin clean
- Denise Sailors on Google
May 12, 2021
Really good spot to rugged it.
- Jose Meza on Google
May 05, 2021
We stayed for three weeks at this KOA, on our journey north to Oregon. What a perfect setting! Despite being on US101, it is very quiet and the staff are attentive and informative. With easy access to Crescent City, the coast and Oregon, it is a perfect location for activities or relaxation. A herd of wild elk are regular visitors to the neighbouring field, Blacktail Deer and a wide rang of birds can be seen, all from the comfort of your site! We would definitely stay here again!
- Scotlyon369 on Trip Advisor