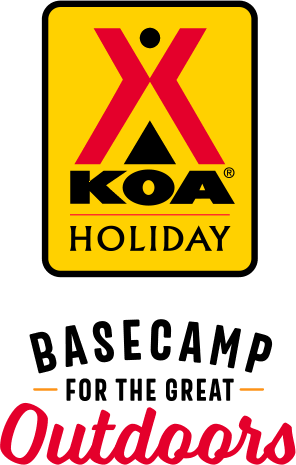 KOA Holiday Campgrounds
Whether you're exploring the local area or hanging out at the campground, KOA Holidays are an ideal place to relax and play. There's plenty to do, with amenities and services to make your stay memorable. Plus, you'll enjoy the outdoor experience with upgraded RV Sites with KOA Patio® and Deluxe Cabins with full baths for camping in comfort. Bring your family, bring your friends, or bring the whole group – there's plenty of ways to stay and explore.
KOA Holidays Feature:
RV Sites with a KOA Patio®
Deluxe Cabins with full baths
Premium Tent Sites
Group meeting facilities
Directions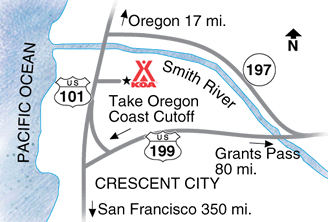 5 miles north of Crescent City on US Hwy 101 North. GPS: N41.822826, W124.145387
Get Google Directions
Apr 03, 2021
First time using the cabins. Very nice �. We usually stay in our RV. Love KOA
Mar 31, 2021
Was very quick check in,great gift shop, lots of different maps to trails, only suggestion on that have how long each trail is. Had a great time watching the goats and looking at all the redwood trees!
Mar 31, 2021
I understand the need for COVID-19 restrictions however having the camp office/store closed at 1 in the afternoon seems extreme. The cabin and space were very nice and the campground was very well taken care of and we will very likely be back after COVID.
Mar 31, 2021
Everything was great. Check in / out was easy. The campground is secluded yet close to everything you need.
Mar 28, 2021
We had a great stay and plan on coming back again for sure! The cabin was wonderful! Super clean and had a great little outside area with a fire pit. Julie, in the office, was amazingly helpful with recommendations of where to go in the Redwoods and beaches. This was out first time staying at a KOA, and we are huge fans now! We will be back for sure!
Mar 28, 2021
Stayed in the Deluxe Cabin (Vacation Rental). Was clean, kitchen was well-stocked w/pots, pans, dishes, etc. Loved the side yard. Though we were close to neighbors, it felt private and quiet. The old-growth patch of redwoods is beautiful. We enjoyed the goats and chickens. Host Julie and team were all really nice and helpful. Store had some basics which came in handy. Thank You!
Mar 28, 2021
We had reserved a cabin for a single night and asked if we could be extend for a second night. The staff was very friendly and accommodating. We were very comfortable during our 2 day/night stay. We also benefitted from staff recommendations/directions regarding local points of interest. The Northern California Redwood Coast is a treasure. The Redwoods KOA is a great place to stay.
Mar 27, 2021
The driveway is horrible, fill the pot holes! Our cabin was infested with ants but we did get a 10% refund for dealing with ants crawling on us while sleeping. The cabins are nice and the staff is wonderful
Mar 27, 2021
Cabins were really cute and clean. Staff were friendly and very helpful. My bed pad was not too comfortable but otherwise everything was perfect. Clean facilities and beautiful surroundings in the giant trees.
Mar 26, 2021
Lovely place! Loved the close proximity to crescent city. WiFi for us was pretty useless. Weak signal, mostly inaccessible unless it was early am. Driveway entrance is brutal with huge holes. Rough on a vehicle. Can only imagine if pulling an RV. Would return, loved our little cabin.
Mar 25, 2021
Cabin was nice and clean. Front desk was very friendly and helped with hwy closure info. Only 2 issues- there were ants in the cabin that showed up 2nd day. Office didn't open till 10 am which sends really late and closed at 6 pm. We had issues with toilet but they did respond quickly to our call.
Mar 25, 2021
Would have been a 5 but heater in the cabin was not big enough and the bathroom in the back lacked heat. Fix those and it would rate as one of the best I have stayed in and we have camped from coast to coast.
Mar 23, 2021
Two of the three women's bathroom stalls were clogged from early evening until mid next morning. Our cabin was clean and comfortable.
Mar 21, 2021
Always a nice stay.very nice area. Person that runs the store does a very good Job Very helpful
Mar 20, 2021
It was comfortable. Check in was easy, and check out. The luxury cabin had showers, microwave, coffee maker, tv, comfortable sheets. Wifi was very spotty. But it was a very good experience.
Mar 18, 2021
Very clean place. Nice accommodations and friendly people.
Mar 01, 2021
Nice and quiet! Very clean!
Mar 01, 2021
Perfect place to stay when it's too cold for a tent. The heater was a little small for keeping the room warm and the mattress was worn out but overall we enjoyed our stay.
Feb 18, 2021
Very nice place.the lady that runs the store is great .very helpful.Hope to see u soon on another dog transport
Feb 09, 2021
Great location for a winter getaway. Stayed in a deluxe cabin and bed was very comfortable
Feb 03, 2021
We had a good time. The cabin was very nice and the bed's comfortable
Jan 08, 2021
Comfortable. Nice people. Amazing property.
Jan 03, 2021
We were very happy with our stay. My children really appreciated the super clean restrooms. Our Cabin was very nice. The heaters was a plus. Thanks so much! We cant wait to do it again
Dec 28, 2020
We loved our first stay so much that we booked another stay for the same cabin, same cabin. We get there a little after the office closed and they put us in a different cabin. Location is pretty, customer service is lacking.
Dec 17, 2020
It was wet, but a great get away.
Dec 10, 2020
Clean kabins, nice area. If you walk to the back part of the park there are redwoods everywhere. Staff was friendly, there are two goats to pet. Close to the beach and Crescent City.
Dec 09, 2020
We love this koa! We have stayed here a few times in the past 15 years
Nov 29, 2020
Very organized after hours check in. Heater going in cabin when we arrived, very nice. We just stayed one night, but would definitely return next time we are in area. Nice location surrounded by trees, yet close to town.
Nov 13, 2020
Liked everything except unstable bunk bed ladder and first night it took a while for heaters to warm up cabin. Great location and cute cabin!
Nov 13, 2020
Very nice and quiet.the host in the store was very helpful and friendly.will be back as soon as we can get away.
Nov 09, 2020
The cabin was very pleasant, and beautifully situated in the redwood forest. I liked being distant from garish street/yard lamps, though there were a couple elsewhere in the campground. The only issue is that the heater in the cabin was too small and weak to warm the cabin up on the chilly night.
Nov 08, 2020
We arrived just as the office was closing and the woman opened back up to get us a kaBUN since we didn't have a reservation. I didn't get her name but she was so sweet and helpful. We appreciate her staying after work for us!!! The property is beautiful too. And the goats we're a cute bonus too!
Nov 02, 2020
Cabin was great but our car got broken into overnight and our purses were stolen. Apparently it is a regular occurrence, however we didn't see the posted signs about keeping valuables away from thieves until after the fact. Very unfortunate end to our trip.
Nov 02, 2020
Really enjoyed it I wish I had more time to stay.
Oct 27, 2020
Peaceful, quite, relaxing. Just what I was looking for.
Oct 26, 2020
Love love love this campground.
Oct 26, 2020
Great stay until cabin ran out of propane Saturday night and it was 60 degrees inside Sunday morning. But we did get hot showers.
Oct 20, 2020
Deluxe cabins are immaculate and comfortable. After hours check-in was quick and casual. Perfect location for a road trip home-base!
Oct 20, 2020
Super friendly, and very helpful staff. Beautiful campground!
Apr 14, 2021
Beautiful place!
- Jack Houpe on Google
Apr 09, 2021
The camping cabins are gorgeous. The campgrounds are beautiful and our spot was awesome surrounded by trees. It was like camping in a cabin right in the heart of the Redwood Forest.
- Janine Jones on Google
Feb 27, 2021
Love this place!!
- Antonia Contreras on Google