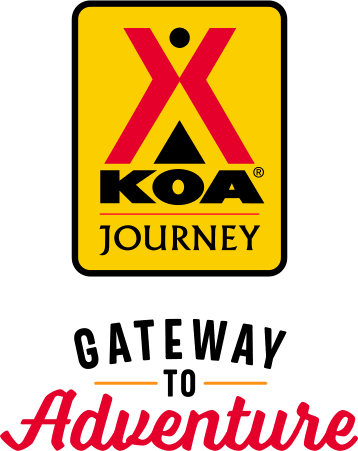 KOA Journey Campgrounds
KOA Journey campgrounds are the perfect oases after a day on the road. Whether it's along the way or a quick getaway, they've got you covered. Located near the highways and byways of North America with long Pull-thru RV Sites, they deliver convenience to the traveling camper. Pull in, ease back and take a load off.
KOA Journeys Feature:
Pull-through RV Sites with 50-amp service
Premium Tent Sites
Well lit after hours check-in service
Directions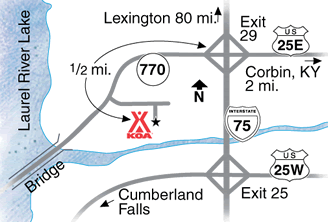 From I-75 Exit 29: Go west 1/4 mile, turn left on City Dam Road, just past the Love's Travel Center. Follow Yellow Signs into Park.
GPS is inaccurate, please call.
Get Google Directions
Jan 14, 2021
Stayed10 days. Quiet and the front office was Barry helpful.
Jan 11, 2021
Great location for an overnight stop. There is a Loves travel plaza on the same exit which makes it super convenient to fuel. Campground is small but clean. After hours board was easy to find. Paperwork was ready when I arrived.
Jan 06, 2021
Great spot in Corbin for a stop on a long trip. I have A 30ft bumper pull and the park is easy to navigate and the pull through spots are easy in and out access. The front office was closed but reservation envelopes were left for you to pick up and had all pertinent information enclosed. The front office was helpful when bad weather prevented my trip from happening as scheduled and worked with me.
Jan 06, 2021
Great nice manager pleasant great customer service.
Jan 04, 2021
Everything was satisfactory. Cable tv splitter could have been mounted closer to edge of post. Hard to get fingers close enough to tighten tv cable
Jan 03, 2021
very accommodating to special request of site close to showers and restrooms,thank you very much
Dec 30, 2020
Great place and friendly staff!
Dec 30, 2020
The weather was terrible with freezing rain then 4" of snow. The camp was fine. Didn't get to enjoy it!
Dec 30, 2020
Everyone there was very help full in accommodating us during our stay. Will definitely be coming back.
Dec 30, 2020
Just stayed one night, passing through. Very accommodating.
Dec 29, 2020
Great park. Very accessible
Dec 25, 2020
Wrong time of year to go, but the lodge was great! Could use a thermostat on baseboard heater.
Dec 23, 2020
The lot we were assigned did not accommodate my coach length with tow vehicle even though this information was provided in the reservation. We stopped for one night and I needed to unhook and back up out of a "pull-thru" site.
Dec 14, 2020
We love the campground a lot, it's very nice and convenient, and surprisingly quiet. We definitely would recommend this campground to friends and family!
Dec 12, 2020
Convenance, level campsites, well maintained park. Above all was the hostess, Lisa, who went above and beyond to insure our accommodations were satisfied.
Dec 10, 2020
The staff was very friendly and accommodating. They made us feel like we were old friends.
Dec 07, 2020
Nice and easy checkin and departure. Instructions were very clear. Great stop over night for our trip from NE Ohio to Gatlinburg.
Dec 07, 2020
Great place to stay off the expressway. Very friendly staff.
Dec 06, 2020
Darling, clean& quiet. Very helpful & polite woman at office.
Dec 05, 2020
We arrived after dark and with no lighting it created a problem . The managers were helpful in getting us park,but they had us to close to the tree and bent our awaning roller and tore the awaning. We would stay again but get in before dark. Gwen Makela
Dec 04, 2020
Easy in, easy out, quiet and clean, could use just little more slag for dressing on entrance and exit road, management was in touch making sure we got proper help, recommend as a good place to stay on the road.
Dec 01, 2020
The Convenience of the campground being close to interstate was nice. All the staff of the campground was very helpful and friendly. I have stayed in other KOA's in Ohio, but this is the first one in Kentucky. I was very disappointed with the restrooms and showers. That is the biggest reason I stay at KOA is the detail to clean and nice restrooms and showers. This one was not, Needs improveme
Nov 30, 2020
Always a great stay during the Thanksgiving Holiday. Every year there are new improvements to the campground. One of our favorite places to stay.
Nov 30, 2020
Staff very friendly (young lady in office and young man who took us to site). Had never stayed there before but definitely will stay again. It's a perfect stop over to spend night before driving thru Atlanta early the next morning
Nov 28, 2020
This was our first time at a KOA. The staff were great and very accommodating even upgrading us to a deck. It appears that the campground is expanding their camp sites for next year. That said, the facilities, while very clean are definitely dated and in need of updating. The campgrounds location also let's a significant level of highway noise into grounds which did not make for good sleep.
Nov 27, 2020
Great WiFi shaded nicely.
Nov 25, 2020
This KOA was awesome! Staff was super friendly. Bathrooms were dated but super clean. Cabin was nice and clean, equipped with ac and space heaters which was awesome!
Nov 24, 2020
Loved our stay and everyone was so friendly. We will be back again!
Nov 23, 2020
Friendly staff and nice campsites. Will definitely stay here again.
Nov 23, 2020
Well kept KOA
Nov 23, 2020
Friendly staff
Nov 21, 2020
Our first lot was a bit too small for our slides and they gave us the next lot, no questions asked. Thank you for being easy to work with!
Nov 19, 2020
Was very nice
Nov 17, 2020
It was very nice . It was off season so not much in camp store . It was a great place
Nov 17, 2020
The campground was very nice and clean. Good stay. One thing, I renewed my membership there and the lady that did it cancelled my original membership with a lot of points attached and made a completely new membership. Now I have to contact KOA and try to get this transaction reversed. A real BUMMER!!!
Nov 16, 2020
Great place to stay, staff was extra attentive. Their deluxe campsite was really great...personal grill, fire pit and patio with nice view.
Nov 16, 2020
Stayed one night in a pull through FHU. Arrival at dark is very hard due to not well lit areas, hard to find driveway. Paperwork easily available and Wi-Fi was great. Had a hard time figuring out where our site was as everything is smashed together, not well marked or well lit. On top of each other and our slide was right on top of our neighbors. Won't be back.
Nov 15, 2020
Sites very poorly marked. Small crowded sites. No fire wood available for purchase.
Nov 12, 2020
The staff was very friendly and helpful. The restrooms were spotless and very clean. Our site was nice but this is a smaller campground and a little crowded. There were also some very big weeds in what could have been nice landscaping. It seemed overgrown. We were disappointed to see the staff not wearing any masks while in the office. They need to protect themselves and their guests.
Dec 30, 2020
I like camping
- potato 12 on Google
Dec 20, 2020
Great place!
- Donnetta Swindell on Google
Dec 20, 2020
For us, this KOA site at Corbin Kentucky proved to be a great layover location for our road trip. The location is really easy to get to off of Interstate 75 (while arriving after dark). The sites are really nice and getting into and out of them with a travel trailer was very easy. Plenty of room for maneuvering. The site the we had (15) had multiple places for waste tank hookup, which I thought is pretty convenient for any kind of trailer/RV hookup configuration. Overall, very happy with this KOA. Will definitely keep this as a favorite location for future trips.
- Joseph Van Wanzeele on Google