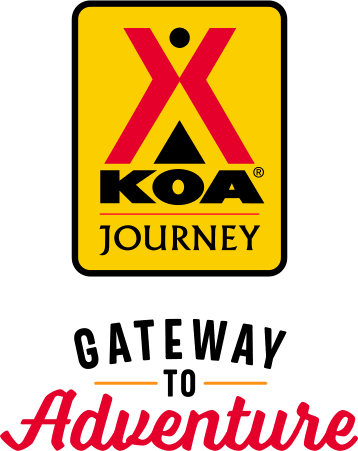 KOA Journey Campgrounds
KOA Journey campgrounds are the perfect oases after a day on the road. Whether it's along the way or a quick getaway, they've got you covered. Located near the highways and byways of North America with long Pull-thru RV Sites, they deliver convenience to the traveling camper. Pull in, ease back and take a load off.
KOA Journeys Feature:
Pull-through RV Sites with 50-amp service
Premium Tent Sites
Well lit after hours check-in service
Directions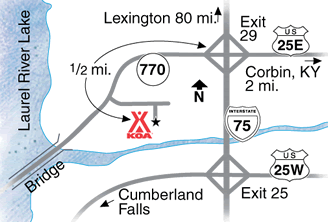 From I-75 Exit 29: Go west 1/4 mile, turn left on City Dam Road, just past the Love's Travel Center. Follow Yellow Signs into Park.
GPS is inaccurate, please call.
Get Google Directions
Sep 13, 2021
Very nice. Sites are tight in your in a big rig. ������
Sep 13, 2021
being a single mom of 3 girls makes it challengi due 2 finances. My mom, dad, & sister would always go 2 KOA, in many different states, unfortunately, my sister passed then my dad a few short months later, both had cancer. My mom was diagnosed with breast cancer & had treatments 2 recently found out they detected more spots 2 come together n such a beautiful place to make memories was a Blessin
Sep 13, 2021
Friendly helpful folks and nice level spots. Hiking trails for those who enjoy that sort of thing. It was an enjoyable stop.
Sep 12, 2021
Place could use a little TLC. Fix up what you have before you keep expanding.
Sep 12, 2021
This KOA is in a beautiful area, near Cumberland Falls. The site we had (24) was level, had a nice fire pit, and was just perfect for our 19' Airstream and GMC 1500 rig. Crickets and cicada provided the night time sound track. We were only there one night, but it was relaxing!
Sep 10, 2021
Not really a big rig Class A setup. Good for 5th wheels. Utilities were all at the back of the site and I did have to disconnect our toad so we were not sticking out in the road. Very dusty area with little grass between sites. It was clean and the staff were very nice - just not set up for Class A's of 45'.
Sep 10, 2021
We came to visit Cumberland Falls and Laurel Lake and stayed in a camping cabin. Nice, convenient location. Very friendly and attentive staff. Well maintained and clean campground, cabins, and pool. One of the showers had some issues, but I saw a note that the restrooms will soon be getting a make-over, which will take care of any of the little problems we saw.
Sep 10, 2021
Nice Location, shower house needs updated which signs are posted that this is happening in the future. Linens provided were not clean or wasn't checked, when sheets were opened they had a lot of hair on them, ended up going to Walmart and purchasing our own linens ( which I normally bring my own) curtains in back room ( white) were dirty looking. Staff was very nice!
Sep 09, 2021
Excellent service and very willing to work with and makes appointments effortlessly for campers.
Sep 08, 2021
It is in a beautiful wooded setting. Staff are wonderful. The park is neat and clean and well kept. Would definitely go back.
Sep 08, 2021
We enjoyed the Corbin KOA, because it was quiet and had lots of areas for our long dog walks. The bathrooms were very clean and the WIFI was excellent. Our only recommendation is to have more dog potty stations throughout the campground. We only saw one and all the potty bags were gone. Luckily, we always have our own with us.
Sep 08, 2021
Great campground. Shady, quiet, and a feeling of being in the middle of the wilderness. If I might recommend something, the only negative would be the low tree branches. Several of them could use a trim to lift them up. We had a few scrape our rig as we were leaving.
Sep 07, 2021
Love the location and friendly staff! Looking forward to bathhouse improvements. Paved sites would be a wonderful upgrade!! Already have sites booked for 3 different dates in 2022!
Sep 07, 2021
Great campsite! The staff was extremely helpful and friendly as well as the fellow campers. This was my family's first time camping and it's was a great first experience. So much activities to do in the area!
Sep 07, 2021
Very clean and very helpful staff..
Sep 07, 2021
Enjoy the RV park greatly! Thanks the Wildts
Sep 06, 2021
Cabin was so adorable and clean. They supplied fresh clean sheets and pillows. There is a pool there but you do have to drive to the lake about 3 -4 miles so it's not on the lake. Close enough though. Fun family area . Nice folks there too. Bathroom area clean. They have store for ice and firewood and anything you may need,
Sep 06, 2021
Sites are tight, but everyone their was friendly and very helpful we would return here!
Sep 05, 2021
Beautiful site, very private, great view of the woods, not other campers. Loved having the large deck. Staff was very friendly upon arrival. Would definitely stay here again!
Sep 05, 2021
Not Big Rig friendly. Large rocks, tight turns. Hard to exit.
Sep 05, 2021
Staff was great, but there was a lot of highway noise at night. Not so noticeable during the day when everyone is busy, but when it got quiet at really. it was disturbing. Not much anyone can do about that, but something to keep in mind for tent campers. Perhaps it doesn't bother big rigs with their doors and windows closed and the air conditioning running.
Sep 05, 2021
We had a problem with the power and The staff was very helpful. Unfortunately for us nothing could be done there but they refunded the night.
Sep 03, 2021
Staff was friendly and helpful getting into the site. It is a nice campground with a nice pool.
Sep 01, 2021
Our kids enjoyed the pool. You should think about upgrading the playground. We had a very good time.
Sep 01, 2021
The park is very well kept and the management are very friendly. I would recommend a stay if you are going to be in the area. Easy on and off for big rigs.
Sep 01, 2021
just an overnight stay that was a great stop after the bad trip home from florida. clean and friendly.
Sep 01, 2021
Friendly and accommodating
Aug 31, 2021
The staff is very helpful and friendly. Thought it was closer to the lake. Otherwise nice place.
Aug 31, 2021
Area and folks are nice but restrooms and showers are far out dated. Needs ac.. Some spots seem pretty small and the drive out was a bit narrow. I would stop again though.
Aug 31, 2021
We are always happy with this Corbin KOA. The staff is friendly and helpful.
Aug 31, 2021
There was a sewer back up in the campground and it prevented us from dumping our tanks. The worst part is that the contaminated sewer water ran across my water and electric lines. I had dispose of them due to this. After approximately (8) phone calls and a voicemail, I was able to speak to the staff. The owner never called me back. Stay away from this KOA!!!!!!
Aug 31, 2021
We were taken on a trip through the campground to get to our site. The layout is very confusing.
Aug 30, 2021
The staff was friendly and helpful. We where led to our site and guided in our spot. Easy enough to get out at 0400. Would syat here again.
Aug 30, 2021
Would like to see kid activities and a better playground. The pool was great and our site was wonderful. The staff was so kind and welcoming!
Aug 30, 2021
It was comfortable but the pool had a ring of dark scum around the pool the whole time we were there.
Aug 29, 2021
Quiet, clean and well organized. Friendly folks, very nice stay.
Aug 29, 2021
It was an over night transit stop. Check-in and escort to the site was quick and efficient. Hookup was easy and the park was quiet with easy access to I-75.
Aug 28, 2021
Lisa is a very good manager. Keep up the good work Lisa. Our site was nice and clean.
Aug 28, 2021
Great staff!!
Sep 12, 2021
Love this place ...
- reaper meri on Google
Aug 23, 2021
We stayed here while dropping our son at college. Level gravel sites nestled in amongst trees. Friendly staff. We pull a 30' TT but saw a large motor coach pulling a toad parked here also. The campsites are clean and the pool was well attended and used. The store is sparse but a large Walmart is within 3 miles. The pet area is fenced and large enough to throw a ball to my two border collie mixes. There is a moderately steep hiking trail down to a lake and upstream of the lake was a waterfall with a pool. The hike is worth the effort and my dogs enjoyed the water. I found some bituminous coal at the end of the trail and a couple different types of fungi. The weather was hot and humid with typical bugs for the area and poison ivy off the trail. We enjoyed the stay.
- James McGuire on Google
Sep 01, 2021
Friendly people and atmosphere that made me stay there more than once already. There's also a nice nature trail going right from the campground that goes down the hill to the creek. My stay there was always peaceful. One drawback: need to add something to dry hands with in the bathroom (spent toilet paper rolls just don't do). Need real paper towels and hand drier. Restroom stall are the kind that have doors open inside, which makes it almost impossible to squeeze in without your clothes touching something in the stall (need to make their doors open outside), so bathroom experience wasn't comfortable. Other than that it's a lovely campground.
- MountShasta011 on Trip Advisor