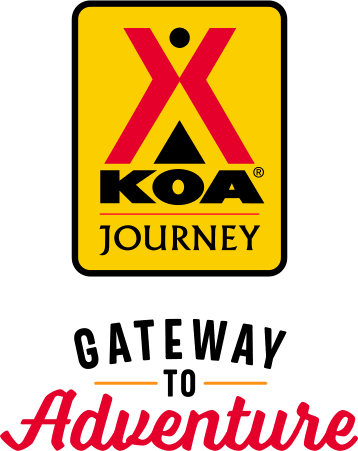 KOA Journey Campgrounds
KOA Journey campgrounds are the perfect oases after a day on the road. Whether it's along the way or a quick getaway, they've got you covered. Located near the highways and byways of North America with long Pull-thru RV Sites, they deliver convenience to the traveling camper. Pull in, ease back and take a load off.
KOA Journeys Feature:
Pull-through RV Sites with 50-amp service
Premium Tent Sites
Well lit after hours check-in service
Directions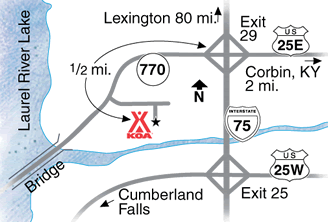 From I-75 Exit 29: Go west 1/4 mile, turn left on City Dam Road, just past the Love's Travel Center. Follow Yellow Signs into Park.
GPS is inaccurate, please call.
Get Google Directions
Apr 06, 2021
Red to update the playground and possibly move it to a place that doesn't look like it belongs to the house on the property. Very friendly staff and very helpful to first time RVers. Bathroom could use some modernization but it was useable and always clean.
Apr 06, 2021
We decided to stay at the last minute and they were very friendly to help us with our needs
Apr 04, 2021
Needs improvement.
Apr 04, 2021
Very friendly. Had everything we needed.
Apr 04, 2021
Our lot was a little on the short side for a 40ft. towing a full size truck but for a one night stay it was sufficient. This was just a stop on our trip from South Carolina to Ohio so no big deal. Nice little campground, clean and very quiet.
Apr 04, 2021
We stayed in the lodge cabin and where very pleasantly surprised! We arrived early and they were able to accommodate us for an early check in, the staff where very nice and eager to help with any questions we had about the area! The cabin was clean and even though it was very cold the night we where there, mid 20s, the cabin stayed comfortably warm! We will be back!
Apr 04, 2021
Still coming out of winter, but I bet it's beautiful when everything is in bloom and green. Nice accommodations and management.
Apr 04, 2021
Stayed on night in the way to Florida. Needed WiFi for virtual school the next morning WiFi was great. Owner came out at 1130 to help us find a spot. Very friendly and helpful. Easy in and out just off I-75
Apr 03, 2021
Very nice people. Great place to stop overnight. We would stay there again for sure.
Apr 01, 2021
The owner and works were great. When I got there the helped me back into a good spot that was very scenic and private. They have a awesome location its right of the highway and its a Wal-Mart near by.
Mar 31, 2021
The staff was very nice. They called us on our way down and just made sure we were going to make it. When we arrived, the staff was polite and helpful. We just stayed one evening on our was to Smokey Mountains. We will definitely stop again when it is warmer!
Mar 31, 2021
Friendly staff. Clean campground. Sites are a little close.
Mar 31, 2021
Very nice people were working. Friendly and helpful. The site was nice, just a bit close together and not a lot of additional amenities. That being said, definitely a nice place to stay a night or two,
Mar 31, 2021
Just an overnight but the CG looks to be one we would love to come back to. Showers were good. Bathhouse was clean but might be getting a bit long in the tooth.
Mar 29, 2021
Really appreciated the call to confirm our reservation. We have stayed at many KOA's and this is the first that has done that. The staff at check-in was friendly and provided all the needed information. We had an issue with our cable TV and the office sent someone over immediately and helped us to resolve the problem. We will be back,
Mar 28, 2021
First time the site was not level. Second time, we had to wake up the campers next to us because we were unable to hookup to leave (were told they were coming in late and leaving VERY early----he said he had no idea why they thought that). Dog play area was the best part. Nothing on the store shelves. No one in the office was wearing masks. Guy next to us was VERY unhappy, said he wouldn't be back
Mar 28, 2021
It was very well kept. The staff was very professional and friendly.
Mar 28, 2021
The staff was very nice and helpful. We only stayed overnight but plan to go back.
Mar 27, 2021
Great customer service. Nice campground. We would come back.
Mar 27, 2021
The water was turbid extremley cloudy. The cable was fuzzy and unwatchable. camp sites too close
Mar 27, 2021
We used it for a one night stay. Staff was very helpful and place was clean.
Mar 26, 2021
Clean, organized, private. Love the patio swings, playground, clean and solid cement patios.
Mar 26, 2021
The park was nice and clean. Did not like the buddy spots as someone who has dogs they type of sites are not good for them. Nor is is good during COVID. We went in March so the campground was quiet.
Mar 25, 2021
Nice stay, staff friendly, beautiful location. Would stay again. Bathrooms and showers need updating.
Mar 24, 2021
Great hospitality!
Mar 24, 2021
Need to do some updating to water system.
Mar 22, 2021
The site was really tight! We came in two hours after the office closed, easy access to night registration. However, upon arrival to our site the water was locked (pd for full hook up) called the night assist. number 5 times no answer, left message nothing. Went to the office next morning (10:00) still closed, supposed to open at 9:00. Called after we left to complain they did give us a $20 refund
Mar 22, 2021
Had no problems or issues. Was very happy with our stay.
Mar 20, 2021
Only stayed one night. We have stayed there before and keep going back because of the great location and friendly staff!
Mar 18, 2021
Everyone was very friendly and helpful. The campground was clean and quiet and full of trees and lots of room for our dogs to roam.
Mar 13, 2021
This KOA is very accommodating. We ended up getting in a day prior to our scheduled reservation and they allowed us to come in a night early without any issues. Staff is always friendly and helpful.
Mar 13, 2021
Great campground. Our stay was not during the camping season. We were heading back to Ohio from Florida. The campground was clean, the sites are level and spacious. The Wi-Fi is phenomenal! (Thank you)
Mar 08, 2021
Nice right off I75
Mar 08, 2021
We had a wonderful time. It was a great short getaway for my daughters birthday. The fire was amazing!! The dog park was great also, lots of room to run and play. Thank you for the great time!!
Mar 04, 2021
We were there for pn;y one night. The campsite was very clean and had everything that we needed. I fyou are in the area again we will stay there.
Mar 02, 2021
We were late arrival and they actually called me around 5 pm to go over check in procedures and tell me what site we were on! Very clean. Great 1st night stop on our way from MI to FL. Had 12 hours of a torrential downpour once there, but full hook up pull thru sites appeared to have great drainage. No issues departing. Will be back!
Mar 01, 2021
Great staff very friendly people
Feb 27, 2021
Wasn't able to enjoy much as our RV needed to be fixed so stayed from about 1am till 1pm. Seemed like a great place
Feb 26, 2021
The campground was very easy to get to and the staff were great The site was neat and set up for easy in and out
Apr 06, 2021
Staff is very friendly. Facilities are nice and clean. Office provided free coffee for this momma in the morning. My children love the play area. This is a nice spot to come and relax!
- a ghost on Google
Mar 29, 2021
We only stayed one night on our way back through from Bristol, TN but they had 2 openings next to each other with full hookups in a pinch. I can't really say too much, since it was a short stay. We will definitely be back in the future though! The hookups are very convenient with multiple spots depending on where your tanks are and how long your hoses are. It also looked like they even had cable TV/internet maybe as there were wires for it. I've never been to a campground that had that before. We did not use it though. They also have an inground pool too, though it is March so it obviously was not open. I hope to be back soon to enjoy all of the amenities and beauty of this campground! 🥰
- bri v_turnin_burnin on Google
Mar 26, 2021
Kinda tight but a good place. WIFI was on point!! Staff was great. We did didn't check out the facilities tho.
- Will Miller on Google