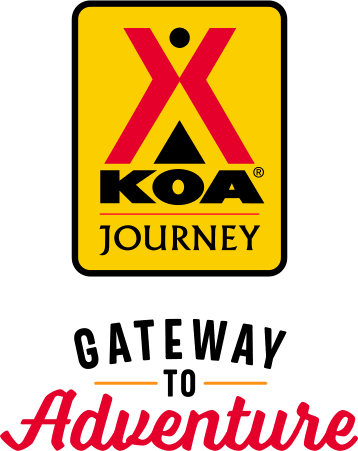 KOA Journey Campgrounds
KOA Journey campgrounds are the perfect oases after a day on the road. Whether it's along the way or a quick getaway, they've got you covered. Located near the highways and byways of North America with long Pull-thru RV Sites, they deliver convenience to the traveling camper. Pull in, ease back and take a load off.
KOA Journeys Feature:
Pull-through RV Sites with 50-amp service
Premium Tent Sites
Well lit after hours check-in service
Directions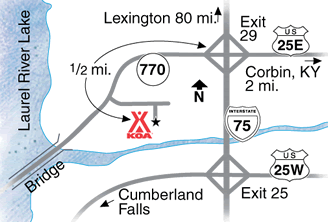 From I-75 Exit 29: Go west 1/4 mile, turn left on City Dam Road, just past the Love's Travel Center. Follow Yellow Signs into Park.
GPS is inaccurate, please call.
Get Google Directions
Jun 16, 2021
Friendly staff...pleasant place to stay for a couple Nites
Jun 16, 2021
Friendly, Clean and we loved the tree lined lots
Jun 15, 2021
A very pleasant campground with nice staff. Our pull through site was a small challenge to level out our motorhome as the front of the site dipped down. We had to detached our car and then back our coach to make it level still using blocks under our front wheels. Corbin proved to be a very nice town with great restaurants and shops.
Jun 15, 2021
It was great!! We really enjoyed it.. our site was shady and we met a very nice couple from Florida..
Jun 15, 2021
People were extremely accommodating. Young couple went out of their way to make sure we had what we needed, including picking me up a toothbrush at the store! They helped made us feel important as RV guests :)
Jun 15, 2021
Our cabin was perfect dor pur group. The deck with grill and lawn chairs gave us extra room to feel comfortable. Thanks for a great stay.
Jun 15, 2021
Nice pool after a day of driving
Jun 14, 2021
We got a pull through site, but it was very tight and hard to pull in and out of. The roads in the campground are very narrow and windy. There was a strange septic odor in most of the campground.
Jun 13, 2021
Outstanding service Thank you!
Jun 12, 2021
This is a very tight campground. You are very very close.
Jun 12, 2021
The folks there bent over backward to make our stay one of best we've ever had. We came in with out reservations but they got us in for the whole time we needed to be in Corbin. Everyone made us feel like part of their family. Must say that the first place we were placed was a bit noisy due to interstate traffic, we're very lite sleepers but as soon as they could we were moved to a quieter spot.
Jun 12, 2021
Great camping. Nice large sites. Secluded and big too crowded. Wonderful owners
Jun 11, 2021
Nice clean campground. Easy in and out.
Jun 10, 2021
Everyone was so very nice and a beautiful place to stay
Jun 10, 2021
We only stayed one night but everything was great. Since the campground was full, we were concerned about noise throughout the night but it was quiet. The bathroom was clean.
Jun 09, 2021
Very professionally operated. Nice place. I'll be back next year.
Jun 09, 2021
WAS GREAT !!! VERY CLEAN ,PEOPLE WERE HELPFUL AN KIND HAD A GREAT STAY, SEE U AGAIN IN AUGUST
Jun 09, 2021
Stayed for only one night, so didn't use the pool. Easy pull in and out. Employees were helpful. Good place to stay. We were in a Travel Trailer.
Jun 09, 2021
It was a great stay
Jun 08, 2021
Had a great time.
Jun 08, 2021
Our neighbors were really loud until about midnight with music playing loud. One of them had a Sheriff vehicle so I guess they felt they didn't need to be courteous. They seemed very down south scary if you know what I'm saying.
Jun 08, 2021
Front Desk receptionist...very cordial and friendly. Upon arrival...we were guided to Space 29...which had full hook up. However, in the morning..we awoke to find another large trailer/pickup blocking our exit...hard to maneuver and depart. Men's bathroom not clean chose not to shower. Some toilets inop...with remainder obviously not flushed.
Jun 08, 2021
Staff is amazing. Lots could be a bit more level. The trees have to get trimmed back. It is very tight getting in and out of the park, and the limbs hanging out don't help at all. If the trees were trimmed up… it would be a 5 star review
Jun 07, 2021
The site was tight, but acceptable. My issue was that we had paid for 2 nights, but a family emergency came up on Saturday morning--we had to check out. We were out of the site before 9:30. There was no refund for Saturday night--, and we left long before the required departure time.
Jun 07, 2021
The campground was nice BUT the satellite TV was no good and internet was slow. PLUS we a a 5 wheel camper and they put use in a pull through that drop use down a hill.
Jun 07, 2021
We loved the staff and the overall feel of the campground.
Jun 06, 2021
Will camp agaiin
Jun 05, 2021
Great site in a shaded area with a concrete patio. Requested the same site for Labor Day but it was already assigned to someone else. The girl at the check in desk was super helpful and found us another perfect site for our camper, truck and our bro-in-law's boat. Bath house was clean. Shower had great water pressure and plenty of hot water. Can't wait to be back for Labor Day!
Jun 05, 2021
Very friendly staff. Nice place to stay at. I would love to stay there again
Jun 04, 2021
We love this campground and had a great time. The location was perfect for us, out of the way but close to necessities. Staff is friendly and helpful and the owners are AMAZING! Highly recommend and we will be back!
Jun 04, 2021
We only stayed one night, but it was a good stay. Easy access, patio and firepit were great, and all hookups worked as advertised. We enjoyed a visit from one of the local cats, who kept us company by the fire.
Jun 04, 2021
Very tight spaces, very nice staff but hard to get in touch with. Very nice and clean with great wifi.
Jun 01, 2021
Narrow roads,. Bathroom needs repairs and was too small for number of sites. There was an actual line to use the bathrooms in the morning. Can't imagine how bad it's going to be when expansion is complete is the don't build another bathhouse.
Jun 01, 2021
The Corbin KOA was the most disappointing. The water at our site was not working, the cabin had 1 light bulb, and when we asked for some we were given a flood light. We were told to use the camp kitchen or ask for water. On our last day, as we were packing up. We found a syringe hanging off the top bunk near the back. Management offered no apology and acted like we may have placed it there.
Jun 01, 2021
This is the worst KOA I have ever been in. The sites are very small, the one I was in was so small when I sat under my awning I was looking into my neighbors slide out.You can't make any noise or they will come and tell you to be quite. This happened to me at 3:00 o'clock in the afternoon!! And believe me my radio was not that loud.Don't waste your time at this campground if you want to have
Jun 01, 2021
Great place to crash for a weekend or get some rest while traveling. Super nice staff.
Jun 01, 2021
Firewood burned too fast, bathroom were always out of order 2 at a time. No one picked up trash as suggested.
Jun 01, 2021
It's a nice campground just right off of I 75 and had no problems in the host was nice And we were there for three days
May 28, 2021
People were very nice and helpful. Nice clean grounds and pool.
May 28, 2021
We stayed here for one night while traveling home to Florida. Staff was very friendly and facility is in a lovely hillside location. Our only comment is that it's quite dusty, with dirt roads and dirt campsites. Trees are beautiful and well trimmed. The pool looked nice, although we didn't use it.
May 26, 2021
Nice campground. Friendly staff.
Jun 20, 2021
Great weekend stay will stay there again
- Philip Asher on Google
Jun 17, 2021
THE BEST: Staff was friendly, knowledgeable and caring professionals! Clean sites and facilities. Convenient to major highways. Lake Laurel was beautiful! Thank you again for making my stay TOPS!
- Brenda Veerhusen on Google
Jun 10, 2021
5 stars. Wonderful staff! Very helpful neighbors.
- Dorothy Allen on Google