Local Area Attractions Near Glenwood Springs West / Colorado River KOA Holiday
Attractions within an easy driving distance of the campground abound. There is truly something for everyone of every age, interest and activity level.A two-minute drive from the campground brings you to the old west town of Silt — townofsilt.org/ — where you can visit its historical park showing the homes and household furnishings, businesses, a school and what life, in general, was like for the miners and farmers of the Silt area in the early 1900's. Just up the road is the popular Harvey Gap Reservoir and beyond that access to the Flat Tops Wilderness, with beautiful scenery and excellent fishing.Drive east and you can visit Glenwood Springs and Aspen or Vail. Drive west and you can visit the town of Rifle and its incredible parks. Drive a little further west and you can enjoy the wineries and orchards in Palisade and the majestic Colorado National Monument. Glenwood Caverns Adventure Park
Visit caves, ride the roller coaster, canyon swing, alpine slide and a variety of other rides and family acitivities.
51000 Two Rivers Plaza Rd
Glenwood Springs, CO 81601 Glenwood Springs Hot Springs Pool
World Famous Hot Springs Pool and historic setting in Glenwood Springs.
401 N River St
Glenwood Springs, CO 81601 Lakota Canyon Golf Course
Located just 10 minutes away, an 18-hole championship golf course designed by James Engh.
1000 Clubhouse Dr
New Castle, CO 81647 Iron Mountain Hot Springs
A mineral hot springs pools in Glenwood Springs on the bank of the Colorado River. Enjoy mineral hot springs pools, casual dining.
281 Centennial St
Glenwood, CO 81601 Rifle Gap Reservoir State Park
Centered around a clear 350-acre reservoir that provides boating, fishing, swimming, water-skiing and windsurfing.
5775 Colorado 325
Rifle, CO 81650 Rifle Falls
The falls is a lush area of trees and greenery kept moist by the spray of the cascading triple waterfall. Picnicking near the falls is very popular. Mysterious limestone caves beneath the falls entice spelunkers and other curious visitors to explore their dark depths.
5775 Co-325
Rifle, CO 81650 Flat Tops Wilderness
A beautiful expanse of the White Rive National Forest, Flat Tops Wilderness is a great spot for fishing, hiking, camping, horseback and hunting.
Flat Tops Wilderness Area
Meeker, CO 81641 Silt Historical Park and Museum
Walk through restored and relocated historical buildings and imagine what life was like in Silt around the turn of the century. Tour guides lead visitors through log cabins, a cow camp, country store, tool shop and old school house during summer months.
707 Orchard
Silt, CO 81652 Palisade, CO
Enjoy farm to table cuisine, local breweries and wine tours, as you enjoy visiting over 30 local wineries with tasting rooms in this beautiful farming town known for its wineries and delicious peaches! One popular way to explore the town and vineyards is by bike.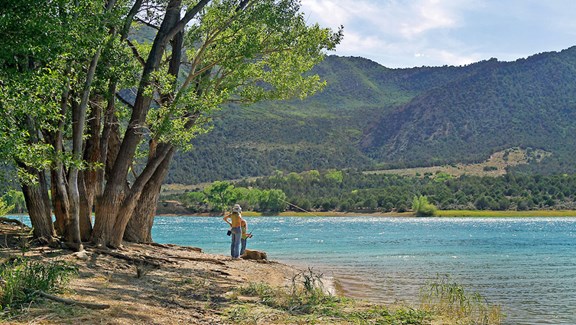 Harvey Gap Reservoir
Harvey Gap State Park is a favorite spot for anglers in the winter and summer. Anglers catch catfish, largemouth and smallmouth bass, perch, crappie, rainbow trout and northern pike at Harvey Gap. Ice Fishing draws anglers to Harvey Gap in the winter. Before heading to the park, check the current fishing and ice conditions. The reservoir is about 190 surface acres when full.Harvey Gap also offers shaded picnic tables by the water, boating with small boats and a swim beach. Harvey Gap is a day-use area, but overnight camping is available nearby at Rifle Falls State Park and Rifle Gap State Park, which are approximately six miles west of Harvey Gap. The lake sits at an elevation of 6,500 feet in an area of cedar and sagebrush, but the lakeshore has many shady cottonwood trees. Visitors may see a variety of wildlife, including migrating waterfowl. The Grand Hogback, the ridge that marks the edge of the Rocky Mountains, runs along the south end of the reservoir.
5775 Highway 325
Rifle, CO 81650