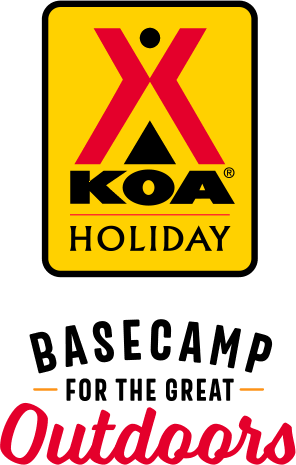 KOA Holiday Campgrounds
Whether you're exploring the local area or hanging out at the campground, KOA Holidays are an ideal place to relax and play. There's plenty to do, with amenities and services to make your stay memorable. Plus, you'll enjoy the outdoor experience with upgraded RV Sites with KOA Patio® and Deluxe Cabins with full baths for camping in comfort. Bring your family, bring your friends, or bring the whole group – there's plenty of ways to stay and explore.
KOA Holidays Feature:
RV Sites with a KOA Patio®
Deluxe Cabins with full baths
Premium Tent Sites
Group meeting facilities
Directions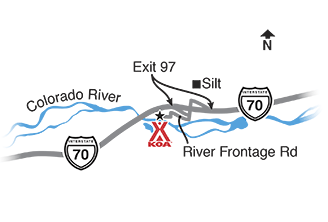 From I-70 at exit 97 (Silt) - go south (left if you are westbound, right hand turn if you are eastbound on I-70) to River Frontage Road, turn west, (right) go 500 feet, turn left at entrance road, you have arrived!
Get Google Directions
May 04, 2021
Well run campground
May 04, 2021
Wonderful place to stay!! Sites are always clean and the staff are amazing.
May 04, 2021
Great location! Well managed, friendly professional staff. Suitable vacation destination! Great trail and river access. Great bird watching opportunities!
May 03, 2021
Wonderful stay right along the Colorado River. Views of beaver, ducks, and eagles every day was amazing. It was during covid lockdown, so we were unable to enjoy the pool, but our wonderful patio site was so relaxing. It was quite windy everyday so we had a nice breeze. Will be back for sure!!
May 03, 2021
Great location and very nice, well kept property. We have stayed there twice and will stay again.
May 03, 2021
A nice park, very clean and the staff was very friendly and helpful.
May 03, 2021
Easy and fast check in. Staff outstanding. Sites are wide and well maintained.
May 03, 2021
Don't go over the 5mph speed limit! They will yell at you even though they go faster then that on their little carts!
May 02, 2021
Clean, friendly, very nice park
May 01, 2021
Beautiful spot. Facilities are spotless. Service from staff is first rate.
May 01, 2021
Awesome staff to start off. Very helpful and friendly. Frederick even offered to show me some fishing spots up at the lake. Spot was very nice with views of a bald eagle soaring over the Colorado River which was right off the back of the 5er.
May 01, 2021
Excellent stay.
May 01, 2021
we had a gret stay
Apr 30, 2021
Beautiful, quiet, spacious, comfortable
Apr 30, 2021
This was a wonderful KOA: it was extremely clean, the staff was friendly and helpful, everything was in working order, it was quiet, and there were so many fun amenities. We would definitely stay here again!
Apr 30, 2021
Very well-planned and clean park with level sites. River's edge sites have shade shelters and patios with bonus of babbling waters and river view. AWESOME dog park, largest and nicest one we've found in KY, IL, MO, OK, AZ, or CA. Friendly staff and we just couldn't have been more pleased!
Apr 29, 2021
Great cabin, super large dog park, excellent walking trails, enjoyed the island and river, beautiful outdoor firepit and patio, clean and pretty grounds, friendly staff. What can I say....our favorite KOA ever!
Apr 29, 2021
We like it there
Apr 29, 2021
Two nights in site 10 waterfront, perfect stay with all amenities. Staff was excellent from start to finish. The two eagles soaring above was icing on the cake. Park was clean and orderly. Will recommend to all and will return. May even work Kamp here in the future..
Apr 28, 2021
Beautiful site, very courteous staff (Jeff and office staff), delivers ice and wood right to site
Apr 28, 2021
Was quick but very good
Apr 27, 2021
Very accommodating staff inside and outside. Clean, comfortable, great all around experience!
Apr 27, 2021
Great spot on the ColoRADo River. Staff were all very helpful and nice. Restrooms / Showers were immaculate.
Apr 27, 2021
Amazing place to camp and a lot of things to do around. Very friendly staff I would say the best KOA that I ever stayed !
Apr 27, 2021
Clean spacious sites right on the Colorado River and super friendly staff make this a great place to stay. We were on the way to MOAB and the location was ideal. Most spaces were full but they are spacious and there is no feeling of being crowded.
Apr 27, 2021
The area was very clean and everyone working there was very nice and helpful. I saw them spray the tables down after a guest would leave and this was great to see for disinfecting. The bathrooms were always clean and well lit. Great views and the waterway was great to watch wildlife and walk the dogs. Very good park and would definitely stay again and recommend to others!
Apr 27, 2021
Thank you. Nice campgrounds. Clean. Rates are a little high. Good night to stop for over night.
Apr 26, 2021
Offered to help back you into your spot. Friendly, clean. Very clean restrooms.
Apr 26, 2021
Stay very helpful and courteous
Apr 26, 2021
Frriendly staff! Relaxing stay with our granddaughter. Nice playground. Nice pet area. Loved our patio spot& fire ring.
Apr 25, 2021
we stay here every few years and the consistent improvement is incredible. The sites on the river are as good as we have seen anywhere.
Apr 25, 2021
Very easy access. We have a 45' Newmar LondonAire pulling a Jeep Rubicon and was able to maneuver thru the park with no problem. All the sites were very spacious and had outdoor seating areas. The deluxe sites have a covered bbq area as well. The staff are very helpful and pleasant (if they were driving their carts around they always gave you the right of way!). If I could give more stars I woul
Apr 25, 2021
Overnight but enjoyed the campgrounds and relaxed feeling. Hiking around the island was interesting but don't even think about the old Bridge to the East!!!
Apr 24, 2021
Incredibly friendly people! Clean park, nice shower facilities, and surprisingly quiet considering it's proximity to the Interstate. Even while it's early spring the views of the Colorado were lovely. We will come back again. And this time we'll stay a day or two longer.
Apr 23, 2021
Right on the Colorado River. Beautiful location. 18 miles to Glenwood Springs and 60 to Aspen. Clean. Modern facilities.
Apr 23, 2021
We ended our 2020 camping season in November at Silt KOA on the Colorado River and started our 2021 season in April at Silt KOA on the river. Loved it. Great staff and clean facilities. Close to the hot springs of Glenwood Springs to the east and peaches and vineyards of beautiful Palisades to the west. Great central location! We will be back.
Apr 23, 2021
This is a nice campground. We enjoyed a deluxe site on the river. Staff was very friendly and helpful. Dog park is a good size and in good shape. Bathrooms were clean and nice. Disappointed that the showers were only LUKEWARM. They are developing a neighborhood of tiny homes adjacent to the campground (not a draw for camping). There is some road noise from I70 but it is not that bad.
Apr 23, 2021
What a beautiful location and tremendous staff. This is definitely a place not to miss.
Apr 23, 2021
Wonderful place. Has everything you could want in a campsite.
Apr 23, 2021
Very nice, clean, well kept facility. Friendly staff. It's obvious the owners and employees take justified pride. Highly recommend this KOA.
May 01, 2021
Great place for a stop along the way, or spend several days enjoying the things to do in the area. Level sites, plenty of room. Right on the Colorado River! Gorgeous! Nice trails out on island, boat access, fishing. Close to Glenwood Springs.
- Connie Novak on Google
Apr 22, 2021
Very nice super friendly people. Filled our propane on site. There's a nice playground if you have kids. Really cute tiny homes but we stayed in an RV spot. Some grass. Big nice gas station right up front with diesel stalls. I would choose this one again
- SHERRY NICHOLES on Google
Apr 21, 2021
A fabulous Campground on the Colorado River:)
- Andrea Struble on Google