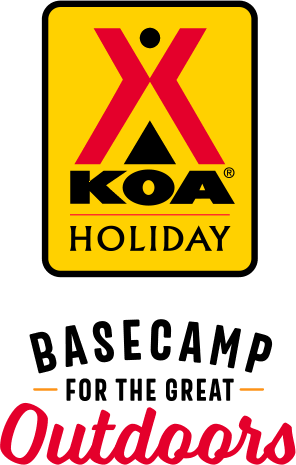 KOA Holiday Campgrounds
Whether you're exploring the local area or hanging out at the campground, KOA Holidays are an ideal place to relax and play. There's plenty to do, with amenities and services to make your stay memorable. Plus, you'll enjoy the outdoor experience with upgraded RV Sites with KOA Patio® and Deluxe Cabins with full baths for camping in comfort. Bring your family, bring your friends, or bring the whole group – there's plenty of ways to stay and explore.
KOA Holidays Feature:
RV Sites with a KOA Patio®
Deluxe Cabins with full baths
Premium Tent Sites
Group meeting facilities
Directions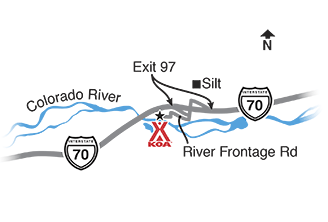 From I-70 at exit 97 (Silt) - go south (left if you are westbound, right hand turn if you are eastbound on I-70) to River Frontage Road, turn west, (right) go 500 feet, turn left at entrance road, you have arrived!
Get Google Directions
Jan 02, 2021
it was great and all the camp personnel were just great also
Nov 15, 2020
Very clean and well taken care of. Some available spaces for small tent trailers would have been nice instead of just the big pull through but I understand the season is winding down. The caretakers were very friendly and helpful.
Nov 12, 2020
I was there early November, temps below freezing. Heated water spigots. This camp ground has direct access to the Colorado River, i70, and there's an adjacent gas station. Quick access to a grocery store. This is not a secluded quiet retreat. You hear trucks and the interstate. Bathrooms cleaned frequently. Play ground and splash area for the kids in warmer months. Very clean. Friendly staff.
Nov 12, 2020
Beautiful area. The staff was friendly and helpful. I would definitely stay there again!
Nov 09, 2020
Loved the deluxe site on the Colorado river. Lots of wildlife including deer that visited the camp every morning, eagles and lots of ducks and geese. Very friendly and helpful staff. Hookups were in excellent shape. Restrooms very clean. Even though near I-70 we really didn't notice noise.
Nov 07, 2020
The best KOA we've stayed at so far. Beautiful Campground sites they were clean and the Employees were friendly and helpful! We will be back!
Nov 07, 2020
Fantastic staff and great service. We had a site by the Colorado River and was awesome!!! Great camping ground and very clean facilities. The day we were leaving we accidentally locked our keys and puppies in the truck prior to hooking up the trailer and the Staff went out of their way to Help us help finding a locksmith and thank them tremendously for everything they did. WE WILL BE BACK!!!!
Nov 07, 2020
Terrific people, friendly and professional they go the extra mile.
Nov 03, 2020
We loved the clean and quiet campground. We enjoyed all the wildlife we saw and the walking trails on the property.
Nov 02, 2020
Overall - great campground. The one negative (and it was a pretty big deal for us) is that we came in late at night - without a reservation, yes - and we got ourselves a spot and all checked in. There were no bathroom codes on the information sheets in the registration envelopes. We had already winterized our camper because it's not insulated for the winters in Colorado. So that was awful.
Nov 02, 2020
Only stayed one night but wished we had taken a premium site and could stay 2 weeks!!
Nov 01, 2020
This is a fantastic well maintained campground on the river. Even covered in snow I could tell how magnificent this place would be in the summer. It has a truck stop at the entrance so you can fill up, buy snacks or a quick bite before you get back on the interstate which is right at the exit. WOW
Nov 01, 2020
Very nice for an overnight stop. Clean and spaces were large.
Oct 31, 2020
This was our second stay and was just as good as the first time! Love this place on the river! Plan on another trip next year. The new store/gas station right there is great!
Oct 31, 2020
We love the riverside sites with concrete patio with pergola, fire pit and BBQ. More $$$ but worth it for a great stay. The Miners Claim on the main drag of Silt is great. Get a reservation.
Oct 30, 2020
LEANN WAS SUPER EFFICIENT, COOPERATIVE AND FRIENDLY EVEN WITH ALL THE VIRUS NONSENCE GOING ON/ .PARK WAS SPOTLESS EVEN WITH THE RECENT SNOW. MAINTENENCE WAS "JOHNNY ON THE SPOT" FOR ANY PROBLEMS AND VERY HELPFUL TO AN OLD GUY LIKE ME. BE COURTEOUS, POLITE AND YOU WILL HAVE THE BEST SERVICE ANYWHERE,
Oct 29, 2020
Very nice and comfortable campground. The Internet works great. Nice location.
Oct 28, 2020
Beautiful river front sites, although the snow storm surprised us!! We were able to extend our stay, and the hosts were very helpful. Mule deer in the campground, eagles perched along the river and a nice walking trail. Nice, clean shower facilities.
Oct 27, 2020
This was our second visit this year! Such a cozy KOA along the river. Thank you for a wonderful experience
Oct 26, 2020
The place is amazing very well kept the amenities it has was awesome. My family and I had an amazing time and will be back in the summer to enjoy more of the awesome Colorado River
Oct 26, 2020
Excellent customer service from the staff. Perfect camp spot! We will stay here again.
Oct 25, 2020
We stayed twice in a two week period. We were long double hauling an ATV trailer. They knew exactly where we should park, led us to the spot, were very friendly. We will be backn3xt year.
Oct 25, 2020
Amazing location and incredible staff. Had a beautiful spot so close to the river we could hear it the whole time we were there. Definitely coming back.
Oct 25, 2020
I can't say enough about the Glenwood Springs/Silt KOA location! This was our first time renting an RV and staying at a KOA and I was blown away by how nice the grounds were. We paid a little extra for a premium site by the river which included a personal covered patio w/ a table and chairs, a propane grill, a fire pit and a spacious green area. Everything was well manicured - we 100% recommend!
Oct 24, 2020
Probably the best KOA experience during our recent 3 month extended trip. Book a deluxe site near the river!!
Oct 23, 2020
The cabin was nice and clean, only issue was the sliding glass door did not lock and the staff were aware. The campground was well kept and overall an enjoyable vacation for us!
Oct 23, 2020
Always love our stay here in the beautiful waterfront patio site! Perfect example of what a KOA should provide. Clean, well spaced sites in a park with nice nature trails & great amenities.
Oct 23, 2020
The staff was great. Campground is very well kepted up and beautiful.
Oct 23, 2020
Great place, very clean
Oct 23, 2020
Wonderful staff, everyone really helpful. Very clean, spots by the river are amazing. Some traffic noise but not overwhelming.
Oct 22, 2020
Great spot I'd get one closer to river next time
Oct 22, 2020
Rv section is beautiful, spacious every site has a table and chairs, concrete patio, well kept green grass a rocked in fire pit and river rock landscaping. The campground backs right up to the beautiful Colorado River, with walking trails to an island. The park is off I-70 in the canyon so there is some traffic noise, but that's is to be expected, we wear ear plugs and we don't hear the ca
Oct 22, 2020
First time stay here. Clean and beautiful site by the river. Will travel this way again!
Oct 21, 2020
The staff were very friendly and helpful! The river front and patio sites were very nice and spacious. We had to move to a lower end site which was closer to the gas station and it was noisy at night with the truckers parking over night. My only other complaint is the gravel road through out, sites aren't very level and we had so much dust in our RV from all the RVS driving past us.
Oct 20, 2020
We love our little "tiny home away from home" at KOA Glenwood. We plan on coming back again next year!
Oct 20, 2020
This is hands down the best KOA that we have stayed at. We were in W4 right on the river, Deer in the mornings. Camp was very clean. Our site was amazing. People were very friendly.
Oct 20, 2020
This is one of our favorite KOA's in Colorado, an amazing location when the leaves turn colors. We love getting a site that's on the smaller river where it's relaxing.
Oct 20, 2020
Once the trees grow, this will have a beautiful ambiance. As it is, it's convenient, clean, friendly and blustery. Well laid out, with easy access to the camp amenities. The walking path on the island was perfect for our dog. Thanks so much!
Oct 20, 2020
BEST KOA by far! Bathrooms and showers were wonderful. We were right on the Colorado River, which was beautiful. People were so friendly. You can tell they take pride in their campsite!! Will go back again.
Oct 19, 2020
Absolutely fantastic campground ! Clean , beautiful sites with adorable patios . Huge dog park , also very clean and there's a wonderful nature walk. Bathrooms and showers were spotless and well appointed. The folks running the campground could not have been nicer or more accommodating. We loved it and will definitely be back!
Oct 19, 2020
It was wonderful, out kids really loved it! We had so much fun.
Feb 23, 2021
Nice looking place I fuel next door all the time
- Nick Paris on Google
Feb 01, 2021
Nice clean and quiet great place for rest
- Steven Vanoy on Google
Jan 30, 2021
We stayed in a deluxe cabin on the river. The cabin was very nice and clean. We really enjoyed our stay. Staff is very nice and when you purchase it they deliver firewood to your site - we had a fire pit. It was August so hot but A/C in cabin was great! We all enjoyed the two nights. Only negative is noise from freeway but being in a cabin it was no big deal. Just tried to book again for our Jeep trip and the deluxe cabins are booked already for July so book early!
- Michelle Meyer on Google