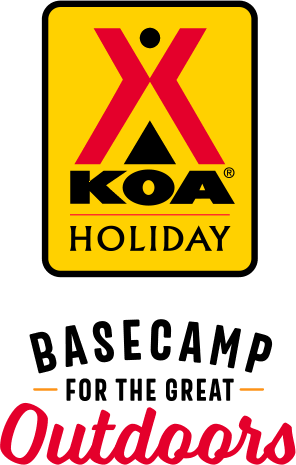 KOA Holiday Campgrounds
Whether you're exploring the local area or hanging out at the campground, KOA Holidays are an ideal place to relax and play. There's plenty to do, with amenities and services to make your stay memorable. Plus, you'll enjoy the outdoor experience with upgraded RV Sites with KOA Patio® and Deluxe Cabins with full baths for camping in comfort. Bring your family, bring your friends, or bring the whole group – there's plenty of ways to stay and explore.
KOA Holidays Feature:
RV Sites with a KOA Patio®
Deluxe Cabins with full baths
Premium Tent Sites
Group meeting facilities
Directions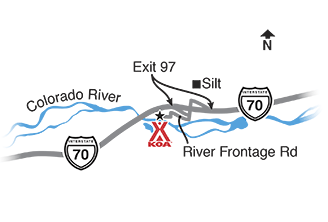 From I-70 at exit 97 (Silt) - go south (left if you are westbound, right hand turn if you are eastbound on I-70) to River Frontage Road, turn west, (right) go 500 feet, turn left at entrance road, you have arrived!
Get Google Directions
Sep 25, 2021
Beautiful resort with nice view. Couldn't sleep all night due to traffic noise though.
Sep 25, 2021
Outstanding KOA
Sep 25, 2021
Very nice facilities. Do wish the hot tub was available in the fall as that is our favorite time to travel.
Sep 25, 2021
No complaints, convenient access, large spots, great views.
Sep 25, 2021
The campground was in a beautiful area on the Colorado river. All the facilities were clean and the staff was knowledgeable about the area.
Sep 25, 2021
Our favorite koa stop. We stayed at this location 5 years ago and again last week. Both stays exceeded any other location for my husband and I.
Sep 25, 2021
Very clean and beautiful
Sep 24, 2021
One of the best KOA that we stayed at. will be coming back again next time we are in the area.
Sep 24, 2021
Nice place with extra nice staff. Facilities are clean nd the staff gave us excellent advice on some things to see in the area. We will stay there again.
Sep 24, 2021
We love our cabin, we see 9 turkey, 3 deer, sound of the peaceful river/creek. Can you clean all the plastic, bottle cap, bottle plastic and can and glass from your property especially close to from the river. We are going to book it again. I love the lady who always hep me. Thank you, mahalo
Sep 23, 2021
We were very disappointed on arrival because the campground is 20 miles outside of Glenwood Springs but despite the misleading name, we loved our stay. The campground and restrooms are very clean and the staff were all very friendly. We will definitely stay again when we come back.
Sep 23, 2021
Wow this is a beautiful campground along the Colorado River near Silt Co (18 mi west of Glenwood Springs). It's also a real value. It doesn't get any better than this! The river back-in sites are true "glamping" (which is a must for my wife). I was especially impressed by the size of each site...lots of room between rigs.
Sep 23, 2021
Everything was clean and beautiful views
Sep 23, 2021
The park isbeautiful and the staff is very friendly and helpful. We will definitely stay again if we are in the area. Also, thanks for the ride to the restaurant.
Sep 23, 2021
Very well kept friendly check in and the area is beautiful. would recommend highly
Sep 23, 2021
The staff were all very friendly and helpful. Just stayed a night but would stay there again.
Sep 23, 2021
One of the nicest parks I have been to. Well done!
Sep 22, 2021
My only complaint is the internet was slow and disconnected often. I used my smart phone mobile hotspot for quicker internet. Other than that, our stay was wonderful! The office staff is friendly and helpful. The grounds are well maintained. It's close to Rifle which is great for restaurants, shopping or to see a movie. We stay here once a year and always have a good time.
Sep 22, 2021
Except for the construction noise, mess around the "cabins", it was a great stay. I know the mess down there is temporary, but still disturbing. But we would stay here again. All the staff was great.
Sep 22, 2021
People were polite and helpful. The facility was very clean and had a beautiful view of the Colorado river and the surrounding mountains.
Sep 22, 2021
Very nice campground. We only stayed one night but would stay there again.
Sep 22, 2021
Taking one star out cause they wanted to charge us extra for dumping fees. After staying there at a full hooks up site. we rushed to get out in time for check out and leave the site available for the next guest and did not dump at our site we used the dump on the street. They called me back inside to pay for the dump fees. Eventually they let us go but i had to argue with them. Not COOL!
Sep 22, 2021
Easy location. A little freeway noise. Clean campground. We were in a back up to the little river. The larger back in patio sites are on the Colorado River and very nice. We would stay again.
Sep 22, 2021
Beautiful park, easy to get to off Interstate. Only complaint I have is the shower house (which was very clean) had lukewarm water in spurts, mostly cold for a shower. Other than that, it would have been a 5 star.
Sep 21, 2021
Beautifully maintained property especially the ones next to the river. Love that they have concrete walkways, some covered patios with cute table and chairs. They also have these awesome fire pits with adirondack chairs surrounding it which is very inviting and appealing! Though, bring bug sprays since the closer you're to the water there's lots of mosquitoes.
Sep 21, 2021
Can't beat a campground right on the Colorado river. We actually stayed there times in the last 2 weeks. It is a very nice campground, well kept, and the staff are very nice and helpful. Next time I go west I will probably stay there.
Sep 21, 2021
Driving across the country from VA Beach. Loved the escort to the campsite. This wasn't going to be a stop but glad we decided to call it an early driving day and stay here. Thanks for the great spot to stay for the night! we loved it!
Sep 21, 2021
Beautiful place, very clean, helpful staff
Sep 21, 2021
Very welcoming group at check in. Very clean property. I recommend the spots along the river. These are back in spots, so probably not ideal for the folks passing through for one night like we did. We needed a pull-thru because we didn't want to unhook our tow vehicle.
Sep 20, 2021
Awesome cabin, great views, we'll be back.
Sep 20, 2021
Our stay her was amazing, too short but amazing. We took our 3 year old grandson and he loved it. The play park and water park were perfect for him. Being next to the water was so cool for him to see and experience. The staff went out of their way to take care of a situation that came up and we had to return from Denver the next day, just AMAZING SERVICE. I would highly recommend this KOA.
Sep 20, 2021
Very friendly, great service and acomadateing sites were very very nice with patios. I would stay here AGAIN.
Sep 20, 2021
NO complaints
Sep 20, 2021
A beautiful campground and we've stayed at many. Wish we could have stayed longer.
Sep 20, 2021
Very nice spacious pull-through sites easily accommodated our 45 ft. rig plus truck. Clean, well-kept grounds. Did not use the pool or hot tub, but they looked very nice. Staff were efficient and friendly. Will definitely stay here again.
Sep 20, 2021
Very nice folks, excellent campground.
Sep 20, 2021
Campground is well cared for with easy access from I-70.
Sep 20, 2021
Overnight stay on way to Utah. Facilities very nice and friendly staff. Right on the Colorado river. Easy access from interstate.
Sep 20, 2021
Very nice, clean campground with very good people working there. The place is very well cared for. The hot tub and pool could be kept warmer.
Sep 19, 2021
Very nice well kept park. Staff at off were very nice and helpful
Sep 19, 2021
Very nice - however, construction was very noisy.
Sep 18, 2021
Nice clean park, convenient on/off I 70. 20 minutes from Colorado Springs
- Tom Jewell on Google
Sep 16, 2021
The river side spots are great. Make sure to make reservations as these spots go out fast. Plus a dog park and a pool
- ChaycerTheGamer on Google
Sep 15, 2021
Nice campground. We had site by river. Clean park, friendly staff. We were only there one night. No complaints.
- Donna Elam on Google