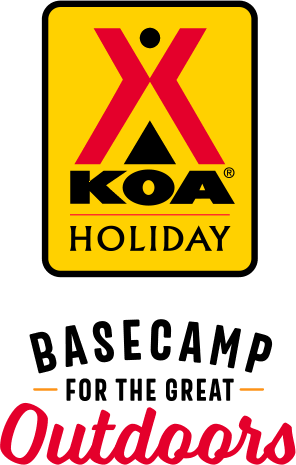 KOA Holiday Campgrounds
Whether you're exploring the local area or hanging out at the campground, KOA Holidays are an ideal place to relax and play. There's plenty to do, with amenities and services to make your stay memorable. Plus, you'll enjoy the outdoor experience with upgraded RV Sites with KOA Patio® and Deluxe Cabins with full baths for camping in comfort. Bring your family, bring your friends, or bring the whole group – there's plenty of ways to stay and explore.
KOA Holidays Feature:
RV Sites with a KOA Patio®
Deluxe Cabins with full baths
Premium Tent Sites
Group meeting facilities
Sep 27, 2020
During a trip to yellowstone national park my truck broke down, while it was at the mechanic my girlfriend and I stayed at the Cody KOA and were pretty happy with the campground. We were tent camping, and we pitched our tent in a the non-electric side; having the wind breaks were great both for the obvious (blocking the wind), and also to give us a little privacy.
Sep 21, 2020
Great service, clean bathroom/showers!
Sep 20, 2020
Friendly, helpful hosts. Would've been nice to have free coffee like the last KOA though� The free chili supper for Appreciation Day was great!
Sep 15, 2020
Nice place in a great location. The people were friendly, and facilities well thought out.
Sep 10, 2020
The tent area is not great. The spots are too close together and a tree or two would be great for shade.
Sep 08, 2020
Kids had all to feel at home for the night �� .
Sep 05, 2020
Very nice clean facilities. Need to enforce quiet hours. Free pancakes are awesome! Recreational facilities are great as well!
Sep 04, 2020
It was great! Clean bathrooms, helpful staff. Everyone was awesome.
Sep 04, 2020
Very enjoyable
Aug 29, 2020
The tent sites unfortunately have no privacy- you can hear even casual conversations from the next tent site.
Aug 24, 2020
I had a great stay. I appreciated the wooden privacy fences between the tent sites in the area I was in. The pancake breakfast was a nice touch. The pancakes weren't amazing, but they were free, so can't complain!
Aug 22, 2020
My wife and I were on a bike trip and they were very helpful answering every questions we had.
Aug 22, 2020
Excellent, super helpful. First night I stayed the bathrooms were alright but im sure they just needed a lil cleaning because the next day they were just fine.
Aug 21, 2020
Excellent facilities!
Aug 17, 2020
Our stay was great, it was very clean, and the staff was friendly.
Aug 14, 2020
The camp ground was great, very easy to get around, the staff was friendly and helpful. Great ammenities for all ages and dogs as well. NEar the donwtown area of Cody. Lot's to do and see in the surrounding areas particularly the scenic drives!
Aug 14, 2020
I think KOA campground need to do better for cleaning batheroom and pool. This KOA is realy fun for kids, nice pool and playground. Team in office was sweet and realy helpful. But after 2 weeks on road trip, I am disappointed by KOA rules of cleaning and that will be my end visit in KOA for that. Campground in state park or in farm is most clean than Koa and cheapest.
Aug 12, 2020
Great stay, friendly staff. Very accommodating and helped us jump our car within 5 minutes.
Aug 10, 2020
Clean Bathrooms and friendly staff.
Aug 08, 2020
Our tent site was pretty far from bathroom for a middle of the night walk, and the cabin next to us ran air conditioner all night. Showers and breakfast were nice.
Aug 07, 2020
Very nice campground, only complaint would be that the tent sites are too close together and there aren't very many parking spots for them either.
Aug 06, 2020
The staff are very nice and very informative. They keep the restrooms clean and the showers are combination of shower, toilet, and sink in individual rooms with doors. Very nice. The campground was organized and clean.
Aug 06, 2020
Walked into what looked like a gift shop. Asked a young man where to check in. He pointed across the store with attitude and said "right there". Apparently another guest had the same experience with that young man. I did mention my experience to a young lady when I had gone back to the store/office. She just made an excuse for him. Online said tent areas were grassy. The grass was dead!
Aug 04, 2020
Love the shuttle to the rodeo and the pancake breakfast. My only complaint was that quiet hours were not enforced.
Aug 04, 2020
NIce pool, although we didn't make time to use it. Beautiful grounds, nice trinket shop with quality products to buy. The bathroom really needs to be cleaned twice a day minimal, maybe just getting oatmeal out of the sink, toilet paper off the floor, thing like that. One toilet wasn't even functional. Nice picnic tables, nice tent spots on periphery of grounds, which is nice. Nice group campfires
Aug 03, 2020
The Cody KOA is our favorite KOA to stay at. We went on a mini 4 day vacation around the State of Wyoming. We stayed at 2 other KOAs throughout the State. This one was by far the cleanest, the most kid friendly and had the best customer service hands down. I have already told everybody that I talk to about Cody, and especially the Cody KOA. We look forward to our next visit! Thank you!
Aug 02, 2020
I arrived late in the day. Weather was not favorable. I had a tenting site. I tried to move to a small cabin but found that they were all booked. Staff were friendly. There was a barking dog across from me that did not quiet down until late in the evening. Breakfast was very good and a good start for my next journey home.
Jul 29, 2020
The staff were very friendly and always happy to answer any questions! We traveled with kids ages 2 to 16 and they all were able to keep themselves busy with all the activities offered! Oh and the pancakes were DELICIOUS! We will definitely hopefully be back someday!!
Jul 28, 2020
Clean. Lots of activities for kids. Free pancakes for breakfast. Has a family of bunnies living there that the kids loved watching. Has an indoor playroom for rainy days too.
Jul 27, 2020
Next tent site had smokers, quiet hours weren't enforced. Staff friendly and helpful, loved the pancake breakfast. Kids loved the amenities.
Jul 26, 2020
Nice place friendly staff but hot needs more shady sites for campers with tents
Jul 26, 2020
So much to do right at the park. Would definitely stay here again.
Jul 26, 2020
The staff was so friendly! The bathrooms were really clean. My little boy loved playing on the playground and bouncing pillow. We wanted to play in the pool and family room but my son was having so much fun on the playground and bouncing pillow we ran out of time for the other things. The pancake breakfast was yummy too! This is definitely a place we would stay again.
Jul 23, 2020
The price for a tent site with no hookups was very fair. Nice clean restrooms and showers. Even since I didn't have kid, there was a lot for kids to do. Loved the free pancakes for breakfast.
Jul 21, 2020
The tent spots were a little small and felt very close to the location next to them, but close to restrooms and showers. Food items were highly overpriced for the location.
Jul 20, 2020
Great campground, very clean facilities. However- quiet hours were not enforced. We had 2 different (tent site) neighbors for each different night we stayed, who were very loud and up until early hours of the morning. We didn't sleep at all. One neighbor arrived with his family at midnight and proceeded to set up his whole campsite without any consideration of the time.
Jul 12, 2020
it's was great. better if it was not raining. We didn't make it to the pancake breakfast maybe next time. Will stay here again.
Jul 12, 2020
During our time staying at the Cody KOA we met a lot of friendly people and had all of the accommodations we needed and more! There were so many activities and games and the free pancakes were great. The location near the freeway was convenient and easy to find. The place is a little run down and could use some upkeep but otherwise a great place!
Oct 02, 2020
Enjoyed a private tent site toward the end of my autumn road trip, I call, "Wyoming Week". Nice CG with great showers and WIFI
- Eddie B on Google
Sep 29, 2020
Typical KOA. Showers were clean, laundry room was nice, and staff was very friendly. They also had an adorable gift shop. We'd definitely return if we come back this way!
- Mariah Dunn-Buchanan on Google
Sep 29, 2020
Very friendly staff. Large selection of gifts. We were traveling to Yellowstone and this place was perfect. It was about 45 minutes to the entrance but the drive is beautiful. The park was clean, they had large sites, a nice dog run and lovely views.
- 264JenniferS264 on Trip Advisor