Delicious Campfire Cooking – made easy!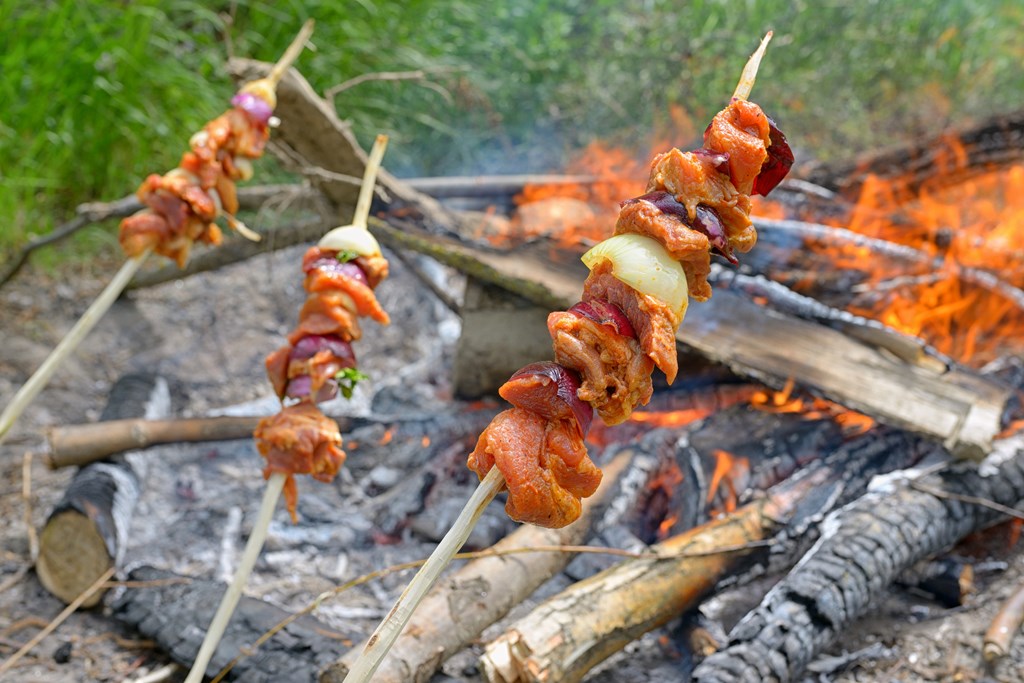 Delicious Campfire Cooking – made easy!
No matter how spectacular the scenery, meals around the campfire are often the highlight of the camper's day. Modern camp stoves and specialized cookware make the cook's job easier, but nothing beats the taste and appeal of a meal cooked over the campfire.
Building a Campfire for Cooking (with cookware)
When using a metal grill over the campfire, it's important to remember that your real goal is to have all the wood turn into coals simultaneously. This means that you'll have a nice, even fire with no flames reaching up to scorch your food and burn and blacken your cookware. It also yields solid, consistent cooking time from the coals. To do this, monitor your fire as it begins to diminish and back your coals (nestle them within the hot ashes to keep them smoldering).
To cook, set your grill on rocks or green logs. Put food directly on grill or in cookware and prepare your meal. If cooking directly on the grill, make sure to have a small spray bottle handy for shooting down any rogue flames.
So now that you've got a nice cache of hot coals, it's time to prepare your camping feast! Grill some patties, chicken breasts or anything else you would do on your grill at home! But for a real mouthwatering treat, give this recipe a try!
Beer Batter Fish Fillets
After fun and victorious day fishing, there's nothing better than truly enjoying your catch! Once you've cleaned and prepared your fish, make sure to dry the fillets on the outside so the batter will stick while cooking. Cook over medium heat.
Ingredients:
1/2 pound fish fillets per person (or two small, cleaned pan fish per person)
1 cup buttermilk pancake mix
3/4 cup beer
1/4 cup cooking oil
Parsley, dill, lemon
Directions:
In a small bowl, blend the buttermilk pancake mix with the beer using a fork. Whip the batter until smooth and the consistency of heavy cream. Blot the fillets dry using a napkin or paper towel and dip in the batter. Heat the oil in a skillet, and fry the fillets until golden brown on the outside.
The meat should be moist and shiny on the inside. Be careful not to overcook these beauties. Your fillets should flake easily when tested with a fork. Serve with a sprinkle of dill and garnish with parsley and lemon slice.
Cooking over the Fire
Of course, cooking directly with your campfire flames is always an option and really is an activity in and of itself that the whole family can enjoy. Read on for some of our favorite campfire recipes!
Recipes for Campfire Cooking
Bannock
This delicious quick break is simple to make with just four basic ingredients (and leaves you with only one bowl to wash!). Bannock can be a meal in itself - this favorite is flavorful and super fun to cook on a stick over the campfire!
Ingredients:
2-3 cups flour
1-2 Tbsp baking powder
1 tsp salt (optional)
2-3 Tbsp oil, butter or lard
2/3 cup warm water
Directions:
Put everything but the water in a bowl and mix with your fingers until crumbly. Slowly add water and mix until dough feels soft. It may seem that you don't have enough water but keep working the dough until it holds together. What ever you do - don't add more water!
Take a small handful and wrap around the end of a green stick, like a marshmallow roast. Knead it so it stays together. If your dough isn't staying on your stick, you can also roll into a thin cylinder and wrap around your stick in a spiral. Cook over coals for about 10 – 12 minutes, rotating to cook evenly. Eat as is or add a bit of jam or honey.
Shish Kabob
Chop, skewer and cook…couldn't be easier! Let the hungry campers cook their own meals!
Ingredients:
Beef or pork cut into 1″ cubes
Small whole onions
Red or green peppers
Whole mushrooms
Whole cherry tomatoes
Directions:
Brown the cubed meat in a skillet over high heat for 1/2 minute on each side. Cut the peppers in large chunks, leave the other vegetables whole. Slip the pieces onto a skewer, alternating the ingredients. (Skewer the onions and mushrooms through the core, or they might fall off while cooking.) Cook over the open fire for 15-20 minutes until done. Sprinkle with grated cheese and breadcrumbs before serving.
One-Pocket Wonders
Here's a wonderful method for campfire meals which is simple, versatile, and doesn't even require cookware or a grill. All you need is some heavy-duty tinfoil.
Tear off a 12″ sheet of foil and fold it back over your fist, making a "pocket." Roll the sides in a few turns so the pocket is only open at the top and roll a turn or two up from the bottom for extra strength. The pocket needs to be leak-proof and formed well enough to withstand cooking directly in the coals. If your foil is thin, you may need two layers.
Start by lining the bottom of the pocket with thin slices of lemon. This helps keep the food contents from burning and imparts flavor to the meal. Chop potatoes and carrots (cut small enough to cook all the way without overcooking everything else), tomatoes, mushrooms, peppers, onions, green beans, etc., and stuff the pockets.
Add garlic, salt and pepper, olive oil and a dash of cayenne. Add 1/4 cup of beer or water, fold the top edges of the pocket closed and set directly into the hot coals….it takes anywhere from 20 to 40 minutes, depending on how everything's cut. All the veggies slow roast in their own juices!
S'mores!
These are must(!) and with the made-in-heaven trio of ingredients (chocolate, marshmallows and graham crackers), you can't go wrong. However, if you're looking to mix things up or take your s'mores to new heights – check out these S'more Delicious recipe ideas!
Alright Campfire Cooking Master, make the most of your time outdoors by creating good food, delectable smells and the satisfaction of filling hungry tummies. Not only is campfire cooking a fun activity, it presents a whole new way to connect with nature. So head outside - it's time to eat!!!