5 Beaches Near Cape Charles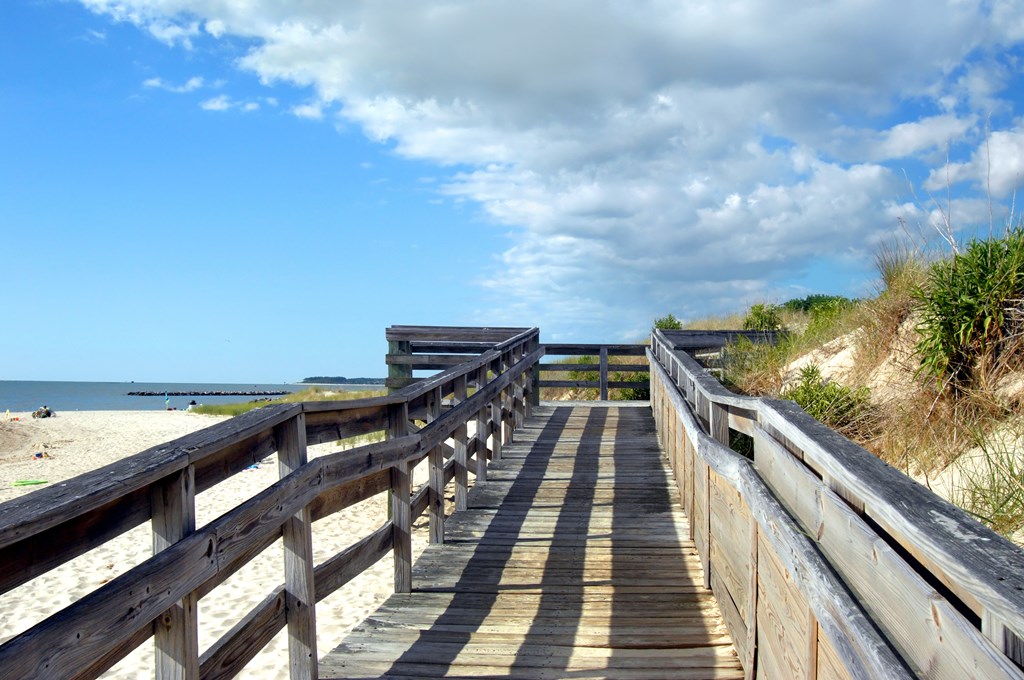 Cape Charles lies at the southern tip of the peninsula that makes up the Eastern Shore of Virginia. The Atlantic Ocean sits on one side, and the Chesapeake Bay sits on the other, so there are not shortage of beaches near Cape Charles.
Both coastlines have long stretches of sandy beach that are perfect for a day of fun in the sun.
There are plenty of options so you can choose from wild, windswept beaches that are off the beaten path and beaches with fun amenities that are within easy reach.
Sunset Beach
Watch the most stunning sunset you'll ever see with a cocktail in your hand at Sunset Beach. You can access this stretch of sandy beach by staying at Sunset Beach Hotel, camping at Chesapeake Bay KOA, pulling up along the shoreline in your boat or eating at The Jackspot restaurant.
The calm, shallow waters are fun for small children or those who want to kick back in a floatie and let their troubles drift out with the tide. The Jackspot is just steps from the sand, so a snack is never far away, and during the summer months, there's lots of live music.
Kiptopeke State Park
Kiptopeke State Park has a little bit of everything, including hiking trails, a fishing pier and a beach. You can access it all for just a small fee.
The beach is a short walk from a roomy parking lot and there's a bathhouse within easy reach of the shore.
The northern portion of the beach is a half mile long and is just for swimming and sunbathing. The southern beach is open to swimming, pets, fishing, crabbing and boating.
The park is famous for the concrete ships that sit just offshore from the beach. These hulking ghost ships were sunk off of Kiptopeke to create a breakwater when the area was a ferry terminal.
Cape Charles Beach
This free public beach is just steps from the postcard-worthy shops of downtown Cape Charles. It's an easy walk from almost anywhere in town, or if you're coming by car, there is plenty of free parking just off the beach.
The waters off this wide stretch of sandy shore are warm and shallow, particularly at low tide. It's a great place for small kids to play.
There's a fishing pier at the southern end of the beach, benches along the beachfront that are the perfect place to watch the sunset and a gazebo in case you want to get out of the sun. The beach can be accessed along Bay Avenue.
Savage Neck Dunes
If you don't mind doing a little work for a great view you'll love Savage Neck. A 3/4 of a mile path leads through a maritime Forrest and over sand dunes to reveal a stunning beach that is one of the Eastern Shore's best kept secrets.
This beach stretches for miles so even if the parking lot is full, you won't find a crowded beach waiting for you. In the off-season, it's not uncommon for you to have the beach to yourself.
Pro Tip: Savage Neck is a more rustic beach experience without any bathhouses or water fountains, so bring supplies with you and pack up your trash when you leave.
Virginia Barrier Islands
A string of 14 undeveloped barrier islands hug the shoreline of Virginia's Eastern Shore, making up the longest stretch of undeveloped coast on the eastern seaboard. These islands are beautifully pristine and wild.
Many of the islands are open for activities like bird-watching, hiking and surf fishing. Assateague is the only barrier island that is accessible by car. To reach the others you can kayak or boat out to the islands on your own or hire a guide to take you.
Pro Tip: When visiting the barrier islands, stay below the high tide line in order to protect the delicate ecosystem and bird habitats.
Book a stay at Chesapeake Bay KOA or Sunset Beach Hotel and enjoy all of the beautiful beaches near Cape Charles.
You May Also Like:
Parks to Visit Near Cape Charles
The Ultimate Guide to Cape Charles
4 Ways to Beat the Heat at Chesapeake Bay KOA