The Ultimate Guide to Cape Charles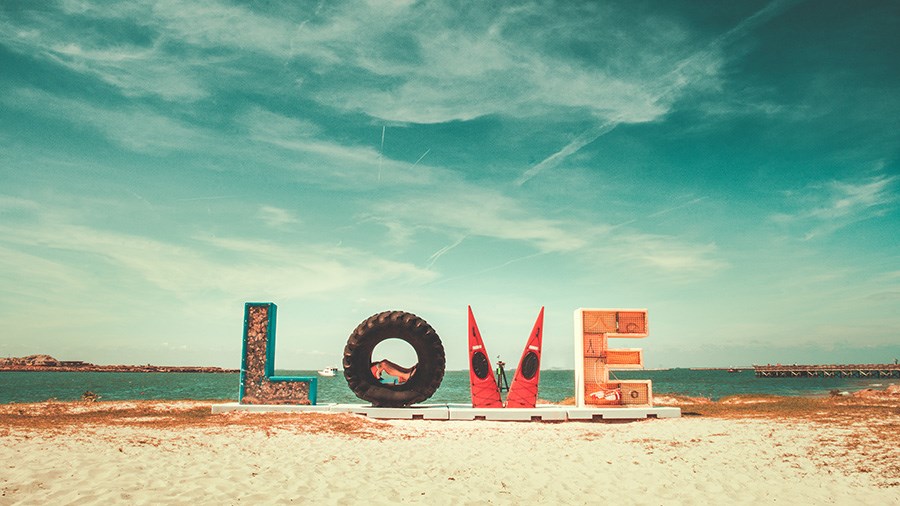 Cape Charles is a historic small town nestled along the shores of the Chesapeake Bay on Virginia's Eastern Shore. This charming town is just 30 minutes from Virginia Beach and is within a half-days drive of much of the East Coast.
You don't have to look hard to find things to do in Cape Charles, with a free public beach just steps from downtown, two championship golf courses, a bustling main street and an abundance of activities on the bay.
There's so much to see and do and this guide has everything you need to plan your Cape Charles vacation.
Food and Drink
Nothing works up an appetite quite like a day of fun in the sun. When you get hungry there are plenty of restaurants to choose from in Cape Charles. There are also several places to grab a pint or a cocktail and unwind after a day on the Chesapeake Bay.
Here are a few of our favorite restaurants:
There's no better view of the sunset over the Chesapeake Bay than the one at The Jackspot and nothing pairs better with that beautiful experience than a refreshing cocktail and some delicious seafood and burgers. Don't forget to leave room for dessert!
This little bistro might not be what you'd expect to find in a beach town. They're serving everything from steak to fresh seafood and pasta. Their menu rotates with the seasons, so no matter what you order it will be delicious and fresh.
The atmosphere at The Shanty is perfect for a fun and unique beach town like Cape Charles. You can play a game of corn hole with your toes in the sand out back, grab a cocktail and watch the sunset from the deck or take a seat inside and dig into everything from fresh salads to local seafood and juicy burgers.
Any flavor you get at Brown Dog is going to be delicious, whether it's milk chocolate, sweet pea, vanilla or lemon ginger crumble. What makes it even better is that you can get their delicious ice cream on top of fun treats like donuts, waffles and cookies, so come in hungry.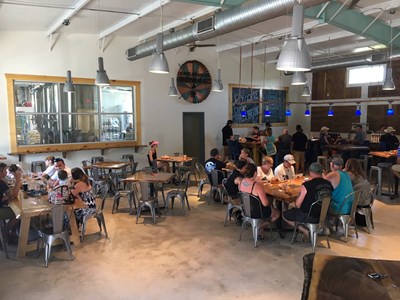 Breweries/Distilleries
Between the delicious ciders and the outdoor seating, Buskey Cider on the Bay is a great place to unwind in the summer. They have standards like their RVA cider or a rotating cast of seasonal brews.
Whether you want a good burger, decadent mac and cheese or a great beer, Cape Charles Brewing Company delivers. The draft list is long and ever-changing so there's something for every palate.
With the vintage, cozy vibe of a speakeasy, this tasting room is a great place to hang out. If you choose to do a tasting you can sample their full range of whiskey, bourbon, vodka and moonshine or you can try one of their craft cocktails.
Places to Stay
From charming bed and breakfasts right on the beach to stylish hotels and resort-style campgrounds, there are so many great lodging options in and around Cape Charles.
With elegant finishes, resort amenities and an unbeatable location Sunset Beach Hotel is always popular with visitors. Guests can lounge by two pools, relax on a private beach on the Chesapeake Bay and enjoy a meal and beautiful views at the onsite restaurant, The Jackspot.
This waterfront campground on the shores of the Chesapeake Bay has so many options for campers. Glampers can stay in safari tents, cabins or RV rentals and RVers can choose from a variety of sites, including deluxe patio and seasonal sites. Amenities like two pools and a private beach are the cherry on top.
This four-room bed and breakfast is housed in a historic home in a quiet corner of Cape Charles. The serene rooms are the perfect place to unwind and each morning begins with a delicious breakfast prepared by the inn's owners.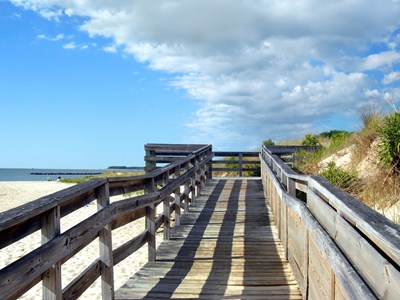 Things to do
Cape Charles is a beautifully picturesque, historic town, which might make it seem sleepy at first glance. However, there's more than enough to keep visitors busy, from lazy days spent on the beach to outdoor adventures and so much more.
Shopping
Downtown Cape Charles is lined with adorable shops where you'll find everything from beach gear to books and boutique clothing. Art galleries display the works of local talent and culinary delights wait in gourmet markets and gift shops.
Golf
Bay Creek Resort and Club is home to two 18-hole championship golf courses, one designed by Jack Nicklaus and the other designed by Arnold Palmer. These beautiful courses have greens on the Chesapeake Bay and the Coach House Tavern is the perfect spot for a post-golf cocktail.
Outdoor Adventure
Boating and Fishing
Take a sunset cruise or explore Virginia's barrier islands with Cape Charles Boat Tour Company or do a little fishing with Top Dog Charters.
Kayaking
Take a guided tour of the waters surrounding Cape Charles with Southeast Expeditions or rent a kayak or paddleboard and explore on your own.
Parks
Eastern Shore National Wildlife Refuge is a favorite spot with everyone from birders to hikers and hunters. The park has a network of trails for hiking and a paved bike path. It's a hot spot for birders during spring and fall migrations and hunters can take advantage of the whitetail deer season. There's also a public boat ramp where hunters can access state waterfowl grounds or fishermen can launch for a day on the water.
Cape Charles Natural Area Preserve is a great place for a relaxing walk. A long boardwalk through the site leads out to a low bluff overlooking the Chesapeake Bay.
Culture
Learn more about the history of Cape Charles at the Cape Charles Museum. If you visit on a Tuesday between May and October you can catch the Cape Charles Farmers Market at the museum grounds.
Stop by Lemon Tree Gallery and browse works by local artists or attend one of their popular events. They have everything from open mic nights to classes and poetry readings.
Nearby Beaches
The calm, shallow waters of the Chesapeake Bay are the perfect place for a relaxing swim or for a day at the beach with kids. If you're staying in Cape Charles check out one of these nearby beaches or venture up to Chincoteague.
Sunset Beach
If you're staying at Sunset Beach Hotel or Chesapeake Bay KOA or if you're dining at The Jackspot you can wander down to Sunset Beach. Enjoy beautiful views of the Chesapeake Bay Bridge-Tunnel and spectacular sunsets.
Kiptopeke State Park
Kiptopeke State Park has so much to offer like hiking, kayaking, fishing and bird watching, but the park's beach is definitely a major draw. The southern portion of the beach is pet-friendly and open to boating, fishing and crabbing, while the northern portion of the beach is just for swimming. Altogether, there's over a half-mile of beach to explore.
Cape Charles Beach
The public beach in Cape Charles is just steps from downtown and there's a lot to love about it. First of all, it's free, second there's a good amount of parking and third, it's an easy walk from much of the town. If you'd rather cast a line than swim in the bay, check out the fishing pier at the southern end of the beach.
Chesapeake Bay Bridge-Tunnel
Many visitors to Cape Charles have crossed the Chesapeake Bay Bridge-Tunnel. It connects the peninsula of Virginia's Eastern Shore to the mainland of Virginia, but a little over 50 years ago traveling off Virginia's Eastern Shore was much different.
For decades the only way to travel from the Eastern Shore to the Virginia Beach area or vice versa was to get on a ferry. Originally ferries left from the Cape Charles Harbor, but later the ferry terminal was relocated to the area where Kiptopeke State Park now sits. In 1964 ferry service ended when the Chesapeake Bay Bridge-Tunnel was built.
The 17-mile span of the Chesapeake Bay Bridge-Tunnel is the largest bridge-tunnel complex in the world and is considered one of the seven engineering marvels of the world. It also happens to be a beautiful and thrilling way to travel to Virginia's Eastern Shore.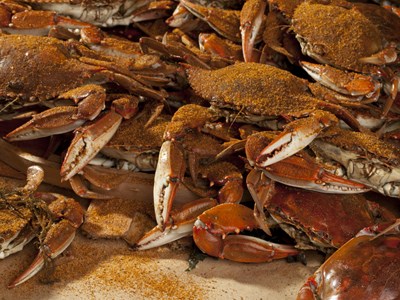 Festivals and Events
June 15: Reel and Raw Film Premiere
Watch a screening of the films created during Experimental Film Virginia.
Learn More
July 31 - Aug. 2: Shuck-N-Suck
Watch the boat docking competition, sign up for the oyster eating contest or just enjoy delicious food and fun.
Learn More
2020 date TBD: Cape Charles Historical Society Oyster Roast
Experience a traditional Eastern Shore oyster roast and get your fill of delicious food.
Learn More
November 26-December 18: Festive Fridays
Get in the holiday spirit with shopping, festive fun and holiday movies.
Learn More
You May Also Like:
7 Fun Things to do Near Cape Charles
Biking in and Around Chesapeake Bay KOA