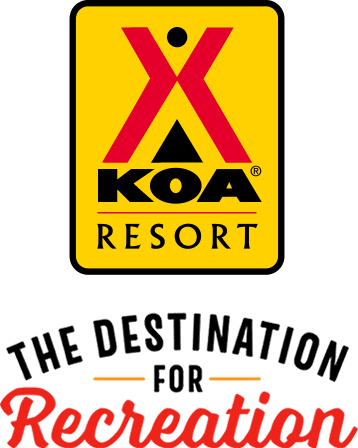 KOA Resort Campgrounds
KOA Resorts offer a carefree vacation in the great outdoors. Enjoy robust recreation and staff-led activities, kick back and relax by the resort-style pool, or grab a bite to eat, all while never leaving the campground. And with plenty of RV Sites with KOA Patios® and Deluxe Cabins with full baths to meet your needs, it's the ultimate camping getaway.
KOA Resorts Feature:
RV Sites with a KOA Patio®
Deluxe Cabins with full baths and linens
Premium Tent Sites
Resort-style pools
Indoor and outdoor group facilities
Directions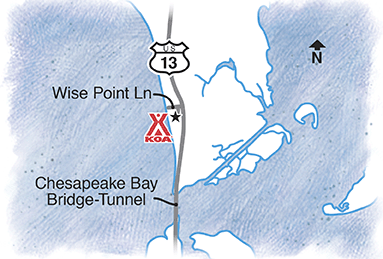 From North: Chesapeake Bay KOA Resort & Beach Club is located approximately 10 miles south of Cape Charles, VA. Traveling South on VA 13, turn right on Wise Point Lane and enter the parking lot to the left. Follow the registration signs. From South: Chesapeake Bay KOA Resort & Beach Club is located 1/4 mile north of the Chesapeake Bay Bridge Tunnel. Turn left on Wise Point Lane and enter the parking lot to the left. Follow the registration signs.  GPS: N37.138806, W75.967956
Get Google Directions
Jul 26, 2021
Afternoon... we stayed on site 307 and 308 on July 18-22. Our first time at your KOA. Park was beautiful as well as pool and beach. Restaurant had great food and drinks. My only complaint was the site, the grass was 7-10 in high in places and area around the hook-up spot was terrible to walk around with holes that were hidden with the tall grass. 5hrs between 11AM-4PM cut grass
Jul 26, 2021
It was our first time at Cape Charles. The staff, the maintenance and the visitors (our neighbors) were great. The sunsets are so beautiful �. We definitely want to visit again.
Jul 26, 2021
Great stay. Proximity to the beach and Jackspot were great. Really enjoyed our time and plan to come back for future visits.
Jul 26, 2021
We just stayed in one of the cottages for 3 nights and had a wonderful time. Everything we needed was there and the weather was perfect. There were activities celebrating "Christmas in July" that our grandson really enjoyed. Jackspot on site was terrific as well as the pools and beach access. Renting a golf cart was great for us to get around the campground. We will be back.
Jul 26, 2021
The sites are way to small and there's not much to do other than the beach for older kids and family fun
Jul 26, 2021
love this campground one of my favorite places to stay with my RV, however not the case when using their little cottages. Terribly maintained. Disgusting!!!!!!!!!!!!!!!!!!!!!!!!!!! Even the pool bathrooms where disgusting. I don't have my rv anymore, so I will definitely not be back.
Jul 26, 2021
Very Nice Park. Loaded with people. some folks on vacation were a little loud after 10pm. Great Service. Sad you didn't take Good Sams discount
Jul 25, 2021
Awesome location. Only downfall was electric went out and back on several times. Also we had a family emergency and had to leave 1 day early and they would not refund the 1 day (even though I rebooted for next year) and also the golf cart rental. I feel that campgrounds as a whole are not very respectful to situations right now.
Jul 25, 2021
Check in was a nightmare. The campground itself was wonderful. How the campground is ran is very, very unorganized. The beach/ocean and pool were huge hits with our families. We had a wonderful trip. It would have been a lot less stressful if the check in process wasn't a nightmare.
Jul 25, 2021
Very nice beach. Employees pleasant and hard working. Observed them cleaning pool daily but pool water still seemed dirty due to number of guests. Overall a nice place
Jul 25, 2021
We stayed for three nights during the week and enjoyed our stay. Towards the end of the week the campground got busy with many dogs and golf carts. The pool and beach were nice. We stayed at site 829 and it was nice because we had no neighbors behind us and we had shade most of the day. Would definitely recommend.
Jul 25, 2021
More towels should be provided in the cabins. And stain free bedding upon arrival we had two beds that sheets with visible stains on them. Aside from these minor details the trip was enjoyable we'll be back next year for sure.
Jul 25, 2021
Campground was nice and clean and great for the kids to be able to play in the bay
Jul 24, 2021
Garbage everywhere, one person is at the desk for all services. Plan on waiting for up to 35 min to buy a simple bag of ice. When we checked in we had a deluxe site the water did not work they told us the maintenance man was out till tomorrow sorry. I have stayed at many places this is by far the worse ran camp ground by far. It is a shame however because the beach was awesome and so was the pool
Jul 24, 2021
Had a wonderful stay with family and met some great new friends. The park has a very "safe" feel to it, meaning we felt fine with letting our kids roam and have fun with other kids they met. Facilities are very clean, and the restaurant food is delicious. The only constructive feedback I'd have is the lawn maintenance could be improved upon. Lots of overgrown grass and weeds on many camp
Jul 24, 2021
Beautiful property
Jul 24, 2021
Arrived and our reservation was messed up. A/c in one of the cabins broke one night and never could get anyone to call us back. Security harassed us for hours on our last night over cars parked there saying we had the wrong pass but it was the one given to us at check-in. Had our kids scared and on edge over nothing. Admin admitted we were being harassed.
Jul 24, 2021
We loved the campground and the beach; unfortunately our site was the least level site that we've seen at a KOA. It wasn't a dealbreaker, but it would have been nicer to have a more level site for such a steep price.
Jul 24, 2021
The bathrooms were okay. The staff was friendly. safari tent was not clean, the futon was extremely dirty. The refrigerator had caked up food on each shelf. The dresser & tv hadn't even been wiped down. We had to clean before we could unpack. The tent looks nothing like the picture. Those pics on the site had to be taken 30 years ago. The smell from the garbage/fish cleaning station was horrible
Jul 23, 2021
Thankyou for great stay we had. We will see you next year.
Jul 23, 2021
getting better
Jul 23, 2021
Had a great relaxing 3 day visit. Deluxe cabin was nice. Love the beach and pool area. Customer service at the checking area could use some improvements, maybe providing a brief informative flyer to give to visitors at check-in on frequently asked questions. Had to request extra towels (was only given 2 towels for 5 people for 3 days use), had to ask neighbor about trash pick up. Thanks.
Jul 23, 2021
I love this place! The facilities are immaculate, people are friendly, and the employees are super helpful! It's a beautiful place for a getaway, great for families. I'm definitely coming back!
Jul 22, 2021
Need activities for kids and also to mow the lawn. Our site was horrible!!!
Jul 22, 2021
Campground is beautiful.. grass needs to be mowed before we arrive. We were so crammed in that they could not really get into our sites and grass was up to our knees. I do wish more activities for the kids (you are a KOA) my kids love all the timed activities and there were none.
Jul 22, 2021
Every staff member encountered had major attitudes. Check out was horrendous as she was waiting for "shift change" and refused to help us. Our rented camper was HORRIBLE! Dirty, dirty, DIRTY!!! No pots/pans, silverware or towels as advertised. The grass that hasn't been mowed in weeks leads to major mosquito issues. The only plus was the beach and pool although the pool was closed 1/2 day.
Jul 22, 2021
We had so much fun last weekend. Our spot was in a great location, we literally walked out of our trailer and 50 steps to beach. Dinner was wonderful at Jackspot!! Definitely recommend this to all my friends and we now become one of our vacations destinations every summer!!
Jul 22, 2021
Beach is nice. Camper was not. For the amount of money spent, you would expect comfortable beds, a working shower, fully functional and non broken blinds, and everything to be a little more prestine. Also, you can hear everyone around, so it is luck of the draw that you don't get stuck to loud campers. The only plus was the beach was on site.
Jul 22, 2021
All golf cart keys are the same. My moms golf cart was stolen twice during our stay. (Neither time were the keys left inside) the restaurant food was so bad we couldn't stomach it and our bill was 295. Super expensive for food that tasted frozen and microwaved. Took the kids to the icecream shop to find out they are closed and under stocked. Very disappointed. This is our first and last time her
Jul 22, 2021
it was fun and we hope to come again and rent one of your RVs.
Jul 22, 2021
Loved the beach and pool area. The restaurant and service at Jackspot was perfect. The food was really good!
Jul 21, 2021
We had a wonderful time at this koa. We loved the pool, the restaurant, and the bay! Everyone was so nice I would have liked to stay longer. We will plan to come again soon.
Jul 21, 2021
It was horrible! The camera was much smaller than expected. There were cushions on wooden slabs instead of a mattress. It was the most uncomfortable bed I have had to sleep on. The bathroom in the camper was described a full size but it was so small that my nephew could barely fit it in. Said camper slept 6 but there is so way. Beach was tiny and very dirty. Pool was also dirty.
Jul 21, 2021
Had a great time ,staff was very friendly and helpful. Thanks
Jul 21, 2021
Enjoyable and plenty to occupy the kids and keep them cool on a very hot weekend
Jul 20, 2021
Trouble with people walking through our campsite. Tried to talk to staff about policy but they only stated that it's discouraged. This should be mentioned to EVERY guest who checks in and it should be a policy that is enforced, especially if dogs are permitted. Found feces in the shower; these should be checked hourly.
Jul 20, 2021
Had a wonderful time-loved the beach and the cabanas at the pool. Picnic benches very old-need to be replaced. Need more trash recepticals around to dump garbage. Also need more doggie poop bag stations around property.
Jul 20, 2021
Great sites, great hospitality. We were there specifically for the Reggae Weekend… it would have been nice if the restaurant embraced the live music portion instead of making folks wait specifically for a table to enjoy the band.
Jul 20, 2021
One of our favorite summer stays. This resort will be a staple for our family going forward. The kids love the golf cart rentals and you can't beat the private beach.
Jul 20, 2021
Only reason for the 2 stars is the beach if it wasn't for that I would have it would have been 1 star.
Jul 20, 2021
As always the service of any KOA that we've stayed in thus far has been excellent.Staff was very friendly and helpful.The campground was very clean and well kept.However,I do not get involved in politics.I do not like seeing political flags flown by fellow campers.This is the second time at a KOA I have seen a "Trump" flag.It's divisive! I don't care what side you're on.Please enforce YOUR rules!