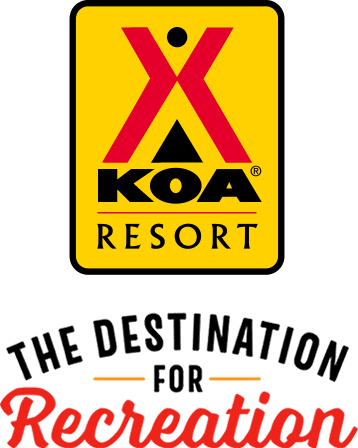 KOA Resort Campgrounds
KOA Resorts offer a carefree vacation in the great outdoors. Enjoy robust recreation and staff-led activities, kick back and relax by the resort-style pool, or grab a bite to eat, all while never leaving the campground. And with plenty of RV Sites with KOA Patios® and Deluxe Cabins with full baths to meet your needs, it's the ultimate camping getaway.
KOA Resorts Feature:
RV Sites with a KOA Patio®
Deluxe Cabins with full baths and linens
Premium Tent Sites
Resort-style pools
Indoor and outdoor group facilities
Directions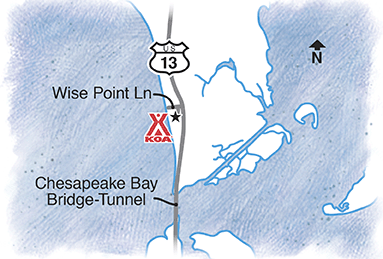 From North: Chesapeake Bay KOA Resort & Beach Club is located approximately 10 miles south of Cape Charles, VA. Traveling South on VA 13, turn right on Wise Point Lane and enter the parking lot to the left. Follow the registration signs. From South: Chesapeake Bay KOA Resort & Beach Club is located 1/4 mile north of the Chesapeake Bay Bridge Tunnel. Turn left on Wise Point Lane and enter the parking lot to the left. Follow the registration signs.  GPS: N37.138806, W75.967956
Get Google Directions
Oct 20, 2021
Always a wonderful get away.
Oct 20, 2021
Nice place to spend a few days
Oct 19, 2021
Friendly staff and great place for kids.
Oct 19, 2021
We love it at Cape Charles. I especially like the fact that I come there a lot and I love sites 835 and 836. These work well for my family.
Oct 18, 2021
Staff was awesome! Thank you Kelsey!!
Oct 18, 2021
We arrive Friday around 7:15 pm . The front office was very kind and pleasant and try to attend to all our needs , unfortunately it was not possible . The gave us and RV with mice dropping al over the kitchen . We went to the front desk for a new one and the gave us another RV with the same issue and this time the beds where never change . Housekeeping should be accountable for this .
Oct 18, 2021
Very comfortable. Great, friendly staff.
Oct 18, 2021
Great facility. Friendly staff, easy access to the bay, clean campsites, and beautiful weather made this a perfect get away.
Oct 18, 2021
Always a great time, love it.
Oct 18, 2021
The wind and rain storm came during trick or treating. We did not make it to the monster mash and curious about the site decoration winner. I called the front desk and was told someone would call us. We haven't heard from anyone.
Oct 18, 2021
We stayed in a safari tent. The tent was dirty, had an unpleasant smell and was damaged. The zip to the insect screen was broken and impossible to close, there were hooks missing from the main tent entrance, making it very noisy as it flapped about in the night. There was no coffee cups or coffee. The bed had dirty paw prints on it. The sofa was disgusting covered in hair, dirt and sand.
Oct 18, 2021
We had a great time staying and loved the Halloween activities! My only complaint is that I wish we would've known our golf cart needed to be insured ahead of time.
Oct 18, 2021
Very jammed in with multiple sites all coming together, a huge party right behind us, very noisy. There were wide open areas where we could have stayed, but for some reason the park put us in a very busy corner.
Oct 17, 2021
We loved this KOA. The beach is amazing, and the restaurant, Jackspot, offers good food and a perfect place to view amazing sunsets. The campground is clean, spacious, and well maintained. The staff are all so friendly and helpful. We will be back!!
Oct 17, 2021
KOA Cape Charles is a hidden gem. The perfect getaway.
Oct 17, 2021
We love to camp, we beached, walked our dogs, went into downtown cape Charles, exciting town with so much to do, explored the ocean side too. we love the area and the beautiful bay! We stayed on 800 row which is the best sites for a pop-up camper. Clean bathrooms, plenty amenities. we will be back! Thank you!
Oct 17, 2021
Staff very nice but didn't like how close all the sites were while sitting at ours we get be super close to next doors septic. Also no place to really park car out of the way. Very claustrophobic. Loved having restaurant right there and sunsets.
Oct 17, 2021
Cottage was nice but could have been cleaner. Found glasses in the cabinet were dirty. Missing dishes & utensils. Great spot.
Oct 17, 2021
The RV park was clean. Staff was friendly. Bathhouses were clean and well stocked. Site was level and all the connections were together, which is a good thing. Interior roads were in good shape but some were very narrow. Our site was very small. Smallest sites we have had in many years. The Jackspot restaurant was way overpriced. Charged amenity fee for off season. Not a resort in my eyes.
Oct 16, 2021
Great place to stay, friendly staff, nice facilities and fast internet :)
Oct 16, 2021
WIFI was good but cable tv was poor. The registration office was actually in the hotel and was poorly marked. Access to the beach was difficult for the elderly and/or disabled people. Everything else was fine.
Oct 16, 2021
I called the desk at 8 PM. CALL EAS NOT REURNED UNTIL THE FOLLOWING AFTERNOON. THE STORE WAS OUT OF MILK. THE MENS BATHROOM HAD NO HANDLE. THE SITE WATER SPIGOTS ARE TOO LOW. OFFICE HAD ME CONFUSED BE CAUSE IT WAS A RESORT. THE SIGNAGE IS NOT CLEAR.
Oct 15, 2021
All staff members were great! However the cabin accommodations (C735) is in need of a deep cleaning & make over. The kitchen equipment(pots, pans, cookie sheets, etc. are stained and just gross. We checked out a day early when the cabin became infested with gnats for no reason. I understand that this is camping, but when you rent a screened in porch cabin, bugs shouldn't be an issue inside.
Oct 15, 2021
Ended too soon
Oct 15, 2021
We were frustrated when, on the third (?) night of our 6 night stay, the smoke alarm or the CO2 alarm went off late at night for no apparent reason. The same alarm went off 2 or 3 times the following day/night, as well as the one after that.. It happened in the middle of the night a few times and woke us and our baby up!
Oct 14, 2021
handicapped shower lock needs to be fixed. We'll be back.
Oct 14, 2021
They booked us in a site way to small for our 42 foot fifth wheel. I asked for a larger site and was told there is only one available at $130 a week more. I got them to wave the fee and settled in for the week. The site was quite unlevel back to front with some strange green plastic everywhere. The problem is there were plenty of empty sites all week. They told me there was only one.
Oct 14, 2021
Great campground!! Great beach!!
Oct 14, 2021
Staff was great but we were packed in so close that we could not open our awnings. Other then that we love the place.
Oct 13, 2021
Great will be back
Oct 13, 2021
Nice place / dirty bathrooms-shower s. Management needs upkeep with cleaning common areas.
Oct 13, 2021
UNKNOWINGLY, my reservations were made through the call center, it was a Complete disaster. From pricing, accommodations, expected View. Ultimately, it got worked out to everyones satisfaction. We stayed our time and overall enjoyed our time there. �
Oct 13, 2021
We were there just a short time but they were very accommodating.
Oct 12, 2021
Thanks clean and friendly.
Oct 12, 2021
This was our first stay at Cape Charles KOA. We had a really nice time. We also made new friends we plan to meet next year for Roar at the Shore.
Oct 12, 2021
Great place! Enjoyed the activities. Just need a little more attention to detail. We booked an RV for 5 people. When we got there we only had to bath towels in the RV and incomplete sheet sets.
Oct 12, 2021
While undergoing a medical crisis which required ambulance and overnight hospital stay, staff were exceptional, standing by while the Emergency responders were assessing the situation, offering support and assistance. They asked us to let them know when we got back, and they again offered assistance and support. Had we needed more, I know we would have had it, graciously.Thank you!
Oct 12, 2021
We liked the location and The staff was friendly. There was so much trash and litter.
Oct 12, 2021
Need better Mattress bed and bunker are very hard in the Trailer.
Oct 12, 2021
we were only there for short time but we had a nice time.
Oct 12, 2021
We loved the location and the amenities but we prefer a little more space and privacy we requested a site on the edge of the park but was not given one and there were many avail.
Oct 12, 2021
Amazing place. Great staff. Nice friendly people staying there also. Lots of room to bike ride and let kids play. Fun events all weekend to keep the family doing things together. Restaurant right on the beach that has delicious foods and drinks!!
Oct 19, 2021
Everything about it was fantastic. Highly recommend this place. Right on the bay.
- Steven Barron on Google
Oct 16, 2021
Great place to go for a relaxing weekend.
- Michael Anthony on Google
Oct 16, 2021
A great campground. Staff is friendly. The private beach is beautiful. The bathhouses are clean.
- Millie Rocklage on Google