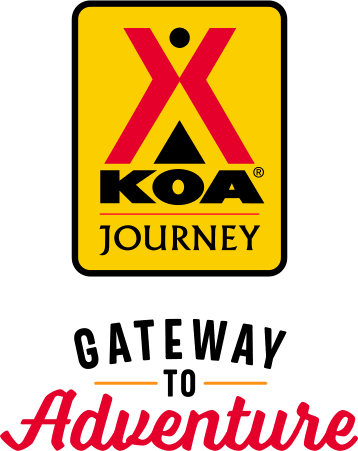 KOA Journey Campgrounds
KOA Journey campgrounds are the perfect oases after a day on the road. Whether it's along the way or a quick getaway, they've got you covered. Located near the highways and byways of North America with long Pull-thru RV Sites, they deliver convenience to the traveling camper. Pull in, ease back and take a load off.
KOA Journeys Feature:
Pull-through RV Sites with 50-amp service
Premium Tent Sites
Well lit after hours check-in service
Directions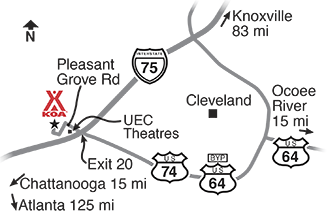 I75 / Exit 20 (1 Mile) off the I75 Interstate
NORTHBOUND I75: Use the EXIT 20 ramp taking the LEFT lane to turn LEFT toward the Pilot/McDonalds gas station. Pass the gas station to the 4 way Stop, turn LEFT, travel around curve to the SECOND drive, turn RIGHT following RIGHT to the main registration office.
SOUTHBOUND I75: Use the EXIT 20 ramp turning RIGHT at the light toward Pilot/McDonalds gas station. Pass the gas station and travel to the 4 way stop, turn LEFT, travel around the curve to the SECOND drive, turn RIGHT following RIGHT to the main registration office.
Our longitude is -84.959077
Our latitude is 35.14967
Get Google Directions
Aug 18, 2021
We stopped in for an overnight while traveling but will definitely be back for camping. The campground is laid out so nicely with plenty of room for all. It's also very clean.
Aug 17, 2021
We had a blast! We got our favorite spot, enjoyed friends that rented a cabin across from us, it's just always a nice time at your KOA! The pool was relaxing and I love the hourly "patrols" from the staff, makes me feel safer with our daughter out playing. Thank you for a wonderful time, we'll see you in November!
Aug 17, 2021
Very friendly. Pool was very nice, except had to get out due to weather. Tried our luck at horseshoes! A lot of other games available in the office. Bathrooms well kept.
Aug 17, 2021
This KOA is more like (if not better) than a lot of the Holidays we have stayed at. Do not pass this up just because it is a Journey. Nice staff, and our pull through site was very large. Plenty of room for our 35 ft class A and Jeep. Nice pool as as well.
Aug 17, 2021
Nice park, but our site was difficult to get level in. Also, the sewer connection was well forward of the electrical. I had to park the motorhome in a diagonal manner and use the levelers to bring the front wheels off the ground. The power, water and cable connections spanned ground that was just dirt - no grass or gravel - and when it rained overnight everything was a muddy mess.
Aug 17, 2021
Friendly staff and clean campgrounds. Off the beaten path in the wonderful wilderness.
Aug 16, 2021
Everything was great!! We have camped there for over 12 years!
Aug 16, 2021
Very nice, quiet campground, very friendly staff. Our only complaint was the light behind our campsite (#12) that was shining directly into the camper all night.
Aug 15, 2021
Awesome staff and camping.
Aug 15, 2021
We ordered the pizza for dinner and it was great to just stay in the camper and have it delivered especially since it was raining.
Aug 15, 2021
clean, friendly, helpful people
Aug 14, 2021
Very nice, clean campground and restrooms, great staff, easy in and out for big rig, clean pool. Enjoyed our stay, would return!
Aug 13, 2021
The stay at the campground was good, but someone coming to visit and have dinner, should not have to pay a fee. If they were going to use the facilities, then yes there should be a fee, but not if they're not going to use the facilities.
Aug 12, 2021
Love the area and how clean the sites were! We went to ride the Incline Railroad and visited the Lookout Mountain Battlefield on one trip and then went to visit the Lost Sea on another day. The town of Cleveland was also close by and had everything you may need while staying here. Also went and saw a movie at the UEC theater around the corner.
Aug 12, 2021
It was a great stay! Everything was clean and orderly. Staff was pleasant and helpful!
Aug 12, 2021
It was very nice!
Aug 11, 2021
They were working on drainfield so no laundry which was unfortunate but the park was very nice and clean. No issues!
Aug 11, 2021
Fantastic campground. Nicely spaced out sites, great wifi, great cable (49 channels), lots of activities for little ones, friendly staff, beautiful pool.
Aug 11, 2021
The grounds are clean and organized. The bathrooms exceeded expectations. We have never stayed at a KOA so the overall layout fit our overnight needs. Unfortunately, he actual environment was less than welcoming. The staff asked the required questions at check-in but no "anything else we can help you with?" No friendliness. Clean, yes...but not recomended for any extended (fun) family stay. Sorry.
Aug 11, 2021
The grounds were very clean and so were the restrooms. The people were very nice. I would recommend them to anybody
Aug 10, 2021
Nice campground The employees were nice to the campers very clean
Aug 10, 2021
Lovely site, hilly. Maybe a tad difficult to get your trailer level. Receptionist was very nice. Wi-fi and tv great. Easy on/off to freeway.
Aug 09, 2021
Great campsite! Will definitely stay there again when paddling the Ocoee.
Aug 09, 2021
The owner and the staff were wonderful! The campground was clean, and well kept. My only complaint is I wish there was a tree in the dog park!! But other than that, everything was great!
Aug 09, 2021
Would recommend for RV, but the deluxe cabin had no airflow when the door was shut. The air unit is in the front room, and once the door was shut, there was no airflow from that room into the bedroom. The mattress was a very basic camp mattress. If this was 1980, then I would understand, but for the price per night, the mattress should be better.
Aug 09, 2021
very nice easy access
Aug 09, 2021
Electric would be a great option for the tent sites
Aug 08, 2021
Rude staff. Will never stay at a Koa again
Aug 08, 2021
Site was very uneven, the cable didnt work and the laundry facilities were out order. These are the things that I pay for when paying the exorbitant that prices KOA charges and plan my stays accordingly. Very disappointing. Re-thinking my options.
Aug 08, 2021
The campground was beautiful. People very friendly. We had a great time and plan to return in the future.
Aug 08, 2021
one of our favorite places to stay...we cant say enough good about it
Aug 08, 2021
The RV park is in a lovely setting with trees and generally good shade. Good staff and well-stocked small store. We had no problems in a small Class C with MC trailer and saw larger units, but noted a long trailer that worked hard to get through tight curves. Be aware of the site map to make decisions about with a very large unit. The amenities were very nice and we enjoyed our quiet stay.
Aug 08, 2021
The Chattanooga North KOA is perfect for EV camping. We booked a last minute trip to try camping in our Tesla overnight and this KOA allows EV charging and car camping (not all do so make sure to call and ask). Very clean, many amenities, and quiet!
Aug 07, 2021
Wonder spot for an long RV and trailer, get setup, Just wish we had a trash can near us , instead of having to walk up to entrance to empty trash Wonderful friendly, clean campground We loved our stay there for a week
Aug 07, 2021
Super clean campground. Out a little bit from Chattanooga but not to bad with easy access on and off I-75. We explored Downtown Chattanooga, Chickamauga, and the Lookout Mountain attractions. Very peaceful campground with friendly staff. We will stay there again.
Aug 07, 2021
Friendly staff
Aug 06, 2021
Great staff clean grounds and pool. Definitely stay there again.
Aug 06, 2021
This campsite was very well kept. If in Chattanooga you need to definitely stay here. Very friendly staff and immaculate campgrounds.
Sep 18, 2021
Beautiful campground with great staff, good location, easily accessible lots, and just a short drive from the bustling Chattanooga. Good prices made this a wonderful all around camping experience.
- Jonathan Laferriere on Google
Aug 25, 2021
Clean! Quiet! Great Staff! Excellent location ..secluded yet close to everything you could possibly need or want to explore 😁👍
- Ashton Hutcheson on Google
Aug 14, 2021
Well kept, friendly employees.
- Linda Komondy on Google