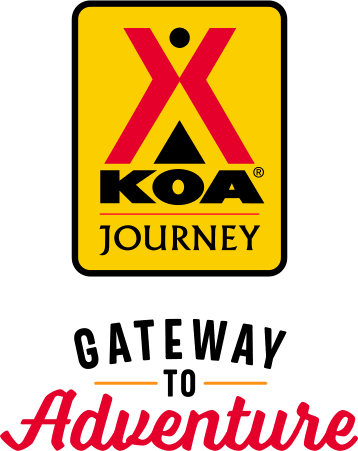 KOA Journey Campgrounds
KOA Journey campgrounds are the perfect oases after a day on the road. Whether it's along the way or a quick getaway, they've got you covered. Located near the highways and byways of North America with long Pull-thru RV Sites, they deliver convenience to the traveling camper. Pull in, ease back and take a load off.
KOA Journeys Feature:
Pull-through RV Sites with 50-amp service
Premium Tent Sites
Well lit after hours check-in service
Directions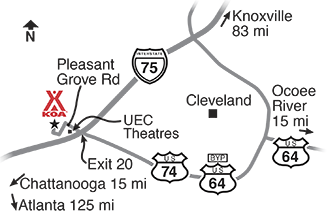 I75 / Exit 20 (1 Mile) off the I75 Interstate
NORTHBOUND I75: Use the EXIT 20 ramp taking the LEFT lane to turn LEFT toward the Pilot/McDonalds gas station. Pass the gas station to the 4 way Stop, turn LEFT, travel around curve to the SECOND drive, turn RIGHT following RIGHT to the main registration office.
SOUTHBOUND I75: Use the EXIT 20 ramp turning RIGHT at the light toward Pilot/McDonalds gas station. Pass the gas station and travel to the 4 way stop, turn LEFT, travel around the curve to the SECOND drive, turn RIGHT following RIGHT to the main registration office.
Our longitude is -84.959077
Our latitude is 35.14967
Get Google Directions
Apr 11, 2021
Parking in site 10 was not designed well
Apr 10, 2021
Good quiet place to spend a nite or two Some of the sites could stand leveling a lot Side to side. 6 inches is a lot to raise your unit so you don't fall out of bed. Still a nice place
Apr 10, 2021
Great place, spacious lots, friendly people.
Apr 09, 2021
Easy on and off highway. Staff very friendly.
Apr 08, 2021
Every thing was fine! We camp here at least 2 times a year and have been for 13 years!
Apr 07, 2021
Great people working there. The sites in the 50's need to have work done so that they don't become a mud swamp every time it rains. I look forward to staying there again.
Apr 07, 2021
Excellent stay! aesthetically pleasing park; gentle hills with trees; flat level pads; nicely spaced. Super friendly staff; warmly welcomed us & ushered us to our site. Park navigation might appear a bit challenging at first to novice rv'ers, but it is easy. Our rig w/ tow is 55+ feet & we had no difficulty at all. We plan to stay here again for a longer time to enjoy the scenic area. Perfect!
Apr 07, 2021
Friendly, clean, and modern. These folks care and do it right.
Apr 07, 2021
Very clean and well kept, staff is awesome, my family feels safe at this campground and they always have fun activities for all ages
Apr 07, 2021
Just spent the night but everything was great
Apr 06, 2021
great facilities, clean, well kept well staffed. prompt service. Easy access to the highway.
Apr 06, 2021
Campground was quiet even though it was full. I don't like hearing the road traffic next to the campground though.
Apr 06, 2021
Very nice people and pleasant quiet campground
Apr 06, 2021
We were only there for the night. Everyone was professional and our stay was good. Thank you !
Apr 05, 2021
Wonderfully quiet, safe and spread out nicely.
Apr 05, 2021
The campground is nice and enjoyable. However, if you are going to have activities, you should stick to the time frame you say. We missed the egg hunt because everything was running ahead of schedule. It was supposed to be a glow in the dark egg hunt and it happened about 6pm. I had a very disappointed little girl. Otherwise, we always enjoy our stay at KOA.
Apr 05, 2021
This was our second overnight stay. We arrived late and staff was attentive and helped us back into our site. Special thanks!
Apr 04, 2021
We used it for a base camp but it was clean, the staff we dealt with were very nice. Our site was good sized and very long. Plenty of space to maneuver our large fifth wheeler through.
Apr 03, 2021
Very quiet and nice. Easy in and out.
Apr 03, 2021
Such a serene property! Will retun on our future Snowbirding trips from Ohio to Florida!
Apr 01, 2021
We stayed one night on our way south. Good check in experience. Good pull though lot, would stay here again.
Apr 01, 2021
Everyone one was very helpful. Place was very clean
Mar 31, 2021
We were only there one night, but it was a nice, clean, and friendly facility. Would recommend!
Mar 31, 2021
Outstanding The best KOA we have stayed in yet
Mar 31, 2021
Staff was very nice. Grounds were emaculate and the location was great.
Mar 31, 2021
The site was muddy, the road next to the site load (site 58), no grill (had to purchase from store, and the electrical didn't work ( they did fix immediately).....but the staff was friendly. You would expect a different experience from a KOA. Especially since you typically pay more to stay at KOA. The were other spots they could have given us 59 was open all night and I had asked. Not impressed!
Mar 31, 2021
Only got to spend one evening there but certainly loved it !!!!
Mar 31, 2021
Love the park. We have stayed many times traveling up north or down south. Stayed in site 36 this time and like the spot but the electric and water and cable connections are way up front and my connections are at the back so I needed 2 20 ft hoses and 2 20 ft cables to make connections. The hook ups should be further to the rear of the site.
Mar 29, 2021
Love this KOA!! Rained a lot during our stay and had to deal with red clay mud the whole time there. The grassy area needs to be built up for drainage and thick grass needs to be placed there. Not the first time this has happened during our stays.
Mar 29, 2021
Our stay was great. Unfortunately, the pool was not open as it s still early in the season.
Mar 28, 2021
I was so disappointed this time that the restrooms that were the closest to our cabin were not clean when we arrived and after asking if they could be cleaned they were never cleaned for the two days we stayed. I could not shower in that restroom because it was nasty. I did walk to the larger bathhouse and it was very clean. So sorry that this issue wasn't corrected by the management.
Mar 27, 2021
Very nice, well maintained park. The staff was friendly and accommodating.
Mar 26, 2021
Had a premium site. Strangely the premium sites were close to a side road with noisy truck traffic. Otherwise it was adequate.
Mar 26, 2021
We had a shared pario whoch would have been great jad we been sharing it with friends. We weren't asked if it was ok ahead of time so we felt restricted b/c of social distancing. I could understand if we were overnighting but we were there for 4 nights.
Mar 26, 2021
The campground is located just off of I-75 about 25 min. to Chattanooga; well-maintained & peaceful even with proximity to the interstate. Site had a great, spacious pad with nice table & fire ring. We were escorted to the site & assisted with backing in. Hook-ups were easy/convenient. Wifi worked well for Zoom meetings. Bad weather shortened stay & refund was given without request. Will return.
Mar 26, 2021
The campground looked nice but there weren't really any designated tent sites. My boyfriend and I had been driving all day long and arrived around 11pm. We were then approached by an older man who was drunk and would not leave us alone talking about very uncomfortable things. It was very uncomfortable so we decided it was best to leave rather than staying somewhere we did not feel safe.
Mar 24, 2021
The staff was so nice!
Mar 24, 2021
We only stayed two nights here, with two adults, two teens and a dog. Mid-March 2021, so pool was not open yet. The emails and texts we received before and after our trip were nice, we called ahead with our later than expected ETA. The staff was super friendly and warm-hearted. Campground was quiet. Easy to pull our 42' 5th wheel in! Gravel drives. Fenced in dog area. Didn't use their BR/showe
Mar 24, 2021
Excellent friendly customer service. Guided escort back to our site. Easy check in. Clean facilities. Fun play set for the kid and clean fenced in dog run area for the pups.
Mar 24, 2021
Unfriendly and unhelpful
Mar 24, 2021
We spent one night in a pull through and it was excellent. Nice level sites and clean comfortable shower. We would definitely stay again.
Mar 23, 2021
Thank you for your hospitality. I would like to suggest cement pads. Ours was not level. Convenient to everything.
Apr 21, 2021
Only stopped for one night on the road. Friendly staff. Escorted us to our site and directed us into the spot in the rain. Bathrooms are clean and well maintained.
- Joe Achtabowski on Google
Apr 18, 2021
Great for our needs.
- Jan Austin on Google