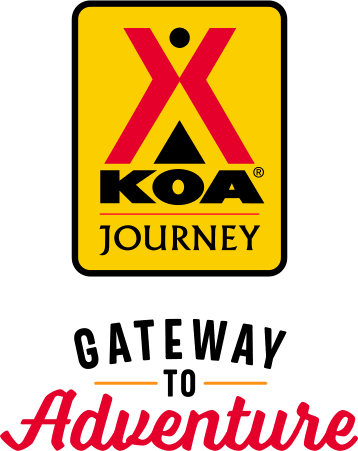 KOA Journey Campgrounds
KOA Journey campgrounds are the perfect oases after a day on the road. Whether it's along the way or a quick getaway, they've got you covered. Located near the highways and byways of North America with long Pull-thru RV Sites, they deliver convenience to the traveling camper. Pull in, ease back and take a load off.
KOA Journeys Feature:
Pull-through RV Sites with 50-amp service
Premium Tent Sites
Well lit after hours check-in service
Directions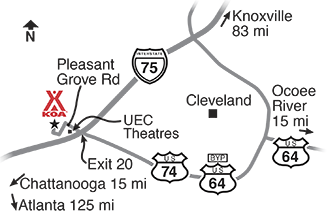 I75 / Exit 20 (1 Mile) off the I75 Interstate
NORTHBOUND I75: Use the EXIT 20 ramp taking the LEFT lane to turn LEFT toward the Pilot/McDonalds gas station. Pass the gas station to the 4 way Stop, turn LEFT, travel around curve to the SECOND drive, turn RIGHT following RIGHT to the main registration office.
SOUTHBOUND I75: Use the EXIT 20 ramp turning RIGHT at the light toward Pilot/McDonalds gas station. Pass the gas station and travel to the 4 way stop, turn LEFT, travel around the curve to the SECOND drive, turn RIGHT following RIGHT to the main registration office.
Our longitude is -84.959077
Our latitude is 35.14967
Get Google Directions
Jul 26, 2021
It was ok. Noisy and low voltage.
Jul 26, 2021
Again. Another fantastic stay!!!
Jul 26, 2021
Only needed a place to sleep this time, but as always great accommodations. The owner was gracious enough to help us out with staying for the night, even though it was very late. Definitely appreciated!! Thank you!!
Jul 25, 2021
This was a one night layover. The park is very neat and clean. Our site was level, didn't have to unhook from our car. Didn't use any facilities, so I can't report, but seeing how clean the grounds were,I'd expect them to be clean, also. Looked like a nice dog park. Nice pool. Only Con, we were right next to a busy road, but once we were inside, couldn't hear the traffic.
Jul 24, 2021
Standard space was adequate for 39' Fifth Wheel. Laundry was closed which was a bummer.
Jul 24, 2021
Campground was nice and clean, as were bathrooms. No laundry facilities. Staff was friendly and helpful
Jul 23, 2021
Awesome RV park. Great amenities and really nice sites. Definitely coming back !!
Jul 22, 2021
Nice campground with very small sites. No clothes washing facility. Staff not very friendly. Nice pool.
Jul 22, 2021
Still in the 60's everything in broken down condition. This should not be a KOA
Jul 22, 2021
Very nice campground. Would stay there again in the future.
Jul 21, 2021
The grass look like it has been mowed in weeks paid for a deluxe site I do not know why it is a Deluxe site nothing deluxe about it.
Jul 21, 2021
We had a drive thru spot in the new section. It rained a significant ant amount through the night while we were there, but due to the gravel they had, we had no problems pulling out. The staff is very friendly upon arrival and departure.
Jul 21, 2021
Bev and Christina were super. They helped me with my first hookup with smiling faces and ready assistance and personal generosity. They are to be commended for their attitude and skills. God bless you both. Thanks also to John who assisted the next morning.
Jul 20, 2021
Beautiful place!
Jul 20, 2021
We wanted to add an extra day to or stay and they did everything to help us stay 4 nights. Mike and Christina were outstanding!! It poured rain for 3 of our 4 nights and we remained perfectly dry! Our site was excellent the patio and table with umbrella and chairs was perfect. I would absolutely stay here agin. We were 100% pleased with everything. I also LOVED the store great selections!
Jul 20, 2021
Weekend getaway!
Jul 19, 2021
Love this location..Great pool, awesome cornhole and ping pong. Sites are great and quiet time was honored.. KOA hosts were fabulous.. Will be back for sure.
Jul 19, 2021
As always, our stay here was wonderful! The staff is courteous and helpful. We will definitely be back.
Jul 19, 2021
The stay was nice and the staff was helpful. But they would not help me out when I had a request when I stopped by one day later. That was unfortunate for me. One would think that they could accommodate previous customers better.
Jul 18, 2021
We really like the campground sites were good,staff was friendly,My grandson really liked the swimming pool,Have no complaints,
Jul 17, 2021
I can only give this campground an overall rating of 4, due a problem with the site we were on. When it rained, it became a big mud puddle out side out motorhome. This campground needs to do some site maintenance, i.e. adding some stone to the sides if the site to eliminate this issue.
Jul 17, 2021
Informative staff. Good location for touring the area.
Jul 17, 2021
Very friendly staff, clean facilities and convenient location. We will definitely recommend to friends!
Jul 17, 2021
Nice and quiet Staff was helpful and friendly
Jul 17, 2021
Best KOA we've stayed at all summer!!!
Jul 16, 2021
This is my second or third stay here for work and as always, it was perfect.
Jul 15, 2021
enjoyed our stay very relaxing camp ground very clean staff very polite and helpful easy off and on to interstate
Jul 15, 2021
We love this campground. Nice sites and staff is very friendly and accommodating. We have been staying there for the past 5 years when we travel from Florida to see family in Cincinnati.
Jul 15, 2021
It was a nice place, just needs more tree's for tent campers, and shelter areas in tent area's.
Jul 14, 2021
Staff was very unfriendly and even rude at times. Will not be staying there again.
Jul 14, 2021
Nice campsites! A little small but workable! The entire campground was very well maintained!!
Jul 13, 2021
other than having low water pressure Saturday morning everything was great
Jul 13, 2021
Wish the laundry room had been available & one of the desk personnel could have been friendlier.
Jul 12, 2021
Great place and amenities. Wasn't crazy about our neighbors lighting fireworks around midnight and it was not even 4th of July.
Jul 12, 2021
Excellent service, delivery to our site quickly! Quiet well maintained
Jul 22, 2021
Our dog drove us there
- Bruh Moment on Google
Jul 20, 2021
Outstanding stay! Mike & Christina at check in were excellent they took us to our site and helped with everything! I loved the store in the main office area. It had a wonderful selection of food and gifts. It poured 3nights and we stayed perfectly dry! we were 100% pleased!
- RKeith on Google
Jul 20, 2021
Good pull through site excellent wifi friendly staff 👍
- Bruce Blackmon on Google