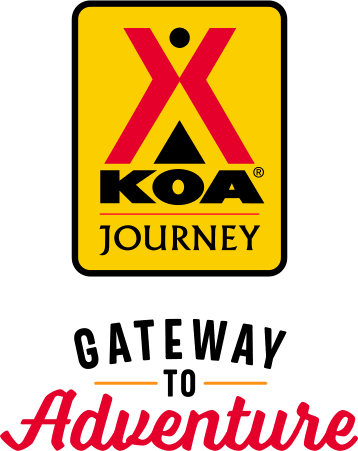 KOA Journey Campgrounds
KOA Journey campgrounds are the perfect oases after a day on the road. Whether it's along the way or a quick getaway, they've got you covered. Located near the highways and byways of North America with long Pull-thru RV Sites, they deliver convenience to the traveling camper. Pull in, ease back and take a load off.
KOA Journeys Feature:
Pull-through RV Sites with 50-amp service
Premium Tent Sites
Well lit after hours check-in service
Directions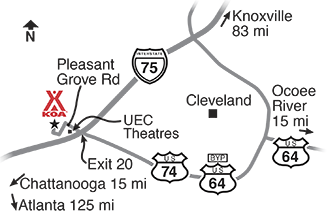 I75 / Exit 20 (1 Mile) off the I75 Interstate
NORTHBOUND I75: Use the EXIT 20 ramp taking the LEFT lane to turn LEFT toward the Pilot/McDonalds gas station. Pass the gas station to the 4 way Stop, turn LEFT, travel around curve to the SECOND drive, turn RIGHT following RIGHT to the main registration office.
SOUTHBOUND I75: Use the EXIT 20 ramp turning RIGHT at the light toward Pilot/McDonalds gas station. Pass the gas station and travel to the 4 way stop, turn LEFT, travel around the curve to the SECOND drive, turn RIGHT following RIGHT to the main registration office.
Our longitude is -84.959077
Our latitude is 35.14967
Get Google Directions
Oct 18, 2021
Had a great time. The amenities were nice and the bathrooms were very clean. Perfect distance from the city. I've never stayed at a koa before but I would 100% recommend it to anyone who's looking for a nice place to camp and have a good time!
Oct 11, 2021
I enjoyed the campground overall. I was not too fond of the site because it was very muddy; I upgraded to a cabin because my tent broke and the cabin did not have a water source. this was not a make-or-break for me, and the cabin was really nice; I really enjoyed it, but if it had a water source, it would have made my trip even better. the staff were very helpful and friendly.
Oct 11, 2021
Our stay was great! The only hiccup was when we were trying to leave to check out at 10:50. The septic truck had arrived to pump and had the road out from the cabin village blocked. When we got to the office, there wasn't anyone there to check us out and there were no instructions for how to check out or leave a key. Fortunately we found an employee who took our key to give to the desk staff.
Oct 10, 2021
The grounds are wonderful for RVs, cabins, and tents. There are places specifically for children and other outdoor games such as corn hole and horseshoes. They have a dog park too. Our cabin was perfect for us. Everything about KOA was great. The only reason it didn't get a perfect score was a minor nuisance of interstate background noise, but it was rarely noticed.
Oct 05, 2021
The cabin was nice with a great location next to the bath house. The downside is, we were forced to leave a day early due to power outage. The outage continued into the next day, with no reasoning as to why the power was out. I attempted to contact management, but I was unable to get through or have someone contact me. I expected better, although we will give them a second chance.
Sep 13, 2021
I was very disappointed in our stay this year. During the past several years, we have stayed in our camper at KOA/Cleveland, but this year we decided to stay in the deluxe cabin. We checked in on Friday, Sept. 10 at around 1 pm. and by late afternoon we began seeing lots of ants in the kitchen area. By the next day ants were all over the kitchen and bathroom. We asked for a partial refund.
Sep 08, 2021
Had a great time at your KOA. The cabin was clean and temperature comfortable. Really enjoyed the pool and game area.
Sep 07, 2021
No issues great place
Sep 07, 2021
Too much of honey bees . Otherwise we enjoyed the campsite
Sep 03, 2021
We stayed here (Chattanooga North/Cleveland KOA) in a cabin, going to and returning from vacation. Everything was very clean and the staff was especially friendly and helpful. Our dog really enjoyed the play yard where he could run free after being cooped up in the car for so long. We recommend this location and will absolutely stay here again. Thank you for your hospitality!
Aug 18, 2021
We stopped in for an overnight while traveling but will definitely be back for camping. The campground is laid out so nicely with plenty of room for all. It's also very clean.
Aug 12, 2021
It was a great stay! Everything was clean and orderly. Staff was pleasant and helpful!
Aug 09, 2021
Would recommend for RV, but the deluxe cabin had no airflow when the door was shut. The air unit is in the front room, and once the door was shut, there was no airflow from that room into the bedroom. The mattress was a very basic camp mattress. If this was 1980, then I would understand, but for the price per night, the mattress should be better.
Aug 06, 2021
This campsite was very well kept. If in Chattanooga you need to definitely stay here. Very friendly staff and immaculate campgrounds.
Aug 03, 2021
When we left we were loaded with bug bites.
Jul 28, 2021
Love it here !!!! it's my home away from home everyone that works there is awesome and I'm already ready to go back �ϋ�
Jul 27, 2021
Very friendly staff and very clean KOA
Jul 10, 2021
We stayed one night in the cabins. It was perfect for us. We plan to use them again, for our short trips to your area.
Jul 10, 2021
KOA team was pleasant, ground were well kept, and the bathrooms were clean.
Jul 06, 2021
It was awesome!
Jun 30, 2021
They staff was friendly! The bathrooms, pools, and grounds were well maintained. The other campers were friendly and respectful. Our cabin had a funky smell. We had to buy air fresheners. We wiped everything with Lysol wipes and tried to leave the cabin smelling better for the next campers! Would definitely recommend and stay again!
Jun 13, 2021
It was only 1 night but cabin was clean! Staff was friendly and helpful when ask questions about things to do and places to eat!
Jun 08, 2021
it was very nice and quite during the night time. KOA staff was very helpful. Deluxe Cabin was clean and stocked with essentials.
Jun 05, 2021
Beautiful place, lots of shade.
Jun 02, 2021
Very relaxing! Clean, well kept facility!
May 18, 2021
loved the place with all they had 2offer. Would have definitely made this our camping spot but with a few unfriendly staff members talking to us rudely as if they didnt want us there we probably wont come back. treated as if we couldnt follow rules, bothering us every 20min when we were a bunch of moms in our 30/40s with our kids.The grumpy Karen needs to find a new job or stop being so miserable
May 16, 2021
The cabins were amazing, But, the staff was very over bearing. They came around and "checked" on us what seemed like once every 15 minutes. Asking if we had parking passes and if vehicles have been registered. It was very much like being a summer camp and being treated like we were kids. We were watched at the pool it was very uncomfortable. Great area but staff was very overbearing and just r
May 13, 2021
It was nice and easy come and go. A couple of nights after quite time people were up all night being loud. Other than that we stayed in the kotts cabin. But I will give an overall five star! Awesome general store!! Five star!
May 10, 2021
Loved it �! Best one I've been to,extremely clean camp ground and very clean showers.every day for 6days it was clean every where.stayed in cabin E with my wife and 2 small dogs and was a great time.they have fenced in dog park and everyone is very friendly.staff was fantastic!thanks much.�
May 01, 2021
Only stayed one night but was very happy with our one room cabin. You guys are great.
Apr 26, 2021
Oh my goodness, where do I begin? We had the most wonderful stay here! Although it was close to the interstate, it was very peaceful and relaxing. The staff was bar none, the grounds were very well kept. Bath houses were clean and well kept. We will definitely be back, thank you for such a wonderful stay!
Apr 07, 2021
Very clean and well kept, staff is awesome, my family feels safe at this campground and they always have fun activities for all ages
Apr 01, 2021
Everyone one was very helpful. Place was very clean
Mar 28, 2021
I was so disappointed this time that the restrooms that were the closest to our cabin were not clean when we arrived and after asking if they could be cleaned they were never cleaned for the two days we stayed. I could not shower in that restroom because it was nasty. I did walk to the larger bathhouse and it was very clean. So sorry that this issue wasn't corrected by the management.
Mar 23, 2021
We love stopping in and staying for a night or two traveling to Flordia... the bath house is clean and warm .... the whole campgrounds is very clean ... thank you and keep up the good work
Mar 22, 2021
Very nice. Very convenient.
Mar 02, 2021
This was just an overnight stop and the cabin we were in seems to have been situated for this purpose. Although it wouldn't have been the best "camping" environment (we did see there were cabins better situated for that) it was very clean and comfortable and it very well served our purpose.
Feb 28, 2021
We had a problem with the TV, in the first cabin. They moved us to another cabin. Very pleasant staff.
Feb 18, 2021
Cabin was great as usual. We stay at this KOA every time we stay in Chattanooga area. Great people, great campground!
Oct 22, 2021
Just off 75 but beautiful tree filled setting. Nice people.
- JILL HURT on Google
Oct 22, 2021
very accommodating. nice staff. beautiful setting
- David W Sasser on Google
Oct 16, 2021
We have stopped here twice on our drive between Michigan and points south. We absolutely love this park. Nice amount of trees, convenient to 75, full hookups, drive through spots, and great staff. Looks like a good spot to use to explore Chattanooga. We will be back.
- Lexa Bell on Google