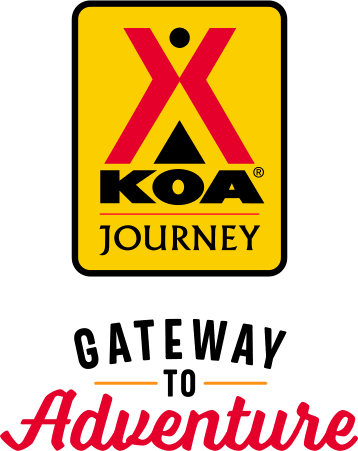 KOA Journey Campgrounds
KOA Journey campgrounds are the perfect oases after a day on the road. Whether it's along the way or a quick getaway, they've got you covered. Located near the highways and byways of North America with long Pull-thru RV Sites, they deliver convenience to the traveling camper. Pull in, ease back and take a load off.
KOA Journeys Feature:
Pull-through RV Sites with 50-amp service
Premium Tent Sites
Well lit after hours check-in service
Directions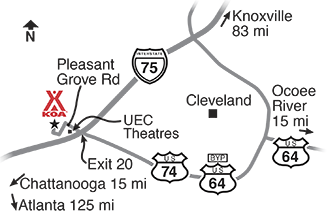 I75 / Exit 20 (1 Mile) off the I75 Interstate
NORTHBOUND I75: Use the EXIT 20 ramp taking the LEFT lane to turn LEFT toward the Pilot/McDonalds gas station. Pass the gas station to the 4 way Stop, turn LEFT, travel around curve to the SECOND drive, turn RIGHT following RIGHT to the main registration office.
SOUTHBOUND I75: Use the EXIT 20 ramp turning RIGHT at the light toward Pilot/McDonalds gas station. Pass the gas station and travel to the 4 way stop, turn LEFT, travel around the curve to the SECOND drive, turn RIGHT following RIGHT to the main registration office.
Our longitude is -84.959077
Our latitude is 35.14967
Get Google Directions
May 10, 2021
Loved it �! Best one I've been to,extremely clean camp ground and very clean showers.every day for 6days it was clean every where.stayed in cabin E with my wife and 2 small dogs and was a great time.they have fenced in dog park and everyone is very friendly.staff was fantastic!thanks much.�
May 01, 2021
Only stayed one night but was very happy with our one room cabin. You guys are great.
Apr 26, 2021
Oh my goodness, where do I begin? We had the most wonderful stay here! Although it was close to the interstate, it was very peaceful and relaxing. The staff was bar none, the grounds were very well kept. Bath houses were clean and well kept. We will definitely be back, thank you for such a wonderful stay!
Apr 07, 2021
Very clean and well kept, staff is awesome, my family feels safe at this campground and they always have fun activities for all ages
Apr 01, 2021
Everyone one was very helpful. Place was very clean
Mar 28, 2021
I was so disappointed this time that the restrooms that were the closest to our cabin were not clean when we arrived and after asking if they could be cleaned they were never cleaned for the two days we stayed. I could not shower in that restroom because it was nasty. I did walk to the larger bathhouse and it was very clean. So sorry that this issue wasn't corrected by the management.
Mar 23, 2021
We love stopping in and staying for a night or two traveling to Flordia... the bath house is clean and warm .... the whole campgrounds is very clean ... thank you and keep up the good work
Mar 22, 2021
Very nice. Very convenient.
Mar 02, 2021
This was just an overnight stop and the cabin we were in seems to have been situated for this purpose. Although it wouldn't have been the best "camping" environment (we did see there were cabins better situated for that) it was very clean and comfortable and it very well served our purpose.
Feb 28, 2021
We had a problem with the TV, in the first cabin. They moved us to another cabin. Very pleasant staff.
Feb 18, 2021
Cabin was great as usual. We stay at this KOA every time we stay in Chattanooga area. Great people, great campground!
Feb 16, 2021
Our stay was really great! We rented three cabins in the village area, we liked that it was more secluded in that area of the campground and very close to the bathroom. The kids enjoyed playing soccer in the field and the nature trail in the woods. Since it was in February we couldn't enjoy the pool or warm weather activities, but the cabins stayed very warm and cozy and the host was very nice!
Jan 11, 2021
Stayed for one night in a cabin a lot cheaper than hotel rest rooms nice and clean no problem with check in a very nice KOA
Nov 30, 2020
Really enjoyed our time here. Deluxe cabin was nice. Travelers: bring blankets, pillows, and towels in addition to bed linens. None of these provided — we finally found a Walmart. We would definitely return to this KOA.
Nov 17, 2020
Staff was very nice and accommodating. Cabin was clean. Will be back
Nov 09, 2020
Had a great time. Our cabin was comfy and clean.
Nov 07, 2020
Nice place to stay very handy.Clean& quiet,Staff is caringand prompt.
Nov 06, 2020
A little expensive
Nov 04, 2020
beautiful KOA, LOVED THE DOG PARK!!!! Fall Fesitival was very nice. Kabins were wonderful!!
Oct 27, 2020
We enjoyed everything about our stay. The cabin was the perfect combo of away from it all but near all the things we planned. The staff was helpful and polite. The COVID precautions were appropriate. A wonderful stay and we will most definitely be back.
Oct 12, 2020
Nice place to stay. Only complaints are about the air conditioners in cabins reeks like mold and we've stayed in 2 different cabins now. Bathroom shower kinda gross. Should be scrubbed more often
Oct 06, 2020
Wish the pool had been open, but extremely nice staff & it was quiet at night even when there were lots of other campers. Wish there would've been more cabin or other "lodging"options available to pick from but I've already recommend to a family member overall great experience! Oh and WiFi was flawless!
Sep 27, 2020
The camp ground has lots of trees, off the main road. Spots are large and spread out. Very nice koa
Sep 24, 2020
Cabin and bathroom facilities were immaculate, camp grounds well taken care off. Staffing were extremely polite and friendly, always helpful. Only thing cabin can use is a bigger TV.
Sep 22, 2020
Awesome people, so polite and willing to go the extra so that our stay was perfect! Thank you, we will be staying again soon!
Sep 21, 2020
Very friendly staff. Clean environment. Great price.
Sep 14, 2020
We had a fantastic time! Folks were so kind and helpful. You have a great team at the Chattanooga North / Cleveland KOA.
Aug 24, 2020
Beautiful campground, well maintained. The employees go above and beyond to make your stay a great one. I will definitely return!
Aug 18, 2020
Had a great time with the family.. Going back soon!!!
Aug 17, 2020
We stayed for 7 days and I was so impressed with this KOA. Very clean, pool was amazingly clean. Bathrooms were very nice. Staff was friendly. We will be back.
Aug 16, 2020
Just a wonderful place! 30 min from hiking, treerafting and tubing in the Ocoee:)
Aug 04, 2020
It was our first time camping at this KOA and it definitely didn't disappoint us. The bathrooms and showers were immaculate. Pool was clean with nice seating. The Camp Store was very clean and the staff was very nice. We will definitely be back to stay. We stayed in cabin B With all 3 grandchildren. Plenty of room with a double set of bunk beds plus our room.
Aug 02, 2020
Everything was great. The only complaint was the ants in the kitchen and bathroom.
Jul 26, 2020
Great overnight accommodations! Very clean cabin! Pool was very refreshing! Will definitely stay here again when our travels take us that way...the only thing I can say that could have made our stay even that much better than it was already was to provide an outside outlet for our electric skillet for cooking....thankfully, we had a plan B for our dinner....as I don't cook with charcoal. Thank
Jul 21, 2020
Very clean. Staff was friendly. Private full bathrooms
Jul 19, 2020
We had a great time at this campground! The cabin we stayed in was clean and the staff were very nice and helpful!
Jul 19, 2020
A fun get away with the grandchildren. The cabin (B) was clean and fit our needs. It was the first time taking two 2 year old kids camping. They had fun in the pool and liked us strolling around the campground !
Jul 14, 2020
Excellent service from all. Great location. Convenient to attractions, yet nice being away and scenic area. Cabin was great. Cleanliness is the best. Great camp store. Especially liked having the firewood delivered to our cabin.. Of all the KOAs we have stayed at over the years, we would consider this one the best.
Jul 13, 2020
Everyone was super helpful and responsive. The park is clean and nice.
Jul 13, 2020
Lindo lugar, el paisaje me encanto. La cabaña muy cómoda.
Jul 13, 2020
Great place. My only complaint would be the bathhouse for our cabin area had no climate control
Jul 13, 2020
As always I love this KOA
Jul 10, 2020
We had a great stay! We stayed in the deluxe Kottage. Everything was perfect. We had everything we needed. The KOA itself was very clean, and all the staff we encountered were very friendly. The only negative was, there seemed to be a sewer smell every morning. It was very strong, and I saw no one at the dump station. Other than that very small issue, it was great!
Apr 21, 2021
Only stopped for one night on the road. Friendly staff. Escorted us to our site and directed us into the spot in the rain. Bathrooms are clean and well maintained.
- Joe Achtabowski on Google
Apr 18, 2021
Great for our needs.
- Jan Austin on Google