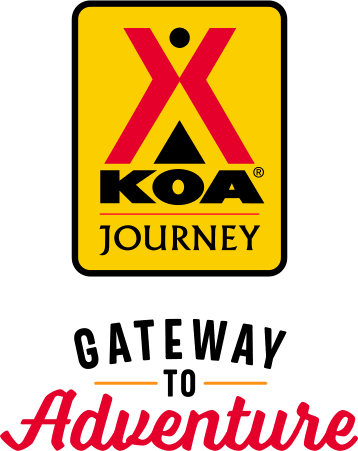 KOA Journey Campgrounds
KOA Journey campgrounds are the perfect oases after a day on the road. Whether it's along the way or a quick getaway, they've got you covered. Located near the highways and byways of North America with long Pull-thru RV Sites, they deliver convenience to the traveling camper. Pull in, ease back and take a load off.
KOA Journeys Feature:
Pull-through RV Sites with 50-amp service
Premium Tent Sites
Well lit after hours check-in service
Directions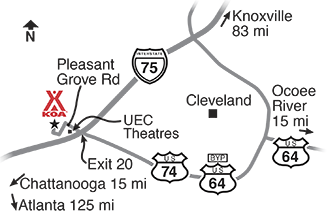 I75 / Exit 20 (1 Mile) off the I75 Interstate
NORTHBOUND I75: Use the EXIT 20 ramp taking the LEFT lane to turn LEFT toward the Pilot/McDonalds gas station. Pass the gas station to the 4 way Stop, turn LEFT, travel around curve to the SECOND drive, turn RIGHT following RIGHT to the main registration office.
SOUTHBOUND I75: Use the EXIT 20 ramp turning RIGHT at the light toward Pilot/McDonalds gas station. Pass the gas station and travel to the 4 way stop, turn LEFT, travel around the curve to the SECOND drive, turn RIGHT following RIGHT to the main registration office.
Our longitude is -84.959077
Our latitude is 35.14967
Get Google Directions
Sep 21, 2021
This KOA is very, very nice. Very clean. Becky is wonderful. She is very friendly and efficient. The sites are all very clean. Bathrooms are clean. A couple more bathrooms would be nice. But otherwise, every thing was wonderful. I would love to stay there again, very soon.
Sep 21, 2021
Perfect for the dog show at the Tri State Exhibition Center. Nice campground very clean.
Sep 21, 2021
love it very nice employees and very nice campground. very clean
Sep 21, 2021
Super Clean and Friendly Place to RV. Camp store was so stocked and had additional shopping for cute items as well as all necessities. There was a nice stock of frozen foods and eggs and milk items. Staff was super kind and friendly . Bathrooms were immaculate. Only thing I would like to have had was closer garbage cans to rv sites. That would just have been on my wish list. Not a deal breaker.
Sep 20, 2021
Great staff, clean areas & restrooms.
Sep 20, 2021
Beautiful location. Exceptional service upon arrival. Everything was clean - campsites were well maintained. Would love to go back!
Sep 20, 2021
Loved this KOA. Very friendly and helpful personal. Great location for our needs and look forward to returning.
Sep 20, 2021
We were very impressed!! This was our first time staying at a KOA and it won't be the last. The staff was great and the grounds were perfectly kept! It was a great experience .
Sep 20, 2021
Was a nice KOA with very clean facilities. I generally stay at KOAs while traveling through. This KOA was particular nice.
Sep 20, 2021
The office lady and was very welcoming! The park is small, but very nice. We stayed one night. Easy in and out.
Sep 19, 2021
One of the prettiest places and the pool was a godsend
Sep 18, 2021
Grounds well kept, bathroom clean & kept up, easy in & off interstate. Could move dumpster to less central location. Management and staff ++++ concern for pleasant stay. An old saying "Beware Greeks bearing gifts" wherever you travel.
Sep 17, 2021
Found the grounds very clean. Bathroom and the office were clean. People working were kind.
Sep 16, 2021
Personnel are top notch and willing to help in any way! Quiet and peaceful.
Sep 16, 2021
Friendly staff. Very neat and clean
Sep 14, 2021
Most KOAs are nice and this is one of the best we've stayed at. Good lay out, quiet, and clean. Very close from the freeway exit, gas stations, and not far from town services. Only negative is the lady parking assistance is too much in a hurry. Some of us need a little breather after many hours of parking and not needing anybody to rush them pack in to assigned RV site.
Sep 14, 2021
The people were great. We enjoyed the pool. My only issue, and to me it was a big one, we were in site 36. My wife and I have been traveling in our 5th wheel for 15 years. We have been in sighted that were cut into the side of a hill. However, in order to get level I had to block up the door side of the trailer more that I have at any other site. I was not pleased.
Sep 13, 2021
Great campground. Very clean and well maintained. Friendly staff.
Sep 13, 2021
Great location for the local tourist sites. Easy off and on to the highway. we have friends and family in the area so it worked out well.
Sep 13, 2021
This is one of the best KOAs we have stayed at. Loved the wooded sites and the space between them. We had #21 and it was perfect! Very quiet lots of things to do! Great relaxing weekend!!! We will definitely be coming back!!!
Sep 13, 2021
Worse campsite we ever had. Our neighbors RV was facing the opposite direction and their door was across from ours and we share the same patio
Sep 12, 2021
Beautiful campground. Recommend picking up trash at sites.
Sep 12, 2021
Very nice campground, clean and sites are well spaced. The staff is very friendly and helpful. Will came there again.
Sep 12, 2021
It was just over night but the staff was great and very friendly. Was easy in and out. Would recommend it to all.
Sep 11, 2021
Not the worst KOA we've stayed in. A little interesting to maneuver through to most sites. Charged $5 for our grandaughter to visit for a few hours! I could understand if she were spending the night but not just to come to our camper for a while... oh well, it is about the only option close to Lee University so we will go back. They did have a lot of green area...
Sep 11, 2021
Nice area. Peaceful and quiet for the most part. You do hear the vehicles from the road nearby, but everything else is great.
Sep 10, 2021
Great KOA! OUR LABS LOVED THE DOG PARK@
Sep 09, 2021
The facility was clean, neat, organized with friendly employees. My only complaint would be that site #58 had no gravel and very thin grass. As such we would have mud on our shoes. This was easily tracked across our big mat and made it difficult to clean our shoes before entering our camper and truck.
Sep 08, 2021
Park is very nice, well kept. Staff very friendly. We will stay again.
Sep 08, 2021
.All staff members were very friendly and willing to do anything to make your stay as pleasurable as possible.
Sep 08, 2021
clean, quiet, excellent Wi-fi
Sep 18, 2021
Beautiful campground with great staff, good location, easily accessible lots, and just a short drive from the bustling Chattanooga. Good prices made this a wonderful all around camping experience.
- Jonathan Laferriere on Google
Aug 25, 2021
Clean! Quiet! Great Staff! Excellent location ..secluded yet close to everything you could possibly need or want to explore 😁👍
- Ashton Hutcheson on Google
Aug 14, 2021
Well kept, friendly employees.
- Linda Komondy on Google