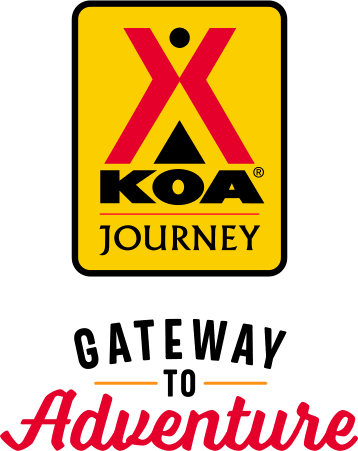 KOA Journey Campgrounds
KOA Journey campgrounds are the perfect oases after a day on the road. Whether it's along the way or a quick getaway, they've got you covered. Located near the highways and byways of North America with long Pull-thru RV Sites, they deliver convenience to the traveling camper. Pull in, ease back and take a load off.
KOA Journeys Feature:
Pull-through RV Sites with 50-amp service
Premium Tent Sites
Well lit after hours check-in service
Directions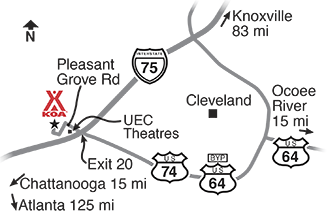 I75 / Exit 20 (1 Mile) off the I75 Interstate
NORTHBOUND I75: Use the EXIT 20 ramp taking the LEFT lane to turn LEFT toward the Pilot/McDonalds gas station. Pass the gas station to the 4 way Stop, turn LEFT, travel around curve to the SECOND drive, turn RIGHT following RIGHT to the main registration office.
SOUTHBOUND I75: Use the EXIT 20 ramp turning RIGHT at the light toward Pilot/McDonalds gas station. Pass the gas station and travel to the 4 way stop, turn LEFT, travel around the curve to the SECOND drive, turn RIGHT following RIGHT to the main registration office.
Our longitude is -84.959077
Our latitude is 35.14967
Get Google Directions
May 07, 2021
I love this campground! The staff is so sweet and accommodating. They offered I tent under the pavilion this trip due to pending rain. That made a huge difference in improving my experience and I appreciated it so much! The grounds are well maintained and the restrooms are always very clean. I have booked twice now and will return. It's very close to I-75 which is super convenient for me.
May 01, 2021
The campground, all facilities and personnel were all fantastic, friendly and helpful� The owner (Ann) was a gem to talk with and with great inside to the BBQ joints in town! Not to mention where she let me camp out at fir the 1- night stay. My greatest appreciation to all.... Thanks, DS
Apr 19, 2021
Campgrounds were awesome! The staff was super friendly and extremely helpful. Facilities were very clean. Exceptional place and look forward to staying there again.
Apr 18, 2021
I loved the area. The staff was very courteous and helpful. I hope to be able to stay again but a little longer. Thank you very much and May God bless each and everyone of you.
Apr 07, 2021
Friendly, clean, and modern. These folks care and do it right.
Mar 26, 2021
The campground looked nice but there weren't really any designated tent sites. My boyfriend and I had been driving all day long and arrived around 11pm. We were then approached by an older man who was drunk and would not leave us alone talking about very uncomfortable things. It was very uncomfortable so we decided it was best to leave rather than staying somewhere we did not feel safe.
Mar 18, 2021
I would have rated higher number for Chattanooga area but we could not do anything that we came there to do. Everything was filled up completely.
Nov 25, 2020
Great stay, helpful staff, great facilities
Oct 25, 2020
Great facilities but a bit noisy up front near the entrance. Still a good location for us. Friendly staff.
Oct 24, 2020
Very pretty, peaceful, clean KOA. Bathrooms were kept extremely clean and nice.
Oct 24, 2020
The office was locked and empty in the middle of the day. No one was answering the phone. When an employees DID finally show up she was very rude, and didn't wear a mask throughout our whole interaction.
Oct 19, 2020
The campground itself was fine and staff was helpful. The shared bathrooms could've used more attention. My biggest disappointment was the proximity to the highway - it was quite loud, especially at night. Also, the picnic benches need to be replaced. I did enjoy the extra space between tent sites.
Oct 18, 2020
Loved staying at the tent site, alot of room and space around each site. Also restrooms and showers were very clean.
Sep 30, 2020
We used a tent site. The site was near the back of the campground and we were the only ones back there so it was very secluded! Restroom (very clean) was right across the drive and again, we were the only ones using it. Great site, extremely friendly staff. Very well maintained campground.
Sep 28, 2020
Picnic table needs to be cleaned(mushrooms growing on it). Fire ant beds abundant, could use a treatment. Other wise a beautiful stay.
Sep 10, 2020
My stay this past holiday was great as expected. The staff excluding one individual that works there are great friendly and very helpful. I have stayed at north Cleveland Koa twice now and would recommend it to anyone needing a great place to stay.
Aug 20, 2020
Very clean and well maintained. The staff was friendly, professional and courteous. I loved the pool and the outdoor games. The pavilion lights and music were a nice touch. The bathhouses were properly sanitized and stocked. Highly recommend, I will be back!
Jul 12, 2020
Helpful staff. Had to make a last minute change and they accommodated us. Thanks.
Jul 08, 2020
It was wonderful, we had a great time!!! Will definitely be back!
Jun 19, 2020
It's a nice place overall. The price is nice. I stayed in a tent. I loved it.! The pool was nice. The only disappointment was the location. It was too hilly and not a nice place to ride your bike out on the country. Other than that it was good!
Jun 01, 2020
First time at a KOA. Great facilities, extremely well run and maintained! Will decimate stay here again!
May 26, 2020
We were tent camping for one night on our way to Pennsylvania. The tent camping area was amazing. Very spacious sites with woods on one side. We will definitely stay here again.
May 25, 2020
I was tent camping and given a muddy place full of roots that was unacceptable. There was hardly any room, the picnic table was bent and full of fungus, and the charcoal thing was unusable. I slept in my vehicle.
May 18, 2020
It was absolutely amazing!!! Everyone was so nice and our stay couldn't have been better!
Apr 21, 2021
Only stopped for one night on the road. Friendly staff. Escorted us to our site and directed us into the spot in the rain. Bathrooms are clean and well maintained.
- Joe Achtabowski on Google
Apr 18, 2021
Great for our needs.
- Jan Austin on Google