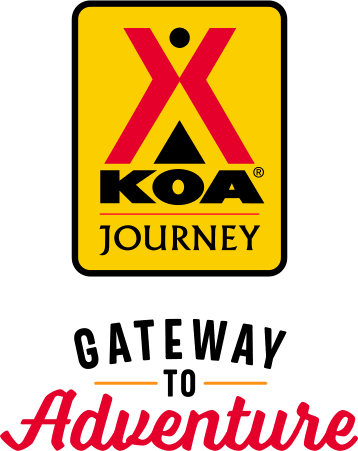 KOA Journey Campgrounds
KOA Journey campgrounds are the perfect oases after a day on the road. Whether it's along the way or a quick getaway, they've got you covered. Located near the highways and byways of North America with long Pull-thru RV Sites, they deliver convenience to the traveling camper. Pull in, ease back and take a load off.
KOA Journeys Feature:
Pull-through RV Sites with 50-amp service
Premium Tent Sites
Well lit after hours check-in service
Directions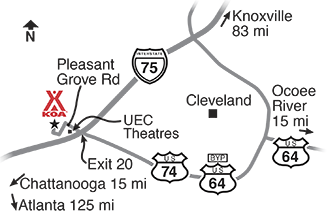 I75 / Exit 20 (1 Mile) off the I75 Interstate
NORTHBOUND I75: Use the EXIT 20 ramp taking the LEFT lane to turn LEFT toward the Pilot/McDonalds gas station. Pass the gas station to the 4 way Stop, turn LEFT, travel around curve to the SECOND drive, turn RIGHT following RIGHT to the main registration office.
SOUTHBOUND I75: Use the EXIT 20 ramp turning RIGHT at the light toward Pilot/McDonalds gas station. Pass the gas station and travel to the 4 way stop, turn LEFT, travel around the curve to the SECOND drive, turn RIGHT following RIGHT to the main registration office.
Our longitude is -84.959077
Our latitude is 35.14967
Get Google Directions
May 10, 2021
Loved it �! Best one I've been to,extremely clean camp ground and very clean showers.every day for 6days it was clean every where.stayed in cabin E with my wife and 2 small dogs and was a great time.they have fenced in dog park and everyone is very friendly.staff was fantastic!thanks much.�
May 09, 2021
This campground requires an appointment to use the laundry area, which was very inconvenient.
May 09, 2021
They got us in a night early on late notice, when we couldn't find anything on the way. Very nice site.
May 09, 2021
We just spent the night. We came after hours but registration went flawless and campsite setup was excellent and everything worked great.
May 08, 2021
Great park just off the highway, but far enough to be quite at night. Welcoming staff. Roads are a bit tight for big rigs, so take your time.
May 08, 2021
One of the best yet. Awesome.
May 07, 2021
I love this campground! The staff is so sweet and accommodating. They offered I tent under the pavilion this trip due to pending rain. That made a huge difference in improving my experience and I appreciated it so much! The grounds are well maintained and the restrooms are always very clean. I have booked twice now and will return. It's very close to I-75 which is super convenient for me.
May 06, 2021
Clean, organized, and good hookups but still rustic. Perfect for a quiet getaway.
May 06, 2021
Very clean and nice park. We would definitely return to this location.
May 05, 2021
We'll maintained sites, excellent improvements and great staff!!
May 05, 2021
This campgrounds isn't suited for big rigs the roads are to narrow trees and rocks are in the way and it's to hilly.
May 04, 2021
Very accommodating. Clean campsite and helpful staff. I did not use any amenities except the dog park which has fun agility-type exercises
May 04, 2021
Nice facility, nothing fancy, but well-kept, level lot.
May 03, 2021
Loved the spaces we had, we Had two spaces that faced each other with a patio between them. This was a family vacation with 2 RVs. The campgrounds were clean and quite. Beautiful area
May 03, 2021
Campsites too close. Road noise is horrible. Grass needed cutting. Will not be back.
May 03, 2021
We enjoyed the nicely wooded sites still open enough for easy navigation & slide friendly.
May 02, 2021
Great park with exceptional customer service. Hats off to Bev and the rest of the team!
May 01, 2021
very nice staff, and we loved our site.
May 01, 2021
Only stayed one night but was very happy with our one room cabin. You guys are great.
May 01, 2021
Good people, but could use some work.
May 01, 2021
The campground, all facilities and personnel were all fantastic, friendly and helpful� The owner (Ann) was a gem to talk with and with great inside to the BBQ joints in town! Not to mention where she let me camp out at fir the 1- night stay. My greatest appreciation to all.... Thanks, DS
Apr 29, 2021
I would love to give this KOA a 5 star rating, but I can't. Although the grounds are beautiful, and most of the sites are quite spacious, the noise from I 75 is horrible. You can barely hear the birds singing over it. I love that they have firepits.
Apr 29, 2021
Just pulled in for the night as we were passing through, very pleasant campground
Apr 29, 2021
Site not level and "help" we received backing in put us in a bad spot First time we've ever had to make an appointment for laundry (in over 65 campgrounds we've stayed throughout the country this past year) Noisy freeway noise
Apr 28, 2021
Staff could be friendlier. Nice showers.
Apr 28, 2021
We only stayed overnight on our way north, but the stay was very nice excellent park.
Apr 28, 2021
Way to many camp rules for us , if we find another one similar, no renewal of our membership. Ps they don't even pick the garbage up.
Apr 28, 2021
Great staff!!
Apr 27, 2021
Our stay was WONDERFUL! Very Peaceful, well manicured and clean facilities. The staff was fantastic and we will definitely be back soon! Thank you for such a relaxing stay!
Apr 27, 2021
The campground is very nice. Access was easy and the grounds were kept up very well. The Kamp K-9 is an essential for us and this park had a nice one. Customer service and making the guest feel welcome needs some work. Every time I went into the office the ladies made me feel like I was bothering them and keeping them from their discussions. The nice thing is that is fixable. 3/5 stars.
Apr 26, 2021
Oh my goodness, where do I begin? We had the most wonderful stay here! Although it was close to the interstate, it was very peaceful and relaxing. The staff was bar none, the grounds were very well kept. Bath houses were clean and well kept. We will definitely be back, thank you for such a wonderful stay!
Apr 25, 2021
Staff could not have been more pleasant. Escort to site even new where to exactly put us to be level. Very clean well maintained campground. Ahhhh, love it when it's so smooth.
Apr 25, 2021
We were very impressed with your campground and employees. Very helpful in making a reservation, checking in was super easy, and our escort to the campsite was patient and helpful with our setup. We feel this is one of the best KOA campground s we've ever been too and we always stay at a KOA.
Apr 24, 2021
needed some good r/r this park was great close enough to chattanooga. already made plans too come back next year.
Apr 21, 2021
Only stopped for one night on the road. Friendly staff. Escorted us to our site and directed us into the spot in the rain. Bathrooms are clean and well maintained.
- Joe Achtabowski on Google
Apr 18, 2021
Great for our needs.
- Jan Austin on Google