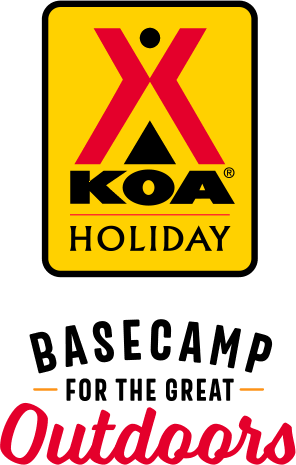 KOA Holiday Campgrounds
Whether you're exploring the local area or hanging out at the campground, KOA Holidays are an ideal place to relax and play. There's plenty to do, with amenities and services to make your stay memorable. Plus, you'll enjoy the outdoor experience with upgraded RV Sites with KOA Patio® and Deluxe Cabins with full baths for camping in comfort. Bring your family, bring your friends, or bring the whole group – there's plenty of ways to stay and explore.
KOA Holidays Feature:
RV Sites with a KOA Patio®
Deluxe Cabins with full baths
Premium Tent Sites
Group meeting facilities
Directions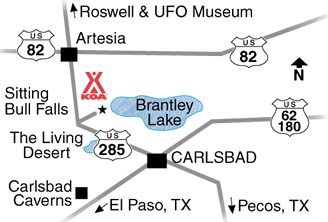 Located 13 miles north of Carlsbad, between mile markers 51 and 52 on US Hwy 285 N.
GPS: N 32 degrees 35.198', W 104 degrees 24.987'
GPS: N32.586465, W104.416234
Get Google Directions
Jul 20, 2021
The design of the campsite in tent village was not ideal for air flow though the campsite. We found that because of the solid walls and fence surrounding 3 sides of the site we had stagnant air most of the time. This also attracted massive amounts of bugs and flies. Great idea in theory but I definitely wouldn't want it again. Super friendly staff and overall nice experience.
Jul 20, 2021
This review has been removed by KOA due to profanity.
Jul 19, 2021
A tent camper checked in and setup at 2:00 AM he was POUNDING on stakes setting up a tent for over half an hour! They woke up me and my family, along with who knows how many other guests! I politely advised the man that it was quiet hours, he used profanity and made physical threats! I cannot have my family around this type of people, so packed up my camp at daylight and we left. NEVER AGAIN
Jul 18, 2021
The constant harassment from the campgrounds "security" worker, made the trip unbearable. While I never sped or even drove over the 9.8 limit, he continued to come and be incredibly rude to me in front of my peers, even when I wasn't even driving a vehicle.
Jul 17, 2021
The hosts were very kind and the game room was a fun respite from our hot tent, but the men's restroom in the main building was being remodeled and the only other option was halfway across camp.
Jul 15, 2021
Everything was great except for the fact that the tent camping sites were smooshed together and right next to the main building which meant the lights were glaring into our tents all night long and we were woken by the RV traffic throughout the night as they drove past us writhing 15 feet. A little more seclusion would make it worthwhile
Jul 11, 2021
Great facility, only downside was one of the bathrooms was being renovated so there was a shortage of men's facilities
Jul 09, 2021
Nice amenities, and safe place to stay but way over priced for tent camping especially for one night.
Jul 04, 2021
First of all was not happy to find out the campground was so far from the caverns. But it all worked out well and I liked the campground
Jun 27, 2021
The campground and staff where great. The people who came in at midnight yelling and threating their kids and their dog that tried to bite at my son thru the wooden fence
Jun 20, 2021
My one major reservation with the Carlsbad KOA are the 3 individual combination bath shower units. The problem is that the floors are not properly constructed to drain towards the single central drain. As a result, there are standing puddles of water everywhere making the built in seats designed for changing socks and shoes unusable. There are few dry places on the floors to put things.
Jun 20, 2021
The campground itself is well maintained with nice grassed areas and huge recreation room. But then there's the tent area. Not the community area, the basic tent area. It needs a lot of love and seems to be forgotten compared to the other areas. Even so, we had large trees which gave nice shade. We also had 2 snakes which the staff promptly removed even though they weren't poisonous ���
Jun 18, 2021
Everything about this KOA was amazing. The only thing was this weird muddy pile in the middle of our campsite. By the time we left, everyone in our group had accidentally stepped in it at least once. Plus it (or something nearby) really stunk the second night (Tuesday night). Other than that- a great visit. The A/Ced Rec room was such a nice break and the employees were friendly.
Jun 18, 2021
Arrived kinda late so it was nice and quiet. Nice campground and friendly staff.
Jun 17, 2021
Pretty good campground, one issue was the main men's bathroom was closed during our trip (they were renovating it), so all the dudes had to use the other restrooms and there are only 3 stalls of those, luckily most folks who use this KOA come in RVs so they could use their own toilets. Overall a good spot to tent camp overnight, very hot but to be expected, close to Carlsbad Caverns National Park.
Jun 16, 2021
It was great!
Jun 15, 2021
We had a great! We weren't there but to stay the night. We stayed two nights. Very friendly staff!
Jun 15, 2021
I was disappointed in my stay. I chose to do tent camping. There was a loud humming from the main building all night as well as very bright lights. It made it difficult to sleep. For some reason the tent camping is right next to the garbage dumpters as well. Worst nights sleep of my life. I go camping frequently and will not reccomend anyone stay at a koa, especially this one.
Jun 05, 2021
Good. Only problem was too much smoking by neighbors and our stuff is putrid smelling with smoke.
Jun 05, 2021
Great location, clean grounds, friendly staff, etc. The tent village was nice to have electric and water, plus the dry storage was handy. We will stay here again on our next trip.
Jun 05, 2021
Wonderful and everyone was so nice. It's nice they keep the Game Room open for renters at night in case of storm.
Jun 02, 2021
We had a nice time there, the pool was a little murky and the men's room was closed by the office but other than that we enjoyed it.
Jun 02, 2021
Good place to rest and share with the family, it is clean, pleasant and has all the services to rest.
Jun 01, 2021
Really clean facility and comfortable.
May 31, 2021
Excellent stay! The KOA is a little in the middle of nowhere but it's a beautiful setting. Everyone was super friendly. When we checked in they told us there had been a hail storm the night before and since there was a possibility of another storm that night they offered that we could stay in the Rec room since we had a tent if we needed to. They checked on everyone several times during the nigh
May 31, 2021
We were not told the men's restroom closest to our campsite was under renovation, in turn having to walk halfway across the site in the middle of the night to use a packed unisex bathroom was a real inconvenience
May 23, 2021
Little to no complaints here— the mens bathroom being closed was a minor inconvenience but not enough of one for me to not return to this KOA. However, there was one male staff member that made one of the females in our party quite uncomfortable on multiple occasions. I didn't get his name, but his comments, coupled with his drinking and driving, made us wary of his presence.
May 23, 2021
Enjoyed our stay. Staff very friendly and helpful.
May 21, 2021
Quite but dog poop in my camp site. Shelter was appreciated. Table broken. Bathrooms clean.
May 19, 2021
Pluses are that facilities were organized and very clean. It was handy for our route. Minuses for tenters is the tent circle, which felt like being in a stable; too close to other campers. That noise and the rv noise made for a restless night.
May 19, 2021
Tent camping is right next to the entrance so you gef to hear cars all night. Three restrooms and showers for the entire park. Place smells of raw sewage.lots of noise at night. No grass. Is there a less than zero.
May 17, 2021
Everything was fine except online it says that there would be grass for the tent area and there was no grass.
May 16, 2021
Loved the Tent Village section and the facilities were very clean. Staff was friendly and helpful.
May 11, 2021
The only thing keeping me from giving five stars is that the tent spot we were assigned was supposed to have grass however all the grass was dead. Other than that the place was great! Clean, friendly people and great bathrooms!
May 08, 2021
In process of renovating bathrooms, but having to drive to a bathroom because it's so far away to use it is a bit of a schlep. I just feel that the prices are really high and when facilities are limited, adjustments could be made. Also why are bathrooms in the middle of the RV section - those campers have their own private facilities! The campground and cabin folks could use something closer.
May 05, 2021
I really enjoyed my time at this KOA. I enjoyed the privacy in Tent Village - extremely pleasant experience. The facilities were very clean! I hope to back here again.
May 05, 2021
Gorgeous grounds and amenities
May 03, 2021
We had a tent site that had a covered area, felt private, clean grounds, nicely landscaped, loved the singing birds by the office. Lots to do there. Staff was very friendly.
May 02, 2021
Just in overnight, but experienced very welcoming helpful hosts, nice tent site and bathrooms were so wonderful!!
Apr 22, 2021
We liked how our site was private and clean. However the only reason we got a site was because we wanted a shower on our honeymoon roadtrip. We were disappointed to learn that the men's showers were out of order and the women's hot water did not work. Really disappointed about the showers.
Apr 10, 2021
We had a great time. The laundry facilities were well maintained. The bathrooms were basic but fine. We enjoyed playing games outside as a family.
Apr 06, 2021
Carlsbad was great! Best campground on our tour of the southwest. Premium sites were really cool. Only problem is I was worried about disturbing my neighbor cause you're in close quarters with only a wooden fence. Other than that no complaints. It offered a grill AND fire pit. Would stay again.
Apr 05, 2021
Nicest staff I've ever had at a KOA. Amazing experience.
Jul 18, 2021
Nature shows you incredible moments. enjoy them this is a good place
- Maria Diaz on Google
Jul 18, 2021
Very friendly. Nice & clean.. great game area for kids, pool, s'more nights, dog park that is completely enclosed & a playground. We had a nice guy that even drove us on golf cart to our spot 😃
- Veronica Beals on Google
Jul 14, 2021
Super clean! Great staff
- Rick Turner on Google