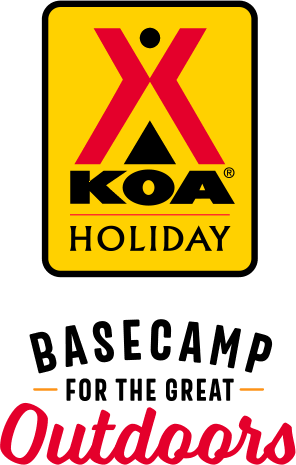 KOA Holiday Campgrounds
Whether you're exploring the local area or hanging out at the campground, KOA Holidays are an ideal place to relax and play. There's plenty to do, with amenities and services to make your stay memorable. Plus, you'll enjoy the outdoor experience with upgraded RV Sites with KOA Patio® and Deluxe Cabins with full baths for camping in comfort. Bring your family, bring your friends, or bring the whole group – there's plenty of ways to stay and explore.
KOA Holidays Feature:
RV Sites with a KOA Patio®
Deluxe Cabins with full baths
Premium Tent Sites
Group meeting facilities
Directions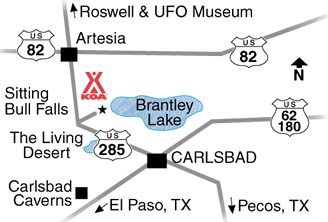 Located 13 miles north of Carlsbad, between mile markers 51 and 52 on US Hwy 285 N.
GPS: N 32 degrees 35.198', W 104 degrees 24.987'
GPS: N32.586465, W104.416234
Get Google Directions
Apr 10, 2021
We had a great time. The laundry facilities were well maintained. The bathrooms were basic but fine. We enjoyed playing games outside as a family.
Apr 06, 2021
Carlsbad was great! Best campground on our tour of the southwest. Premium sites were really cool. Only problem is I was worried about disturbing my neighbor cause you're in close quarters with only a wooden fence. Other than that no complaints. It offered a grill AND fire pit. Would stay again.
Apr 05, 2021
Nicest staff I've ever had at a KOA. Amazing experience.
Mar 22, 2021
It is always more expensive than I like to spend, but the clean showers and the nice staff always makes up for it!
Mar 19, 2021
men's room out of order was a big deal. sharing 3 unisex ones was insufficient. so was the closed media room. prices were high when I could just get a motel room for the same charge.
Feb 22, 2021
Stayed in our van at a tent site which was fine except that the bathrooms were far away (the closer bathrooms were under construction is what we were told). I have one suggestion and that is to put a counter next to the dishwashing station so that there is a place to put washed dishes.
Feb 07, 2021
This is the second KOA we've have stayed at. The amenities were good, but it was kind of pricey for how far away the grounds are from the caverns. The worst part was that the bathrooms were very far away from the tent sites. The office was also not open until later in the day, which was a bit confusing.
Nov 24, 2020
Great location. Very quiet, and great star viewing.
Nov 21, 2020
It was great except we went during off season so convenient restrooms were being remodeled so had to walk to get to bathroom
Nov 15, 2020
The staff was super friendly. First time stay at a KOA, Will definitely stay again
Nov 10, 2020
The men's bathroom near office was under construction and it was obvious men were using the women's restroom because they would leave the toilet seat up. The park was pretty run down.
Oct 27, 2020
We enjoyed our stay and amenities were clean. Unfortunately the tent camp site was a far walk from the restrooms and the men's restroom facilities were limited. It wasn't a big problem but mostly inconvenient. Also the site is right off of the highway so it was pretty noisy. Also, not too many trees so it feels like there was not much privacy.
Oct 26, 2020
Everything was great. Thanks !!!!!
Oct 19, 2020
Carlsbad KOA is misleading as it's nearly 40 miles from the Carlsbad caves. The men's bathroom was under construction and required a 400 yard walk to use the rest rooms. I've stayed at many KOA's and this was the worst one of the bunch. Especially because it leads one to believe based on it's name that its actually close to the caves. It should be named the Akota KOA as this city is closer
Oct 08, 2020
This site needs a lot of help, only 3 working bathrooms for entire populace, everything worn out and needing replacement. Restrooms not super clean and even the paper towels were empty. Too far from town and even further from the Caverns! Positive points are wildlife we saw and friendly staff and patrons.
Oct 02, 2020
Ratings would be good were it not for the fact that the restrooms were closed for remodeling and the only available bathrooms were 3 'camping' bathrooms, which were continually and completely disgustingly dirty during our 3 night stay. They were so dirty that we opted to not shower during that time. Toilets had poop inside and out, showers had hair, sinks were visibly dirty, paper towels empty
Oct 01, 2020
Staff was friendly. The bathrooms closest to the tent village were closed so we had to walk far or drive to the bathrooms. Another thing is that the tent village is infested with flies as soon as the sun comes up, it was in bearable.
Sep 21, 2020
I would have given it a 10, but the internet is bad.
Sep 15, 2020
we met a really nice landscaper named Doc who chatted with us and gave us helpful suggestions :) the camp was really nice and we loved the facilities would definitely recommend!
Sep 09, 2020
I was a little miffed at getting there at 8:30pm and being out next to the only other person camping. There were 20+ open spots and we were in these guys' laps. We figured we would stay, but then all of the roaches changed our mind. Hundreds of roaches all over camp 7. We moved two spots over and waited for roaches to cover our tent again but they did not.
Sep 08, 2020
Very clean, well kept, a lot of amenities available! Easy check-in & check out!
Sep 03, 2020
Really appreciate the late check-in option. Great facilities and well-kept
Aug 23, 2020
Tent camped in the covered area. It was great to have power and water on our site with shade. I was able to set my hammock up between the pillars. Showers (hot)/ bathrooms and laundry facilities were clean. Liked the little store, they do sell ice if you need any. Had a great stay!!
Aug 05, 2020
Tidy, charming and friendly with great bathrooms. We have rented here a couple times and like the big grassy sites.
Aug 03, 2020
The tent "grass" area had no grass at all. Pictures online show to be grassy but that's not the case. We were unhappy with the upkeep of that particular area.
Jul 06, 2020
Tent camping for 2 nights. Sites have plenty of room and a small fence on which to hang our drape camping equipment for airing/drying/ folding Most have a couple of trees for shade. The sites are relatively flat but watch out for small weeds that have stickers which can penetrate your ground cloth and air mattress. Staff is friendly. Some noise in early AM when RVs leave for fishing.
Jun 14, 2020
Signs up everywhere stating "masks required." Not one staff member wore a mask, and they let tourists in the office with masks. Nearly empty campground, they put us closest to the highway. Said they couldn't rent a cabin to us because we came from out of state, but we saw a van from out of state staying in a cabin. AND the flies were terrible!!! The campground was clean, restrooms very clean.
Jun 12, 2020
We like it a lot this place is great and we enjoyed ourselves This was the first time camping here and we had fun Thank you staff for all the hard work you all do .� see you all next time .
May 29, 2020
The bathroom was really clean! Thank you!
May 26, 2020
great place to stay!
May 26, 2020
We had a great experience at KOA camping site. It's our first time staying at the camp site and we will definitely be coming back.
May 04, 2020
Those moths were attacking with every sound!
Apr 17, 2020
Wonderful people and very clean restrooms
Apr 12, 2020
Extremely clean. A little expensive nightly, but you get what you pay for.
Apr 07, 2020
Nice stay! It would've been nice to been able to purchase some firewood from the KOA but I understand why there wasn't any given the current circumstances of covid 19.
Mar 23, 2020
Staff respectful and kind. Areas clean and with sufficient space for the family to play with kids. Restrooms are always Clean. We loved it will come back soon.
Mar 21, 2020
Very nice and unexpected.
Mar 18, 2020
We tent camped at a KOA for the first time. Enjoyed it but only complaint was that the tent area needed to be mowed or weed whacked. Other than that enjoyed our stay.
Mar 13, 2020
We camp a lot, we stay at KOA often. Carlsbad KOA was one of my top ever. Nice facilities, clean, very friendly. I might suggest a privacy fence along the road side of the campground. There is a lot of oil traffic in the morning.
Mar 10, 2020
A little pricey for tent camping.
Mar 04, 2020
Awkward tent site when having van with only needing electrics - but the gal on site locator buggy persevered and was so helpful getting me settled. Thank you - it all worked out!!
Feb 16, 2020
Stayed at the tent site. Has bathroom, laundry, showers, firepit, picnic table, and a place to connect a hose all on site and since its congested everything is close by! Amazing stay and if you forget firewood dont worry theres a store
Jan 05, 2020
Could not of asked for anything better.
Apr 13, 2021
Very nice! Clean, friendly, and helpful! Loved our stay there!
- janice Deliramich on Google
Apr 11, 2021
Very nice RV park. The campground workers are extremely friendly. On-site Barbeque and they will deliver to your site!
- Nancy Dubea on Google
Apr 10, 2021
The tent site was great, but the food we ordered was overpriced (and wasn't the greatest). The reason I gave this KOA 5 stars was because of the staff. They were kind, cheery, friendly, and very helpful. They gave us info about the area and events going on, and even talked with us for a bit as though we were old friends. I would love to stay here again.
- Kaylee Dawn on Google