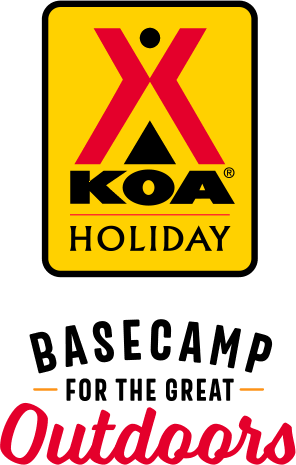 KOA Holiday Campgrounds
Whether you're exploring the local area or hanging out at the campground, KOA Holidays are an ideal place to relax and play. There's plenty to do, with amenities and services to make your stay memorable. Plus, you'll enjoy the outdoor experience with upgraded RV Sites with KOA Patio® and Deluxe Cabins with full baths for camping in comfort. Bring your family, bring your friends, or bring the whole group – there's plenty of ways to stay and explore.
KOA Holidays Feature:
RV Sites with a KOA Patio®
Deluxe Cabins with full baths
Premium Tent Sites
Group meeting facilities
Directions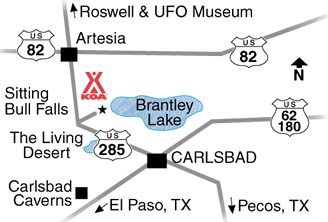 Located 13 miles north of Carlsbad, between mile markers 51 and 52 on US Hwy 285 N.
GPS: N 32 degrees 35.198', W 104 degrees 24.987'
GPS: N32.586465, W104.416234
Get Google Directions
Apr 06, 2021
Friendly helpful folks and great BBQ delivered to the door.
Apr 06, 2021
Very friendly staff. Park was really clean
Apr 06, 2021
KOA in the desert. Clean, more room at sites than normal. Staff was fantastic, very helpful! Also try the BBQ, it's good. Thank you Guys �
Apr 06, 2021
These guys rule!
Apr 06, 2021
Carlsbad was great! Best campground on our tour of the southwest. Premium sites were really cool. Only problem is I was worried about disturbing my neighbor cause you're in close quarters with only a wooden fence. Other than that no complaints. It offered a grill AND fire pit. Would stay again.
Apr 05, 2021
Very nice and clean. Worth the drive out of Carlsbad.
Apr 05, 2021
Clean, friendly, family oriented park. Took our grandsons on their first RV trip with us. Carlsbad KOA helped make it a great and memorable experience for us all!
Apr 05, 2021
Nicest staff I've ever had at a KOA. Amazing experience.
Apr 05, 2021
The KOA employees were very friendly at check-in and throughout the stay. The cabin was very clean. The ability to order dinner there on-site was very nice and convenient. The food was delicious.
Apr 05, 2021
Great park, super friendly staff! Huge sites, plenty of space. Definitely would stay again!
Apr 04, 2021
The Bar-B-Que was great, the staff were very friendly, the things for kids to do was good. The only downside was some of the Men's rooms were closed which resulted in lines at some times.
Apr 04, 2021
Our first camping spot this year! The grounds were spacious and clean, ultities good. Easy access to space, escorted in, that was nice. About 17 miles north of town but from what we saw, the nicest campground around! The BBQ dinners available from the kitchen was a plus and so good! We would camp here again!
Apr 03, 2021
Just stayed one night, but staff very nice and helpful.
Apr 03, 2021
Nice site! Clean and flat sites, friendly staff, great store. Kids loved to playground. Further from the National Parks than other options but after seeing the other options...well worth a little more drive!!! Would definitely recommend. BBQ was good too—great option, so convenient!
Apr 03, 2021
Nice location for Carlsbad and Roswell attractions
Apr 02, 2021
Stayed for a few nights to visit Caverns. Drive to Caverns was a little far but park was outstanding.
Apr 02, 2021
no Men's rooms and only 3 shared unisex restrooms for the men to use. they said it was due to "remodeling", but additional Men's rooms needed to be built before that effort was started.
Apr 01, 2021
Love this KOA! Nice lots with bit of grass so daughter able to pitch her tent right outside our RV. Great fire pits with cooking racks. Staff incredibly friendly and helpful. Nice little gift shop with wood fire starters and all the amenities need
Apr 01, 2021
Very nice well maintained facility . The staff were very pleasant and professional. The bathing facilities were excellent. I would highly recommend this campground.
Apr 01, 2021
Everyone was super friendly and eager to help and accommodate. Loved our stay. Spot as easy to pull through and very spacious. Very clean as well.
Mar 31, 2021
Nice park but very dusty and windy the two days we were there. People running the office / store were wonderful, the BBQ was good and delivered to your coach.
Mar 31, 2021
Nice facility, clean and great people
Mar 31, 2021
Great place and friendly staff. Can't wait to go back when everything is green and to be able to enjoy the outdoors!
Mar 31, 2021
Clean, friendly, no road noise. Kids had so much fun with the oversized chess and checkers! Great rec room!!!
Mar 31, 2021
From the moment we walked in the door it felt like we were an imposition to them. No greeting, just a pointed finger to the seated woman that would check us in. The cabin was filthy. A household mattress with a fabric cover on it. Stained. No vinyl like cover that can be wiped down. Trash on porch, sticky door mat, chair, and porch. Floor not mopped. Not dusty, but residue.
Mar 31, 2021
Great place and great BBQ!
Mar 31, 2021
By far the best KOA we've stayed at yet. Amenities out the wah-zoo, full friendly staff, far from road with very little noise and just around the corner from the back of Brantley Lake which made for a quick and easy fishing trip!!! We are already excited to come back and stay again.
Mar 31, 2021
We loved our stay here! The staff was wonderful and layout great. Amenities were more than expected and v appreciated. My kiddo filled his cup for fun here. Lots of happy children, friendly neighbors, and awesome playground. We'll be back!
Mar 31, 2021
Nice park, Awesome Staff!
Mar 31, 2021
It was brief. We appreciated the cleanliness, quality customer service and the quiet of the park.
Mar 30, 2021
TOO FAR FROM CARLSBAD AND THE CAVERNS! THE CAMP GROUND WAS NICE. LOTS OF WIND!
Mar 29, 2021
Honestly middle of nowhere with no food delivery service or car service to pick up for rental car. Their food ended by 6, we got stuck ordering it since no car and took almost 2 hours to bring to site and was not very good for the money . No WiFi at all and cell service was very spotty. Camp ground was very clean and staff very friendly but needs a lot of work to make it more pleasurable stay.
Mar 28, 2021
Our stay was great. We stayed from Wednesday thru Saturday. Everyone was so friendly. The maintenance staff is on top of everything. They cleared out our grill for us. They waved and smiled every time and were always available to talk. My kids loved the playground. The Lobo cabin was so neat. The porch swing was wonderful. We plan on going back in the summer with hopes of the pool open.
Mar 27, 2021
We didn't realize that the Carlsbad KOA is a 1-hour drive from Carlsbad Caverns. The campground has a nice laundry room, friendly staff, a few cute touches like giant chess or sculptures near the office. Overall, though, it feels very bleak. The playground needs repairs and didn't seem safe. It's INSANELY WINDY a lot of the time, with blowing dust, and goats-head burrs.
Mar 27, 2021
Staff was friendly and helpful. That there were only three restrooms available for men (and those were unisex) was a negative. The other men's room was being renovated.
Mar 26, 2021
Sites & bathrooms are clean & well kept. In the future we will know to look at the address of a campground not just the name. The Caverns are on the south side of Carlsbad and this KOA is North of the town of Carlsbad. Rules are sporadically enforced, my husband got yelled at by a madman for what he perceived as speeding (we weren't) but other guests were allowed loud music until well after 11.
Mar 26, 2021
Very nice and clean. The staff was wonderful. Thank you for accommodating us with extra nights. Would definitely come back.
Mar 26, 2021
The staff was excellent very kind and courteous.
Mar 25, 2021
Great place! Nice staff & good facilities.
Mar 25, 2021
Stayed a few nights short drive into Carlsbad and the caves which were outrageously beautiful had a great barbecue smoked dinner just look out for the dust storms
Apr 13, 2021
Very nice! Clean, friendly, and helpful! Loved our stay there!
- janice Deliramich on Google
Apr 11, 2021
Very nice RV park. The campground workers are extremely friendly. On-site Barbeque and they will deliver to your site!
- Nancy Dubea on Google
Apr 10, 2021
The tent site was great, but the food we ordered was overpriced (and wasn't the greatest). The reason I gave this KOA 5 stars was because of the staff. They were kind, cheery, friendly, and very helpful. They gave us info about the area and events going on, and even talked with us for a bit as though we were old friends. I would love to stay here again.
- Kaylee Dawn on Google