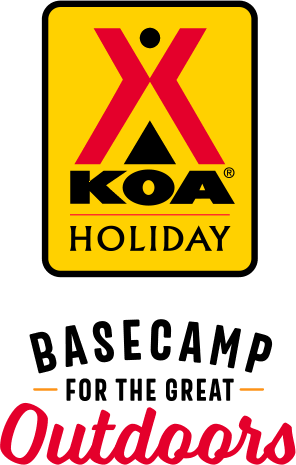 KOA Holiday Campgrounds
Whether you're exploring the local area or hanging out at the campground, KOA Holidays are an ideal place to relax and play. There's plenty to do, with amenities and services to make your stay memorable. Plus, you'll enjoy the outdoor experience with upgraded RV Sites with KOA Patio® and Deluxe Cabins with full baths for camping in comfort. Bring your family, bring your friends, or bring the whole group – there's plenty of ways to stay and explore.
KOA Holidays Feature:
RV Sites with a KOA Patio®
Deluxe Cabins with full baths
Premium Tent Sites
Group meeting facilities
Directions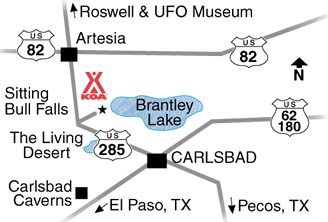 Located 13 miles north of Carlsbad, between mile markers 51 and 52 on US Hwy 285 N.
GPS: N 32 degrees 35.198', W 104 degrees 24.987'
GPS: N32.586465, W104.416234
Get Google Directions
Nov 23, 2021
Easy checkin w late arrival-difficult to locate sinzge for T1 so just used unused tent spot. But all good. Thank you.
Nov 23, 2021
They forgot about us when we ordered some food? There was a smell from the north wind our last night.
Nov 23, 2021
Drive thru was nice… but everyone is packed in.
Nov 22, 2021
Beautiful campground but don't let the name fool you- it's 55 minute drive to the caverns!
Nov 22, 2021
Excellent get away in a secluded yet convenient location. Beautiful scenery and perfect hospitality! The crew really made us feel at home and like we were the only guests there. (Love the dog park!)
Nov 22, 2021
It was really nice and quiet . nice showers also
Nov 20, 2021
Three nights, no issues, very clean and quiet. Two nights took advantage of supper delivered to our RV. Friends riding with us used one of the cabins and it was nice.
Nov 20, 2021
Expected full bath, which includes a sink in the bathroom, not using the kitchen sink. The front door stuck and the windows were hard to open. The shower head needs to be soaked in vinegar or CLR to clear the mineral buildup. We'd been there 30 minutes, and the maintenance guy came by to inspect the cleaning crew's job. We checked in about an hour after the earliest check in time. Too costly IMO.
Nov 20, 2021
We loved the campground plenty of room and great people who made us feel very welcome.
Nov 20, 2021
Very nice...the people were great, friendly and accommodating!! The maintenance man was great!
Nov 20, 2021
Staff was extremely helpful. Slight mistake on providing linens for each bed but they quickly resolved the issue. Cold front moved into area and our cabin stayed nice and warm. Campground nice and quite at night . Traveling with a handicapped person requires a bit of a challenge and this KOA was excellent in proving us a cabin that met our needs - thank you
Nov 20, 2021
Nice place to stay before visiting the park.
Nov 20, 2021
A very nice stay! The staff was helpful and friendly. The facilities were clean and well kept. The sites weren't stacked up on each other and landscaping was nice-felt a little less desert! The reasonably priced BBQ was a wonderful surprise for us-no cooking for me� Delivered right to the door.
Nov 19, 2021
Great Place and very friendly people
Nov 19, 2021
Nice stay, not as crowded as I expected. Dinner BBQ was good.
Nov 18, 2021
Homemade BBQ done on site; wide sites and clean restrooms. Even though it's out in the middle of nowhere, the wide open space views are lovely.
Nov 18, 2021
Nice park, friendly staff, clean and wide open sites. They do a nice job providing Home cooked meals as the park is outside the city some.
Nov 17, 2021
Very clean, very friendly and helpful staff.
Nov 17, 2021
Things were good and clean.
Nov 16, 2021
I did not like the location. It was almost one hour to Carlsbad and Roswell. Since it is located in the desert there were cockle burrows everywhere which covered my dog's fur. The amenities were fine. I stayed in the tent area as I did not need electricity
Nov 16, 2021
Very nice facility. Spacious, level rv sites. Very friendly staff. They guide you to your spot, make sure you know where everything is. A small but nicely stocked store. They have on site BBQ meal delivery service to your site, was good. Above par hot shower rooms. There was a strong sewer odor at night...facility or camper mishap? Didn't know but that cost a star because it was unpleasant.
Nov 16, 2021
The smell was horrible
Nov 15, 2021
Good amenities. BBQ a bonus on our first night in. Location worked for our needs. We had premium site with shade shelter, swing, and iron table. It was great and worth the extra fee.
Nov 14, 2021
Nice park, laundry and restrooms/showers very nice, office had lots of things to look at and purchase, liked that we could order food, pizza was delivered hot. Down side: Park wasn't full - would have liked a site that had a tree that was alive. It sure was far out of town....... but we found our way and would go back again. thank you.
Nov 14, 2021
Staff is friendly and helpful. Restrooms and showers the best we have seen . Very peaceful and remote. Love it. Will go out of our way to stay here again
Nov 14, 2021
The campground was clean along with the restrooms. The people who worked in the office were kind and helpful. You might want to fix the washing machines in the laundry room that were broken.
Nov 13, 2021
Unfortunately there was a sewer smell a large part of the time we were there. Staff was great as was the BBQ delivery.
Nov 13, 2021
Generally appeared well maintained and they repaired the camper's sink promptly when notified that it was broken. The biggest issue is the very loud road noise and the air quality from the nearby oil well gas flares, which did not improve the ambiance. The deluxe camping shelters with electricity were very nice though and made late arrivals easy to manage.
Nov 12, 2021
Tent campers beware. This KOA is very close to an oil refinery and all night our tent smelled so strongly of off gasses that we couldn't sleep. Some reviewers on Google and the Dyrt mention other issues, just do your due diligence before booking.
Nov 12, 2021
Too windy. Resort is clean.
Nov 11, 2021
Very friendly staff! Only reason I didn't rank it a 5star, is the WiFi. I had a stronger signal on top of the Guadalupe Peak!
Nov 11, 2021
Great campground. Very clean. A little bit of a drive to the National Park, but not to bad. Will stay there again if I am in the area.
Nov 10, 2021
Loved the large well spaced layout. Staff were friendly and helpful.
Nov 10, 2021
Quiet large site. Full hookups friendly staff.
Nov 10, 2021
Extended stay, good service, nice staff, well maintained large sites
Nov 10, 2021
Nice folks; flat spacious site; dogs susceptible to the grass burrs even when on main areas; Extremely nice showers-restroom that was very clean!
Nov 09, 2021
The place was great except for the weeds, low growing that flower and dried out leaving husks picked up your shoes and stickers that hurt. Was always bending over to get out of dogs paws. The dog area was full of them and I had to vacumn several times a day. Need to be sprayed before they grow.
Nov 09, 2021
Restrooms were closed and didn't reflect what sign stated. Had to use the other building and toilet was clogged and facility was dirty. I had to leave a day earlier and was told I could not have the money for that night refunded. That is not right. Will probably use another campground in the area next time.
Nov 08, 2021
Very friendly folks at check in, clean large park. A bit far out but worth the extra mile. The smoked food cooked on site and delivered to your site was excellent, we had it both nights of our stay.
Nov 08, 2021
Friendly, helpful staff. Nice space between lots. Well maintained & clean. Food delivered with reserved time slots. The negatives: Burs everywhere which is a concern with pets. Smell from large drainage pond. Mask mandate in NM.
Nov 08, 2021
Great campsite, loved having a fire pit and space for tents and a travel trailer in one campsite. Clean bathrooms! The kids loved the playground. We'll definitely stay here again!
Nov 16, 2021
Beautiful and quiet, good distance between pads, water, electricity, sewer, wifi. Nice showers and very friendly. Look in the store, they are well stocked. No light pollution and the sky is amazing to look for stars.
- kurba laganda on Google
Nov 14, 2021
Great park! Definitely the best KOA we've stayed at. Management was great in changing our stay for us last minute when our kids got sick and we had to arrive a day late. The site was very level (we didn't have to use levelers), and every site had a nice fire pit. We paid a bit more for a deluxe site and it had a nice patio with a fun porch swing. The staff were friendly, and the grounds were nice with a decent playground, nice landscaping, and trees (hard to find in New Mexico campgrounds!). We also liked the location, it was an easy drive to the Carlsbad Caverns and also to Roswell. We wish we could have stayed longer!
- Stephanie Meyer on Google
Nov 14, 2021
Out away from town, but close enough.
- Connie Montgomery on Google