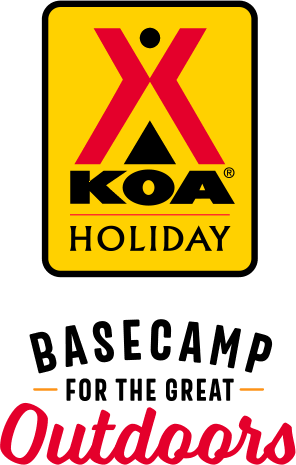 KOA Holiday Campgrounds
Whether you're exploring the local area or hanging out at the campground, KOA Holidays are an ideal place to relax and play. There's plenty to do, with amenities and services to make your stay memorable. Plus, you'll enjoy the outdoor experience with upgraded RV Sites with KOA Patio® and Deluxe Cabins with full baths for camping in comfort. Bring your family, bring your friends, or bring the whole group – there's plenty of ways to stay and explore.
KOA Holidays Feature:
RV Sites with a KOA Patio®
Deluxe Cabins with full baths
Premium Tent Sites
Group meeting facilities
Directions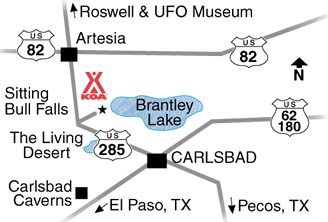 Located 13 miles north of Carlsbad, between mile markers 51 and 52 on US Hwy 285 N.
GPS: N 32 degrees 35.198', W 104 degrees 24.987'
GPS: N32.586465, W104.416234
Get Google Directions
Sep 21, 2021
Great amenities, very clean & easy access especially for the big rigs. The KOA sign is a bit off the highway & was not lighted therefore was not visible after sunset. I think the light may be there & just need to be replaced.
Sep 21, 2021
Our stay was very nice. We didn't spend much time in the campground, we were on the move exploring the area.
Sep 21, 2021
No internet for the 4 nights we were there. Workers not as friendly as 3 years ago. Didn't even wave as they drove by& I had waved at them.
Sep 21, 2021
Disappointed that WiFi was not working. Tried to call the office but there was no answer.
Sep 20, 2021
Truly terrific campground. Immaculate care of the grounds and amenities. Dakota was extremely helpful in helping us find things to do locally. Really enjoyed our stay and would recommend the park to our camping friends. Thanks for the experience.
Sep 20, 2021
Nice campground. Very pleasant staff. Located between many places to see.
Sep 20, 2021
Wonderful location. We rented a cabin with 3 and 5 year old. Everything was clean but for the price paid I do think bedding should have been put on beds for us instead of in bags for us to do ourselves. Another complaint was all the weeds with stickers. My kids fell and got stickers on hands and knees and were bleeding. They are all over the campsite.
Sep 20, 2021
Great KOA. Loved the patio site . And the laundry was awesome. If we are ever in the area again we will definitely stay with you.
Sep 20, 2021
Staff was friendly and helpful. Spots are level and the campground is clean.
Sep 19, 2021
Veronica was very friendly and helpful during our check-in. Our space was great except for the goathead stickers. The restrooms and showers were very clean. If we are in the area again, we will definitely stay here.
Sep 19, 2021
Very nice campground with nice people. We stayed here for our visit to Carlsbad Caverns. If I had known it was as far away as it was from the caverns, we would've looked for something closer. And we never did find Buffalo Falls.
Sep 19, 2021
Fast and friendly staff helped to register quickly and directed us to our spot. Was only there for a short night's sleep but what I did see was that it was clean and quiet.
Sep 18, 2021
Clean, friendly, with all the amenities.
Sep 16, 2021
Aside from the landscaping over grown around our premium site the patio cover that made it a premium spot wasn't placed very well, morning and afternoon sun made it useless. Being named "Carlsbad KOA one would think it would be close to Carlsbad Caverns but no... that's an hour drive. The pool closed just after 6pm so that was upsetting. Originally we had planned to stay longer but left early.
Sep 16, 2021
Nice place to stay
Sep 16, 2021
Very nice park. The sites and amenities were level and well-maintained. The staff was friendly and helpful. The park does have some longer term guests who tend to leave early for work and drive fairly loud trucks.
Sep 16, 2021
Disappointed. Staffs customer service skills below koa standards. unfriendly staff went over rules in excruciating detail. I appreciate rules and expect staff to highlight a few points of extra concern like quite hours and speed limited. Also staff (at 6pm) pointed out food delivery and encouraged me to call before 630pm. I called same staff at 615p and she said they decided to cut off at 6p.
Sep 15, 2021
The sites were gravel with some grass area. The site was long enough for a toy Hauler and truck to fit nicely. Sites were kept up nice and very clean. Very close to Carlsbad Caverns which I would strongly suggest visiting. Easy in and out. My only complaint was the amount of flies and the hard water, this is of course not their fault. Bring water!!
Sep 15, 2021
We really like this campground. Nice wide spaces with grass and a tree between spaces. Bought dinner the first night. The meat was a little overdone, but everything else was very tasty. The only bad comment was no Internet over the weekend!!
Sep 15, 2021
We arrived late and had no troubles finishing the office and box with our site info. Map was perfect and all the info was helpful. Site was clean and just great. The grounds are super clean and has lots to do. The giant chess and checkers are awesome!! Bathrooms were spotless and even smelled great. We'll be back soon!
Sep 14, 2021
Everything was great at this campsite.
Sep 14, 2021
The shower rooms need attention seen mold in the corners of the shower
Sep 14, 2021
A great place to stay. Staff was very friendly and helpful.
Sep 14, 2021
Beautiful spot very well maintained great staff
Sep 13, 2021
Beautiful facility. Exceptionally clean. Very helpful, courteous staff. I've stayed at many KOA's and this one stands out from the rest.
Sep 13, 2021
Very wide streets and pull- through spots make transiting the KOA very easy. Poor weather resulted in the pool being closed for a majority of the weekend, but that's understandable. KOA was clean and well kept. Staff were very friendly and helpful.
Sep 13, 2021
Staff was awesome. Sites were well cared for. If staff could try to eradicate the sandspurs it would be helpful for the furry frieds.
Sep 13, 2021
Our stay was perfect
Sep 12, 2021
Amazing KOA! The best we've ever stayed at! Anyone visiting southern NM or the Carlsbad Caverns should definitely stay at this KOA! I have only one point of possible improvement: Grab and go breakfasts for tourists seeking to hit the local attractions might be helpful…even if it's quick, easy food made available at the park office. Keep up the great work! We will be back!
Sep 12, 2021
Very helpful and friendly.
Sep 11, 2021
Site was great. Bathrooms better than standard KOA. Thank you!
Sep 10, 2021
Very friendly staff with great customer service attitude, and "full service" offering for many conveniences like food delivery.
Sep 09, 2021
Very clean. Spacious spots. Well maintained property
Sep 09, 2021
Great place to stay, friendly staff
Sep 19, 2021
Good place
- Derek Wilson on Google
Sep 13, 2021
Beautiful campground that is very well maintained. Lots of neat activities for kids and families - giant checkers and chess, basketball, rec room, and pool. Restrooms were spotless! The "Tent Village" was neat, having electricity and lights was handy, and water spigot too. We definitely enjoyed our quick overnighter.
- Stacey Newcomer on Google
Sep 10, 2021
Awsome views
- will dobbert on Google