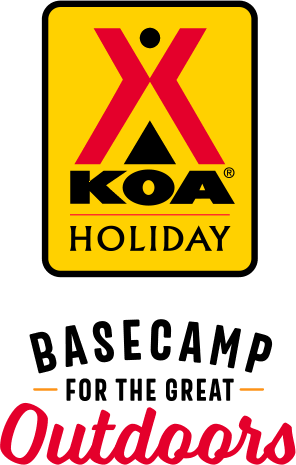 KOA Holiday Campgrounds
Whether you're exploring the local area or hanging out at the campground, KOA Holidays are an ideal place to relax and play. There's plenty to do, with amenities and services to make your stay memorable. Plus, you'll enjoy the outdoor experience with upgraded RV Sites with KOA Patio® and Deluxe Cabins with full baths for camping in comfort. Bring your family, bring your friends, or bring the whole group – there's plenty of ways to stay and explore.
KOA Holidays Feature:
RV Sites with a KOA Patio®
Deluxe Cabins with full baths
Premium Tent Sites
Group meeting facilities
Directions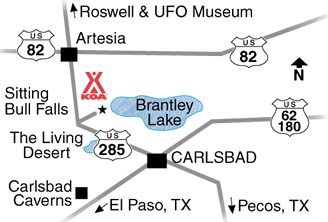 Located 13 miles north of Carlsbad, between mile markers 51 and 52 on US Hwy 285 N.
GPS: N 32 degrees 35.198', W 104 degrees 24.987'
GPS: N32.586465, W104.416234
Get Google Directions
Jun 04, 2023
Lots of room and space between campers, was disappointed that the pool and kitchen were closed with summer in full gear
Jun 04, 2023
Nice enough campground, but pool was not open as advertised. It was 90 degrees and I booked here because they had a pool. Very disappointed
Jun 04, 2023
Friendly Staff, clean grounds, but the website shows a pool which was not open. The water in the pool was green, so the problem with the pool was long term. Overall, our stay was ok.
Jun 04, 2023
WiFi did not work, pool was broken, staff not able to answer many questions. It was clean and fine for an overnight stay. I just expect more when I stay at a holiday vs a journey. The birds were lovely.
Jun 04, 2023
The pool was shut down, the restaurant was closed, yet they charged full price. The facility was rather stark, but fairly clean.
Jun 03, 2023
I won't stay anywhere else. We've stayed here several times and it never disappoints.
Jun 03, 2023
Black water out of spicier No pool No kitchen Garbage too far Not a Holiday or even a journey Staff a 1 on a scale to 1-5 BTW We have stayed at KOA's all over the country
Jun 02, 2023
I have stayed in several KOAs, and this one was the dirtiest most unfriendly one I have stayed at. The hospitality was slim to none. My children did enjoy the rec room, but the pool was closed. I received several rude text messages addressing campers that I feel were completely unnecessary. I will not stay here again.
Jun 01, 2023
The pool is closed due to unforseen circumstances? Their restaurant is also closed. The bathroom toilets were constantly backed up. The grass areas at the campsites are really nothing but weeds with stickers. We were very disappointed in this KOA and will not be returning.
Jun 01, 2023
Great location to Brantley State Park. I wish the bathrooms were cleaner/nicer. Other than that everything was great.
May 31, 2023
Two nights in a TT, full hookups, level site, A little further from the Cave than we thought but ok, Pool and kitchen were out of service during our stay, Holiday weekend so it was full and noisy, great place if you have kids. Good T Mobile service, friendly staff
May 31, 2023
Nice park, the kids had a lot of fun, the staff was great.
May 31, 2023
We were informed when we checked in that the swimming pool was closed due to a broken part. We never received any text or email notification of it. When we pulled up to our campsite there was dog poop and trash. We took care of it so we wouldn't step on it during our setup. Two dumpsters far away on each side of the park, overflowing onto the ground with trash. Worst KOA so far, never again.
May 31, 2023
Was not told upfront that pool was dirty & not open. Was not told restaurant closed. No info in office about sightseeing. Little dissapointed
May 30, 2023
We chose this location because of its pool that was supposed to open mid May. At time of departure pool was still closed.
May 30, 2023
Just a quick one night stop over....great stay water was very chlorinated but bot the end if the world.
May 30, 2023
They didn't notify us that the pool and kitchen Weren't available till we were on our way on a holiday weekend and the pool had been Down for months as it was dark green the grass area's were weeds the place was rundown. it was the worst koa I have ever been to they really need to take a good look at themselves.the store also had very few items.
May 29, 2023
Most things broken /closed/very unkept needs total cleanup except bathrooms get some fish in your pond if you use it to attract business very disappointing.
May 29, 2023
Nicely spaced between sites. Although our site did not have any shade. Wood picnic table was older & not easy to wipe down before using. Bathroom had older fixtures & suggest you remodel them.
May 28, 2023
Website said there was a pool. Pool was closed, filthy, and slimy. Nowhere near being opened, but I was told they are waiting on inspection, then story changed to trying to get it fixed. Bathrooms were moldy. Not what I expected from a KOA. KOA corporate told me they are franchised and can't do anything about it. So what is the point of any loyalty or expectation for KOA?
May 27, 2023
This is not Carlsbad, it is very remote with no services close. The pool has been broken long enough that it's growing scum on top and the kitchen/cafe was closed.
May 27, 2023
Good facilities. Easy to park my trailer. The only issue was they advertised B-B-Q dinners available for a fee, but when we went to get them they said they could'nt do this because they were having issues. They should have told us this when we checked in.
May 27, 2023
We stayed for three nights and had a wonderful time. The sites are large and clean. It was quiet with lots of room to walk the dogs. There are two fenced areas for the dogs to run off leash. I would recommend the KOA to anyone.
May 27, 2023
No air conditioning in laundry . My only complaint
May 26, 2023
We were unable to connect to the wifi except in the middle of the night
May 24, 2023
Sites were level and spacious. We were in row c, cable tv was almost non existent , wi-fi did not work at all.
May 24, 2023
Doesn't deserve a "Holiday" designation!
May 24, 2023
Sewer smell was horrible during the night.
May 23, 2023
Other than being a little far out of town. This campground is very well taken care of and nicley layed out. The lots are spaciouse and well spaced out. We had a delux with a patio area that was covered with a swing. Had freinds joining us and were parked next to us so convinient for cooking and socializing.
May 23, 2023
Stayed there 2 days, the sites were large and clean. Would definitely stay there again.
May 22, 2023
It was a very nice park. People were amazing, and we had a great RV site. Will definitely visit again.
May 21, 2023
The campground is nicely maintained and the sites are spaced well. We loved our stamped concrete patio with table & chairs and glider. Area was very quiet. Our only complaint was the water - the taste was terrible and when tested it was too high in particles. We even filtered it and still could not drink it or use for cooking.
May 20, 2023
This campground is just not equal to other KOA's we have stayed in. Check in was not real friendly, knew nothing about area. Grounds were unkept and staff looked unprofessional. We will not recommend or stay here again.
May 20, 2023
It was ok - the one thing that needs to be addressed is the very weak WiFi! We have a booster and could not improve the weak signal!
May 19, 2023
The park is a desert setting, dry and dusty, and you can take a bit of the old west with you. Site B4 was level, no trees if you like lots of sun, which we do. All utilities worked well, 5G WIFI worked excellent with Win 11. 2G WIFI would drop out constantly with Win 10, unusable. KOA was our desert base camp while we went out in the day to explore the region and caverns.
May 17, 2023
Clean, easy to get into and out of the spots.
May 17, 2023
Very nice, quiet, clean and well kept. Staff was very friendly and helpful. There are a few trees that have died and need replanting.
May 17, 2023
Internet still not working very well. Had same issues last time I stayed. Will not be going back.
May 16, 2023
Had premium site BBQ was so dirty it was not usable. Weeds everywhere swing was old and chairs were bent. Dog run was more of a sticker park I would not stay here again and too far out of town
May 16, 2023
The cable was terrible so snowy couldn't watch TV. WiFi was non existent. Could never hook up to it
May 16, 2023
Staff is great.
May 15, 2023
Very quiet. Loved the dog park and how much there was to do there. Great place for families. We will definitely stay again.
May 15, 2023
Nice place, quiet and clean.
May 29, 2023
Nice park . Didn't have much time to be social I was sick with allergies gone wild. No air conditioning in the laundry and got two different answers soooo…
- Sharon Maahs on Google
May 26, 2023
The bathrooms were clean, laundry was convenient, and the employees were friendly. We tented a tent spot with electricity and water. The location was right on the entrance. You could hear cars coming in and out all night. That was our only downfall. An area to do dishes will be a great addition. We will definitely be back.
- Aracelis Matias on Google
May 24, 2023
People are awesome, helpful, and just sweet! Beautiful place to camp!!! God bless yall!
- Annie Babineau on Google