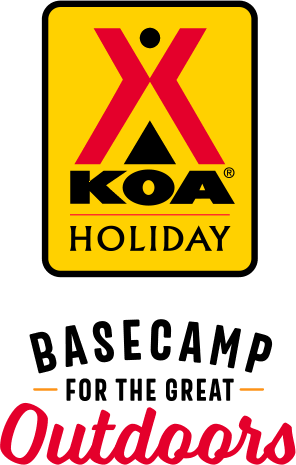 KOA Holiday Campgrounds
Whether you're exploring the local area or hanging out at the campground, KOA Holidays are an ideal place to relax and play. There's plenty to do, with amenities and services to make your stay memorable. Plus, you'll enjoy the outdoor experience with upgraded RV Sites with KOA Patio® and Deluxe Cabins with full baths for camping in comfort. Bring your family, bring your friends, or bring the whole group – there's plenty of ways to stay and explore.
KOA Holidays Feature:
RV Sites with a KOA Patio®
Deluxe Cabins with full baths
Premium Tent Sites
Group meeting facilities
Directions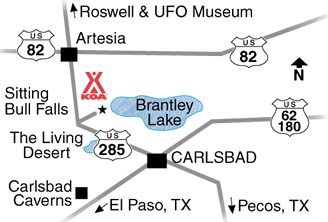 Located 13 miles north of Carlsbad, between mile markers 51 and 52 on US Hwy 285 N.
GPS: N 32 degrees 35.198', W 104 degrees 24.987'
GPS: N32.586465, W104.416234
Get Google Directions
Jul 22, 2021
The park is the nicest in the area. Friendly office staff. Restrooms, laundry room, & swimming pool were clean. My only wishes for an even better campground: more deluxe patio sites available & paved roads.
Jul 22, 2021
We had the best time at the Carlsbad KOA. All the staff were kind, helpful, and friendly. We especially appreciated Carl and John Henry. The facility was clean and easy to navigate for us novice RVers.
Jul 21, 2021
Nice campground outside of city, 45 minutes to Caverns.
Jul 21, 2021
I was upset to find that it was an hour drive to the National Park but after seeing other camping options in the area, I was very glad to be staying at the KOA! It is the nicest one in the region. Great service and amenities are there. The campground was clean and well cared for.
Jul 21, 2021
Great place to stay.
Jul 19, 2021
Wi fi misconfigerd staff could care less.
Jul 18, 2021
Always a great place to stay with excellent staff to help.
Jul 18, 2021
stayed for two nights July 13 and 14 2021. Clean and well maintained campground. Easy access from hiway 285.
Jul 17, 2021
Had a great time at the KOA! The staff was very friendly and extremely helpful. Our campsite was very clean and the pool was very refreshing! Thank you!!
Jul 17, 2021
This is a beautiful campground with so many amenities. We wished we could have stayed longer! The staff was friendly and helpful. If you are unsure where to stay when visiting the caverns, this campground should be your number one choice!
Jul 16, 2021
Even though it's in the middle of the NM desert, it's super inviting and comfortable! The pool is super refreshing after a long day's drive. The check-in staff is super friendly (go, Kerrville!), the general store has tons of snacks and goodies. LOVED having the on-site dining options - the bbq combo plate is delicious, the keylime pie was a delicious cool treat! I'd definitely stop by again :)
Jul 15, 2021
Clean facilities and RV area. Staff very nice and helpful!�
Jul 14, 2021
Nestled between Roswell and Carlsbad worked well for us. Both are a hour away. Get reservations for the caverns. Wifi poor, wound up using my tv antenna instead of cable. Birds singing outside were wonderful.
Jul 14, 2021
Needs many many upgrades. Only three showers. Too expensive for what you get. I cannot recommend this place.
Jul 13, 2021
Very pleasant! All equipment worked. With exception of the the refurbishment of the men's restroom (no showers), everything at this KOA was great.
Jul 13, 2021
The grass was uncut and long in our spot the whole time. Other areas had been cut not sure how they were able to manage that. Women's restroom appeared to be left unclean the 5 days there. They did restock the toilet paper. Appeared to be well staffed.
Jul 13, 2021
It was only for one night but it was clean and quiet.
Jul 11, 2021
The campground is nice, but it is very far from everything.
Jul 11, 2021
We loved our Deluxe RV spot. It was a great stay.
Jul 11, 2021
Great place, nice flat spots, good pool. Didn't get a chance to grab their BBQ but sure did smell good.
Jul 11, 2021
We stayed 1 night with full hookups and pull through site. The sites were clean and nicely spaced apart. This KOA offers BBQ that would be brought to the site which was great after a very long day.
Jul 11, 2021
Very nice, great facilities and staff was awesome. My only complaint and it is what it is, is that we stayed longer then most but had no shade. It gets hot with no shade. That being said, we will be back! Oh and two sewer connections per site!
Jul 11, 2021
This was a fantastic site. The service was so great, the spaces were large and comfortable, and the area was very clean! We can't wait to go back.
Jul 10, 2021
The Carlsbad KOA is our first stop on our vacation and our last stop as we head home. The personnel are very friendly. The park is quiet. The pizza is great!
Jul 10, 2021
Such a wonderful park! Conveniently located between lots sites and places with things to do, or just hangout at the KOA. The campground has great amenities, and plenty of space between sites with grass, trees, and wildlife. We even saw a quail walking through the campground. We look forward to returning.
Jul 10, 2021
We had a great stay. Wonderful staff. Very clean and well maintained.
Jul 09, 2021
very nice. Only one bathroom was working. No problem, but there was a wait at the other one. Nice people, nice park. Would stay again.
Jul 08, 2021
Very helpful and polite team at the Carlsbad KOA. Would definitely stay there again and recommend it!
Jul 08, 2021
We enjoyed our stay. Pull through sites were wide, level, and well spaced. Friendly helpful staff. Wifi was very poor and cable tv was unwatchable.
Jul 08, 2021
I'm not sure why you call it the Carlsbad KOA when it is 30 min from Carlsbad @ an hour from Carlsbad Caverns. We checked in, had thought of using the pool but it was closed for thunder. We ended up leaving to go to a water park in Carlsbad which was much nicer. Then we went to the cavern to watch the bat show. Then we realized how far it was back to the KOA and decided to stay in a parking lo
Jul 07, 2021
This is the best RV park in Carlsbad. Having said that, it could be a little nicer being that it is a Holiday park. The sites are gravel. Grass is growing in the sites - no edging or trimming of the grass. Also the fire-pits were not very well constructed — falling apart. Overall, the views are amazing. The park just needs better maintenance.
Jul 06, 2021
Wonderful. All your ground crew are the best. Answer questions, very help in every way Rick got me a new propane bottle for our grill and found a brush for the grate. Can't say it enough good about everything. Office staff very friendly. I be back
Jul 06, 2021
Very nice place the people were nice and friendly we had a really good time will be back in the future
Jul 06, 2021
Kids had fun
Jul 06, 2021
had a good stay and the location worked well for what we did and wanted to see would stay again staff was very helpful
Jul 06, 2021
Very relaxing.park staff was awesome.
Jul 05, 2021
Spacious, neat and clean. Friendly atmosphere and staff.
Jul 05, 2021
Very nice campground and appreciated all the space. Gave this facility a 4 instead of a 5 because of the situation with the men's bathroom. Our camper does not have a toilet so the lack of toilets was a big deal. Hope you will designate the individual shower rooms for men only or put in some port a johns until the renovation is complete.
Jul 04, 2021
We had a fantastic stay! The bathrooms were clean and so were the campsites. There are great people working there that knew a bunch about the surrounding area. We would definitely go back!
Jul 04, 2021
Very well run, polite & nice staff. Lots of room between spaces. Will definitely stay there again
Jul 18, 2021
Nature shows you incredible moments. enjoy them this is a good place
- Maria Diaz on Google
Jul 18, 2021
Very friendly. Nice & clean.. great game area for kids, pool, s'more nights, dog park that is completely enclosed & a playground. We had a nice guy that even drove us on golf cart to our spot 😃
- Veronica Beals on Google
Jul 14, 2021
Super clean! Great staff
- Rick Turner on Google