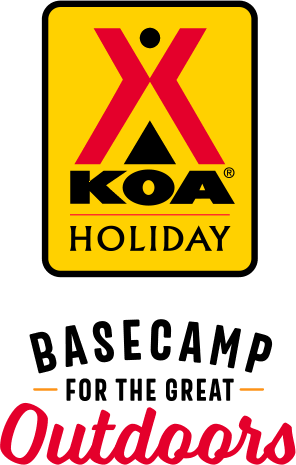 KOA Holiday Campgrounds
Whether you're exploring the local area or hanging out at the campground, KOA Holidays are an ideal place to relax and play. There's plenty to do, with amenities and services to make your stay memorable. Plus, you'll enjoy the outdoor experience with upgraded RV Sites with KOA Patio® and Deluxe Cabins with full baths for camping in comfort. Bring your family, bring your friends, or bring the whole group – there's plenty of ways to stay and explore.
KOA Holidays Feature:
RV Sites with a KOA Patio®
Deluxe Cabins with full baths
Premium Tent Sites
Group meeting facilities
Directions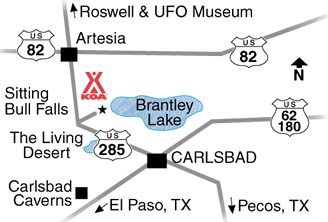 Located 13 miles north of Carlsbad, between mile markers 51 and 52 on US Hwy 285 N.
GPS: N 32 degrees 35.198', W 104 degrees 24.987'
GPS: N32.586465, W104.416234
Get Google Directions
May 03, 2021
Absolutely loved staying there. Definitely will do it again
Apr 27, 2021
Great Camp! Great Hosts! Great cafe food! Beautiful horizons! Love it!
Apr 24, 2021
The campground and staff was amazing! Beautiful, clean, laid back and honestly just so welcoming and restful. Would love to come back. Highly recommend. Staff was flexible with us when we were running late to check out after the morning at the cave.
Apr 23, 2021
Very nice campground with delicious food delivered to your campsite or cabin. Within driving distance to Carlsbad Caverns and many other attractions.
Apr 19, 2021
Very clean park. Well maintained.
Apr 19, 2021
Friendly people, clean cabin, good BBQ, very nice, no problems.
Apr 18, 2021
It was good. Only issue is that linens were provided for full bed but not the bunk bed. Also the kuerig was not cleaned out of prior use - the used coffee pod was Still in it
Apr 14, 2021
Everything was great. We stayed in a simple cabin. My only complaint is the amount of light pollution on the property...makes star gazing impossible. Such a pity, as youre out in the middle of nowhere, perfect place to stargaze.
Apr 13, 2021
We loved our stay it was nice, quiet, and fun. Your AC's need to be worked on though. But other than that it was perfect and the people were friendly. The cabin was awesome...
Apr 09, 2021
The campground was excellent and super clean. All the staff were friendly and helpful. I only wish it was closer to the Caverns.
Apr 09, 2021
Our favorite so far, clean ,friendly and comfortable. Great location!!
Apr 07, 2021
Very very nice park. We stayed in a cabin. Left our travel trailer at home for this across country trip decided to stay in Koa Kabins. Have been very happy. Only downside on this cabin was it was the ones with no bathrooms which is fine however they are the furthest from the bathhouse. Exceptionally clean and well maintained. Staff extra nice. Beautiful park. Would stay again in a heartbeat. Thank
Apr 05, 2021
The KOA employees were very friendly at check-in and throughout the stay. The cabin was very clean. The ability to order dinner there on-site was very nice and convenient. The food was delicious.
Mar 31, 2021
From the moment we walked in the door it felt like we were an imposition to them. No greeting, just a pointed finger to the seated woman that would check us in. The cabin was filthy. A household mattress with a fabric cover on it. Stained. No vinyl like cover that can be wiped down. Trash on porch, sticky door mat, chair, and porch. Floor not mopped. Not dusty, but residue.
Mar 28, 2021
Our stay was great. We stayed from Wednesday thru Saturday. Everyone was so friendly. The maintenance staff is on top of everything. They cleared out our grill for us. They waved and smiled every time and were always available to talk. My kids loved the playground. The Lobo cabin was so neat. The porch swing was wonderful. We plan on going back in the summer with hopes of the pool open.
Mar 23, 2021
Two minor things to improve. The dinner little too expensive and the bathroom near the playground not very clean. Otherwise everything was okay.
Mar 21, 2021
The staff were friendly and helpful. The location and area is ok. Its nice that it is in a central location to various attractions. It was nice the cabins had both A/c and heaters. The cabins could use shelfs. The queen bed was comfortable. It would be nice if there was more things to do there. Overall I do not regret staying here. We had fun and met friendly people.
Mar 17, 2021
Dorothy and Shelley were amazing! We were supposed to tent camp, but the high winds were so crazy that we needed to change plans. They were extremely helpful in helping us rearrange things so that we could stay in a cabin during our visit. The KOA was well kept, felt very safe, and the staff was friendly.
Mar 11, 2021
Cabin was clean and nice. Campground was clean and everything was good.
Mar 04, 2021
The staff were so amazingly friendly! We stayed in the Ocatillo Cabin and the queen bed was amazing! Slept well. Good water pressure for a nice hot shower. There were a couple glitches with the refrigerator, smell of septic all night and the adjustment of temperature.
Feb 28, 2021
The cabin I stayed in was nice. However, the water in my shower wasn't hot.
Jan 21, 2021
When we arrived our cabin had a space heater in it due to the front room heater being down. A few other issues arose that first night that made us consider leaving. The staff swooped in the following morning and diligently pursued all the issues until they were resolved. They even opened a cabin next door to let us shower. Julie and Tim especially made our stay enjoyable and memorable. Thanks KOA!
Dec 27, 2020
Lovely stay, thank you for all your help and information Julie, another woman I didn't get name of but I believe she is whom I had spoken with regarding items we had left behind! And a gentleman had guided us w some tips to find trails around camp. Doc was very welcoming, friendly too. First time for us experiencing desert life, it was fantastic! Great grill.Lower rating due to neighboring gas/o
Dec 14, 2020
The Carlsbad KOA is truly a gem in the desert! Everyone on staff is friendly and glad to see you when you arrive. Very clean campground with great facilities.
Oct 25, 2020
I've been visiting and enjoying KOA with my family since I was young. The Carlsbad KOA was no exception. The staff was very friendly and accommodating. I forgot my wallet at the cabin and the lady in the shop was able to use the credit card I had on file for my reservation. She saved me a trip! I wish I had planned our meals better, their BBQ smelled amazing! We have a reason to come back again!
Sep 27, 2020
Front desk elderly lady & escort gentleman was very nice the night we came in. Asked if they would give us a discount on 3rd night for a small cabin w/bath, this lady was younger & was rude. "NO--- we need all the money we can get due to covid."....what ever, something is better that nothing. Restrooms & cabin were filthy. Get a power washer out instead of sitting under a tree looking at phone.
Sep 21, 2020
We had a key mix up for our cabin, but it was resolved and the staff were friendly and courteous
Sep 21, 2020
The crew was very friendly and helpful. They made dinner for me!
Sep 08, 2020
I didn't stay , check in and then checked out . It's way too far from Carlsbad the price is not worth what you get and there's no refund for cancelation .
Aug 05, 2020
The cabin we stayed was good, the bunk bed is only good for the kids not adult
Aug 01, 2020
Overall, it was a great stay! The only thing that could be improved was the cleanliness of the cabin. There were a lot of spiders and spider webs as well as dirt on the floor. The air conditioner was also a little musty smelling, but it was better than nothing. The showers and bathrooms were great and the views were spectacular.
Jul 03, 2020
In the time of coved 19 it is nice to stay at a place where they still want to help you. Carlsbad KOA and especially Shelly (Owner) went out of her way to be accomidating. Friendly, Curtious and over the top describes this KOA. Approximaty of this KOA and 3 National parks is perfect.
Jun 09, 2020
We loved the bathrooms. We didn't like that the sprinklers were going in the morning that we left. We couldn't use the picnic table for breakfast and had to load our car from the parking lot behind the cabin.
Mar 19, 2020
Campground is clean and quiet. Our cabin (Deluxe Cabin @ $165/night) was small but functional. Linens were provided, but that is all. You will have to supply hand soap, dish soap, trash bags, and anything else you will need for your stay. The beds are horribly uncomfortable, so after 2 nights, we went to Walmart and spent an additional $200 on air mattresses. Overall, not worth the price.
Mar 17, 2020
Friendly, courteous staff. Impressed with prompt service and bonus of community campfire with s'mores. Cabin clean and comfortable. Lots of DVDs, but no working DVD player. We will definitely recommend this nicely located and run KOA!
Mar 15, 2020
The service and the bathroom was clean and very good
Mar 12, 2020
Very friendly staff that was taking care of a stray cat that lived on the grounds. Very welcoming, good facilities and cabin, good location, no complaints. Also, good food.
Mar 07, 2020
Property and bathrooms very clean. Owners/staff very friendly and knowledgeable about the location and places to go.
May 06, 2021
This was a great park. We were in a 45 foot motor home with toad. Sites were very spacious and well maintained. Parking was very well laid out. Not a mishmash squeezing in a site in every foot available. The internet was superb. Only negative thing I can comment on opus that the garbage receptacles were spaced way to far apart. In the front and in the back. Nothing in the middle.
- jbkamelot on Trip Advisor
Apr 27, 2021
I always avoided KOAs, due to road noise, until NOW. KOAs have been known for noisy road noise, similar to rest areas. Not this one. The site was peaceful and tranquil. Con: It is a 45 minute drive to the Carlsbad Caverns. Pros: Great Camp Host Team, clean camp, friendly people, nice desert mountain backdrop. Relatively close to the Living Desert Park and Sitting Bull Falls. Peaceful. The Camp Hosts were Great! We had the great experience of meeting Dorothy, Allen, and Al. Great people and Great hosts. They were Very helpful with recommendations for the best places to go, and to get most out of it. Got great updates on local wildlife and unique flora. These are experienced campers who help others get the most out of their camping experience. The guys are great at keeping the peace, from critters and yahoos that want to break the rules in speeding. Speed limit is 9.8 mph. They have a nice restaurant. They serve good food at reasonable prices, and deliver it to your campsite. Got some great RV tips and recommendations. We made some great Friends and will be staying here again when visitng Carlsbad Caverns or passing through. Tim & Emeliza H
- Tim Hennning on Google
Apr 27, 2021
Nice clean park. Will stay here again.
- Paula Brooks on Google