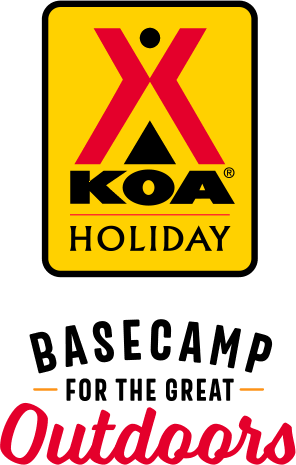 KOA Holiday Campgrounds
Whether you're exploring the local area or hanging out at the campground, KOA Holidays are an ideal place to relax and play. There's plenty to do, with amenities and services to make your stay memorable. Plus, you'll enjoy the outdoor experience with upgraded RV Sites with KOA Patio® and Deluxe Cabins with full baths for camping in comfort. Bring your family, bring your friends, or bring the whole group – there's plenty of ways to stay and explore.
KOA Holidays Feature:
RV Sites with a KOA Patio®
Deluxe Cabins with full baths
Premium Tent Sites
Group meeting facilities
Directions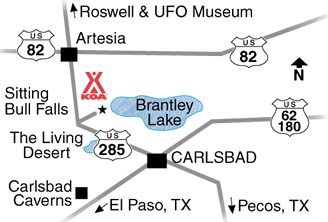 Located 13 miles north of Carlsbad, between mile markers 51 and 52 on US Hwy 285 N.
GPS: N 32 degrees 35.198', W 104 degrees 24.987'
GPS: N32.586465, W104.416234
Get Google Directions
Jul 22, 2021
We've rented a deluxe cabin and it's not clean very well when we got there. The cabin is outdated. The whole site has a lot of flies so eating outdoor is impossible. One the other hand, my three teenagers enjoyed the recreation center a lot and the wifi in the rec center was good.
Jul 21, 2021
Beautiful and clean campgrounds. Super friendly and helpful staff. Very nice game room with tons of games
Jul 20, 2021
Loved the grounds, activities, pool. BUT our shower had no water pressure, some minor upkeep problems (the screen fell off window), I thought it was a full kitchen but it had no oven, grills we're provided but not 1 metal utensil was available to use on the grill, queen bed was worn/swayed/very uncomfortable. Had fun but I believe I paid too much for all these problems to occur.
Jul 19, 2021
From what we saw, we were impressed by your camp. My husband was frustrated that the men's bathroom close to our cabin was under renovation. Also, we were concerned that the mattress we slept on had stains and didn't have the customary plastic covering which allows for easy disinfecting.
Jul 18, 2021
Except for spotty Wi-Fi it was wonderful stay. Wish the pool stayed open longer. It's also too bad the men only had one bathroom to use especially when you're doing laundry.
Jul 16, 2021
Beds hard and rooms dirty
Jul 14, 2021
We were extremely pleased with the professionalism of the staff. Check in was easy. We stayed in one of the cabins. It was clean and well stocked. I particularly appreciated the Keurig coffee set up. I was able to enjoy the sunrise and have 2 cups of coffee as I sat in the front porch swing. The BBQ brisket, ribs and potato salad was spot on Thank you for such a relaxing time.
Jul 13, 2021
Great place to stay. Friendly staff. Clean park. Lots of activities to do at park.
Jul 13, 2021
Friendly staff.
Jul 12, 2021
Our cabin was dirty when we checked in at 6 in the evening. The toilet hat poop in it and our ac was not working. They gave us the wrong information when we called the day before our trip and so we brought stuff we didn't need and couldn't buy souvenirs for our family because we didn't have enough room. The wifi was only working in the rec room.
Jul 12, 2021
Lovely place.
Jul 11, 2021
Camp staff weren't very friendly. Ok campground.
Jul 09, 2021
I wish we had known the men's bathroom was being remodeled and was not available. Other than that, it was great.
Jul 09, 2021
We came specifically to go to sitting bull falls, but it was closed due to flooding. We ended up going to the caverns but they would not allow for a late check out which was disappointing. We had to rush to make check out and could not enjoy the caverns as long as we would have liked. The Carlsbad KOA needs more shade trees and longer pool hours.
Jul 07, 2021
Excellent staff and service. My second stay there and looking forward to the next. Stayed inter premium cabin. Live it
Jun 29, 2021
The Carlsbad KOA is well-kept but we were a little disappointed with this KOA. The major issue was the location of the bathrooms. We were staying in a basic camp cabin in the corner of the property and the bathrooms near the pool were the closest and the men's restroom was being renovated, the other option was in the middle of the campground and was quite busy. Felt more like Journey than Holiday.
Jun 21, 2021
This KOA stay was not a good one. We did not have a refrigerator in our cabin, but thankfully air conditioning with the 100 degree heat. The men's shower room was under renovation, so we had to use the unisex showers that were much further away from our cabin. Flies were a constant wherever we were at the campsite. The heat and dust brought back my allergies, itchy eyes and sneezing constantly.
Jun 14, 2021
It was fine except for the men needed a port a pottty - they had to spend in line behind showering men to restroom!
Jun 13, 2021
We had a good time and the park is well maintained. We enjoyed the deluxe cabin. A/C worked great. Thank goodness because it averaged 109 degrees during our stay. The only recommendation is to have patio table and chairs at all cabins.
Jun 13, 2021
Cabin was nice and bed was comfy. The Main men's bathroom was closed though and the other one wasn't as nice.
Jun 11, 2021
When our tent failed, the staff was gladly able to accommodate our need for a cabin!
Jun 04, 2021
Excellent service, nice cabin, spacious area. Will come back again. Unfortunately, the pool closed a little bit early. See you later!
Jun 04, 2021
I arrived late and was tired. Once I got to sleep, smoke detector kept going off. I finally had to disconnect and put it outside. In the morning when I had to use restroom, the one at front office was closed to retile. After walking to the other restroom, the toilet didn't flush and the paper towel dispenser was broken. Very disappointing, this may be one of my last KOA stays.
Jun 04, 2021
Coyotes-all night, feral cats, main restroom closed
Jun 01, 2021
Friendly staff; quiet campground and clean and tidy
May 30, 2021
Very nice park and very friendly staff
May 29, 2021
It was OK, except the internet service, even standing by your routers there was no way to connect. And I think that $8 for a bag of ice is a bit absurd, you should consider at least applying some rewards discount for the ice.
May 25, 2021
We loved the staff, enjoyed the cabin, fire pit, had 2 other families that were part of our trip and we were all pretty close. Thank you!
May 17, 2021
Had a great time. Cabins were clean and staff was friendly! Would definitely come again!
May 16, 2021
Our cabin was very nice and very clean the staff was very helpful and friendly. Would recommend to family and friends�
May 10, 2021
Carlsbad KOA was the perfect place to bring our puppy for his first camping trip! Our kids loved the playground, the staff were very helpful and friendly, and the cabins were clean and we were thankful for the AC!
May 07, 2021
Clean, comfortable cabin and friendly staff. Top botch laundry room
May 06, 2021
Very nice .. clean campground, doing remodeling to restrooms and shower but had very nice temporary setup.. only thing I didn't like was the office personnel were still believing the mask thing��
May 05, 2021
It all falls on the owners. Got my email address wrong and who knows who got them. Kamping cabin needs work, felt dirty. Guess it's o.k. if your in a motorhome. I'm 70 years old and was put in the cabin furthest from bathrooms. Bird management should be applied. Bird dropping all over the sidewalk to office. Again, blame the owner's, not the employees.
May 03, 2021
Absolutely loved staying there. Definitely will do it again
Apr 27, 2021
Great Camp! Great Hosts! Great cafe food! Beautiful horizons! Love it!
Apr 24, 2021
The campground and staff was amazing! Beautiful, clean, laid back and honestly just so welcoming and restful. Would love to come back. Highly recommend. Staff was flexible with us when we were running late to check out after the morning at the cave.
Apr 23, 2021
Very nice campground with delicious food delivered to your campsite or cabin. Within driving distance to Carlsbad Caverns and many other attractions.
Apr 19, 2021
Very clean park. Well maintained.
Apr 19, 2021
Friendly people, clean cabin, good BBQ, very nice, no problems.
Apr 18, 2021
It was good. Only issue is that linens were provided for full bed but not the bunk bed. Also the kuerig was not cleaned out of prior use - the used coffee pod was Still in it
Apr 14, 2021
Everything was great. We stayed in a simple cabin. My only complaint is the amount of light pollution on the property...makes star gazing impossible. Such a pity, as youre out in the middle of nowhere, perfect place to stargaze.
Apr 13, 2021
We loved our stay it was nice, quiet, and fun. Your AC's need to be worked on though. But other than that it was perfect and the people were friendly. The cabin was awesome...
Apr 09, 2021
The campground was excellent and super clean. All the staff were friendly and helpful. I only wish it was closer to the Caverns.
Apr 09, 2021
Our favorite so far, clean ,friendly and comfortable. Great location!!
Apr 07, 2021
Very very nice park. We stayed in a cabin. Left our travel trailer at home for this across country trip decided to stay in Koa Kabins. Have been very happy. Only downside on this cabin was it was the ones with no bathrooms which is fine however they are the furthest from the bathhouse. Exceptionally clean and well maintained. Staff extra nice. Beautiful park. Would stay again in a heartbeat. Thank
Apr 05, 2021
The KOA employees were very friendly at check-in and throughout the stay. The cabin was very clean. The ability to order dinner there on-site was very nice and convenient. The food was delicious.
Mar 31, 2021
From the moment we walked in the door it felt like we were an imposition to them. No greeting, just a pointed finger to the seated woman that would check us in. The cabin was filthy. A household mattress with a fabric cover on it. Stained. No vinyl like cover that can be wiped down. Trash on porch, sticky door mat, chair, and porch. Floor not mopped. Not dusty, but residue.
Jul 18, 2021
Nature shows you incredible moments. enjoy them this is a good place
- Maria Diaz on Google
Jul 18, 2021
Very friendly. Nice & clean.. great game area for kids, pool, s'more nights, dog park that is completely enclosed & a playground. We had a nice guy that even drove us on golf cart to our spot 😃
- Veronica Beals on Google
Jul 14, 2021
Super clean! Great staff
- Rick Turner on Google