Honeymooning On Hatteras Island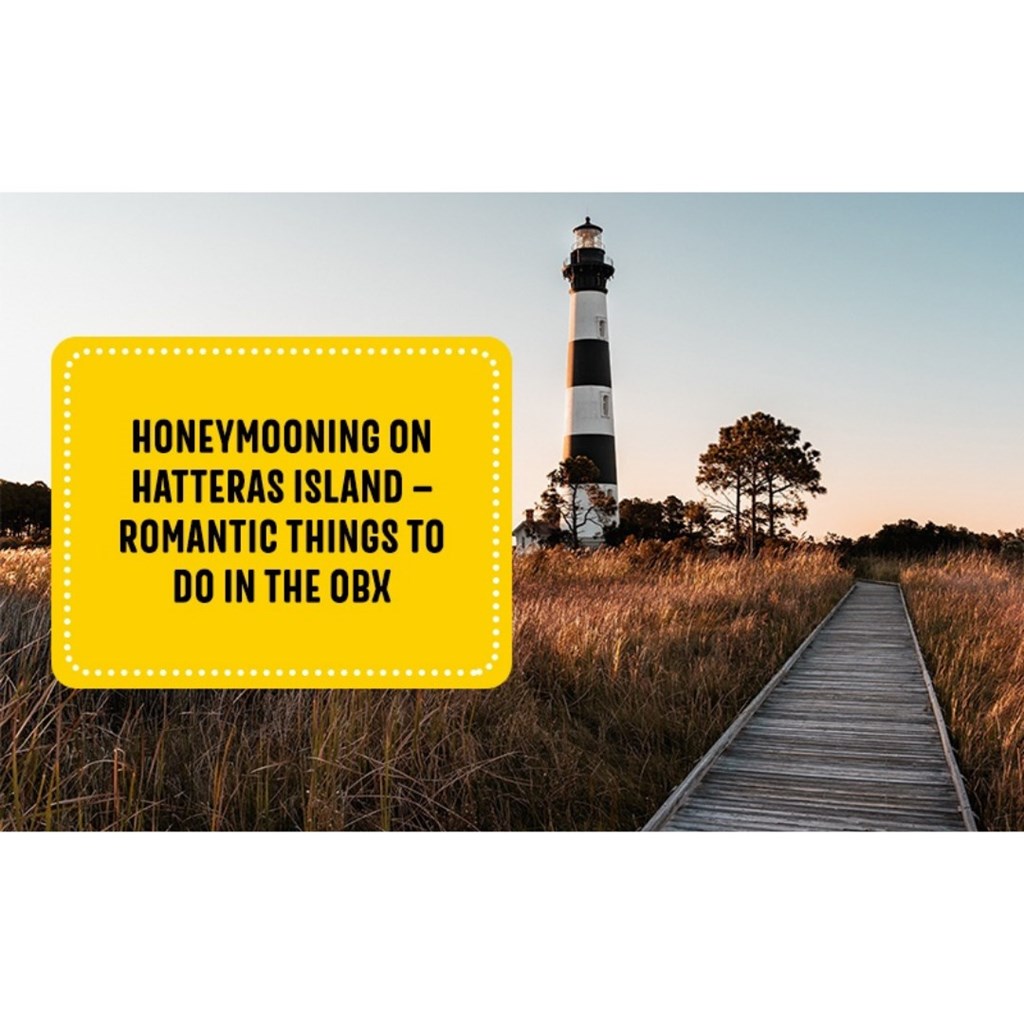 Honeymooning on Hatteras Island — Romantic Things to Do in the OBX
Are you looking for romantic activities in the Outer Banks, North Carolina? Hatteras Island and the Outer Banks is the perfect destination for your desires. These breathtaking views are a bonus to the outstanding activities offered in this area. Whether you are looking for an outdoor adventure or just a relaxing time on vacation, this destination is a great option for you.
Explore the activities and beautiful views and learn more about some of the most beautiful romantic spots and honeymoon destinations in North Carolina.
Romantic Outdoor Activities in the OBX
There are many romantic vacation ideas in the Outer Banks, whether you are honeymooning or just spending time with your significant other. Below is a list of some enjoyable, romantic outdoor activities:
1. Back Beach Wild Horse Tours
The Outer Banks is known for its wild horses roaming the beaches. You can book your tour on these beaches to four-wheel through the beautiful views and see these wild horses native to this area.
2. Currituck Beach Lighthouse
The Currituck Beach Lighthouse takes 220 stairs to reach the very top. Explore the history behind this lighthouse and see some of the best views from the top of this attraction.
3. Nor'Banks Sailing Center
Looking to spend some time on the water? Nor'Banks Sailing Center offers sailing, tubing, wakeboarding, pontoon boat rentals and many other water activities. Explore the ocean views directly from the water with Nor'Banks Sailing Center.
4. Jockey's Ridge State Park
Jockey's Ridge State Park includes some of the tallest sand dunes in the U.S. Visit the Atlantic Coast to fly kites, enjoy a picnic or simply take in the sunset views after a day of hiking and exploring.
5. Wright Brothers National Memorial
Looking to learn some history while on your trip? Visit the Wright Brothers National Memorial to see the national monument, learn the history of the Wright Brothers and visit the incredible museums surrounding it.
6. Captain Johnny's Dolphin Tours
Check out Captain Johnny's Dolphin Tours to catch some beautiful views of the wildlife in the Outer Banks. This boat tour is customized to however long you would like and flexible to whatever options you may be looking for. Spend your day out on the water with this boat tour and see how many dolphins you can spot.
7. Corolla Raceway
If you are looking for a fun adventure with your loved one, Corolla Raceway is the place to go. This raceway offers go-karts and bumper cars at the speed of your choice. Ride together or separate to see who makes it to the finish line faster.
8. Duck Town Park
Check out these 11 acres of land with a beautiful boardwalk through Currituck Sound. Enjoy a beautiful area for a picnic or the nature trails carved out perfectly for taking a nice stroll during your day.
9. Elizabethan Gardens
Elizabethan Gardens is a tribute to the English colonists in the Outer Banks. This park is a great escape for you and your loved one. Learn more about America's history and set up your perfect picnic on the grass areas to enjoy this outdoor activity.
10. Jennette's Pier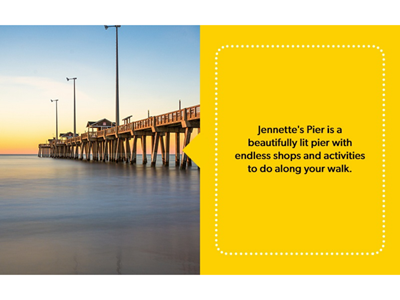 Are you looking to stroll along the waterfront? Jennette's Pier is a beautifully lit pier with endless shops and activities to do along your walk. This romantic pier is ideal for fishing and seeing ocean wildlife while soaking in your romantic getaway to Hatteras Island. You can find beaches, free parking and several other great attractions on Jennette's Pier.
Romantic Indoor Activities in the OBX
If your idea of enjoyable honeymoon activities in the OBX includes staying inside and enjoying a nice dinner or a relaxing spa day, you are in luck! This couples guide to Hatteras Island includes several memorable indoor activities to do together:
1. Delicious Dinner for Two
Enjoy a relaxing dinner for two at some of the greatest restaurants in the OBX. Whether you are looking for fine dining, seafood or just a casual dinner, there are several restaurants for an enjoyable meal.
2. Local Coffee and Donut Shops
The Outer Banks is known for some of the best coffee and donut shops in the state. Wake up and enjoy a smooth, flavorful cup of coffee and a delicious donut from a local coffee shop in the Outer Banks to start your day off the right way.
3. Spas and Massage
Enjoy a nice, indulgent spa day and a massage from local salons on the Outer Banks. Enjoy honeymooning in the Outer Banks by letting go of stress with a relaxing indoor massage and the views of the beautiful shoreline.
4. OBX Axe Throwing
You and your loved one can spend the day throwing axes to challenge each other and see who is the best! Have fun through this little competition and enjoy this indoor activity, perfect for rainy days and after-dark entertainment.
5. Breweries and Bars
Enjoy a cold drink at some of the greatest bars and breweries in the Outer Banks. Bring your pet along and enjoy some locally crafted brews with your loved one on your romantic getaway.
6. Movie Theaters
Whether it's a rainy day or you are looking for a more mellow indoor activity, you can catch a movie at the movie theaters in the Outer Banks. Grab some popcorn and a refreshing drink as you watch the newest release.
Book Your Romantic Getaway at Cape Hatteras KOA
Now that you have an idea of the incredible activities you can do when visiting the Outer Banks of North Carolina, it is important that you have a great place to stay.
Reserve your romantic getaway at Kampgrounds of America in Cape Hatteras. Cape Hatteras KOA offers two-person romantic suites perfect for your honeymoon or romantic getaway. This suite offers two queen beds, a full-size kitchen, a full bath and shower and more comfortable amenities. On top of all of these great offers, you can relax on your very own private balcony, perfect for taking in the incredible views and enjoying your stay in the Outer Banks.
Explore these amazing activities and top it off with your incredible stay at the KOA. Book your romantic getaway at a two-person suite or explore other exciting lodging options in Cape Hatteras today!