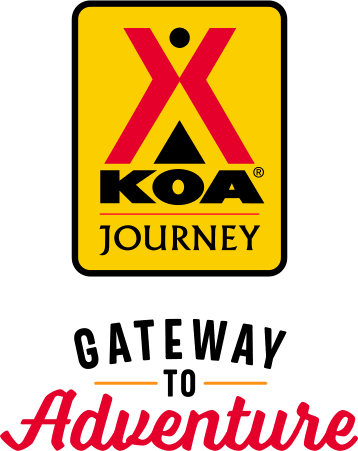 KOA Journey Campgrounds
KOA Journey campgrounds are the perfect oases after a day on the road. Whether it's along the way or a quick getaway, they've got you covered. Located near the highways and byways of North America with long Pull-thru RV Sites, they deliver convenience to the traveling camper. Pull in, ease back and take a load off.
KOA Journeys Feature:
Pull-through RV Sites with 50-amp service
Premium Tent Sites
Well lit after hours check-in service
Directions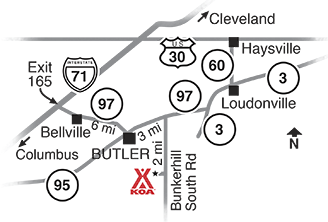 I-71 Exit 165 to 97E: Go 12 miles thru Bellville and Butler. Right on Bunker Hill Rd, south 2 miles. Please do not follow your GPS.
Get Google Directions
Jul 10, 2019
We always enjoy ourselves when we camp at butler koa our kids 11 and 12 live it.we have had to leave day early last 2 visits due to rain and we stay in tents.
Jul 10, 2019
Family friendly. Nice site. Clean restrooms/ showers. . Nice pool, kids enjoyed the activities.
Jul 10, 2019
Wonderful!! Clean pool very large lots nice shaded area only thing to complain was pool could have opened earlier, more restrooms closer to primitive camping, and very noisy frogs! And the quiet time could have been in forced
Jul 09, 2019
Office Staff was unfriendly at check in and the office smells of cat urine; many seasonal campers and some were cramped in tight; lots of noisy golf carts for such a small campground; WiFi was never working and again office staff didn't seem to care. Not typical of a KOA at all.
Jul 09, 2019
Wonderful stay
Jul 09, 2019
Generally excellent cg. My site was very shaded and private. Facilities, showers, toilets, etc. OK. BUT, they've got to get into the 21st century with internet. It's just awful. I stood under a transmitter and it still took 10 minutes just to check email! No excuse for that today. If they'd fix that, 4 stars for sure. If they don't, I'm not going back!
Jul 09, 2019
Great place to camp and fun, only complaint was the shower house and restrooms were not very clean.
Jul 09, 2019
Fun time, awesome staff!
Jul 09, 2019
I have been there several times and I have never had one bad experience! I have stayed at other campgrounds and not found the same conclusion. The pool is always very chlorinated very clean. The campsites are ready for you when you arrive. The fishing is excellent. In the bathrooms are very clean every time I have ever been in there. The courtesy of the staff is outstanding everybody's very plea
Jul 08, 2019
We absolutely LOVE staying at the Butler Mohican KOA. They treat us like family EVERY TIME. Phil is amazing at helping us with our RV when needed. Bev and Tom are the BEST. Terri always makes us feel right at home upon arrival. The bathrooms are ALWAYS spotless. The pool is comfortable and always clean and very inviting. We can't wait to go back to see Tom, Bev, Phil, and Terri on 9/6/19.
Jul 07, 2019
The owners and staff were very friendly. The sites were quiet and spacious enough for a family of 5 with a dog. The trails around the camp ground was nice and good fishing at the ponds. One thing is that pay attention to the website or call for directions before you go. Due to the roads have blind spots and pulling a camper or RV can be dangerous. We would definitely stay again.
Jul 07, 2019
A little hard to find. They say not to use GPS but that was the only way we got there. Beautiful surroundings
Jul 06, 2019
Camp ground was just "ok" very noisy due to being close to a well-traveled road.
Jul 05, 2019
Neighbors were loud quite late into the night. It wasn't full but felt like it with all the kids running in the street and the bathrooms always having someone in there (if you have a shy bladder you're screwed). Loud music from all sides. Small pool for the size of this place. Unairconditioned game room. Unkempt putt putt. Unfriendly staff. Office smelled of animal urine. Lot was a good size tho.
Jul 04, 2019
Beautiful, clean campground. Nice folks. Friendly cats. Looking forward to another stay there sometime. They are slow to respond to emails and facebook messages, however. And comfort stations a bit closer would have been welcome. Otherwise, highly recommend.
Jul 04, 2019
This is the second year we have come to your KOA, every this was clean and the people were friendly and helpful.
Jul 04, 2019
We had a great time at Butler KOA. The bathrooms and showers were very clean. They kept the grounds mowed and did a good job with trash removal. The only complaints we had was the free Wi-fi that was nonexistent and the litter box smell in the office and laundry. We love cats but some people don't or are allergic to them, so professionally speaking, they should not be allowed in there.
Jul 02, 2019
the people that own the KOA are very kind and the very helpful.. Nice campground! This was our 2nd time staying there..and look forward to staying again!
Jul 01, 2019
This was our first ever camping outing, and this was the right place to try it out. Staff was helpful and friendly and the campsites were shady and well-kept. The resident camp dog and cat that hung out with us were an added bonus.
Jun 30, 2019
Everything Was nice and clean. Kids enjoyed the pool. Our site however was pretty muddy for a tent site. They had placed straw down but it really didn't help. If we ran the water at the site it would make a more muddy mess. Most of the mud seemed associated with the water and where it's located and how it drains.
Jun 29, 2019
Campground was nice and quiet. Free wifi??? Half time it was not available and when it was available, management requested that wifi to be used only for checking email. Trash was not picked up daily. A bin was full the whole time wes was there. Seemed that bins were only emptied when overflowing.
Jun 29, 2019
Very relaxing. Nice folks.
Jun 29, 2019
Nice sites and friendly staff. WiFi is terrible and the k9 kamp was pretty much nothing.
Jun 29, 2019
This is a very out of the way KIA with no cable. It's not our favorite.
Jun 27, 2019
Really lovely campsite. Owners are very friendly and super helpful. It's a remote campsite well off the beaten track which makes it a quiet place to stay. Great amenities and very clean bathrooms which it good. If you want a peaceful, beautiful place to stay I'd highly recommend.
Jun 25, 2019
Nice campground. Just to far off interstate for big coaches and very hard to turn in and register with a 42 foot plus coach. Also, did not realize there were 3 Mohican campgrounds. Campground staff were extremely friendly and helpful. Very nice KOA.
Jun 25, 2019
Very nice stay. Plan to return sometime soon
Jun 24, 2019
Great park. We really enjoyed it and will return
Jun 23, 2019
We had a wonderful few days! Very clean. Everyone was friendly. Wish we had planned to stay longer! We will for sure be back!
Jun 21, 2019
Beautiful park even with all the rain Father's Day weekend. The frog pond was amazing, baby frogs everywhere. Only disappointing thing was they told us they had no activities planned for Sunday because most people leave Sunday but we weren't leaving till Monday.
Jun 20, 2019
Great place to stay. Very quiet and clean.
Jun 20, 2019
We were booked to stay at another campground but were not happy when we got there. Called KOA and they were able to accommodate us last minute. The campground and bath houses were extremely clean and the owner very friendly.
Jun 19, 2019
nice park wifi is terrible employee were very nice
Jun 19, 2019
Not a terrible location, but this KOA has won the "President's Award" for several straight years and I am not sure how? The cabin was dirty (especially under and behind beds where there was a thick layer of cobwebs) and we were shocked to find no AC?? First KOA cabin we stayed in without AC. The employees at the front desk weren't rude, but they weren't friendly either.
Jun 19, 2019
We had a great experience. The staff was extremely friendly and helpful at check-in. The owner Bill escorted us to our site and was very personable. The restrooms and shower house was unbelievable clean, probably one of the nicest ones we have been in.
Jun 17, 2019
Beautiful campground with such attentive and nice people running the place. In the hills and woods which is so nice to walk around up and down hills. Facilites are just fine and the pool is nice and clean. Loved it there!!!
Jun 16, 2019
Quiet, pretty well kept, scenic, and very helpful staff!
Jun 16, 2019
My favorite campground; what began nearly 10 years ago as a yearly 4 PERSON camp tradition has become a yearly 4 FAMILY camp tradition! We love the campground, the campsites, the facilities, people and pets. Always a 5 star stay, even if this year the weather did not cooperate. We'll be back!
Jun 15, 2019
Too much golf cart traffic generated thru out the campground. I was under the impression golf carts were only allowed for handicap, workers or special circumstances. Also many loud vehicles were driven every evening around the campground.
Jun 15, 2019
We had a great weekend: -Lots for the kids to do -Bathrooms were nice and clean -Beautiful clean campsites site
Nov 08, 2020
Everyone is very friendly and accommodating. Beverly is amazing! They treat you like family!
- That Guy on Google
Oct 25, 2020
Had a seasonal spot for 3 years that is the best and it so sad when the season is over.. Great place for families and kids to spend time in nature and meet new friends. Kids enjoy the crafts, fishing and the games that are there. The staff is very friendly and helpful as they make your stay memorable forever.
- patmH5736KP on Trip Advisor
Oct 22, 2020
Very quiet camp ground.
- Christine Farquharson on Google