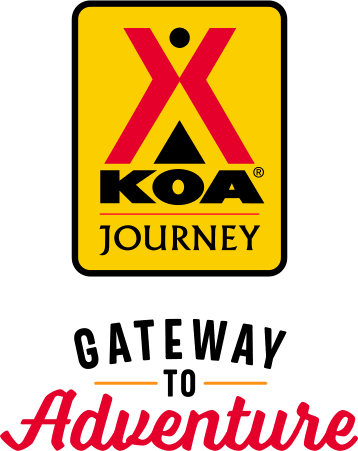 KOA Journey Campgrounds
KOA Journey campgrounds are the perfect oases after a day on the road. Whether it's along the way or a quick getaway, they've got you covered. Located near the highways and byways of North America with long Pull-thru RV Sites, they deliver convenience to the traveling camper. Pull in, ease back and take a load off.
KOA Journeys Feature:
Pull-through RV Sites with 50-amp service
Premium Tent Sites
Well lit after hours check-in service
Directions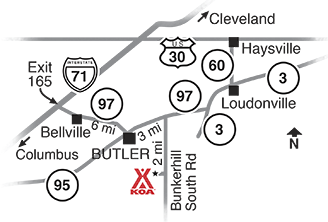 I-71 Exit 165 to 97E: Go 12 miles thru Bellville and Butler. Right on Bunker Hill Rd, south 2 miles. Please do not follow your GPS.
Get Google Directions
Sep 14, 2021
Had a great time at this KOA, was happy with having a room for a concert i was out there for. I did wish that the Cabins had some form of little portable heater though because they were a little chilly at night.
Sep 14, 2021
We stayed in tent cabin #1 and our daughter and family had an RV. Back of cabin backed up to the lake. Beautiful nature setting. Swing on porch a plus. Appreciated having electric with an outside water source. Nice fire pit. Downside. Not close to bathroom..
Sep 14, 2021
Clean, quiet n peaceful I had a great stay there definitely want to come back.
Sep 14, 2021
Staff was very friendly but the bathrooms were a pretty long walk from the primitive camping area and the showers were even farther away. Infrastructure could use some updating, maybe another shower/bath house or fix the showers attached to the main building.
Sep 13, 2021
The campground is really nice! Really liked the walking trails and the ponds! Everyone was super friendly! Only suggestion would be to increase the WiFi connection. We could connect to it but nothing would load due to the signal strength.
Sep 13, 2021
Upset the bathroom didn't have hot water on the lower level. The place is falling apart. Supposedly there's a new owner. Obviously they don't care about the place.
Sep 13, 2021
Great and friendly staff. Nice size camp sites.
Sep 13, 2021
We had a great time.
Sep 09, 2021
Lots of shade. Good service at the front desk. Kids had a good time with crafts and other things to do.
Sep 08, 2021
Really enjoyed the fire engine ride, along with spraying, for the kids. What a fun time for them! And the poker run, while very adult, was for a great cause. Hats off to those ideas!
Sep 08, 2021
Friendly and polite people. Thanks!
Sep 06, 2021
Very friendly and clean. Love the area!!!
Sep 06, 2021
Very quiet and relaxing.
Sep 04, 2021
Always get treated great and campground is well taken care of.
Sep 01, 2021
Lovely campground. Very friendly and welcoming hosts.
Aug 30, 2021
It was wonderful!! We will be back!!
Aug 30, 2021
We camped for the very first time with our camper. When we arrived the staff was very friendly. They escorted us to our spot, helped guide while backing in, and asked and answered any questions we had. We loved our site and the walking trails. The bathrooms were very clean and roomy even supplying hair dryers. We have already reserved our next stay. Looking forward to many more!
Aug 29, 2021
Nice campground
Aug 26, 2021
Everything is old. Needs some updating.
Aug 24, 2021
We love staying here! The pool is nice, the fishing pond is great for the kids and the staff is always so friendly. It's really an enjoyable campground!
Aug 23, 2021
People that run it and work there were great...
Aug 23, 2021
The grounds are clean and the staff is so friendly. They had activities for the kids all weekend. This was our second summer staying in the cabins are we will be back next year.
Aug 23, 2021
Nice small KOA. Would stay here again.
Aug 20, 2021
Friendly staff, very quiet
Aug 16, 2021
It was great! Large sites, very friendly and helpful staff. Mohican KOA is a very clean facility as well! A great place for family!
Aug 16, 2021
Relaxing Friendly staff
Aug 16, 2021
Wonderful - Courtney was exceptional and great with the kids.
Aug 16, 2021
We really enjoyed our stay! This was the quietest park we've stayed in. People were friendly and our site was great. Would.definitely stay again!
Aug 15, 2021
We had a great week at the Butler/Mohican KOA! Nice, quiet campground with clean showers and lots of hiking trails. Close to lots of fun activities in the area. The pool is good for a quick cool off but small. The ponds were too mucky to fish. The laundry room looked more like a staff room with crock pots and food containers on the table that I think is meant for folding.
Aug 11, 2021
Campsites were generous in size. Plenty of activities going on. Owners very nice. Only comment is the bathrooms were no up to KOA standards. Usually KOA the bathrooms are so nice, I use them rather than get cleaned up in the RV. This time the showers and bathrooms just weren't so clean and weren't in as good of shape. I would say they were as clean as a really clean state park, which isn't great
Aug 10, 2021
Well run campground. Staff is very friendly. Great walking trails. Away from highways. Very peaceful.
Aug 09, 2021
As always a fantastic weekend
Aug 09, 2021
Nice place. Would definitely go back and stay longer. Very peaceful!!
Aug 09, 2021
The campground, pool, and facilities were very nice and clean. We had extremely loud neighbors. They played loud music throughout the night and had a lot of people on their two sites. I was disappointed that nothing was said to them the first day considering staff was patrolling on the golf cart.
Aug 12, 2021
Heaven on earth!
- Jan Stone on Google
Jul 31, 2021
Situated on a beautiful piece of property, the staff and grounds were excellent. I highly recommend a site by the lake but the cabins and other sites looked great. Staff was great and the facilities were clean.
- Ryan Sheldon on Google
Sep 04, 2021
Bluegill, bass nice time
- Carole Biggs on Google