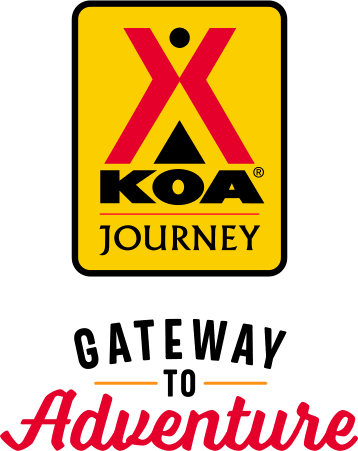 KOA Journey Campgrounds
KOA Journey campgrounds are the perfect oases after a day on the road. Whether it's along the way or a quick getaway, they've got you covered. Located near the highways and byways of North America with long Pull-thru RV Sites, they deliver convenience to the traveling camper. Pull in, ease back and take a load off.
KOA Journeys Feature:
Pull-through RV Sites with 50-amp service
Premium Tent Sites
Well lit after hours check-in service
Directions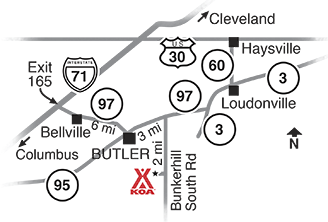 I-71 Exit 165 to 97E: Go 12 miles thru Bellville and Butler. Right on Bunker Hill Rd, south 2 miles. Please do not follow your GPS.
Get Google Directions
Oct 22, 2020
It was so fun stay there, there were weekends Halloween events, my kids had a great time! And facility was very clean with friendly staff Thank you
Oct 13, 2020
Quiet hours were not observed, so I did not get any rest.
Oct 07, 2020
The Butler/Mohican KOA staff were kind, hospitable, friendly, and made our stay pretty amazing! They went above and beyond, delivering firewood right to our campsight, and they were easily accessible by phone for any questions. They also had a camp store stocked with all of the essentials. Would definitely recommend to a friend, and will definitely be staying here again! Thanks Butler KOA :D
Sep 28, 2020
From arrival to departure it was a wonderful experience. Everyone in the office was so friendly, fellow campers were in polite and even helped out eachother! Clean, fun activities and the great outdoors! The perfect experience at Mohican!
Sep 21, 2020
It was the most pleasant week I've had in a long time! The bathrooms were well kept and the staff was very friendly. Thank you! I'll definitely return.
Sep 20, 2020
Our tent site was a very nice site. We enjoyed to the relaxing and private atmosphere of primitive camping.
Sep 19, 2020
Very nice quiet, clean, all employees were helpful and pleasant. Will be going back again.
Sep 15, 2020
Great staff. Nice campground. We all enjoyed our stay.
Sep 09, 2020
One of the noisiest camp grounds I've ever stayed at. People were still playing basketball/volleyball at 2 in the morning. I went out and bought earplugs due to the noise. I've stayed at a few KOAs and this one is my least favorite.
Sep 09, 2020
Friendly staff! Larger sites than state parks. Store has coffee.
Sep 09, 2020
We were in the back primitive camping. We were pleased with it being mostly flat and had a lot of space. There were multiple tents set up on several sites, so they are quite large. There are a lot of things for kids to do there. Bathrooms are clean and kept up with for the most part. I did end up in stall with no toilet paper but it was filled before I was in there again. Highly recommend!
Sep 08, 2020
Need cleaner bathrooms.
Sep 05, 2020
As usual one of the best places to go it has multiple areas of fun. Mini golf swimming in the best fishing.
Sep 02, 2020
Bathrooms to far away from our site but other than that a nice place to camp.
Sep 01, 2020
Very nice site with good people. The only complaint were people outside at 2 a.m. having a loud, drunken, argument. The other issue is the inconsistent WiFi.
Aug 24, 2020
Need for closer bathrooms
Aug 24, 2020
Overall it was a good stay. We likely won't be back, but only because we prefer more seclusion. If you are a family/group that wants the social aspect of camping. pros: relatively clean, friendly staff, firewood delivery was nice, son liked the pool, walking trail is nice cons: site was too close to a loud road, not private, lots of cars & people going back & forth near our site
Aug 18, 2020
Everything was great except for when trying to get a hold of someone when checking in. Yes, it was late but it was just a little much waiting as long as we did. Other than that everything was great!
Aug 11, 2020
Very clean campground and a very friendly staff. Will definitely go back.
Aug 10, 2020
Vary nice will be back and the staff was super friendly. Most definitely will be letting people know
Aug 10, 2020
We stayed in a tent in the primitive area of the campground. The sites were spacious with lots of trees. The office staff were very friendly and helpful. The bathrooms were kept clean. We all liked the campground a lot!
Aug 04, 2020
We had a wonderful time at the Butler Mohican KOA. The staff was very helpful and friendly, the facilities were well kept, and the grounds were beautiful. We're already making plans to return with friends!
Aug 03, 2020
Very much liked the tent site, by the lake with plenty of trees between sites. The kids had a wonderful time.
Aug 02, 2020
Everything was great except for the water temperature in the showers.
Aug 02, 2020
Kids loved the pool and the sound of horses coming down the road. The staff was friendly and helpful. We will be back.
Aug 01, 2020
very nice quiet, all the employees that I interacted with were extremely nice and helpful
Jul 28, 2020
Very accommodating, campsite was very homey and we loved the wooded tent site! Everything is just far distance to feel like you're "roughing it" but bathroom and store we're not more than a 5 minute walk. Will definitely be returning!
Jul 26, 2020
Great stay and easy to work with
Jul 17, 2020
it isnt at all what i expected, too small and there wasnt much to do on the grounds. the pond was dirty there were baby fish camp sites were so close together it wasnt quiet water in bathroom showers were always cold and everything at the store was super pricey for no reason 10.00 for 2 bags of ice... the WiFi was spotty there isnt any service at least have WiFi as you advertise but there wasnt.
Jul 13, 2020
Nice camp ground, but multiple guest near our site had very bad language and loud (explicit language) music. Makes it difficult for families with children.
Jul 08, 2020
Was a good relaxing time for the family, with plenty to do regardless of covid restrictions. Only negative thing was loud neighbors blasting music until 2 am with no quiet time enforced, had to tell them myself once i was fed up enough.
Jul 06, 2020
It was so peaceful and the staff were spectacular! I've never had such a perfect camping trip! We will be going back soon for sure! Thanks!
Jun 28, 2020
Overall a great place to stay. One of the group sites was quite loud until nearly midnight so I was unable to get a full night's sleep after 10 hours of driving. I was a bit away from them in a single tent site. I wish that KOA had made their quiet hours better known. Bathrooms and everything else were nice and clean. Staff was friendly.
Jun 23, 2020
Local hooligans pretty much took the camp over Friday night with a large gathering of archery equipment. Laundry services were poor, the equipment is old and needing replaced. Rest rooms were fair. Upon arrival there was a man employee smoking in the men's room. This camp needs some work to bring it up to KOA standards!
Jun 23, 2020
The check in people were rude. Glass an trash all over our camp site when we got there. We left after the first night.
Jun 22, 2020
I had a great time with family, though I do wish there had been a bit more control of noise late at night. The overhead light behind my campsite (site 15) was glaring, so if there is some way to change that in the future it would be nice! Love the employees and the grounds, though, and will definitely be back.
Jun 22, 2020
Very small campground with not much to offer. Pool was nice and lake was nice for fishing. Everything else was small- including campsites. Picnic tables are nasty and wobbly. Nothing like the pics on the website. Would not return.
Nov 08, 2020
Everyone is very friendly and accommodating. Beverly is amazing! They treat you like family!
- That Guy on Google
Oct 25, 2020
Had a seasonal spot for 3 years that is the best and it so sad when the season is over.. Great place for families and kids to spend time in nature and meet new friends. Kids enjoy the crafts, fishing and the games that are there. The staff is very friendly and helpful as they make your stay memorable forever.
- patmH5736KP on Trip Advisor
Oct 22, 2020
Very quiet camp ground.
- Christine Farquharson on Google