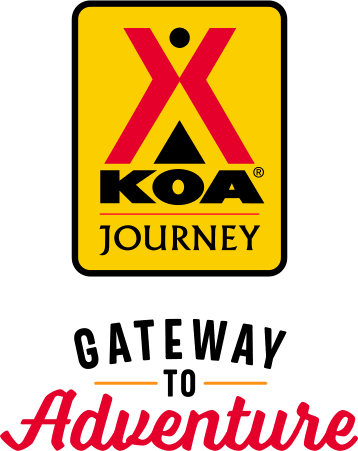 KOA Journey Campgrounds
KOA Journey campgrounds are the perfect oases after a day on the road. Whether it's along the way or a quick getaway, they've got you covered. Located near the highways and byways of North America with long Pull-thru RV Sites, they deliver convenience to the traveling camper. Pull in, ease back and take a load off.
KOA Journeys Feature:
Pull-through RV Sites with 50-amp service
Premium Tent Sites
Well lit after hours check-in service
Directions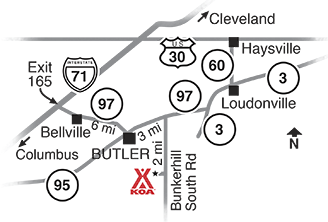 I-71 Exit 165 to 97E: Go 12 miles thru Bellville and Butler. Right on Bunker Hill Rd, south 2 miles. Please do not follow your GPS.
Get Google Directions
Oct 30, 2020
We had reserved a one room cabin for my husband and I and our youngest son for the weekend, as a last of season get away. When we arrived to check in, tut he girl at the front desk informed me that they were upgrading us to a two room cabin at no extra cost. So nice and bath house was close and clean. Thanks so much!
Oct 30, 2020
Excellent place to camp. Peaceful and quiet in the woods. Great place to observe the stars on a clear night.
Oct 16, 2020
Excellent campground. Great place to observe the night sky on a clear night. Clean and quiet.
Oct 15, 2020
Cabins were very clean, campground trails were beautiful.
Oct 12, 2020
Went with the family for the weekend. Stayed in a couple cabins. We had such a great time!! Pumpkin carving, trick or treat, haunted trail and barn! Would definitely go back!
Oct 06, 2020
It was fun! The staff are helpful and the bathrooms are clean!!!! One negative...our cabin was not level...when laying in bed you 'rolled' toward the 'road' side of camp. We had a toy dump truck in the cabin and when set still, it began to roll immediately. Maybe some foundation work would be good... BUT, we enjoyed our stay and like the trails and the quiet area...very nice
Sep 21, 2020
Nice facilities and layout of the campground. Will definitely be back
Sep 19, 2020
Couldn't be happier with this place will be back again staff is great so clean great all around enjoyed it so much
Sep 14, 2020
We had a great time and the place was very clean and kept up. Staff was very friendly
Sep 14, 2020
Very personable staff, many activities (even in Covid times) to do with the kids! Clean campground, well kept trails and pool, clean bathrooms. We will be going back!
Aug 24, 2020
We enjoy our stay
Aug 21, 2020
As always an excellent place to camp. Observing the stars after dark on a clear night is the best. Can't see many stars from the city.
Aug 19, 2020
Bev and Tom are the best. Terri and the rest of the gang are awesome too!!
Aug 17, 2020
We had a wonderful time! All the staff are very friendly the bathrooms were very clean the location is perfect and we will definitely be back. Our cabin was nice and the air conditioning works great the mattresses were nice and thick we are going to recommend you to everyone
Aug 15, 2020
We really enjoyed it. The people were outstanding. We liked the cabin, the pool, the quiet atmosphere. It was a quick check-in. We'll definitely be back.
Aug 11, 2020
My two adult daughters and I rented a one room cabin. It was VERY clean. (Except for the two windows. They needed a good scrubbing.) The cabin was perfect for us. More hooks on the wall by the other hooks would have been very helpful. The build in shelf by the window was fantastic. We put the fan that KOA provided up there in front of the window and the cabin never got hot. Thanks.
Aug 08, 2020
All and all a great camping experience. The cabin was clean, the pool was wonderful and the employees were very friendly and helpful with whatever we needed. Showers could use some updating as a couple handles didn't work right.
Aug 07, 2020
2nd time staying here. Will definitely come back.
Aug 05, 2020
Super nice employees very clean will stay again great all around environment
Jul 28, 2020
Had a great stay. The lady's bathroom is hard to keep up with. No toilet paper twice. Staff are always very friendly we had a great time. The cabin we had 2 of them were clean and cool.
Jul 28, 2020
Staff was friendly and helpful, campground was always clean. Definitely be coming back again and again.
Jul 28, 2020
We stayed in a cabin without a kitchen, bathroom or ac, and we very much enjoyed it. The cabin included electricity and a much needed fan. It was wonderful to have a reprieve from the bugs and a bed to sleep in after long days spent hiking and canoeing. We came in July and the employees came around Saturday to hand out gifts to the kids for Christmas in July. Such a kind touch. KOA is one awesome!
Jul 27, 2020
Great place to stay! We enjoyed the privacy our cabin offered and convenience of the camp store, restrooms and showers. The pool is small but well kept and warm. Overall it was a great experience and we will be back soon!
Jul 25, 2020
It was very quiet and beautiful scenery. But the overall campground needs alot of TLC. Very run down for what we expected from a KOA. Bathrooms were nice and clean. Staff person was nice. But we always felt like we were bothering them( in office).
Jul 09, 2020
I have stayed at a lot of KOA's and they all cleaned the bathrooms at night so that in the morning when you got up you had a nice clean bathroom to go into. Well this one didn't clean the bathrooms until 11:00 the next day. Their was a pair of underwear on the counter, the trash cans were overflowing! This was a nice KOA, but please clean the restrooms regularly!!
Jul 08, 2020
Staff are fun and very accommodating. Facilities were kept clean. We had a great time.
Jun 29, 2020
We got to our site when it was raining and was not pleased they did accommodate and change out location. They lady was helpful and respectful. Clean bathrooms and showers. Very nice staff - everyone was very friendly. Pool was clean and keep up. I will stay again .
Jun 23, 2020
Very polite staff, Nice place
Jun 15, 2020
Love th e cabins. Bathrooms nice. Love the lake and camping near it. Liked it was close to mohican
Jun 14, 2020
Super friendly and helpful staff. Extremely clean restrooms and pool. Very well run place.
Oct 16, 2019
You definitely need to fix the toilets.... they were always filled with poop and wouldn't flush... It would be nice to have an air freshener in there as well and also a loud fan to drowned out the sound so that people could take a poop with some privacy !!! Please update your restroom facilities !!!
Oct 16, 2019
Had a really great time at this campsite.
Oct 10, 2019
Quiet location. Very clean cabin. Kind hosts.
Oct 01, 2019
My husband and I went home covered in over 100 bites each even though we covered ourselves in deet. The showers did not have warm water and the toilets do not flush consistently. The local kids drove around the campground with radios blaring and let their friends stay near us waking us up at 230am and treated the bathroom like their own personal clothes locker.
Sep 29, 2019
The cabin was a great getaway,clean,and the staff is super friendly �
Sep 29, 2019
Great place for stargazing and observing the night sky with a telescope. You can take night sky star pictures and see things you can't see in the city lights. And the great general camping experience is there also.
Sep 25, 2019
It's just a fabulous and pleasant place to stay
Nov 08, 2020
Everyone is very friendly and accommodating. Beverly is amazing! They treat you like family!
- That Guy on Google
Oct 25, 2020
Had a seasonal spot for 3 years that is the best and it so sad when the season is over.. Great place for families and kids to spend time in nature and meet new friends. Kids enjoy the crafts, fishing and the games that are there. The staff is very friendly and helpful as they make your stay memorable forever.
- patmH5736KP on Trip Advisor
Oct 22, 2020
Very quiet camp ground.
- Christine Farquharson on Google