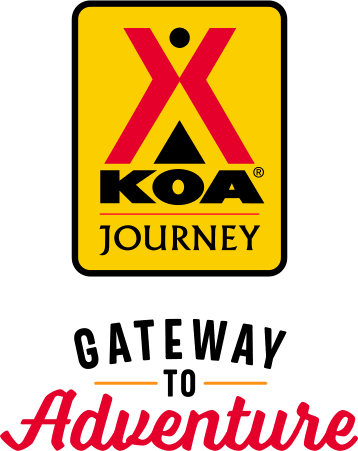 KOA Journey Campgrounds
KOA Journey campgrounds are the perfect oases after a day on the road. Whether it's along the way or a quick getaway, they've got you covered. Located near the highways and byways of North America with long Pull-thru RV Sites, they deliver convenience to the traveling camper. Pull in, ease back and take a load off.
KOA Journeys Feature:
Pull-through RV Sites with 50-amp service
Premium Tent Sites
Well lit after hours check-in service
Directions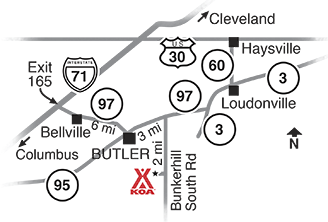 I-71 Exit 165 to 97E: Go 12 miles thru Bellville and Butler. Right on Bunker Hill Rd, south 2 miles. Please do not follow your GPS.
Get Google Directions
Nov 01, 2020
The best campground... Love the location and all of the staff...
Oct 30, 2020
Everyone was so nice and friendly the grounds looked great loved that they have so much for kids to do as well. The staff all seem amazing and we loved that they had a Halloween mass going on that was so much fun! The views all around we just amazing! All in all we will be back for lots of future visits!!!
Oct 26, 2020
As usual, this KOA never disappoints. VERY clean. VERY friendly. We have already booked a few weekends here for 2021. LOVE the Butler Mohican KOA
Oct 23, 2020
We were only there for a night, but we really liked it! Nice and responsive office staff, good prices and a beautiful and quiet campground. Our RV site was not level but that's not a huge deal to us. The staff and beautiful scenery more than made up for that.
Oct 20, 2020
The haunted trail was great and the barn was the best again this year, the kids looked great doing their Halloween Trick or treat. Everything was great again.
Oct 20, 2020
We stayed for Halloween weekend and it was amazing!!! Everyone in the office were super kind and helpful. The permanent campers were so welcoming and sweet!!! They even invited us over for dinner. The Halloween woods and barn were spooktacular!!! Amazing place , amazing people. We will definitely be back. Thank you for an unforgettable weekend �ϋ� This campground is a hidden gem !!!
Oct 17, 2020
The water pressure was horrible some times almost nonexistant. Way to many seasonal lots. Seasonal lots cluttered and trashy. Will not go back.
Oct 16, 2020
Sites are very close, uneven and gravel in sites contain big rocks that could cause a fall.
Oct 12, 2020
The staff went above and beyond to give our kids a great Halloween experience in these cautious times. Thank you!!!
Oct 12, 2020
We had a great stay. The staff is so friendly and helpful. There haunted trail and barn were both excellent. We definitely will be returning in the future.
Oct 10, 2020
Great place for us
Oct 09, 2020
Nice place and friendly staff , bathrooms where very clean we will stay again
Oct 05, 2020
We love this KOA, we stay every year and always have a great time. The staff is very accommodating.
Oct 05, 2020
Just too far out from interstate and lost electrical power one evening, although it wasn't camps fault. The staff was very nice and accommodating and our camp site pull thru was in a nice area.
Oct 04, 2020
We stayed there 6 nights and was very quiet, all through the week was only ourselves and another couple, was awesome. We had the big patio site and it was huge, my corgi loved it. Was great level site & walked right onto our patio with picnic table & dinette set. Highly recommend, staff was super friendly and professional
Oct 02, 2020
Friendly staff, clean throughout the property as well as peaceful area. Beautiful area, nice walking trails
Sep 28, 2020
The associates were very nice and accommodating. Site was very clean and exactly as shown on the website. Restrooms were extremely clean and well cared for.
Sep 27, 2020
Had wonderful weather! Enjoyed the park and the staff.
Sep 22, 2020
It's so peaceful
Sep 21, 2020
Always enjoy staying here. Always quiet and the employees ( Terry ) always goes above and beyond when we want a reservation. We will see you again next year
Sep 21, 2020
This KOA is tucked away in the beautiful rolling hills near Mohican State Park. As such, it was not easy to get to with a large RV. Please don't follow your GPS or you'll end up on some challenging county roads. However, once at the park the staff was friendly and helpful, and the accommodations were very nice. We had a nice concrete patio, and a large space around us. It's worth the st
Sep 19, 2020
Our site 108 was large, which was great, but it was next to the maintenance building and the sewer ran uphill. Two negatives. Beautiful property. Loved Cali and Buttercup. We will return but want to stay towards back with sewer going downhill.
Sep 19, 2020
We had a great time visiting the area and really enjoyed the campground and the friendly staff including the camp dog.
Sep 18, 2020
Very quiet and peaceful
Sep 16, 2020
had a great time. staff was awesome! The only thing that was not so great is we decided to stay an extra day and the staff did not tell us there would be power washing going on all day long. Had we known that, we wouldn't have spent the money and stayed that day.
Sep 15, 2020
Great campground! We will definitely be back!
Sep 14, 2020
Very nice campground . The employees were all very friendly and helpful. The campground was also very clean.Had a real nice stay will come back probably for a longer stay.
Sep 14, 2020
Nice campground, lovely site (108), wish there had been cable or stronger WIFI, but we had fun!
Sep 10, 2020
We had a great time at the Butler KOA. We were by the newer bathrooms and thought they were kept nice and clean. Not so much the bathrooms by the office.... We liked walking around and seeing all the things offered to do. We were just there as a couple but discussed how fun it would have been to have our grandchildren with us. They would have loved the swimming pool and basketball and volleyball.
Sep 08, 2020
Enjoyed our stay. Camp directors had fun activities planned over the holiday weekend. Nice pool and nice trails through the woods.
Sep 06, 2020
It was a great week! Clean bathrooms, spacious lots, and friendly staff.
Sep 01, 2020
Nice restrooms/ shower area, staff was friendly, great area, pool was clean
Aug 31, 2020
The staff was great as well as our campsite. The only disappointment were the political signs. Political signs were not something I expected at a campsite.
Aug 29, 2020
Very quiet! Very impressed with clean restrooms.
Aug 28, 2020
I give it a 1 star as internet was decent, we like KOA because of strict dog rules, owners dog was allowed to roam campsites. Made our contained dogs very anxious, as well as my wife as their dog barked at her as she approached them with our dog. Park could be better maintained
Nov 08, 2020
Everyone is very friendly and accommodating. Beverly is amazing! They treat you like family!
- That Guy on Google
Oct 25, 2020
Had a seasonal spot for 3 years that is the best and it so sad when the season is over.. Great place for families and kids to spend time in nature and meet new friends. Kids enjoy the crafts, fishing and the games that are there. The staff is very friendly and helpful as they make your stay memorable forever.
- patmH5736KP on Trip Advisor
Oct 22, 2020
Very quiet camp ground.
- Christine Farquharson on Google