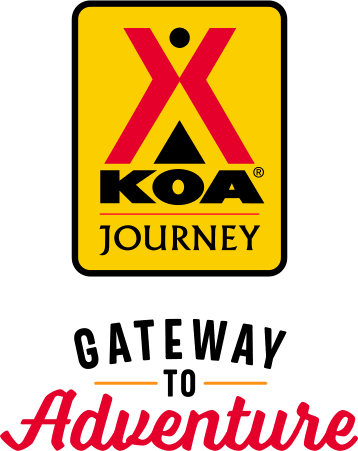 KOA Journey Campgrounds
KOA Journey campgrounds are the perfect oases after a day on the road. Whether it's along the way or a quick getaway, they've got you covered. Located near the highways and byways of North America with long Pull-thru RV Sites, they deliver convenience to the traveling camper. Pull in, ease back and take a load off.
KOA Journeys Feature:
Pull-through RV Sites with 50-amp service
Premium Tent Sites
Well lit after hours check-in service
Directions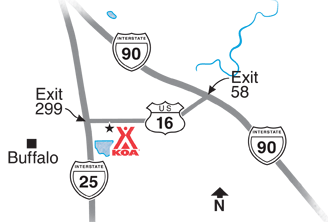 From I-90: Take Exit 58, then west on Hwy 16 for 1.5 miles. Follow KOA signs.
From I-25: Take Exit 299, then east on Hwy 16 for 0.5 mile. Follow KOA signs.
GPS COORDINATES: Latitude: 44.351277  Longitude: -106.678626
Get Google Directions
Jul 26, 2021
Great and quiet KOA. We stopped for 2 nights on our way from Mt. Rushmore to Grand Tetons and it was the perfect stopover. Family who runs the KOA are wonderful, hardworking people from what we could see!! Very relaxed place in a cute town. The area of the park that is expanding looks incredible!
Jul 26, 2021
Very clean well organized and probably the prettiest Koa staff in the USA
Jul 26, 2021
New pull through section is awesome! Nicely landscaped. We were able to take our dog into the creek. Great hospitality by owners.
Jul 26, 2021
We only stayed one night, and checked in after office hours. About 45 minutes before the office closed, Alyssa called to provide us with late check-in instructions, which was very much appreciated! Very well kept campground with excellent restroom and shower facilities. Wish we could've stayed longer.
Jul 26, 2021
We had a overnight stay and it was very nice. Will return and stay longer.
Jul 26, 2021
Stayed in a cabin was clean nice facilities, staff was very helpful and friendly
Jul 26, 2021
We were in a deluxe site. A cement patio, table with umbrella, gas grill and fire pit with cover. The wifi signal was too weak for us to get tv, temporary situation! The young people who work there and the family are doing an exemplary job of keeping this park beautiful and answering any questions you may have. They could use a fan in the laundry room and a lot more shade at the pool. Great place!
Jul 26, 2021
After a very stressful couple of days traveling and having to be towed in, we could not have been treated any better. The young ladies who helped us get settled well after hours were amazing. So kind and professional. Would highly recommend this campground!
Jul 26, 2021
The area is beautiful & well maintained! The section we were in was new - lots of room, owners & staff very nice & helpful. Wifi did not reach where we were - however we stayed outside & enjoyed the views. Thank you so much for making us feel welcome!
Jul 25, 2021
This KOA is the state of the ark!! The People's family run a very clean and organized park. The whole family works there, Paul People the owner father would never walk by you either waving or stop and talk. I definitely would come back there. Call a head they fill up every night.
Jul 25, 2021
We love this park and it has always been green and very well kept. It was not in the condition at least from a green standpoint that it has been in the past I understand it changed hands this year and a big expansion to the park is just being completed. It appears that this could have been at the expense of the original part of the park.
Jul 25, 2021
Super nice! We were in the new area by the stream. Exceptionally friendly staff. Clean and well designed. Nice sized sites.
Jul 25, 2021
You have done a fantastic job with this park and we will definitely be back. You and your staff are the best we ever encountered. It is obvious you all love your work. Jake & Pam Baker
Jul 25, 2021
Not a friendly campground every koa we have stayed at across Nebraska Montana Wyoming South Dakota staff was very friendly not here told us at check in our site number and we had to go find it not impressed with this campground our truck we had to pull in so close beside the camper to get it out of the road so other campers could get by
Jul 24, 2021
Beautiful location, great staff, very friendly and helpful
Jul 24, 2021
Owners were very accommodating! They just built a new section with very nice RV pads! They're young daughters help run things and is very refreshing to see his work ethic in this young family!! Very clean facility also!
Jul 23, 2021
I'd give Paul and Anita and the entire Peoples family and staff more stars if I could. Their campground is the best run campground we've ever stayed at. Yes there was dust from construction traffic but now that their new campground addition is complete, it was well worth it. Their wi-fi is amazing! And they pay attention to every detail. We hope to be back soon!
CAMPGROUND RESPONSE / COMMENTS:
Thank you so much for your patience as we worked to finish our expansion...it was tough this year as we kept experiencing delay after delay due to production and labor issues, but the results are amazing!! We can't wait to see you again!!
Jul 23, 2021
The staff at the Buffalo KOA campground is excellent. It is a family run campground and they do everything they can to take care of your needs. We stayed in the new section inside 72 which was excellent. The sites had plenty of distance between each RV and they were concrete pads and a picnic table for your use. Some of these sites have picnic tables with a grill but the cost is a little extra.
Jul 23, 2021
On arrival, the Buffalo KOA Staff were all ready with our reservation which made check in easy. Driving to our spot was not difficult but slightly tight for larger Class A's like ours. Shortly after set up set up we experienced a power outage that required us to start our generator for about an hour. The KOA person stated that this happens during hot days. Watch out for big rocks on departure.
CAMPGROUND RESPONSE / COMMENTS:
Never a good day when it is hot and breakers trip due to high temps. When the park is full and rigs are pulling every bit of electrical to keep cool the electrical breakers can trip but this is rare and we can usually get the panel cooled in short order. Praying for cooler temps and rain!
Jul 23, 2021
The part we stayed in was absolutely beautiful! The staff at this KOA were so kind and accommodating! Would highly recommend this KOA
CAMPGROUND RESPONSE / COMMENTS:
Thank you so much! We absolutely love the look and feel of the new expansion - incredibly private, quite, and lots of space!
Jul 23, 2021
Best Park we have ever stayed in. People were So helpful. Cannot say enough good things about the park and the people running it.
Jul 23, 2021
Great friendly welcome and the sites were well maintained.
Jul 23, 2021
Not happy with the procedure of locking in a specific site. Thought we had a specific site only to find out when we arrived that we had been moved to a different site . Did not lock in the site but were told a reservation time we were in the site we wanted. Not happy with that treatment and how KOA has evolved over the past few years.
CAMPGROUND RESPONSE / COMMENTS:
An RV park requires that site selection be optimized to accommodate all different types of rigs. You reserved a type of site, not a specific site. As you said, we do offer site selection for an additional fee which is the only means for guaranteeing a specific site.
Jul 22, 2021
Really nice KOA! Great pool. Nice playground! We had rude neighbors in a rental RV that splashed our kids in the pool and were up all night being loud…
Jul 22, 2021
Great facility. Friendly staff. Enjoyed our stay
Jul 22, 2021
Wonderful place to stay, the staff was very friendly and, the park is kept up immaculately.
Jul 22, 2021
Very nice, well run KOA. A little dusty, but it's very dry in Wyoming right now. Excellent internet capable of streaming as they claim...about 90 percent. Still a little short on bandwidth when everybody is on it. Still, that's better than almost every campground in the country. When will they all catch up? Buffalo is a cute town with statutes and murals, good museum, and the Occidental saloon.
Jul 21, 2021
Love staying here. Friendly staff, convenient location, and nice level sites.
Jul 21, 2021
This is our second stay at Buffalo KOA and we have enjoyed both. We found out it is a family owned and operated camp and seeing how well the family and their employees work together is great. Everyone was friendly, and very helpful. If we're ever this way again we'll stay here.
Jul 21, 2021
The bathrooms were clean, and the staff was very friendly and helpful. We enjoyed the cabin very much!
Jul 21, 2021
Clean and well organized park with good strong WiFi. Quiet stream on the south side. Perfect location for exploring the lower Bighorn region.
Jul 21, 2021
We enjoyed the park, not alot of trees where we were parked and the grass was scarce. Needs to be watered ALOT more, fertilized and taken care of. The staff were extremely helpful and very nice and polite. Staff tried very hard to help us with a spot with 50 amp. appreciated it very much. Will stay there again.
Jul 20, 2021
Very nice and clean KOA. Showers are individual and very clean. Would definitely stay again
Jul 20, 2021
New ownership and they are doing a fantastic job. Keep it up.
Jul 20, 2021
We had a wonderful stay at the Buffalo KOA. Bathrooms, showers, and kabins were very clean. The attention to detail was appreciated by our family and we will return next year!
Jul 20, 2021
Great facilities! Friendly staff!
Jul 20, 2021
terribly hot. wasnt feeling well due to health problems. unable to stay. they kindly refunded the nights we didnt stay. had a tent by the creek. very pretty campground. the people that run the place are phenomenal. they did everything they could to make our stay comfortable. very dog friendly. love this place. stayed july 16-17
Jul 20, 2021
Loved the staff and the River nearby
Jul 19, 2021
Very nice park but we were assigned Site #1 which was awful due to being a few feet from a busy highway that intersects with a very busy gravel road, traffic noise and dust was terrible, could not even sit outside due to the dust & noise, this was my first experience with KOA and due to the fact that they would reserve this kind of a Site to someone makes me question if I would stay at KOA again