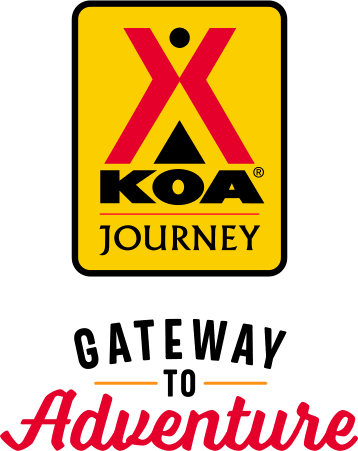 KOA Journey Campgrounds
KOA Journey campgrounds are the perfect oases after a day on the road. Whether it's along the way or a quick getaway, they've got you covered. Located near the highways and byways of North America with long Pull-thru RV Sites, they deliver convenience to the traveling camper. Pull in, ease back and take a load off.
KOA Journeys Feature:
Pull-through RV Sites with 50-amp service
Premium Tent Sites
Well lit after hours check-in service
Directions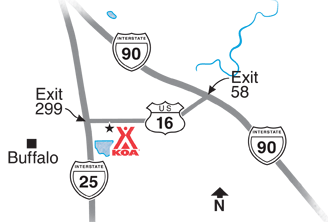 From I-90: Take Exit 58, then west on Hwy 16 for 1.5 miles. Follow KOA signs.
From I-25: Take Exit 299, then east on Hwy 16 for 0.5 mile. Follow KOA signs.
GPS COORDINATES: Latitude: 44.351277  Longitude: -106.678626
Get Google Directions
Apr 01, 2021
Great koa and the staff were friendly. Very clean and always see staff working throughout the day. My hose exploded while we were sightseeing and the staff called me and took care of the problem while I was gone. Would definitely come back again. We were in a fifth wheel
Apr 01, 2021
I appreciated that they answered the phone quickly and were open in March. Liked the fenced-in dog area, tunnels. Beautiful river and landscaping. Clean showers/restroom. Geese and deer--watch your step. Didn't like being charged $16 more 2 days after my first stay without telling me due to the "change to the busy season" even though I was the only short-term camper that night. Was refunded.
Mar 25, 2021
After driving over from Washington, snow every where, we arrived just before dark to the cabin we rented. The heater inside was already on and it was warm. Thank you so much for that.. it had been 25 years since I'd driven in snow and it was heaven to just walk in and relax! Coming back in nice weather!!!
Mar 09, 2021
The site was very clean. Also the restrooms and showers were very clean as well. Doe to the time of year the water was off at the campsites which I didn't think about and forgot to pack water. The host was very nice as well. koa really isn't our thing but it was a nice quick getaway to start the season off. I'd recommend this Koa to anyone that passes through or is an avid koa goer.
Mar 05, 2021
We had a great time here! Lights were lit at our cabin and the heat was in perbour request since we were a late arrival. The kids loved spotting all the animal tracks in the morning!
Feb 13, 2021
Paul and Anita are wonderful! They were very helpful in having the cabin plowed out and all warmed up and ready to go! I have stayed here before and will stay here again!
Jan 31, 2021
Great service from Rowan at the front desk and our camp spot was awesome with a fenced in yard area for our dogs... plus lots of great walking areas!
Dec 28, 2020
Perfect way stay any time of year. Impeccable service. Facilities are pristine.
Dec 05, 2020
Had a wonderful time! Loved the campsite and cabin. Thank you for taking care of my late arrival. Can't wait to return.
Nov 29, 2020
The camphost Paul was very friendly and helpful. The campground was clean, level and quiet.
Nov 24, 2020
Beautiful Location; Clean and Comfortable. Will stay again!
Nov 19, 2020
Very clean and easy to navigate through. Bathrooms especially. The sites were good sized. Staff was exceptional and friendly.
Nov 17, 2020
Great stay - friendly owner. Very nice park.
Nov 17, 2020
Very enjoyable-
Nov 15, 2020
Campsite is clean and well kept. Restroom and shower are five star. Camp host is extremely friendly. Awesome job!
Nov 12, 2020
We stayed here in early November. The campground is very well run. Very clean and nice showers and bathrooms. The site was very quiet and we got a good night rest. Would highly recommend.
Nov 11, 2020
Very nice quiet park easy location to town
Nov 09, 2020
It was winter time, so not a lot of services were open there. BUT, what I wanted to say is that I was able to reserve online still (some of the KOA's were not taking any winter reservations even though they are/were still open) and also the owners called me & left a message with specific directions because we were coming in after dark. Also, the directions (on paper) were all set up! Thanks!
Nov 08, 2020
Camp had been winterized but that was not a problem as water was available for our RV tank. Paul was very helpful. Sites are wide and utilities accessible. Showers were clean with plenty of hot water. We will definitely stay here again
Nov 05, 2020
Really personable people and very helpful. Very nice park !
Nov 03, 2020
Very nice park and amenities. Warm and friendly owners. Enjoyed our stay.
Nov 02, 2020
Great place, well laid out with a superb staff!
Oct 28, 2020
Great location with good amenities. We enjoyed having a hot shower in the clean facilities. The host was very friendly and helpful. We highly recommend this location.
Oct 26, 2020
Great family operation...Very helpful, very clean showers and bathrooms.
Oct 26, 2020
We stopped there on very short notice due to the onset of bad winter weather. The folks there were very friendly and very helpful for checking road conditions so we could make decisions on how to proceed. It was a real blessing to find such a nice place open during this time.
Oct 24, 2020
Things were difficult because of weather, but the staff really took care of everyone and made the stay as good as could be! They even came out in very frigid conditions to make sure we had enough propane to stay warm.
Oct 24, 2020
Great location, plenty of camping sites, short walk to lovely river — highly recommended.
Oct 24, 2020
good campground,just stayed one night because of very windy conditions coming in. would stay again.
Oct 24, 2020
Great campground! The bath house was clean, warm and awesome! Very friendly and helpful staff�ϋ�
Oct 23, 2020
The People's family that has taken over the KOA are absolutely great! We will continue to stay there whenever possible and we wish you the best!
Oct 23, 2020
Beautiful grounds, well spaced sites. The staff is so friendly and goes overboard to be helpful. We have stayed here 4 times, and have never been disappointed. This time, even though the water was shut off due to low temps, they had everything set up for us to add water if we needed.
Oct 22, 2020
Very neat and clean, easy to access.
Oct 22, 2020
On this trip we stayed at some pretty awful campgrounds- some KOA's included that are little better than a Walmart parking lot. This was the best by far. Still some green. Still some trees. Some local flavor. When returning to Buffalo, Wyoming I'll definitely stay here again.
Oct 21, 2020
Lovely showers and wonderful location, close to town.
Oct 21, 2020
It was nice shower had hot water and they had a place to put even after it looked like it was packed
Oct 20, 2020
Showers/Bathroom are very clean! The camp ground was very well organized!
Oct 20, 2020
Cobwebs in light/ceiling fan fixtures. Heater was not sufficient to keep cabin warm.