Bucksport / Fort Knox KOA Holiday Recreation
Our Campground activities are available from Memorial Day thru Labor Day every year. We have special themed weekends with many activities those weekends. Please see our campground events calendar for dates of our themed weekends.
The activities listed below are from Memorial weekend till Labor Day weekend:
Pool 9am till dusk
Corn hole tournaments
Bingo Saturday's at 1
tie dye on certain weekend's
cupcake making on special weekends
Breakfast served on Saturday and Sunday mornings $
Gem mining $
Train ride every Saturday Bocce Ball Tournaments
Bocce ball  is new to us this year and we have already had a few games.  The girls teams are behind but by end of summer we are hoping to win lots of tournaments.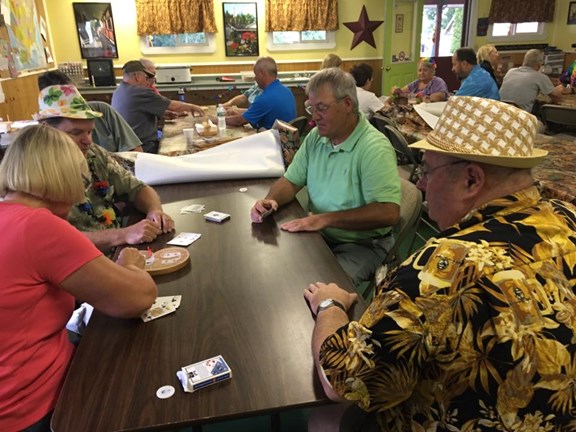 Cribbage Tournaments
Every Saturday and Sunday at 10:00 am sharp everyone gathers in the rec hall.  The three time champion of the annual end of year is David.  Would someone please dethrone him.  I cant get the doors to the rec hall any wider to fit his head in.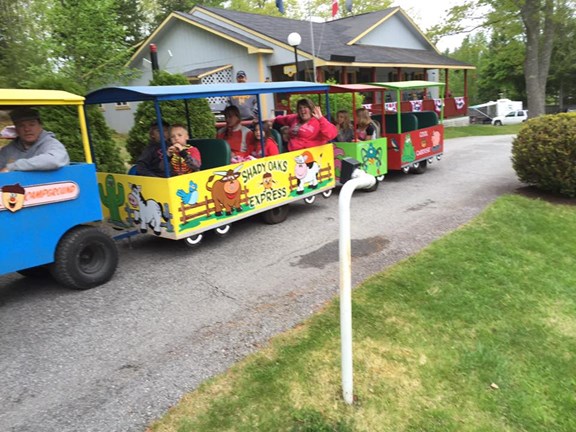 Train Ride
Everyone loves a train ride.  Old and young alike.  Our Shady Oaks Express stops once a week at our Train stop right next to our office.  Loads up the passengers and takesthem on a trin ride thru the campground.  Make sure to check this out while staying with us. Bingo
Every Saturday we play bingo in rec hall at 1pm Horse Shoe tournaments
Most weekends join us in the family activity area for some fun horse tournaments. you can also use the charcoal grill and cook your lunch while watching the games. Nightly Games and Activities
Make sure to check out the campground board for nightly activities. Movie night, Bingo night, craft night, jockers and pegs or pictionary. Every Monday thru Thursday is an activity for you to enjoy. Starting at 7pm. Jump Pad
What a great way to burn off some extra energy. Jump with your friends and enjoy the great outdoors. Corn Hole Tournaments
Corn Hole Tournamants Fort Knox Mining Company
Come to our Mining sluice to mine for that precious gem