Local Area Attractions Near Bucksport / Fort Knox KOA Holiday
We are in the middle of everywhere and not far from anywhere. Are you interested in checking out Fort Knox or the observatory? We are minutes away. Bangor Raceway and Casino and Cole Transportation Museum are a short drive. Make sure to visit Acadia National Park while staying with us. We are the closest KOA to Acadia without being on the Island. National Park is just a short drive away with lots of things to do but a very busy area. Nice to come back to our campground after a busy day to relax. Camden/Rockland are also a short drive and worth checking out. Mount Batie State Park is a great place to see on your visit and has beautiful views of Camden and Rockland. Close to Deer Isle Stonington, Castine, Belfast and Blue Hill. Lighthouses, Parks and many activities await you at the Bucksport/Fort Knox KOA Fort Knox and Observatory
http://fortknox.maineguide.com/
Operation Hours
May-October - Historic Site Parking Lot Entrance and Grounds are open
9:00am to Sunset
Fort Interior closes to the public one hour after Observatory closes - May-June, Sept-Oct 6 P.M.
July-August - Fort Interior Closes to the public at 7 P.M.

Penobscot Narrows Observatory
May-June, Sept-Oct.
9:00am - 5:00pm
July-August
9:00am - 6:00pm
Are pets welcome at Fort Knox and/or the Penobscot Narrows Observatory?
Pets (on a leash 4 feet or shorter) are welcome throughout the Fort, the Fort grounds, and the Visitor's Center. Pets are not allowed in the Penobscot Narrows Observatory and may not be left in a car unattended.
740 Fort Knox Road
Prospect, ME 04416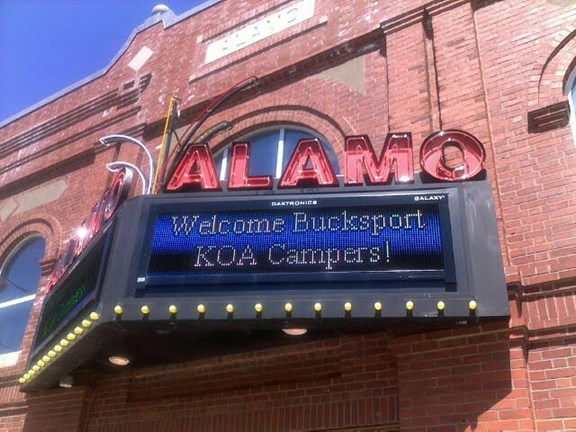 Alamo Thearter
Looking for something fun to do?
The 1916 Alamo Theatre is owned and operated by Northeast Historic Film, a nonprofit regional motion picture archive. We offer quality movies that you would have to travel quite a distance to see otherwise. We offer digital projection, Dolby 7.1 Surround Sound and a Bose Wave Cannon for great picture and incredible sound. There are assistive listening devices available at all of our shows and Open Captions are offered at most of our Sunday matinees.
There are also many live performances on Wednesdays all summer long, the Outdoor Movie in July, as well as special events, like the only maritime themed film festival in the country. The International Maritime Film Festival takes place in early October.
Our prices are $8 for general admission, $7 for seniors and students and a crazy $5 for Members of Northeast Historic Film. Our concession prices are ridiculously low. You can't beat the real buttered popcorn and the choices for drinks aren't just cups of ice. You get an entire bottle's worth! We also offer coffee, tea and cocoa as well as a fun selection of beer and wine.
469-0924 - oldfilm.org or find us on Facebook.
85 Main St
Bucksport, ME 04416 Carriers Mainly Lobster
Great place to relax and have a good ole Maine Lobstah dinner. Ice Cream or any of your favorite take out treats. Take out or dine in its all here for you at Carriers Mainly Lobster
10ME 46
Bucksport, ME 04472 Nervous Nellies
I always feel stymied when I try to describe Nervous Nellie's: a cottage industry that is actually in a cottage? A quirky living museum of island life and culture? A folk art sculpture garden that feels magical, hilarious and poignant all at once? A colorful shop of handmade goods and a tea room with homemade goodies? A sandbox with great toys? A dog that smiles? It is a treat for us to see people explore the grounds, discover the unexpected, poke into the kitchen when the kettle is boiling to have a sniff and chat up our cook, Patty. I love to eavesdrop on the ecstatic moans as people taste the jam samples for the first time, watch a child come upon a sculpture that brings delight, or see someone simply relaxing in the autumn sun on the deck, hands cupped around steaming mug of coffee watching everyone else explore, discover, and be delighted
598 Sunshine rd
Deer Isle, ME 04627 Acadia National Park
People have been drawn to the rugged coast of Maine throughout history. Awed by its beauty and diversity, early 20th-century visionaries donated the land that became Acadia National Park. The park is home to many plants and animals, and the tallest mountain on the U.S. Atlantic coast. Today visitors come to Acadia to hike granite peaks, bike historic carriage roads, or relax and enjoy the scenery.
20 Mcfalrland Hill Dr
Bar Harbor, ME 04609