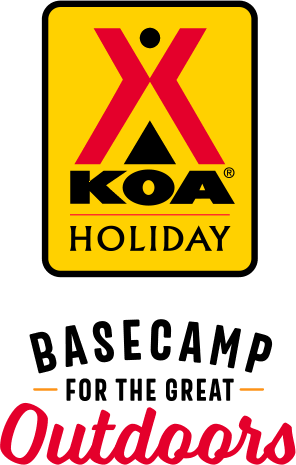 KOA Holiday Campgrounds
Whether you're exploring the local area or hanging out at the campground, KOA Holidays are an ideal place to relax and play. There's plenty to do, with amenities and services to make your stay memorable. Plus, you'll enjoy the outdoor experience with upgraded RV Sites with KOA Patio® and Deluxe Cabins with full baths for camping in comfort. Bring your family, bring your friends, or bring the whole group – there's plenty of ways to stay and explore.
KOA Holidays Feature:
RV Sites with a KOA Patio®
Deluxe Cabins with full baths
Premium Tent Sites
Group meeting facilities
Directions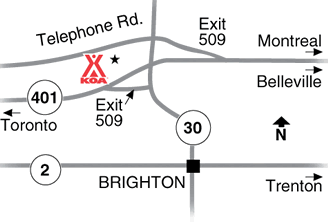 From Hwy 401 Westbound: Exit 509, straight across onto Telephone Rd.
From Hwy 401 Eastbound: Exit 509, turn left, over bridge, immediate left on Telephone Rd.
From Hwy 2: North on Hwy 30, over 401, immediate left on Telephone Rd.
GPS: N44.068834, W77.786722
Get Google Directions
Oct 29, 2020
This was our second time staying at a KOA, first time staying at this one. It was a great little oasis from being on the road! The dog walk is beautiful and manicured! Specially this time of year!! The owners were a pleasure to deal with and easy to communicate! We ended up staying an extra day!!
Oct 28, 2020
This KOA Brighton is our 'GoTo' location. Our first and last camps are at this location. Owners Jacki and Jason and staff are wonderful and kind hosts. The improvements and upgrades to this KOA are nothing short of amazing. Well Done!
Oct 27, 2020
We absolutely love Brighton KOA!! The staff are super friendly and accommodating, the playground is awesome and there are lots of activities for the kids. We've been to quite a few KOAs and this one is by far our favourite!
Oct 27, 2020
Staff were extremely friendly, very clean campground, accommodating. Only thing i could recommend is the lighting in the bathroom is on a sensor, but tends to turn off quite quickly. Only really a problem at night when you cant see anything.
Oct 27, 2020
We always enjoy our stays. Staff are always wonderful to deal with. There always tons of things for our children to do there. The new playground and showers are amazing. I had to pry the kids away from the playground to eat meals. The wagon rides we all enjoy. We cant wait til its 4pm. There are always a line up. Keep up the great work...See you in the spring!!
Oct 27, 2020
I really enjoy Brighton KOA bc the campground has tons of activities, an awesome playground, room to run around and lots of places to visit within 20 minutes of the campground. Staff are always very friendly and helpful.
Oct 25, 2020
Perfect nothing To say thanks !
Oct 21, 2020
It was awesome! The activities were a lot of fun and the Turkey Dinner was marvelous. Will definitely be returning to Brighton KOA for the Halloween/Thanksgiving and other weekends next year.
Oct 21, 2020
Always a pleasure to stay with Brighton KOA! We usually stay during the summer but this time we stayed during their Halloween Celebrations. Just wish we would have read the notices about the kids coming 'round in their Halloween costumes. We felt pretty foolish not having any candy to hand out so we hid in the RV!! LOL The kids were soo cute too and even the parents were dressed up!! Loved It!
Oct 20, 2020
Beautiful park but the price was ridiculous. It was $80 a night which was alot to begin with but when we arrived we were charged an extra $20 to park a car on the site and another $20 to have a site beside friends we were going with even though we requested to be beside them when we booked. It was over $210 for 2 nights which we cannot afford to do again.
Oct 20, 2020
It was a beautiful fall weekend. My partner and I wanted one last weekend away in the RV and not too many places were still open after the Thanksgiving weekend. I found the Brighton KOA on the KOA app and I booked the weekend. We are both happy that I did. The location is perfect for touring the area. We visited Brighton and Campbellford and took in the beautiful colours along the way.
Oct 20, 2020
Very expensive KOA. No cable. Very uneven gravel sites. Real extensive playground for children. Super noisy due to the highway 401 right there. Also strange set up for check in. Office is right at the back of the park.
Oct 19, 2020
Nice quiet get away! Great park!
Oct 19, 2020
We loved our stay. My kids loved the play areas and games and things to do. Staff were great, washroom facilities immaculate. Only thing I didn't like was other campers cutting through my site (which has nothing to do with the staff, owners or grounds) will be back for sure!!
Oct 16, 2020
I always love staying at the Brighton KOA and am looking forward to more visits next season.
Oct 16, 2020
We had a wonderful time at Brighton KOA. Our grandsons had a great time carving pumpkins and going Trick or Treating. The spooky wagon ride was a big hit for all. The Thanksgiving Dinner that was delivered to our RV was EXCELLENT. Thanks for a great weekend.
Oct 16, 2020
Thanksgiving weekend, Fried Turkey, an amazing alternative to the family dinner weekend with the social distancing rules in affect.Clean grounds as usual, friendly staff. Activities for the kids! We booked a couple weeks for next year already! Thank you!!
Oct 16, 2020
Nice campground, everybody works hard to make sure your stay is enjoyable We'll be back!
Oct 15, 2020
This experience was not as enjoyable as past ones. The washrooms were often dirty on 2 occasions there was no toilet paper in one of the stalls. Although there are strict rules about covid none of the staff were wearing masks in the store. The turkey dinner was nice and the activities were great for the kids but it was disappointing to see covid measures not being taken seriously.
Oct 15, 2020
The park was very well maintained. The bathrooms needed to be cleaned more often especially with a full park and Covid right now. The cabin was not clean when we got it. The fridge in cabin did not get cold so a lot of food had to be thrown out. There is a large skunk living underneath the patio of the cabin with a visibly large hole that someone can twist their foot on while entering the cabin.
Oct 15, 2020
Friendly staff, very nice sites, clean washrooms.
Oct 14, 2020
Loved the effort thr camp and staff did on the pumpkin carving and field of our carvings on display at night. The outstanding job done with the haunted walk at night and the outstanding Turkey dinner with all the trimmings on Sunday. WELL DONE !!!!
Oct 14, 2020
Aside from the weather, which we understand that they have no control over, it was a fantastic weekend. The staff and facilities more than made up for the cool weather. As usual the campground was spotless and the washrooms immaculate. The staff were always smiling, polite and informative. This is definitely the best campground we have stayed in in over 20 years od RVing.
Oct 14, 2020
Amazing campground with friendly staff and lots to do. The thanksgiving dinner was so delicious. We loved our break here
Oct 14, 2020
Staff was awesome!! Friendly park all around and great for the kids! We'll be coming back in 2021 for sure!
Oct 14, 2020
We had a great time. Saturday was so much fun for our granddaughter. Thanks for keeping the grounds neat and tidy. See you next year.
Oct 14, 2020
Had a great time. Can't wait to come back.
Oct 14, 2020
Good clean campground. Suggest that the Thanksgiving dinner which is offered and increased rate due to it can opt out and not be charged additional fee.
Oct 14, 2020
Wow. Another amazing stay at the Brighton KOA. They put on a wonderful thanksgiving weekend. Can't wait to come back again. Great Job to all the staff. You make everyone feel welcome.
Oct 14, 2020
We have stayed at BrightonKOA many times over the last 5 years, including 2 years as seasonal. We always have an enjoyable time, and the kids love the freedom to explore and do things on their own in a safe, kid friendly environment. Will definitely be returning.
Oct 14, 2020
We had an amazing Thanksgiving weekend! Trick or treating, haunted walk and then the amazing Turkey dinner really helped make this Thanksgiving special.
Oct 12, 2020
Just an overnight stop. Bathrooms were very clean,playground well equipped and the grounds were very clean.
Oct 11, 2020
We had a lovely fall camping stay. There was nothing going on so it was quiet but we enjoyed that. The park is well maintained. We are thinking about bringing our grandchildren next year to one of the children themed weekends.
Oct 11, 2020
Highway noise was a problem.
Mar 31, 2021
Just dropping off a trailer but looks like a really nice park. Lots for the kids
- Jason Coward on Google
Sep 20, 2020
Nice cabins and clean restrooms. I love this park.
- Mr. Morris on Google
Sep 19, 2020
Beautiful spot safe and kid friendly
- kyle crawford on Google