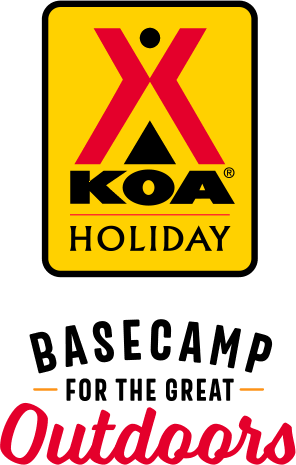 KOA Holiday Campgrounds
Whether you're exploring the local area or hanging out at the campground, KOA Holidays are an ideal place to relax and play. There's plenty to do, with amenities and services to make your stay memorable. Plus, you'll enjoy the outdoor experience with upgraded RV Sites with KOA Patio® and Deluxe Cabins with full baths for camping in comfort. Bring your family, bring your friends, or bring the whole group – there's plenty of ways to stay and explore.
KOA Holidays Feature:
RV Sites with a KOA Patio®
Deluxe Cabins with full baths
Premium Tent Sites
Group meeting facilities
Directions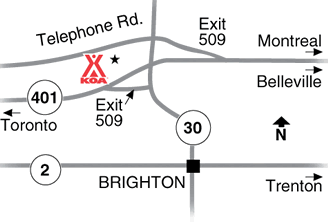 From Hwy 401 Westbound: Exit 509, straight across onto Telephone Rd.
From Hwy 401 Eastbound: Exit 509, turn left, over bridge, immediate left on Telephone Rd.
From Hwy 2: North on Hwy 30, over 401, immediate left on Telephone Rd.
GPS: N44.068834, W77.786722
Get Google Directions
Oct 22, 2021
I couldn't find any staff at the site. Office and store was closed and no one answered the phone (I phoned more than ten times)when I wanted to purchase some fire woods. Mice built a nest inside the gas grill and there was no gas left and grill itself was out of order. And while all this was happening I can't get help? Nonsense.
Oct 22, 2021
Stayed for two weeks everything was great and continues to be friendly and clean. Thanks
Oct 22, 2021
Such a wonderful property, extremely clean. I really enjoyed my stay, and will definitely be back. For a new camper, this can be intimidating, And it felt like home. Thank You!
Oct 21, 2021
Great stay. Lots to do in the area.
Oct 21, 2021
Too expensive, especially for seniors. Your company takes advantage of people by "upping" the rates at the weekends. Provincial parks are half the price, and twice as nice. Small bag of firewood that only lasts a couple of hours $12.00. Only reason I came was to see my son, who I haven't seen in 2 and a half years, otherwise I would not have been there.
Oct 20, 2021
Great playground. Friendly owners Clean and well groomed. Dog park on location (we didn't have to use it) Great store with lots of options. Expensive wood though
Oct 20, 2021
great weekend
Oct 20, 2021
Being the end of season not much happening which is understandable. The only issue I had was the girls running the wagon ride on the Saturday were not very friendly. No hello or smiles even, not helping with guiding kids on and off. Regardless I would be going back as my kids have a great time there.
Oct 20, 2021
Great stay!Cabin K6 was just what we had hoped for.Secluded and Separate from the rest of the cabins.However,the appliances were dated and there were lots of bugs(to be expected I guess).Staff were great.There were no serving spoons in our cabin,just teaspoons.The gentleman in the office brought some right away but they were teaspoons too,no regular.loved our stay and will definitely be going back
Oct 20, 2021
It was lovely
Oct 20, 2021
Best campsites, friendly staff amazing activities. Great location!!! Only 1 ask - please keep reids dairy ice-cream all year round
Oct 20, 2021
Great childcentred family campground. U fortunately the bathrooms were muddy and remained so for the 3 days duration of our visit. Also, the onsite store sold out of basics (bread, milk, eggs) by 9am which created some disappointment as we didn't want to unhitch and shop on our long haul journey. Not problems for everyone, so not s major complaint and over all it's a great site
Oct 20, 2021
For a small park it's well managed and the childrens parks are fantastic!! Nice dog park also Lot was quite small for our motor home.
Oct 18, 2021
Single handedly the best KOA in Southern Ontario! Can't wait till next year! Thanks Scott Clsrke
Oct 18, 2021
Great Thanksgiving weekend, couldn't have been better. Already booked for next year.
Oct 17, 2021
Nobody was there to greet us on arrival. Our water spigot was leaking, making the ground a mucky mess
Oct 17, 2021
Loved it so much I extended my stay twice. Very nice family run. Extremely clean.
Oct 16, 2021
The cabin we stayed in was very clean. But way too small for our needs. They need a bigger fridge and a stove would be nice. If you are staying a week I would not recommend the cabins. The two bigger cabins would be ok but way too expensive. And still only one of them has a stove which happens to be only a stove top.
Oct 15, 2021
My stay was fine and the activities were good for the kids. Kept them occupied. Could of used more carving tools for the kid's so that they were not waiting to carve out their pumpkin. I was disappointed with the water pressure of the taps in the women's upper washroom. A teeny tiny stream of water was flowing. Told someone at the front but nothing was done. Thanksgiving dinner was not ba
Oct 15, 2021
So far so good camp staff very friendly, campsites very roomy and well kept. Thanksgiving dinner was great
Oct 14, 2021
Friendly staff, lots of fun things for the kids! Grounds are well-maintained. LOVED the trick-or-treat event, fun Halloween decorations at many people's sites and a delicious Thanksgiving dinner!
Oct 14, 2021
We enjoyed our stay lots of actives, the only problem I have is the price
Oct 14, 2021
A beautiful Thanksgiving weekend at Brighton KOA (as always!)
Oct 14, 2021
Despite the rough start weather wise , Thanksgiving was amazing ! Although we are older and didn't have any grandkids with us , it was great to see how many people were fully engaged in decorating their sites for Halloween and the kids put so much effort into their costumes ! We had no idea there would be so many kids but luckily we didn't run out of treats . The catered meal was delicious too !
Oct 14, 2021
Great weekend with great family activities. Thanksgiving dinner was an added bonus and very thoughtful. turned out better then expected.
Oct 14, 2021
Always a great time
Oct 14, 2021
Great time, kids had fun Trick or Treating and the Thanksgiving dinner was great! Only issue is I have not received a receipt for my stay either in person or in an email.
Oct 14, 2021
We stayed over the Thanksgiving long weekend. Grounds are well kept and clean. The turkey dinner delivered to our site was delicious and a great idea. This is a great family campground. Lots for kids to do!
Oct 14, 2021
We enjoyed the campground and activities, but disappointed that staff members did not follow COVID protocols, e.g., wearing masks while inside the store, and did not ask campers to follow protocols, e.g., social distancing in line ups. I understood later that the owner / staff are intentionally defying provincial mandates - would have liked to know this before we booked.
Oct 14, 2021
Very noisy right on top of highway. Very pricy for off season . Most expensive KOA ever stayed at!
Oct 11, 2021
We always have a fantastic time there. The owners are such great hosts! We will be going again next year for sure
Oct 09, 2021
I love Brighton KOA, the vibe is so incredible! I recommend this place to everyone!!!
Oct 08, 2021
Great people great park.
Oct 08, 2021
The Park roads are very durty when it rain Little bit of crush rocks would help
Oct 08, 2021
First time we have booked the patio site, we loved it and well worth the extra money.
Oct 08, 2021
Wood was very wet so couldn't get a decent fire.
Oct 06, 2021
We always love staying at the KOA in Brighton. Our kids have the best time playing in the park and participating in all of the fun activities.
Oct 06, 2021
Came with our kids and grand kiddies for the halloween weekend. Fun was had by all! Thank you
Oct 03, 2021
The best owners by far. Amazing park for the kids the owners and staff go all out
- Michael Cutler on Google
Oct 03, 2021
Our family loves camping here, great staff and the owners are the best, as this season comes to a end, we can't wait till next season to come back, Thank you Jackie, Jason and staff For yet again amazing summer of fun. See you next year
- Lifted_l5p_dave on Google
Sep 21, 2021
Very clean. Staff very helpful. Would go back again.
- Sylvia Hope on Google