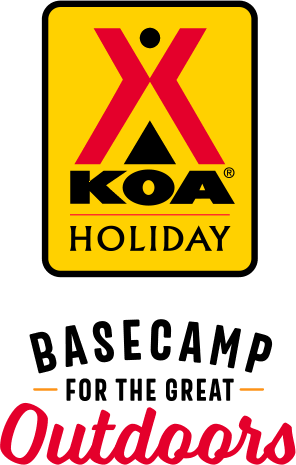 KOA Holiday Campgrounds
Whether you're exploring the local area or hanging out at the campground, KOA Holidays are an ideal place to relax and play. There's plenty to do, with amenities and services to make your stay memorable. Plus, you'll enjoy the outdoor experience with upgraded RV Sites with KOA Patio® and Deluxe Cabins with full baths for camping in comfort. Bring your family, bring your friends, or bring the whole group – there's plenty of ways to stay and explore.
KOA Holidays Feature:
RV Sites with a KOA Patio®
Deluxe Cabins with full baths
Premium Tent Sites
Group meeting facilities
Directions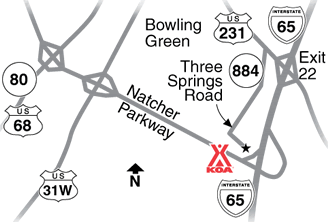 From I-65 Exit 22: North on US 231, left onto KY 884 at the first traffic light. This traffic light is marked by a #12 sign hanging between the lights. Drive 1.8 miles and the campground will be on the left.
Get Google Directions
Jan 19, 2021
Was not my favorite KOA. Overall, it was "fine". The site itself was poorly laid out and disappointing after paying extra for the patio site. Fire-pit was full of someone else's trash, table with 3 (? why 3) chairs was very nearly falling over and unusable. Once parked on the site, using 40' of sewer hose, running uphill all the way the entry stairs came down in the mud as opposed to on the patio.
Jan 17, 2021
Concrete slab was badly broken and uneven. This creates a trip hazard. Sewer hookup was uphill from camper and holding tanks will not drain properly. I had to used dump station even though I had paid for a deluxe full hookup. Very disappointed with what I received vs what I paid for.
Jan 07, 2021
Bathrooms and showers were reasonably clean and functional but could use remodeling. What appeared to be a motorized employee service vehicle came around more than once around 6:30 am. Assuming they were servicing the facility, although this is appreciated it was a bit early for us to be awakened by the loud motor.
Jan 05, 2021
I stay here traveling south to Florida & back north to Illinois. I occasionally stay more than one night. It is one of the most expensive KOA's that I have encountered. They now have no cable & Continue The High rates??? A light in the Dog Park would be nice. Check-in folks always friendly & helpful!!! Wifi much improved this time thru!!!
Jan 04, 2021
It was a great stay. Office staff was very professional and friendly.
Jan 03, 2021
Stayed one night but it went well. Only wish was that the bathroom/shower facility towards the back of the KOA near my spot was open instead of having to walk in the rain all the way back to the front of the KOA to use the facilities.
Jan 03, 2021
The staff was very helpful and nice.
Dec 31, 2020
It would of been a 5* review if there was cable, only 3 channels off the antenna was not good �
Dec 30, 2020
I called to make reservation. Just wanted electric. Also near bathroom. Man was gruff. Said all sites have water too. Arrived after hours to a uphill site. Restrooms were close by, but went to use them and found all padlocked. The water at our site was locked up too. We should have been charged the lower rate since the amenities were inaccessible. Hope to never need this place again.
Dec 29, 2020
Pretty campground
Dec 29, 2020
Clean bathroom & laundry facilities
Dec 24, 2020
Very nice and everyone was very pleasant. Enjoy!
Dec 24, 2020
We very much enjoyed our 1 night stay on our way home. We plan on going back some time to see the local attractions. Staff was friendly and helpful. Only issue i had was we arrived in middle of day amd the office was closed. It was confusing at 1st to figure out where our paperwork was to find our site considering i prepaid on the koa app.
Dec 22, 2020
There for 2 nights in December. Didn't interact much with anyone at the KOA, but the site was nice. Second time staying here and definitely will again.
Dec 21, 2020
We arrived at 3pm after a long day of traveling. The was quaint. No one was around or answered the number provided. We finally found out lot assignment which was out in the open right near I-65. Our motor home almost shook as the semis passed ALL NIGHT LONG! Only could receive channels via our antenna and that was not successful! We will never stay again. Overpriced by a lot!
Dec 21, 2020
Stayed one night on our way from Florida to Michigan. We had to arrive late and we were happy they left our packet out so we could park without any problems. Nice and easy pull through site.
Dec 17, 2020
Large previous pecan orchard, spacious site spacing, very friendly helpful staff, unacceptable lack of cable TV below the KOA standard, great password protected Internet, large clean dog park but not regularly cleaned and I had to repair one of the disfunctional gates. Good hiking and RV support nearby
Dec 11, 2020
Nice enough stay..looked very nice for families with children. Facilities clean and adequate. Staff very helpful. Road noise with trucks engine braking a deterrent.
Dec 09, 2020
Just an overnight stay. Clean bathrooms
Dec 08, 2020
Nice park but way overpriced
Dec 07, 2020
No cable, trees need to be trained on sites and roadway, overpriced by 50% for the season.
Dec 01, 2020
Loved it!!! Staff was very friendly
Nov 27, 2020
Due to Covid, never met staff, thankful there were some people sitting out front of office to tell us where to go to get our lot assignment. Liked the size of the dog area, so we could throw a ball for our dog, so many have a small, muddy area. Wasnt there longer ought to try pet spa, but walked grounds and would definitely go back if in area! Appreciate cement pads
Nov 25, 2020
We didn't stay long but the park was quaint and woodsy. We would definitely return to this campground if we were in the area again.
Nov 23, 2020
Friendly, helpful check in. Sites were a bit too close together for us.
Nov 22, 2020
I enjoyed my stay at Bowling Green KOA. The office staff was great!!
Nov 21, 2020
Clean out cobwebs in bathrooms....up high and in corners. Nice park, pretty area.
Nov 19, 2020
Next to highway. Road noise. Camp grounds were ok. Just to much noise.
Nov 15, 2020
No cable. We reserved "... One of our best sites close to the pool..." which would have put us close to the showers. We didn't get that - we got a site much closer to the closed (for the season) shower point near the back of the park. There were 80-100 open sites but yet the next newcomers were put in the site right next to us - so much for social distancing.........
Nov 10, 2020
3rd time there. Love the campground and town.
Nov 10, 2020
Always have a great time here!!
Nov 09, 2020
Overall good KOA. No Cable Tv, and fire rings are tiny. With a little investment this could easily be 5 stars.
Nov 09, 2020
Very well marked and easy to navigate. People at the front desk were VERY friendly and check in was a breeze. I would have liked for them to offer cable TV (because our antenna is broken) but everything else was top notch. We will definitely stay here again.
Nov 08, 2020
Nice spot - large enough for our 40ft Motorhome and Jeep. The owner and her staff were very friendly helpful.
Nov 07, 2020
Just need cable But great place clean quiet staff very friendly
Nov 07, 2020
Beautiful and great place to stay. Just a thought- at night hard to see sign. We usually are looking for the lighted yellow KOA sign
Nov 06, 2020
Fire ring was too small for a good fire, but facilities were adequate & staff was very friendly
Nov 04, 2020
Been coming here for 20 years now and always happy with staff and sites.
Nov 03, 2020
One week stay. They did shut water off for a few hours without telling us, but again there was a leak down the line and did need immediate attention. We dealt with the inconvenience.
Dec 27, 2020
Nice place. Will come again.
- Karen Hammon on Google
Oct 30, 2020
It sure how this KOA only get 3.5 stars, we gave it 5. The sites are big, there is a wonderful dog park, and there are fishing lakes for the kids. The park is close to the highway, but you don't really hear anything. The dog park is huge with room to run and obstacles to work in, our dogs loved it. Most of the sites are under large, old growth trees making the campground very relaxing. We used the bathrooms, they were super clean and kept up. Honestly could not find anything to complain about. Very nice park, will return again when passing through.
- jeffgV1416DC on Trip Advisor
Nov 01, 2020
Really nice!
- Eric Miller on Google