Local Area Attractions Near Boone KOA An Appalachian Summer Festival
Enjoy world-class art on a mountain stage. July comes alive on the campus of Appalachian State University with a summer arts festival featuring concerts, fireworks, art workshops, educational lectures and seminars. Check out www.appsummer.org for a list of performing artists. Campground atmosphere and location
Boone KOA opened in 1973. We have a beautiful peaceful campground at almost 4000 ft elevation. Come stay with us and enjoy cool summer breezes (our avg. temp is 73). This makes for great evenings to enjoy your campfire with your family - roast a few hotdogs or marshmallows - make smores - or just enjoy watching the flickering flames of your fire. You might even hear someone strumming a guitar or maybe that will be you. There are some wonderful views for you to enjoy if you are out strolling around the campground. 
There is so much to see and do in the area. You can enjoy a challenging hike or a laid back car ride down by the river (also a great place to ride your bicycle). Check out all our website listings  for tons of ideas on things to do in the Boone area. We would love to visit with you this summer. We appreciate our guests and always enjoy seeing our camping family return... Linn Cove Viaduct
The Linn Cove Viaduct winds 1,243 feet around the side of rugged Grandfather Mountain in North Carolina, providing spectacular views of the valleys below. The viaduct has become one of the Parkway's most popular attractions.
Rafting, Canoeing, and Fishing
Only 9 miles from the campground is the New River. This is a laid back river that is fun for kids of all ages whether you want to hang out at one of the public parks on the river, do a little fishing, wading, or rafting/tubing/canoeing. There is no shortage of outfitters waiting to make your river experience delightful. If you want to do some whitewater rafting while in the area, check out www.raftcavehike.com and www.wahoosadventures.com Mystery Hill
Mystery Hill's admission ticket includes unlimited all day access to the following Mystery Hill attractions: The Mystery House, The Shadow Wall, The Spooky Spigot, The Dancing Duo, Optical Illusions, Mystery Rocks, Elusive Sights and BubbleRama. Be sure to check out the arrowhead collection at the Heritage Museum. Open year-round seven days a week (rain or shine). Hours vary June to August and September to May. Rock Dimensions Climbing Tower
Anyone who has been to ole downtown Boone has probably noticed the climbing tower at Footsloggers. Standing at about 40 feet and centrally located, the top of the tower offers a view of beautiful downtown Boone and the surrounding Appalachian Mountains. The tower has over 4000 square feet of varying climbing terrain and offers opportunities for beginners or seasoned veterans. Color coded routes on the slabs, vertical faces, and steep overhangs give climbers a new way to challenge themselves. Footslogger's Store is also a great shopping stop for all the gear you need for your outdoor adventure.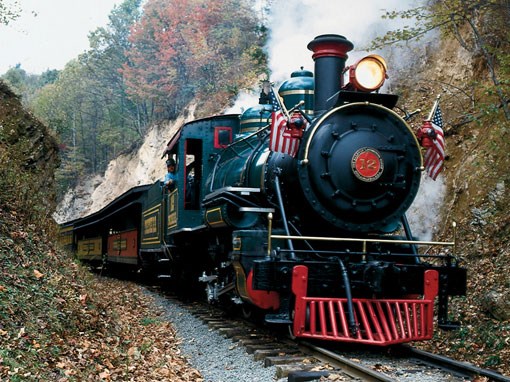 Tweetsie Railroad
Tweetsie's one-price admission includes a full day of fun at Tweetsie Railroad , including the adventure-filled Wild West train trip, live entertainment, Country Fair rides, a visit to the petting zoo and much more. Summer: open daily from 9 a.m. to 6 p.m. Fall: open weekends, Friday to Sunday, after Labor Day through Halloween from 9 a.m. to 6 p.m. Each October Tweetsie becomes the ghost train on Friday and Saturday nights. This event is considered one of the top ten Halloween Festivals in the South. Enjoy a scary ride through the night with ghost and goblins. "All aboard!"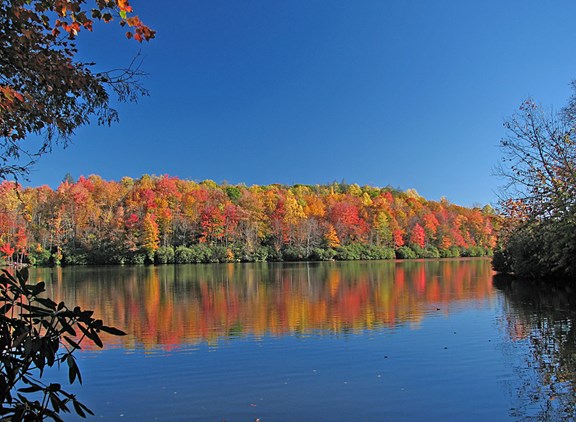 Blue Ridge Parkway
The Blue Ridge Parkway is ranked as "America's most scenic drive" by leading travel writers. This is more than a scenic highway, the Blue Ridge Parkway is a spectacular route to fascinating worlds of vacation fun and excitement. "This All-American Road offers 350 miles of hiking trails. These footpaths will take you through diverse settings, from crystal clear mountain streams to spectacular waterfalls, through lush forests and across broad meadows." This great experience is only nine miles from the campground. Linville Caverns
Be sure to visit North Carolina's only Show Cavern. The cavern has a constant year-round temperature of 52 degrees. It has magnificent features such as columns, draperies, canopies, straws, and an array of icicle-like forms. This is a great rainy day idea. For more information, visit Linville Caverns online.
Elk Knob State Park
As the bird flies it is not far, as the road winds a little further. This is a fairly new state park you can see when looking across our swimming pool. It is about 9 miles by road from the campground. The hiking trail just finished last summer is 1.9 miles one way with an elevation gain of 1000 feet. Since it is off the beaten track you avoid many of the crowds of other parks and the traffic on your way there. http://ncparks.gov/Visit/parks/elkn/main.php Daniel Boone Native Gardens
The Gardens feature a collection of North Carolina native plants in an informal landscape design, for education and preservation. Open daily May through October from 9 a.m. to 6 p.m. and until 8 p.m. when the Horn in the West is in production.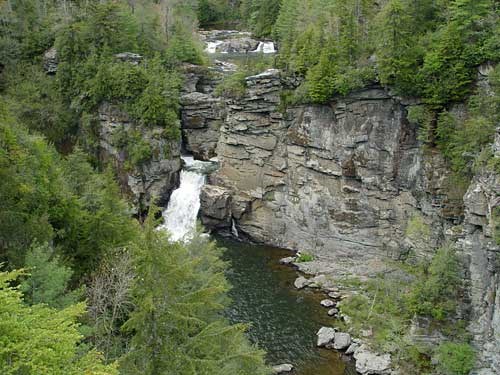 Linville Falls
Linville Falls is located on the Blue Ridge Parkway. There are trails that lead to the upper and lower falls. For more information, visit Linville Falls online. Hawksnest Zipline
The Zip Line course at Hawksnest is the longest on the east coast with over 1.5 miles of cable riding. Ride 10 different cables taking you through the trees, over creeks and even over snow tubers during the winter months. The Zip Line course is set in the middle of some of the best views in the High Country. Zip Line riding is an exciting and safe experience for the entire family. Children must be 5 years old to ride. The harness will accommodate a 40 inch waist with a maximum weight of 250 lbs. Please remember to wear shoes which strap to your feet and are good for walking in the woods. Please call ahead for reservations as some sessions will sell out. For more information, videos, and photos please check out their website: http://hawksnesttubing.com
New River
This is the oldest river in the America's and the second oldest river in the world. New River is the crown of the Blue Ridge Mountains. Unique because it flows north, following the mountains from Blowing Rock, NC, through West Virginia to the Ohio River. It is safely enjoyed by people of all ages. In May and early June the river banks are ablaze with blooming wild flowers and the fall leaf change is an explosion of color. Grandfather Mountain
Grandfather Mountain is one of the most environmentally significant mountains in the world. It is set apart by the U.N. as an International Biosphere Reserve, a place where man and nature thrive in harmony. There are about 553 biosphere reserves in the world.. There are 47 rare and endangered species here. Enjoy the Mile High Swinging Bridge, the Wildlife Habitats, miles of hiking trails, views that will make your heart race, picnicking and the Nature Museum. Open daily all year except Thanksgiving and Christmas from 8 a.m. to 5 p.m. (winter), 8 a.m. to 6 p.m. (spring/fall) and 8 a.m. to 7 p.m. (summer). Average visit is approximately 2 to 3 hours. Hickory Ridge Homestead - a living history museum
Located on the grounds of Horn In The West outdoor drama - you are invited to walk through some of Daniel Boone's hunting grounds while period interpreters bring history to life.
Visit original log cabins relocated to this spot from various areas of the High Country. Tatum Cabin (ca 1775), Trading Post (ca 1857), Blacksmith Shop (ca 18??), Coffey Cabin (ca 1875), WPA Cabin (ca 1935) and the Museum Gift Shop (ca 18??) - each reveals a story of courage and hope through difficult yet promising times. Three more out-buildings, a springhouse, herder's cabin and hog pen, are reproductions which further illustrate the period lifestyle. Horn in the West
This is Kermit Hunter's famous Drama of the American Revolution. Each summer Horn in the West explodes into action on three spectacular stages to relive the incredible saga of the struggles of the rugged mountain settlers of the late eighteenth century and their role in the winning of this great country from British oppression. The drama is held nightly, except for Monday, at 8:30 p.m. (late June through Mid-August). For more information, visit Horn in the West online. Ask us about discounted tickets!!
"In the evening west, beyond the last mountain peak, slowly dies the sun in a sea of bronze and crimson...The gaze of man is westward, as if he could glimpse, somewhere beyond the uneasy world, the great golden reaches of eternity--as though he could hear, blowing in the distant sunset, the horn of freedom!" Kermit Hunter Interesting Watauga County information
Boone is the county seat of Watauga.
Watauga County was established by the General Assembly of North Carolina by a law ratified the 27th day of January, 1849. It was created out of parts of the counties of Ashe, Wilkes, Caldwell, and Yancey, principally out of Ashe.
The first settlers were the Cherokee Indians. The first white men to come to what is now Watauga County were led by Bishop August Gottlieb Spangenberg in 1752. The next visitor to the area was Daniel Boone about 1761. Appropriately enough, the town of Boone takes its name from this great pioneer. Although Daniel Boone never actually lived in the county, he made many hunting trips through the area and had a stopover cabin on what is now the campus of Appalachian State University. It was known as the Boone Cabin.
Three river systems drain the county. These together with the John's River which flows south and has a head spring in Blowing Rock, flow in all directions. The New River (America's oldest river and a national scenic river) flows north. The Yadkin River flows east. The Watauga River flows west and drains the largest area of the county.
There are eight peaks higher than 5,000 feet, including the mighty Grandfather Mountain rising to 5,964 feet above sea level, Snake Mountain 5,594; Elk Knob 5,555; Bald of Rich Mountain 5,369, Hanging Rock 5,237; Tater Hill 5,156; Beach Mountain 5,020, and Rich Mountain 5,000. Three of these mountains can be seen from the campground. Looking across the swimming pool towards the distant mountains - Snake is the one that looks like a Volcano blasted it out - Elk is to its right, and the back side of Rich Mountain to its left. Our KOA is the highest one east of the Mississippi at almost 4000 feet. Watauga County has the highest average elevation of any comparable area east of the Rockies.

The average temperature for the winter months December, January, & February is 36 degrees Fahrenheit; for March, April, and May is 50.4 degrees; for June July and August is 68 degrees; for September, October, and November is 52.7 degrees. The average yearly rainfall is 57 inches. High Gravity Adventures
"You will have the freedom to climb your way through the maze of cargo nets, aerial bridges, tight-rope walks, swinging foot loops, floating platforms, spiders' webs, and many more unique challenges. Aerial parks are playgrounds set in the air.  These elements offer physical and mental challenges for any skill levels.  The combination of physically climbing and balancing on different elements while the ground gets farther away from you is a challenging environment to say the least."