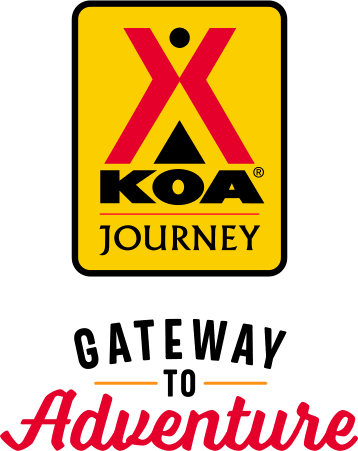 KOA Journey Campgrounds
KOA Journey campgrounds are the perfect oases after a day on the road. Whether it's along the way or a quick getaway, they've got you covered. Located near the highways and byways of North America with long Pull-thru RV Sites, they deliver convenience to the traveling camper. Pull in, ease back and take a load off.
KOA Journeys Feature:
Pull-through RV Sites with 50-amp service
Premium Tent Sites
Well lit after hours check-in service
Directions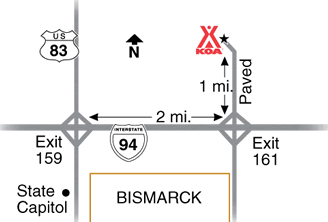 From east or west on I-94: Take Exit 161, go north 1 mile. From north on Hwy 83: Take 71st Ave east 2 miles to Centennial Rd, then south 2 1/4 miles. Or take 43rd Ave east 2 miles to Centennial Rd, then south 1/4 mile. GPS: N46.846047, W100.730717
Get Google Directions
Jun 18, 2021
Great KOA, and apparently the only one in North Dakota. Most spots are nicely shaded, with shrubs providing privacy between sites. Bismarck appears to be expanding on this side of town, so there is a lot of new development, and it seems this place is on the market as well. At any rate, a very nice stopover. We will be back if we are ever in the area and this place is still there! Thanks again.
Jun 18, 2021
The WiFi did not work which was very disappointing. No other complaints.
Jun 18, 2021
Great park. Greeters and counter employees are the best!
Jun 18, 2021
We only stayed one night stay at this nice KOA. We had a reservation for a pull trough spot. The reservation was for a site where the services are located towards the back of the site. The site manager looked at our RV and immediately went back to the office to change our site to a better suited, easy pull-in and service locations site, for our one night stay. Great customer service.
Jun 17, 2021
I was with an RV travel group of about 45 people. The KOA owners and family went above and beyond to take good care of us. Thank you!
Jun 17, 2021
Beautiful campground. All the amenities you could want. Well kept and has the best, most cooperative staff,
Jun 17, 2021
Everything was good
Jun 17, 2021
AGood KOA experience!
Jun 17, 2021
Great stay everyone was very friendly and always offered to help us with anything we may need! Would definitely stay here again!
Jun 17, 2021
Many tent sites that I have stayed at are just a grassy area with no trees surrounded by RVs. I loved that we had trees, and that the agent directed is to a better site with more shade on check-in.
Jun 17, 2021
I loved being escorted to out campsite. Staff was very helpful. Why did I have to wait until 9:00 am to do my laundry? That did not make sense. If I am requested to drive 5 mph within the campground, shouldn't the staff drive at 5 mph or less?
Jun 17, 2021
Very friendly and helpful staff. Poor wireless coverage despite having 4 access points. Overall the park was good, but due to our site being near the road had a lot of road noise throughout the night.
Jun 17, 2021
Had electric and water site. Not 1 tree in area. Very hot.
Jun 16, 2021
Lacking in courtesy and hospitality. Conflicting signage advertised different opening hours for laundry. Will not visit again.
Jun 16, 2021
Nice campground very friendly and helpful staff.
Jun 16, 2021
Very nice site, nice guide to it, everything worked great
Jun 15, 2021
Very friendly and helpful staff. Organized and efficient on getting us parked. Escorted us right to the camp site. We would stay here again. Clean and well kept. Great dog park area.
Jun 15, 2021
Very friendly staff, we had a great time!
Jun 15, 2021
A very nice, comfortable KOA campground, well maintained, and very helpful employees.
Jun 14, 2021
We had a great time! The park was very clean. I loved the shrubs between campsites to add a little privacy. The staff was very friendly and helpful. For the first time, I had someone explain how the rewards points work. I greatly appreciated that. We will definitely add this as a favorite! I wish I could have stayed for a week. Thank you so much for the relaxing weekend!
Jun 14, 2021
Everything was neat and clean.. the owner was so helpful when we had a problem getting our tv to work. What a wonderful man he is. Would definitely stay here again.
Jun 14, 2021
A great place for a stopover. The big rig pull thru sites are right near the front, making it super convenient for one-nighters swinging through. There were nicer, more wooded slots near the back for both tenting and RVers. Amenities include propane on site (so convenient!), dump station, a small pool, a little fenced in dog area, a camp store, playground, and very friendly hosts.
Jun 14, 2021
Very nice campground, plenty of shade trees. Very nice staff. Great location. Not every site has a sewer connection but there are multiple dump stations so it's not too bad to deal with if you aren't able to get one that does. Will definitely stay again next time we are up there.
Jun 14, 2021
Great campground run by friendly, helpful and welcoming owners and staff. Bruce was right on our plug in problem, immediately calling to get it fixed and offering us any help we needed, until it was fixed and we were all settled. We felt welcomed and enjoyed our 5 day stay! A full campground, a busy weekend in town- Great Stay!
Jun 14, 2021
Enjoyed the stay
Jun 13, 2021
Very nice stay. Friendly.
Jun 13, 2021
Great staff and friendly campers.
Jun 13, 2021
Stayed two nights and really liked the park. Level site, nice trees, close to town, great staff and clean park. It's every thing we are looking for in a park.
Jun 13, 2021
Nice park, and great folks running the park!
Jun 13, 2021
I rate this campground ABSOLUTELY EXCELLENT!!! Not only very clean with nice grounds and close to everything, but, from the owner, Mark, to everyone else I'd met, they go WAY above to insure your stay is a great one!!! I can't say enough as to how helpful, gracious, courteous, and welcoming everyone was! I DEFINITELY will return!!!
Jun 13, 2021
It was a very clean location and had great sites with shade.
Jun 13, 2021
Very very nice park, people running the place where great I will pass the word to fellow rv's
Jun 13, 2021
Very nice, clean and friendly atmosphere.
Jun 12, 2021
Perfect site (49) with super easy back in!
Jun 12, 2021
Enjoyed the stay ! Clean neat very friendly and helpful staff
Jun 12, 2021
Up to KOA standards that we have come to expect.
Jun 11, 2021
Mark and Bruce are highly professional and they keep the place absolutely clean and their customer service should be emulated! Well done, you made our stay in North Dakota memorable! Thank you.
Jun 11, 2021
Staff was very friendly and helpful. We love the layout of the sites. Lots of shade and individual privacy