Benson KOA Reviews
Directions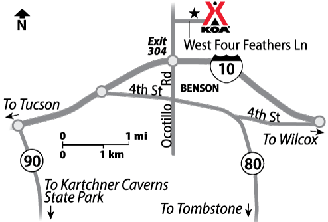 Exit 304 off I-10: go north 1/2 mile and follow the signs.   A-Frame lights can be seen from I-10 : East Bound Interstate signs are here!  West bound interstate billboard at exit 340.
Get Google Directions
May 28, 2017
Loved the bed!!!!!! The additional mattress made for a better sleep!!!!! Late check-in was great. Pickup the key, make the beds and sleep. Is this an older KOA? Staff was nice.
May 22, 2017
Great stay!!! The staff is a sweet couple who are extremely sweet and polite and accommodating. We stayed in cabin 2 and everything was great. Excellent air conditioner good fridge and even had a tv with cable!!
May 15, 2017
We had a nice time at the KOA. The bathrooms and cabins were super clean. The grounds for the most part looked really good. The only thing that I would recommend Is putting up a wooden fence around the workshed. There were some scraps of wood and some other items like an old grill around the shed that would've looked nicer if it had been concealed.
Apr 21, 2017
The Kim's were so kind... We arrived late but so gracious... good coffee!
Apr 17, 2017
Very clean property. Bathhouses and cabin were both basically spotless! A few "sheds" packed with random stuff throughout the property but not too bad. Friendly hosts but speak little English (Asian). Road maintenance is desperately needed.
Apr 06, 2017
A work in progress. New owners making larger efforts to improve a good facility that is going to get better.
Apr 01, 2017
too much junk laying around
Mar 29, 2017
It was so clean to stay in cabin, there were TV, refriger and clean bed covers.
Mar 10, 2017
Nice owners nice place, but too many cats, especially at night.
Mar 01, 2017
The Kims were extremely helpful and kept the park clean. I have already told them that I would be back, and I will.
Feb 22, 2017
Staff is very nice However the place needs to be renovated (i.e. Showers, landscaping window in cabin)
Aug 14, 2020
Staff was great! Katie got us set up with our membership and got things squared away for us. Going through some renovations right now but highly recommend you stop if passing that way.
- Gary Copsey on Google
Jul 05, 2020
Awesome! Even though the pool was closed there was still a golf course.
- Raze Gamer on Google
Jul 03, 2020
Good place to fill your propane .
- julia winker on Google

Benson KOA
Open All Year
180 West Four Feathers Lane
Benson, AZ 85602-7952
Check-In/Check-Out Times
All Sites
Check-in: 3:00 pm, Check-out: 11:00 am
Operating Hours
Sunday: Open 9:00 AM to 5:00 PM
Monday: Open 9:00 AM to 5:00 PM
Tuesday: Open 9:00 AM to 5:00 PM
Wednesday: Open 9:00 AM to 5:00 PM
Thursday: Open 9:00 AM to 5:00 PM
Friday: Open 9:00 AM to 5:00 PM
Saturday: Open 9:00 AM to 5:00 PM
Get Google Directions

© 2020 Kampgrounds of America, Inc.