Benson KOA Reviews
Directions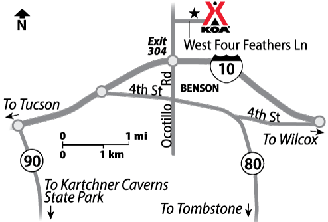 Exit 304 off I-10: go north 1/2 mile and follow the signs.   A-Frame lights can be seen from I-10 : East Bound Interstate signs are here!  West bound interstate billboard at exit 340.
Get Google Directions
Aug 01, 2020
Beautiful surroundings. Campground could be a LOT cleaner and less cluttered. Most areas were dusty, unkempt and in need of repair.
Jul 21, 2020
Excellent! Friendly people!!! Clean bathrooms and great views.
Jul 06, 2020
Great staff friendly and helpful.
Jul 02, 2020
The tent site we had was so nice. It had both morning and afternoon shade.
Jun 28, 2020
A beautiful campsite with a very nice host. We had been camping for two weeks by the time we got here and we're great full to have access to a real kitchen!
May 02, 2020
Wonderful people who really care about their campsites.
Mar 18, 2020
The hosts wre awesome and the park was great even though it is being renovated. We were tent campers and camp kitchen was also a wonderful amenity. I will certainly highly recommend to others and will return myself. Thank you!
Feb 15, 2020
Very nice staff... we arrived after hours staff helped right away and found a spot for us. Wonderful views of Mountains.
Jan 31, 2020
Very nice proprietor and grounds. I accidentally left my Journal and they sent it back to me in Tennessee. Much appreciated.
Aug 31, 2019
Needs lots of love!
May 28, 2019
The management team was amazing! They are super friendly and very responsive. We had a great time visiting southern Arizona can't wait to return to this camp site later this year!
Apr 27, 2019
Very courteous and staff went over the top to please and accomadate our needs. Pool was wonderful and campsites were laid out nicely. Bathrooms immaculate. Were on bicycles and the lack of shade was an issue.
Apr 22, 2019
Cute, clean bathrooms, nice staff
Mar 31, 2019
I used to love this KOA but under new management + rates SKY rocketed for tent campers from a little over $400 to over $600. I was planning on staying there the month of May but will not pay $600. I realize updates are needed but the place still has cat urine odor in kitchen area + laundry room. Also still a few cats around that use the sandy tent area as a litter box. No privacy in tent area
Mar 24, 2019
Tent camp, Could use fencing and upgrade camp kitchen. Pleasant stay. Nice staff and reasonable at short notice.
Mar 16, 2019
Last minute decision. Toilets overflowed. Facilities were run down. Pool was drained. Playground tether ball was flat. Picnic area tarp covering torn off. Picnic kitchen area was useful but cluttered and dirty.
Mar 11, 2019
Convenient location off the highway & clean restrooms. We arrived late (after the office closed) & found details left for us since we had a reservation... but once we got to the tent area, we were very confused. All tent sites are clustered in one grassy area with no area to park your car nearby? Maybe there was an explanation, but since we arrived late, there was no staff to ask (not their fault)
Mar 08, 2019
The receptionist was kind and professional for helping my needs!
Jan 12, 2019
I hope the new owners keep it a KOA and maintain the friendly and nice atmosphere.
Dec 19, 2018
Nice distance from town and perfect place to view Gemenids.
Oct 25, 2018
Friendly staff, very helpful. Clean restrooms and shower. Would stay again.
Aug 12, 2018
We always enjoy staying here on our way to or from our vacations. The owners are very nice and the location is close to Kartchner Caverns, a wonderful cave to visit. The restrooms are clean and the pool looks well-maintained.
Jun 04, 2018
We have to say this is one of the greatest hidden gems in Arizona. This KOA is off the freeway, in a nicely secluded place. Yet it is within a mile of businesses for your needs. The owners were extremely friendly and provided exceptional customer service. This site will be selected as one of my favorites for future trips. Thank you!!
May 26, 2018
The RV park had all the amenities for a nice over night stay.
May 24, 2018
Great site. Lots of privacy
May 16, 2018
For me it is an overnight stop traveling across the states. Been here several times, always friendly service, clean facilities, far enough from fwy to minimize noise, a few miles from a Safeway. This place just works for me. Stayed in a RTT. I will be back.
Apr 30, 2018
Recreation room not available. Could have been given a better site since I was the only one there. Facilities were excellent and my reservation was handled professionally.
Apr 22, 2018
We have stayed at this KOA five times on trips to California. The owners work very hard to make the place clean and pleasant. Highly recommend. In addition, it is convenient to I-8 and there is a great Safeway grocery in town with a Starbucks. They open at 6AM!
Mar 17, 2018
The website said they had fire pits at camp site and they only had one. The bathrooms were clean. The kitchen area was nice. The hot tub was questionable.
Jan 11, 2018
Having a microwave for tent campers to use was great!
Nov 25, 2017
welcome stop from a long day of driving
Oct 25, 2017
It was a great experience, my son and I just needed a place to stay over night .. All the employees were very nice..Very clean campground, bathrooms were clean .we were tent camping , sites are close together.
Oct 03, 2017
Enjoyed my stay. It was nice and relaxing. I would stay here again.
Sep 19, 2017
We had a very brief stay at this KOA, but were welcomed and had everything we needed to tent camp for the night! Nice, clean bathrooms, in particular.
Sep 07, 2017
This was a very quiet KOA. Not heavily trafficked and still very clean and nice. Had a great spot to tent camp and the "camping kitchen" was a nice resource!
Sep 06, 2017
Bathrooms and showers were very clean. Place is well mantained although a lot of old equipment is still around visible making the experience not as clean as It should. The reason we are giving it 2 stars is because we couldn't get any sleep with the train coming through every 30 minutes sounding the horns. There's also a donkey that would have woken us up like 5 times disregarding the train.
Aug 31, 2017
management was great. We arrived late and they came over to make sure we had what we needed. It was a little loud, we could hear the freeway, train and there was a heavily traveled side road that had a gate, so cars were stopping all night to open the gate The camp was clean and nice
Aug 21, 2017
Loved the pool and the area I got to stay in, plenty of shade, very friendly staff.
Jul 24, 2017
We only stayed the night getting in far too late and leaving far too early to enjoy all the amenities but location is always key and this place has that in spades.
Jun 27, 2017
Outdoor Furniture would need a refresh.
Jun 20, 2017
Nice pool. Friendly staff. Lights on all night was a shame - stars hard to see.
Jun 19, 2017
We had a wonderful stay at the Benson KOA campground. Our hosts extended the pool hours for us and were very accommodating with the location of our campsite. The campground was very clean, the bathrooms were immaculate and the pool was perfect. We had some noisy neighbors- mainly a loud donkey, a rooster and a train. A combination that made for an interesting night stay!
Jun 18, 2017
it was fun will come back
Jun 04, 2017
Lovely family made us at home. Thankyou
May 20, 2017
This was a wonderful place to stay. We were met with a smiling face who guided us to our tent site. It was nice and quiet and barely anyone was there. It was clean and the bathrooms had lovely symphonic music playing in them. The tent site had nice soft gravel/sand to pitch our tents at. I recommend this KOA for sure.
May 18, 2017
I have stayed here 3 times traveling coast to coast and the Kim's are excellent hosts. They friendly and work hard to make your stay plesent, facilities are a bit older but as clean as any KOA. I stayed in a roof top tent and pretty much had the entire tent area to my self. I will return.
Aug 14, 2020
Staff was great! Katie got us set up with our membership and got things squared away for us. Going through some renovations right now but highly recommend you stop if passing that way.
- Gary Copsey on Google
Jul 05, 2020
Awesome! Even though the pool was closed there was still a golf course.
- Raze Gamer on Google
Jul 03, 2020
Good place to fill your propane .
- julia winker on Google

Benson KOA
Open All Year
180 West Four Feathers Lane
Benson, AZ 85602-7952
Check-In/Check-Out Times
All Sites
Check-in: 3:00 pm, Check-out: 11:00 am
Operating Hours
Sunday: Open 9:00 AM to 5:00 PM
Monday: Open 9:00 AM to 5:00 PM
Tuesday: Open 9:00 AM to 5:00 PM
Wednesday: Open 9:00 AM to 5:00 PM
Thursday: Open 9:00 AM to 5:00 PM
Friday: Open 9:00 AM to 5:00 PM
Saturday: Open 9:00 AM to 5:00 PM
Get Google Directions

© 2020 Kampgrounds of America, Inc.