Directions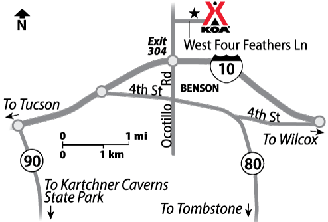 Exit 304 off I-10: go north 1/2 mile and follow the signs.   A-Frame lights can be seen from I-10 : East Bound Interstate signs are here!  West bound interstate billboard at exit 340.
Get Google Directions
Sep 13, 2021
My stay was very relaxed. Everybody on staff was super nice and helpful. Bathroom & shower were particularly nice. I would not hesitate to stay there again.
Sep 12, 2021
New owners making greatly needed improvements since our last stop here!
Sep 07, 2021
Loved staying at this KOA! The bathrooms were very nice, as well as the covered picnic table! I think that was the first time a KOA cabin I have stayed at had a covered picnic table. I got a phone call to verify check in, which was great. I only had one night here, but I really loved the property and all the trees created wonderful shade.
Sep 06, 2021
Over grown weeds but overall stay was pleasant.
Sep 04, 2021
The hosts are fantastic. Very friendly and helpful. They are working on improving the facility. The pool is being rebuilt, they didn't have propane service available yet. The grass needed to be mowed and there were a lot of bugs around, perhaps needing grounds to be sprayed? The code for the restroom/shower was a bit confusing, instructions would have helped. We would stay again.
Sep 01, 2021
Friendly staff, park is in the process of renovation. It is very overpriced; we paid quite a bit less for RV Resorts with ALL the amenities. We would change our route before staying here again, unless they were at least $15 less in price.
Sep 01, 2021
It's under construction! Looking forward to pool being done ….we will return. Nice bathrooms and showers! Nice office area. Friendly staff!
Aug 31, 2021
Benson KOA is going through remolding. What is finished is very nice, like the bathroom. There is no pool at this time. It is very quiet and clean. The managers were very pleasant and helpful. We'll be back .
Aug 25, 2021
Clean bathrooms and friendly staff. Clean Kabin. Piles of debris/garbage surround the facility. I guess that's what that the 40 ft dumpster is for.
Aug 25, 2021
Very friendly staff. Clean and remodel looks nice
Aug 23, 2021
It was good but could have been better, looking forward to when the work is done
Aug 10, 2021
I gave four stars because the very nice family who recently purchased this KOA is in the process of major renovations. There is a lot to be done, and they have started many projects. This is a good first stop for us as we travel from Southern California and I always enjoyed this unique KOA. I wish the new owners the best and I look forward to seeing their progress in the future.
Aug 10, 2021
Communications from the staff were great. The location was perfect for visiting Tombstone. Everything was clean. Our cabin was air-conditioned. What more can you ask for!
Aug 09, 2021
Friendly neighbors
Aug 04, 2021
The staff did well with what they had to work with. However, I think either the directory or the website should have told us it was undergoing renovation and had very limited facilities before we made our reservation online.
Aug 04, 2021
The staff was extremely welcoming, friendly, and helpful. They are obviously doing lots of improvements: widened lots, new pool going in, beautiful new bathrooms. We were very happy with our stay and will return. Nice sunrise and sunset mountain views, close to town for whatever we needed. Very nice!
Aug 03, 2021
A little off the beaten path. Our site was a little weedy and very narrow. The new office was not open or finished and signage for incoming rvs was poor. But staff was friendly and it was quiet.
Aug 02, 2021
We had an amazing time staying at the cabin! Love the renovations to the bathroom, can't wait to come back to check out the camp when it's finished. Enjoyed it so much already planning another stay to bring our our four legged friend.
Jul 30, 2021
Very nice, peaceful, beautiful Mountain Views! Definitely will be back!
Jul 26, 2021
Benson KOA needs to focus on maintenance of its picnic tables. The tables are in disrepair. We traded tables with the site next to ours because the table originally on our site needed to be refinished. The table we swapped it for looked in better condition…until we sat down on it, and realized the support bars had come undone. So it was wobbly. The staff was friendly, and sites clean.
Jul 26, 2021
We received a warm welcome even though the office was closed by the time we got there that night, it was very quiet at night and the bathrooms were spotless.
Jul 25, 2021
Very friendly staff, quiet campground away from busy road, and adorable little cabin!
Jul 17, 2021
I absolutely loved this KOA. The staff was extremely kind and helpful. I cannot wait to go back
Jul 17, 2021
Great place to camp.
Jul 17, 2021
nice and clean.
Jul 15, 2021
The staff was extremely friendly and accommodating. This and being centrally located to friends and attractions means we will stay here again.
Jul 12, 2021
very non-descript. We traveled a few extra miles for a pool and KOA, the brand normally guarantees quality. Unfortunately, the pool was non-existent. There was a hole in the ground where there was one.... probably something you should put on the website to let folks know...not what I expect from a KOA.
Jul 11, 2021
Came in after hours, so was self registration. Not real clear on how to pick a site, but it was only for the night. A nice campground, still being renovated. Nice bathroom and shower.
Jul 10, 2021
This is going to be a great KOA once renovations are done. Very friendly staff and very helpful with surrounding areas. Loved it there, great for pictures of sunsets, rabbits, deer, quail and a few other animals. If we ever come back this way would definitely stay again, thank you and hope to come back.
Jul 08, 2021
Hoping the pool and other renovations are finished soon
Jul 07, 2021
Owners are putting a ton of money into upgrades and it shows. New elec pedestals and wiring, cable tv, full hook ups, good water, installed street lights in park, redid all bathrooms, installing new pool. Friendly management and workers.
Jul 06, 2021
it worked for us to stay so we could go to tombstone was a busy weekend and places were full sure when they get everything done it will be a good stay but like most places hard to find help the staff was great and gave us great in site on the area
Jul 04, 2021
They were so accommodating and helpful. We were having a package delivered during our stay only it got delayed and wasn't going to arrive till we were gone. Spoke with Katie and she went out of her way to make sure we got our package at home. I would definitely recommend a stay here. Thank you Katie and staff for an enjoyable stay.
Jul 03, 2021
This camp ground has so much potential and will deserve a 10 rating once the renovations are complete. It was quiet and very well lit. I hesitate to give it this lower rating, but until complete, I would not visit until renovations are complete.
Jul 02, 2021
The lady's on the phone are super nice! They are making improvements, right now not much going on… Summer is hot in az, I'm guessing that it is better in the winter.
Jun 26, 2021
Quiet level sites. Friendly folks.
Jun 24, 2021
Nicely graveled lot made it easy for 36' motorhome to pull in and out easy. The cabins are cute with a little porch swing for those who travel in vehicles. A very comfortable atmosphere.
Jun 22, 2021
They are working hard to make it better! Lots of construction work happening. They were very accommodating and pleasant. Thank you! �
Jun 18, 2021
Very clean, even under construction. Nice water pressure for taking a shower. Could use electricity in the tent sites, but hey, they are tents and it would not deter me from staying again. Super nice staff, very helpful.
Jun 18, 2021
The people were nice. However, park is in a middle of a rework, so the amenities are very few. When they finish, it should look good. Their opening website should state that there pool is not working.
Jun 17, 2021
We would not have stopped had we known they had no pool and we're under construction. Even the email that we got welcoming us to the campground listed pool hours, but there was no pool. When traveling with kids and the temp is above 105 you need a pool.
Jun 17, 2021
Granddaughter disappointed pool just a big hole. They should say that when I called for reservation. I was really hot pool would have been nice
Aug 04, 2021
Extremely friendly and helpful hosts. It is obvious they are working hard making improvements: updating mini-golf, getting a new pool, widened lot sizes, absolutely beautiful new bathrooms. This one's a keeper. We will return. Gorgeous sunrise and sunset views. Nice!
- Jennifer Zielke on Google
Aug 02, 2021
Cute little campground with ample space between you and your neighbors.
- J.L. Pham on Google
Jul 19, 2021
I was so sick of glorified campgrounds.2 months on the Rd and we found this place. Trees, put put golf, fire pits, grills, and even picnic tables! I was beginning to think all of that was a thing of the past. Sadly, we got there late and could only stay one night. If we make it back this way, we'll go out of the way for this place. Only met the host for a quick minute but seem like a very nice man.
- Sandy Sergent on Google