Directions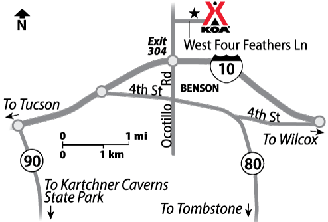 Exit 304 off I-10: go north 1/2 mile and follow the signs.   A-Frame lights can be seen from I-10 : East Bound Interstate signs are here!  West bound interstate billboard at exit 340.
Get Google Directions
Apr 05, 2021
We were told dogs aren't allowed to do their business anywhere and if people were caught letting them pee or poo on the trees they would be asked to leave with no refund. There was poo under almost every tree in the park. While I can give them a break for being under construction, it really wasn't all that great. When we left we both said to one another we wouldn't stay there again.
Apr 05, 2021
The owners are renovating and that is the only reason i gave it a 3. Larry and Katie (I believe were their names) were very nice. Love to see them bringing the Benson KOA back to shape. Had a great stay there.
Apr 04, 2021
Low rating due to incomplete campground, with that said with work completed should be a nice campground.
Apr 02, 2021
I liked the location of the campgrounds. The main road could have used gravel instead of dirt! The campsites were lacking tree's or foliage! I realize Benson is in the high desert, but NO TREE's!
Apr 02, 2021
Nothing special about this campground. Very confusing getting out. No vegetation on the property.
Mar 31, 2021
Clean. No amenities currently due to renovations. Very convenient to town & stores but far enough away from Interstate to be peaceful.
Mar 31, 2021
Everyone enjoyed the playground & mini golf
Mar 31, 2021
Great staff and when the renovations are completed the place should be even better.
Mar 28, 2021
It was very clean and easy in and out. the site was level and gravel which since it rained while we were there we didn't have mud. A little disappointed that there were not fire rings to have campfires. But all in all a good camping trip. Great journeys ahead.
Mar 28, 2021
Great location roomy accomodations!
Mar 26, 2021
We were only there two nights but had a pleasant and welcomed stay. KOAs have a reputation for being parking lots but this one had ample room between sites and very friendly and helpful hosts. We will happily stay there again.
Mar 25, 2021
The KOA was being renovated, but the hosts were gracious and accommodating. We stayed two nights and enjoy the surrounding sites.
Mar 24, 2021
Not sure why they parked me right next to a family crowded into their site. The people was nice- kids friendly but they had to move their bikes and a few other items which spilled over on my space. There were several empty spaces I could have been parked in. They are working to improve the facility and I am sure once fully open it will be great. was away from traffic so was quite.
Mar 23, 2021
Overall a positive experie3nce. Just wish when I told the camp host it was our first time camping in a trailer they had told us things like we needed to turn on the breakers. Didn't realize that until the next day. But she was friendly and helpful when I did solicit hep.
Mar 22, 2021
The Benson KOA is going through a major renovation, and we knew upon arrival that there wouldn't be bathrooms and other amenities. The personnel was friendly and our site clean. I don't know if it was our location in the park, but our internet service was not very strong.
Mar 21, 2021
Picnic tables need update. Sites need update such as more grass and rock. It would be nice if it's not busy (which it wasn't) you spread out campers. No need to stack them right next to each other.
Mar 20, 2021
Hardly any shade, mini golf in poor condition, very small play ground. During our stay pool was closed, club house was closed, not very kid friendly. Other Rv parks would have been better for us. Staff were friendly.
Mar 20, 2021
I truly enjoyed my stay at the KOA Benson, AZ. It is a very children and pet friendly location with amenities to enjoy as a family. Thanks until next time.
Mar 19, 2021
A convenient stop-over along Hwy 10 for our cross-country trip. Close for tour of Tombstone and Bisbee. Being remodeled with new pool coming. Caring family owners
Mar 17, 2021
Upon arrival we noticed how clean and well kept the grounds were. Mary Lou worked with us to choose the best available spot (I had mistakenly reserved an RV spot without sewer) so our four kids could be seen while at the park. She was so pleasant and patient to speak with. Ken took us to our spot and offered to help set up our rig when he noticed we had a broken landing leg. Great location!
Mar 16, 2021
Very friendly KOA
Mar 16, 2021
Just need to get thr improvements done.
Mar 15, 2021
To be fair this koa was being updated at the time of our stay. Little confusing to exit after pulling out from sight. Not far from interstate good if your only doing for the night for a stop over.
Mar 15, 2021
I was just stopping for the night. My site was ready, clean and level! I also needed a few extra hours after check-out and they were very accommodating. They are in the middle of a remodel but there was no noise during the evening hours. I am sure it will be great when they are all finished!!
Mar 14, 2021
We would not recommend staying here until they are done with construction. The pool and bathrooms are not working. When we were there we were unable to dump due to sewer backup. Payed for full hook-up and not able to use them.
Mar 14, 2021
The main building was closed for massive renovations——and will be wonderful when complete. The owners were completely forthright on what to expect regarding no showers, laundry, etc. but our sight was easy to park in, was clean, and grounds were clean. Hope to come back to see the progress. Signage was excellent, too.
Mar 13, 2021
Nice campground. Lots of refreshed hookup features all in good working order. Location is just far enough off I10 to make it quiet for sleep but close enough to be very convenient. Nice greeting from management on arrival. I would definitely stay here again.
Mar 10, 2021
Stayed 3 nights during a golf weekend. The campground is quiet and well maintained. Current remodel looks like it will add some nice refreshed amenities.
Mar 09, 2021
It was a very quiet campground not close to the interstate. The area is beautiful and the sites are plenty long. Very good. value. We plan to visit there again and stay longer.
Mar 08, 2021
Very friendly and helpful managers. Park is being upgraded. Good location off the I 10. DICKEY's BBQ just up the street.
Mar 08, 2021
Will stay again. We are a very happy camper.
Mar 08, 2021
We checked in after 5:00 and all the paperwork was in the after hours box. It was detailed on where our spot was and how to get to it. It was very quiet and we had a peaceful nights stay. The only thing that we were disappointed about was that there was no fire pit. Nice place.
Mar 05, 2021
The site was easy to get into. Full hookups. We especially appreciate the dog park area. The checkin was easy and fast. The staff was very friendly and helpful. Great experience.
Mar 05, 2021
Campground under construction the staff was great and courteous. Park to small for our big t.v. We own a 40 ft fifth wheel. We managed to get in and out overall it was good. Nice away from hearing the traffic it was nice and quite.
Mar 04, 2021
Just an overnight on our way through. They were remodeling and offered a special construction rate.
Mar 02, 2021
This place will be a jewel in a year. They are working hard on the site and the hosts are very helpful and kind people. It is also so very quiet. This will always be one of our favorite stops. Thanks for all your help.
Mar 02, 2021
Although there was room to spread us out, many of us were all put in one area making it pretty tight. Could not get Internet all week. Looking forward to their renovations.
Feb 28, 2021
Hosts were fantastic, friendly and extremely helpful. Price a little high for what you get, ( comparable to nearby parks) but upgrades are in progress. Gravel and dirt but level spots. The connection for water, and sewer were at same location making it hard to hook up water line without being next to drop at our space 45. Originally were staying 1 night but extended to 3 because of location
Feb 26, 2021
Under renovation, so looked rather run down. Had no water for a few hours, but glad the repairs were fairly quick.
Feb 25, 2021
Very friendly campground. Quiet at night. Close to town and shopping.
Feb 24, 2021
You guys are awesome new owners! The improvements you have made are great and your plans for the future are awesome! Continue on your path of to fix what you got. We camp here at least twice a year and can see the amount you have done. Great Job!
Feb 22, 2021
Our stay at Benson KOA was very enjoyable. Everything worked well and Katie was very helpful. Thanks for a great stay!
Feb 22, 2021
We have stayed at this KOA now for over a decade. Bathroom remodel should be awesome. Hope they gravel all the sights and grade the pads so they are level. We enjoyed our stay and will return as loyal customers. Nice people running it.
Feb 22, 2021
Was under a remodeling when there but had fun anyway. Close to southern AZ attractions.
Feb 21, 2021
Though in the middle of a fantastic remodel, this is a very peaceful and relaxing KOA. The hosts are terrific!!
Mar 04, 2021
Close to tombstone
- Sue Elling on Google
Mar 04, 2021
Super nice people. Really clean grounds
- Nakia Twigg on Google
Feb 21, 2021
Stayed here in August 2020 for one night. Love the location, it's quiet. We had no problems with check in and the space is roomy. Even though they were doing renovations the place was clean. I will definitely be staying again.
- Linda Wade on Google