Directions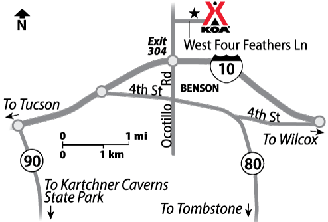 Exit 304 off I-10: go north 1/2 mile and follow the signs.   A-Frame lights can be seen from I-10 : East Bound Interstate signs are here!  West bound interstate billboard at exit 340.
Get Google Directions
Jan 16, 2021
Everything was under construction(bathrooms, showers, pool, laundry, store). My water spicket froze because it had no heat tape on it and didn't unfreeze until 11am. All the campers were jammed into one row which was super tight when there were lots of other sites available. We left early and I still haven't received my refund.
Jan 13, 2021
Space for 45 ft w/Jeep to small curves to get to pull thru to sharp. Spaces packed in way to close and only one way if meet RV coming out its impossible to pass.
Jan 11, 2021
When camping, I am looking for a nice staff, clean/spacious spaces and clean showers /bathrooms. This KOA had a very kind staff and nice spaces. Unfortunately, the bathrooms and showers were closed due to remodeling. Within 5 minutes of making the reservation online, they called to make us aware of this. They didn't have to do that, but the owners of this KOA are straight up and honest.
Jan 09, 2021
Convenient to highway. Restaurant on the road in. Dog park was great after being in car for many miles. Pool and office under construction which we were aware of. Joined KOA. My suggestion is to put stone on road for dust.
Jan 07, 2021
Katy and Larry are nice people. They can only do what the owners allow. We were told the construction would be completed in mid December. We left early January, Still not done. Too many little brats running around uncontrolled. Sites are WAY to close. They pack them in anyways. They are not set up for volume but I feel if they are making money nothing will change. Get the truth b4 u prepay. Tony
Jan 06, 2021
We spent 3 great nights there. While the bathrooms were closed for remodeling, it was obvious that that project was part of an ongoing upgrade: new pedestals and cable tv distribution along with nice picnic tables. We like quiet and got it in spades. We'd stay there in a heartbeat and highly recommended this KOA.
Jan 04, 2021
The hostess was very friendly. But.... The WiFi is nonexistent, the cable is also bad. The nights were in the 20s and they ran out of propane for nearly two days.
Jan 04, 2021
The pull through spaces are very close together. Very little vegetation and goat heads everywhere getting on to dogs paws. Main building closed (was under renovation). Location was good.
Jan 04, 2021
My pipes froze up and nobody bothered to warn me Exiting the place was a total disaster two separate campers accused me of going the wrong way until I showed them the sign and they apologized. It definitely was the worst experience
Jan 02, 2021
Redecorating, but wonderful people and location. Ready soon for Spring and Summer
Dec 28, 2020
Positive: peaceful & quiet during our stay (1 night, Dec 2020). Friendly staff Negative: too late for propane refill at 02:30 pm, main building incl. washrooms, laundry closed due to refurbishment. Price for the night much too high compared to available services.
Dec 27, 2020
one night.... They were up front about the remodeling and you can see they are working on it but it is not there yet...not showers or bathroom
Dec 19, 2020
Very nice owners/managers. Restrooms were not working (remodeling) or I would have rated a 4.
Dec 18, 2020
They're remodeling and upgrading right now so all of things weren't available. Otherwise, the spaces were big and well maintained. Nice staff people, too.
Dec 18, 2020
Staff did not wear masks, the dog park was littered with poop, had to request poop bags. Very small discount for inoperable bathrooms and laundry. Only plus was quietness.
Dec 17, 2020
Katy and Larry are wonderful... The other staff as well were wonderful. With all the renovations and remodels we were not to impressed with. Was told work would be done by mid November, however it still is not done. With children we needed something more to do.
Dec 16, 2020
Not what to expect for a KOA park understand ,its under construction. But to pay full price for a dirt patch???
Dec 13, 2020
Very quite and excellent hosts running the place.
Dec 11, 2020
The bad thing was the water pump went out and we didn't have water, but something like that can't be predicted.
Dec 05, 2020
If the spaces were just a little wider, our neighbors door was at my dinning room table window, cant wait to see the newly remodeled amenities. The owner lady that answered the phone was fabulous and a very nice man lead us to our spot. I loved being able to walk my dogs a long way. Great stay.
Dec 01, 2020
They're making a lot of improvements to this KOA. We will definitely be back
Dec 01, 2020
Even though it was under construction, I was called and informed which amentities would be closed. Also I was given a discount for the inconvenience. Close enough to Tombstone and other attractions. Fun and free minature golf at the campground, along with a kind and helpful staff. Thank You for being a pleasant campground.
Dec 01, 2020
More signage on road to find it in the dark would be nice. No public restroom available and no wi-fi available at 8:00pm
Dec 01, 2020
The stay was pleasant, but the complex needs to be finished with the upgrades. Also the entrance/exit needs to be clarified that it is one way.
Nov 30, 2020
Everything about this stay was really great except for the fact that the spots are to small. We had trouble finding a place to park our truck when we unhooked from the 5th wheel and we could barely set up a barbecue without being in the next guy's spot
Nov 30, 2020
The office people were very nice and willing to make things easier for us during our stay. They had LP so we didn't have to look for it after we left the park.
Nov 30, 2020
Very friendly staff. Clean and easy access.
Nov 28, 2020
Relaxing time. The campground is going thru some extensive renovations. The new electrical posts installed, area lights and new trash containers. The bathrooms and office area are in the works now so they were closed. (We were contacted and made aware of this before arrival) The location is just a short distance off the freeway. Several restaurants within close proximity as well as a supermarket,
Nov 25, 2020
Friendly and helpful hosts. Would stay there again.
Nov 16, 2020
I've stayed at this KOA quite a few times over the last few years and it has come a long way from what it was. Very nice hosts and the sites are well maintained. Keep up the good work. I will definitely return here.
Nov 16, 2020
This KOA is needs many improvements
Nov 15, 2020
Hospitality was great. Grounds are still being upgraded. Weeds and goat head puncture pods are everywhere. We had terrible time getting them out of dog paws, our shoes and the carpets in our 5th wheel. Tight entry road which won't accommodate 2 way travel. Hopefully once the new owner is thru construction it will be up to standard.
Nov 15, 2020
Internet needs improvement
Nov 12, 2020
Although the mail building was under construction, the grounds were keep clean and the staff was very helpful and friendly.
Nov 11, 2020
Benson has construction going on, prior to arriving we received a phone call to let us know and to tell us what wasn't available because of it!! It was quiet and staff was helpful.
Nov 09, 2020
Friendly Staff, they are also working to make it a up dated place.
Nov 06, 2020
The campground is going through major renovations and they had no bathrooms, showers or store. We knew that going in and received a reduced rate. The issue we had was the campground was full of "goat heads" that made it uncomfortable to walk our small dogs and ended up in the camper every time we would leave and come back in. The campground should have been sprayed to eliminate this issue.
Nov 06, 2020
This is a very nice KOA, and we spend at least one night there several times each year. The new owners are working hard to improve their facilities.
Nov 02, 2020
Katie and Larry very delightful and helpful
Nov 02, 2020
Great place to stay, we were treated like family, recommend this to anyone visiting or passing through the Benson area....
Jan 11, 2021
Great place to have Propane tanks filled
- Randy Camden on Google
Jan 01, 2021
Nice and clean
- Lee Roberts on Google
Dec 26, 2020
It's a very nice place to stay
- Sharon Horrocks on Google