Benson KOA Reviews
Directions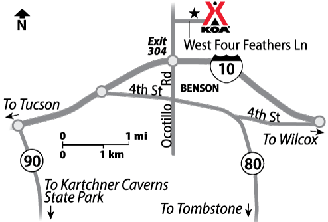 Exit 304 off I-10: go north 1/2 mile and follow the signs.   A-Frame lights can be seen from I-10 : East Bound Interstate signs are here!  West bound interstate billboard at exit 340.
Get Google Directions
Sep 21, 2020
People were very nice and accommodating. Park is in remodel stage, so very limited extras are available; i.e. store, pool...
Sep 18, 2020
Camp site was a bit of a challenge to navigate due to the campsite that was assigned. Not sure why I was assigned a site right next to another camper when there were on 3 campers in the whole camp. Spent a good amount of time picking goat heads out of my shoes and my dogs feet. Probably wouldn't hurt to spray weed killer once in a while. But over priced since there were no amenities available.
Sep 12, 2020
Great people who run it. It is a work in progress and we will be back to see it.
Sep 11, 2020
Closed and full of stickers
Sep 08, 2020
Relaxing, excited about the improvements
Sep 02, 2020
Have stayed here numerous times. Always great. Will stay there again.
Aug 25, 2020
They are in the process of remodeling the bathrooms and office, along with some minor improvements to the campground itself such as installing lighting and grading some of their picnic tables. They have a lot of work to do to get up to KOA standards but they are obviously working in it.
Aug 12, 2020
We only stayed one night as we were going to Tombstone for the day then we were moving on! When we got there the manager was out front and told us of all the stuff that we could do while we were there. He seamed truly genuinely honest and friendly (not overbearing) . If we ever go through this area again we definitely will stay here again!!!
Aug 07, 2020
I went ahead and gave this campground a five even though it is bare bones right now. No pool, laundry, bath house. We were made aware of this when we booked. We were just there overnight so we didn't need those amenities. The fenced in dog run is open! It was very convenient from the interstate. When they get everything up and running it should be really nice.
Jul 25, 2020
LOOKIN GOOD WITH ALL THE PROJECTS UNDERWAY
Jul 23, 2020
Very brief stay. Pulled in after 9pm and out before 6am. Hard to rate much.
Jul 11, 2020
No shade trees, weeds and sticker bushes all around the campsite. Pool not operational.
Jul 10, 2020
Campground was very accessible from freeway access but far enough away to not have the freeway noise. Restrooms were very very clean. Campground manager was very accommodating and even helped us with some setting up of the vintage trailer i just purchased. Overall experience was Excellent!!
Jun 28, 2020
We did a staycation and decided to try Benson KOA. Very quiet place and clean facility
Jun 23, 2020
Very friendly folks..can tell the improvements need to be done, but I will definitely go back..very peaceful location
Jun 22, 2020
100 degree weather, pool not open, no shade, even the cable tv was of extremely poor quality. Not the experience we have enjoyed at other facilities, but 30% higher on cost
Jun 20, 2020
Great stay regardless of ongoing construction
Jun 19, 2020
We understand they were in the process of renovating but the only sign of it was the light poles were in the process of being installed in the meantime they had shut down the store, closed the pool. The dog area was mostly dirt with some dead grass, a dead tree, no shade. There was dirt and dead grass through out the entire property and yet they charged us full price $ 50.00 plus taxes per nite
Jun 19, 2020
Nothing was open for our family to enjoy
Jun 17, 2020
Great place. New owners are pulling out all stops in upgrading and refursbishing. Have stayed there many times. Will stay there any time traveling through area.
Jun 13, 2020
We enjoyed the middle of the desert. I know our friends would be bored to death.
Jun 06, 2020
Nice campground; they are working hard to make upgrades and improvements. The office staff are amazing!
Jun 06, 2020
Cable did not work Store was closed several days even for posted open hours Pool was closed for construction
May 28, 2020
Stayed at the Benson KOA at the end of February, 2020. The campground is close and easy to get to from the Interstate, clean and nicely maintained. We will stay here again!
May 27, 2020
The pull through sites at the front of the campground were much narrower than we expected. Fine for an overnight stay close to the highway, but disappointing for a long weekend getaway where we wanted to put out awnings and have a campfire. Katie and Larry are making great progress on the campground upgrades. We played putt putt golf while we were there, but the pool is still being rebuilt.
May 27, 2020
Pool was out of service and this was one of the big reasons we chose this campground. Was very clean and staff was working hard to really make improvements! Their hard work was showing through on the new projects they were working on. You can really see the ownership in the management team. They are great people.
May 26, 2020
THE AREA WAS CLEAN AND THE UPGRADES WITH CABLE AND WIFY WAS GREAT. ONLY CONCERN IS WHY THEY HAD USE PARKED IN THE AREA WITH NO SHADE WHEN THERE WAS AN EMPTY AREA WITH SHADE TREES AND NO ONE WAS CAMPED THERE.
May 22, 2020
this was our first camping experience... and they made it easy.... helped with and showed us how to hook up...and said if you have any questions or need anything.... just to let them know. it was great!
May 20, 2020
Perfect. Thank you!
May 15, 2020
Very friendly and clean
May 15, 2020
Very nice place and very quite!
Apr 26, 2020
New hook ups for full service was great. Were open for us during Covid-19 quarantine, and we appreciated that!
Apr 23, 2020
Very pleasant. Spaces were being upgraded to make it better.
Apr 21, 2020
Clean and quiet. Nice greeting on arrival.
Apr 16, 2020
Katie and her staff were very professional and helpful. They volunteered special accomodations for us, and our stay couldn't have been nicer. The upgrades to the property are coming along nicely. My dogs enjoyed the new Kamp K-9. During rattlesnake season, I feel more comfortable taking them to the enclosed yard than I do walking in the desert. We will be back!
Apr 14, 2020
Katie was very friendly and nice to talk to. I love the new electrical hookups.
Apr 13, 2020
Very friendly people, looking forward to visiting again.
Apr 12, 2020
Katie was incredibly helpful and attentive, made my stay a pleasure and a breeze, thanks!! ��
Apr 10, 2020
Quiet location away from the freeway. Loved hearing the coyotes yipping at each other.
Apr 08, 2020
People every friendly. Person at the check in did not have a lot of knowledge about lengths of units compared to length of the spots in the park. Front portion of the park looked good but no long spot. Only two long spots in the rear portion of the park. This portion of the park needs major work.
Aug 14, 2020
Staff was great! Katie got us set up with our membership and got things squared away for us. Going through some renovations right now but highly recommend you stop if passing that way.
- Gary Copsey on Google
Jul 05, 2020
Awesome! Even though the pool was closed there was still a golf course.
- Raze Gamer on Google
Jul 03, 2020
Good place to fill your propane .
- julia winker on Google

Benson KOA
Open All Year
180 West Four Feathers Lane
Benson, AZ 85602-7952
Check-In/Check-Out Times
All Sites
Check-in: 3:00 pm, Check-out: 11:00 am
Operating Hours
Sunday: Open 9:00 AM to 5:00 PM
Monday: Open 9:00 AM to 5:00 PM
Tuesday: Open 9:00 AM to 5:00 PM
Wednesday: Open 9:00 AM to 5:00 PM
Thursday: Open 9:00 AM to 5:00 PM
Friday: Open 9:00 AM to 5:00 PM
Saturday: Open 9:00 AM to 5:00 PM
Get Google Directions

© 2020 Kampgrounds of America, Inc.