Benson KOA Reviews
Directions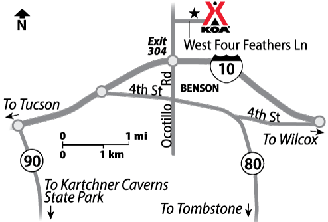 Exit 304 off I-10: go north 1/2 mile and follow the signs.   A-Frame lights can be seen from I-10 : East Bound Interstate signs are here!  West bound interstate billboard at exit 340.
Get Google Directions
Mar 02, 2020
I would have liked a few more tv channels. Also, the Wi-Fi wasn't the best.
Mar 02, 2020
The people were very nice however my wife said the womans bathroom was not clean.
Mar 01, 2020
Very friendly staff. We like the off the highway a bit parks. Spots were a little tight. But fires are permitted :)
Mar 01, 2020
Great location! Love staying at the cabins!!
Feb 29, 2020
Enjoyed the stay but cabins could have been cleaned better. There were cob webs on ceiling and under beds had not been swept in quite some time. But hosts were friendly and area was nice. Dogs enjoyed the doggie area. Thanks
Feb 27, 2020
No real internet which was a problem for us!
Feb 26, 2020
Owners are super nice, friendly and helpful. Many upgrades in process.
Feb 26, 2020
Muddy muddy, they had some rain and a lot of the grounds lacked gravel. They say they are under construction but we were there a week and didn't notice any activity. Bathrooms were fairly clean probably attended to once a day. Not horrible it's a great area to stage activities from Tombstone, Bisbee and lots of other cool places to visit less than an hour drive.
Feb 25, 2020
They are upgrading the electrical system of the campground which is a nice plus. Good pet walk area. It had rained the day we got there so the dirt road and mud in the campground was an issue. More gravel around the utility hook up area would be a good addition. All in all and good stop off point from the interstate.
Feb 23, 2020
The campsites are sooooo close together side to side and rear to rear. The place is overgrown with weeds. It seems to be under new ownership. The front is newly graveled with electric panels installed but not in use. When we left we realized that one of our portable dog fences had been disappeared. We wouldn't stay there again.
Feb 23, 2020
Sights are really close together, lots of mud not much grass. Not big rig friendly.
Feb 20, 2020
Sites close together due to major construction/renovations being done. New sites look really nice.
Feb 18, 2020
Clean but dated
Feb 18, 2020
Good campground with very friendly staff. Once they get the new site finished it will be five stars. Quite reasonable prices for the site and the on site store.
Feb 17, 2020
Conversation w/staff when making reservations we had RV spots together w/our friends. At check in, spots together not available. Host did accommodate the following day which was appreciated. Renovation was in progress. Should be nice. Area we were in needs some attention...30 amp plug cracked, cable TV hook up (cable not working in our spot). Bathrooms were clean. Staff friendly.
Feb 17, 2020
Love this KOA our 2nd stay, so clean and quiet plus friendly
Feb 16, 2020
Friendly staff, very quiet, & close to local wineries.
Feb 16, 2020
Long, muddy road to get to entrance. Campground was disheveled, cable picture was very poor. To be fair, it looks like upgrades are being done on front half of grounds, including cable and electric. Overall, overpriced compared to other better quality KOA's.
Feb 15, 2020
Very nice staff... we arrived after hours staff helped right away and found a spot for us. Wonderful views of Mountains.
Feb 14, 2020
Everything was very enjoyable!
Feb 14, 2020
Lovely couple runs this place - so helpful and nice!
Feb 12, 2020
Will be very nice when all the improvements are complete.
Feb 09, 2020
Due to remodeling we were put in the back area - the laundry could use an upgrade also. We stayed her in 2019 and were in the front and it was nice but this time not so much. Perhaps once it's done we would try again.
Feb 07, 2020
Lovely spot -- quiet, lots of trees.
Feb 03, 2020
Nice quiet site. Staff very helpful. Will be great stop when front area finished. Doing a very good job.
Feb 02, 2020
The only problem we experienced was the laundry room has an overwhelming smell of mildew. They are upgrading things so I hope this is on the list.
Feb 02, 2020
It was a great stay .Katy was very accommodating since they were full and found a us a site for one night.Thank You Katy.
Feb 01, 2020
Great place to stay, obviously a lot of upgrades have been done and many more in the works, quiet friendly place, no body bothers you, best propane prices in town, clean bathrooms. We shall return for sure next winter.... John & Karen ( chemainus BC)
Jan 31, 2020
Very nice proprietor and grounds. I accidentally left my Journal and they sent it back to me in Tennessee. Much appreciated.
Jan 28, 2020
The campground is in the process of updating the grounds. It is kind of a mess right now. Once it's done, I'm sure it will be fine.
Jan 26, 2020
The hostess, was very friendly and helpful. She put me on a great site and had her son in law come and fix a problem on my RV! Clean restrooms and shower. Overall a great experience!!!
Jan 16, 2020
We were there only over night, but it was easy on and easy off. The hosts were friendly and helpful. The site was nice and long.
Jan 16, 2020
Bathroom lights did not work and there are no shelves in the showers for soap or shampoo.
Jan 08, 2020
beautiful views. clean sites. quiet.
Jan 06, 2020
This camper comment has been removed by KOA due to profanity.
Jan 05, 2020
Park was ok but pricey for what they offered.
Jan 04, 2020
We arrived after dark and the office closed early due to Christmas Eve. The problem was finding our site in the park. The lack of lights/illumination and signs made it difficult to locate our site. I'm not sure we ended up in the correct site. The lack of lighting and signage, narrow lanes, and over hanging branches cost me some sheet metal damage to my RV. We had to leave early the next day
Jan 03, 2020
Surprised to see campground was under renovations. Campground was rundown. Our lot was not level nor very big. Sites and roads did not match given map at checkin. Management was very friendly and helpful. I believe when this campground is completed it will be a nice place to stay.
Jan 03, 2020
Got there after dark; no lights, spots not marked well; couldn't find our space.
Jan 02, 2020
Showers need to be cleaned.
Jan 02, 2020
The cabins are very cute, and the mattresses on the beds are super comfortable. For winter camping, our first night, I felt an extra or more proficient heater would have been nice, but second night weather warmed up. The fire pit was great, but it was built so close to a small RV site that the couple in the RV site were getting all the smoke, Lol. But clean, quiet, comfy, and lovely campground!!!!
Jul 05, 2020
Awesome! Even though the pool was closed there was still a golf course.
- Kevin G on Google
Jul 03, 2020
Good place to fill your propane .
- julia winker on Google
Apr 16, 2020
Katie and her staff were very professional and helpful. This KOA is currently under renovations, and they are doing a great job! The addition of a Kamp K-9 was much appreciated by my Golden Retrievers! We could tell that they are working on several other improvements as well. The Kampground is conveniently located just off of I-10, but far enough away to feel secluded and quiet. We thoroughly enjoyed our stay, and we will be back!
- Jennifer Campbell on Google

Benson KOA
Open All Year
180 West Four Feathers Lane
Benson, AZ 85602-7952
Check-In/Check-Out Times
All Sites
Check-in: 3:00 pm, Check-out: 11:00 am
Operating Hours
Sunday: Open 9:00 AM to 5:00 PM
Monday: Open 9:00 AM to 5:00 PM
Tuesday: Open 9:00 AM to 5:00 PM
Wednesday: Open 9:00 AM to 5:00 PM
Thursday: Open 9:00 AM to 5:00 PM
Friday: Open 8:30 AM to 5:00 PM
Saturday: Open 9:00 AM to 5:00 PM
Get Google Directions

© 2020 Kampgrounds of America, Inc.