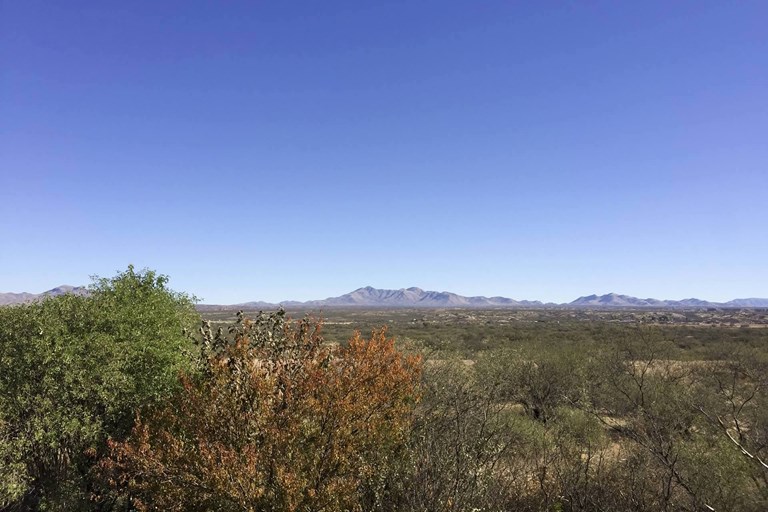 Benson KOA Reviews
Directions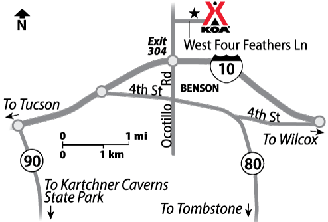 Exit 304 off I-10: go north 1/2 mile and follow the signs.   A-Frame lights can be seen from I-10 : East Bound Interstate signs are here!!!!
Get Google Directions
Mar 31, 2020
Just reopened after some major work. Convenient to I-10 but far enough away to be very quiet. Lots to see in the area.
Mar 30, 2020
Nice owners! Very dusty, rutted entry road. Sites are basic and somewhat small...small tree at our 1st site scratched our coach and disabled any chance of opening slide or awnings.
Mar 28, 2020
The worst KOA we ever stayed at! Our spot was a huge mudhole, we actually had to build a path by raking up what little gravel we could find to get to front door, just from unhooking trailer our shoes were ruined! Back door had a huge puddle so never had access to it, never seen anyone doing work during our 3night stay at all, yet said under renovation? Office lady was rude didnt like reward points
Mar 26, 2020
Quiet and well maintained by really nice people. They are working hard to make this campground even better. Enjoyed our stay very much.
Mar 26, 2020
Having read the reviews before making our reservations, I knew that we were not getting one of the better KOAs. Work is in progress to improve this one, but it does seem to be moving very slowly. Pros: it is outside of town, quiet, you can see the beautiful sunsets. Cons: narrow sites, insufficient gravel on sites (turns into sinking mudpit when it rains), no room to set up grill.
Mar 25, 2020
Had a wonderful time, everything was easy from reservation, hookup, visit, and leaving. This was a great value and I am looking forward to staying there again.
Mar 25, 2020
Koa-Benson, Arizona. A very pleasant camping. Nice places. Tables and benches painted in beautifull colours. Trees and birds everywhere. Adequate and friendly service.
Mar 23, 2020
We'd never stayed at KOA before. Reservations were easy to make. The owners were friendly and helpful. The site was small (compared to state parks), but it had full hook ups, and the campground was not full so we didn't feel crowded. We declined to use communal bathrooms, which needed updating.
Mar 23, 2020
The staff is absolutely tremendous! The park is obviously under renovations but it will look amazing when finished. Would highly recommend!
Mar 23, 2020
Great location, friendly staff and full amenities made a pleasant visit.
Mar 21, 2020
Will be nice when work 9n sites is done. Very friendly people
Mar 20, 2020
It is a 3 right now, but new managers are working hard to improve all areas of the park so that it will be a 5 next time we visit. Some problems were not revealed to them when they took over. They are very friendly, hard-working folks who do their best to make your stay enjoyable. Thank you.
Mar 19, 2020
Nice campground! No to close to the always roaring interstate. Tree for the shade. Nice tiling in the restroom. Internet could be better (we are travelling so need internet) and showers could be cleaner
Mar 19, 2020
Still needs some work, but I would stay there again.
Mar 19, 2020
New very nice owners working hard to improve the grounds. Stayed two days and would highly recommend this KOA!
Mar 18, 2020
We had major camper issues and hosts not only comp'd a night, they helped us locate emergency repair guys - on a Sunday and amid the chaos surrounding the corona virus madness. They certainly reduced my stress! Definitely will return! Thank you!
Mar 18, 2020
Very accommodating staff. Friendly & anxious to accommodate the campers needs. Lots of construction going on which will improve the campground even more.
Mar 18, 2020
The hosts wre awesome and the park was great even though it is being renovated. We were tent campers and camp kitchen was also a wonderful amenity. I will certainly highly recommend to others and will return myself. Thank you!
Mar 17, 2020
This KOA is the most rundown, sad, unkempt one we've ever stayed at. The owners are very nice, but it really is kind of like a junkyard with campsites. The permanent people obviously have no rules to abide by. The pool is permanently closed and yet they advertise they have one. It's also the most expensive KOA we've ever stayed at. If there had been anything else available we would not have
Mar 17, 2020
Want to thank Larry for hooking me up to elec. since I tore my elec cable from the roadtrek. You all are great hosts and very friendly, we look forward to our next visit.
Mar 16, 2020
It was beautiful and very quiet after 20:00. We had a very relaxing stay. �
Mar 15, 2020
Stayed here a few years ago, MUCH improved now. Look forward to another visit to see how the continuing upgrades turn out. Unfortunately, we had to cut our stay short due to water pump issues, but thank you again to the staff for being so understanding the helpful.
Mar 13, 2020
They are in the middle of upgrading the campground. We had a lot of rain which caused problems with not having enough gravel down yet. I'm sure it will be brought to where everyone will like it soon.
Mar 13, 2020
I lost my husband while at the park and the staff and other campers were absolutely amazing with their help.Thanks again Cheryl McLennan
Mar 13, 2020
Nice clean campground with friendly staff but very remote. 30 minutes to Tombstone
Mar 13, 2020
We were so disappointed in this KOA. !. It rained and our camp site became a mud hole. It was a horrible mess. We understand it is under construction, so hopefully the mud hole problem will improve. 2. The Laundry room stinks and the building is in need of replacement. 3. The bathrooms need to be renovated/replaced and cleaned. They are dirty. The staff is the only reason the rating is not zero
Mar 13, 2020
Pleased with the improvements made to the facility. Looking forward to our next visit.
Mar 12, 2020
Our assigned site was recently modified and with rainy weather, my RV sunk down to front axel. Owners were prompt to move us to better location. Otherwise great campground in beautiful region.
Mar 10, 2020
Improvements to the park are in process and will make a nice difference. The camp space we were in (#35) was too close to the next one.
Mar 09, 2020
Had a hard time positioning rv in site to open all slides. Had to back out since trees in way of pull through.
Mar 09, 2020
Hosts are the nicest people! Counting on better wifi on our next visit.
Mar 09, 2020
It is a very nice park. The manager was extremely nice and helpful.
Mar 04, 2020
Since they are working on it, it's hard to rate the whole park. I haven't found a koa that I haven't liked. But I don't go there to be entertained. I go there to camp, relax and take in the sights.
Mar 02, 2020
Didn't like gravel road to get there. TV and internet service was awful.
Mar 02, 2020
This KOA is currently remodeling the campground. Installing new electric and sewer connections at each campsite. They are painting the buildings and installing new street lamps. Some updates have been made in the restrooms. When finished, this KOA should be a lot better. The only down side is that the dirt road to access the campground. I would not want to drive that road in the rain.
Mar 02, 2020
I would have liked a few more tv channels. Also, the Wi-Fi wasn't the best.
Mar 02, 2020
The people were very nice however my wife said the womans bathroom was not clean.
Mar 01, 2020
Very friendly staff. We like the off the highway a bit parks. Spots were a little tight. But fires are permitted :)
Mar 01, 2020
Great location! Love staying at the cabins!!
Feb 29, 2020
Enjoyed the stay but cabins could have been cleaned better. There were cob webs on ceiling and under beds had not been swept in quite some time. But hosts were friendly and area was nice. Dogs enjoyed the doggie area. Thanks
Feb 27, 2020
No real internet which was a problem for us!
Feb 26, 2020
Owners are super nice, friendly and helpful. Many upgrades in process.
Feb 26, 2020
Muddy muddy, they had some rain and a lot of the grounds lacked gravel. They say they are under construction but we were there a week and didn't notice any activity. Bathrooms were fairly clean probably attended to once a day. Not horrible it's a great area to stage activities from Tombstone, Bisbee and lots of other cool places to visit less than an hour drive.
Feb 25, 2020
They are upgrading the electrical system of the campground which is a nice plus. Good pet walk area. It had rained the day we got there so the dirt road and mud in the campground was an issue. More gravel around the utility hook up area would be a good addition. All in all and good stop off point from the interstate.
Jul 05, 2020
Awesome! Even though the pool was closed there was still a golf course.
- Kevin G on Google
Jul 03, 2020
Good place to fill your propane .
- julia winker on Google
Apr 16, 2020
Katie and her staff were very professional and helpful. This KOA is currently under renovations, and they are doing a great job! The addition of a Kamp K-9 was much appreciated by my Golden Retrievers! We could tell that they are working on several other improvements as well. The Kampground is conveniently located just off of I-10, but far enough away to feel secluded and quiet. We thoroughly enjoyed our stay, and we will be back!
- Jennifer Campbell on Google

Benson KOA
Open All Year
180 West Four Feathers Lane
Benson, AZ 85602-7952
Check-In/Check-Out Times
All Sites
Check-in: 3:00 pm, Check-out: 11:00 am
Get Google Directions

© 2020 Kampgrounds of America, Inc.