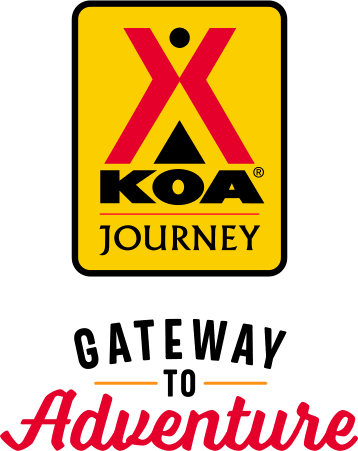 KOA Journey Campgrounds
KOA Journey campgrounds are the perfect oases after a day on the road. Whether it's along the way or a quick getaway, they've got you covered. Located near the highways and byways of North America with long Pull-thru RV Sites, they deliver convenience to the traveling camper. Pull in, ease back and take a load off.
KOA Journeys Feature:
Pull-through RV Sites with 50-amp service
Premium Tent Sites
Well lit after hours check-in service
Directions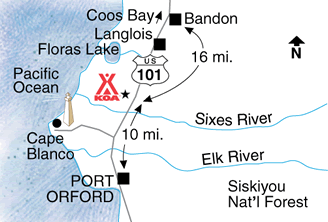 16 miles south of Bandon or 10 miles north of Port Orford on scenic Highway 101 at mile marker 291.
Directions to our Campground
Get Google Directions
Jul 27, 2021
Spent 4 nights enjoying the coastal weather. Had some great sea food in Bandon and Port Orford. The staff is very friendly and helpful. The camp is clean and neat. The roads are gravel, so there is some dust. Most of the campers abided by the 5mph rule so it wasn't terrible. Considering the dry weather, there wasn't much could be done besides employing a water truck.
Jul 27, 2021
Pretty property in great location. Nice amenities except wifi was very sketchy at the site and only slightly better in rec room. Could use another bathroom at other end of park. Staff was friendly and helpful. Rec room could get a bit more attention, ie comfy chairs, updated decor, more games and fun stuff but still nice space. Store well-stocked. Corn dog place was closed...boo hoo
Jul 27, 2021
Beautiful campground! Love all the trees. We will definitely stay here again!!
Jul 26, 2021
As a handicapped American I had trouble getting out of the restrooms. Please install grad bars in them, I slipped once.
Jul 26, 2021
This park is so great and our space, A05, was amazing. Big enough for our 28 ft trailer and major room to spare if you want to add two more tents. Park was exceptionally clean and the staff was very kind and friendly. It is a must stay if you are going up the Oregon Coast.
Jul 26, 2021
Bathrooms very clean, front office very friendly, great camp sites in the trees, clean showers and pool, loved the little train for kids to ride on
Jul 26, 2021
Gave it a 4 instead of 5 because our campsite was so small it barely fit our tent, and there was parking behind our site but we didn't know it and no one gave us any instructions. Also the dryers didn't work well and one was out of order. There was a line of people waiting for dryers. The staff was friendly. The pool and hot tub were great.
Jul 26, 2021
It was lovely there and peaceful as well.
Jul 26, 2021
Loved our stay, secluded, quiet, nice people, great amenities.
Jul 26, 2021
Host staff is very friendly and sweet- definitely would recommend and stay again
Jul 26, 2021
Super friendly staff - asked about where to go find agates in the area and it ended up being a really neat beach even if the agates were few and far between that day.
Jul 25, 2021
Excellent campground. There are tall trees everywhere which gives a sense of privacy. It is effective in keeping ambient noise to a minimum. The rv spaces are as level as I I've every saw, clean and well kept. I'm not sure if the spaces are bigger but they sure feel like it. The on primase store is well stocked and fun to visit. The pool and hot tub are a clean and a nice size.
Jul 25, 2021
Best KOA ever. Beautiful trees, nice sized spaces, helpful employees. Bonus was meeting Spike the very friendly KOA cat.
Jul 25, 2021
Very friendly Very well kepted
Jul 24, 2021
Beautiful campground and the staff was very friendly. We have stayed at seven campgrounds during this trip to Oregon and this had been my favorite site so far.
Jul 24, 2021
Stayed for 7 days. Loved it. However, the food truck was not open at all which was a bummer. We loved the K-9 area but would really appreciate it if you guys put down hog fuel or bark dust. The dog had a great time but ended up filthy. Great place to stay. We'll be back.
Jul 23, 2021
Our stay was fine and the kids enjoyed the hot tub and pool. The spots were a little too close together but clean.
Jul 23, 2021
nice to find a pull through with some leveling we pulled through and had a comfy sTAY
Jul 23, 2021
There wasn't really anything bad, but we just didn't enjoy it here. It felt dirty- there were 3 toilet stalls & 3 showers in each (men/woman) for the entire camp ground, so they are constantly full, lines to use everything, pool was murky & filthy laundry, sinks. The staff was very nice & they keep things up so it's ok for a passing through place but not somewhere I would want to stay again.
Jul 22, 2021
Very nice, quiet campground. We had a little issue with our cat, he had a seizure and passed away during the night, we asked in the office, if we could buy him and they said sure over by the pet walk, very nice people.
Jul 22, 2021
We stayed a total of 6 nights in a middle site. The pros; sites are shaded with trees and adequate shrubs for privacy in between very closely spaced sites. The cons; the staff was not very friendly while registering, the campground is tight for trailers to access sites and navigate the roads, and is not adjacent to anything of interest for hiking, etc. The Langlois market is a 10!
Jul 22, 2021
Pool was extremely dirty and gross. Not nearly enough showers for the camp. The shower floor was caked with soap scum. Food and train rides are no longer. I came to this KOA 25 years ago and it was so fun and awesome then. I brought my kids and was hoping for the same wonderful experience I had as a kid. Very disappointed! We definitely will not be returning.
Jul 21, 2021
Very nice campground ! Lots of trees that provide shade! Campground was very clean & all the staff was very nice and professional! We can't wait to go back !
Jul 21, 2021
We absolutely loved the environment! This was our first KOA experience They made it feel like home. The laundry room was kept nice & easy to use. The pool & hot tub so fun for the kids. This KOA is close to The little city; watched a beautiful Fourth of July parade; had delicious cheese and ice cream at the Creamery. Walked along the Coquille River. Hiked Cape Blanco. Highly Recommend! Thx!
Jul 21, 2021
Nice place, helpful staff, the staying bit was excellent. Getting a 38' RV with toad in and out was not so stellar. The site itself was fine, both for size and hookups, but getting in and out was 'difficult'. Unhook/hook toad at entry or risk having a bad day.
Jul 21, 2021
Only stayed one night but the staff was super friendly and the place was clean
Jul 20, 2021
Very pleasant stay. The staff was friendly and helpful. I will stay at this KOA again!
Jul 20, 2021
Are Stay was very good everyone was super nice we really liked are spot the only reason i put 4 starts was i feel the bathrooms and showers could be cleaned more often.
Jul 20, 2021
Very friendly staff and a nice quiet park.
Jul 20, 2021
The Bandon / Port Orford KOA is definitely on my 'will stay again' list. This campground has the feel of a camping in the forest with plenty of trees and isolation from your neighbors, while providing the excellent customer service and amenities I've come to expect from KOA camping.
Jul 20, 2021
Another great KOA with fantastic people running the show! Loved the Port Orford area and beautiful rivers. This campground is snuggled into a grove of trees that keeps the wind at bay. Located right off 101, but wonderfully quiet for a good nights sleep. The design of the campground seemed a little snug for longer trailers, but I had no problem in my van. clean bathrooms, very well kept property.
Jul 19, 2021
Very Nice park. Great that we could have a fire. Neighbors we a little too loud after 10pm.
Jul 19, 2021
I have a 20 ft Minnie Winnie, we stayed in spot A01, a little tight to get into but once I got the trailer situated all was good. It felt very private. There's a picnic table and fire pit that we used 3 of the nights we stayed. There's a pool that seemed to be a hit with the kids. We had dogs, they have a great area for dogs, an enclosed area and a small walkway through the woods.
Jul 19, 2021
The staff members were professional and friendly. They made us feel so welcome. We are first time KOA members and live it!!!
Jul 19, 2021
Wonderful time
Jul 19, 2021
Neighbors were very loud way past quit yours
Jul 19, 2021
Only there 1 night. But a suggestion would be not to clean restrooms at 7am when most people are getting up and going for the day. Otherwise grounds were nice.
Jul 19, 2021
I have no complaints, it was a great stay, everyone was great and friendly, including the other guests, top notch! Thank you.
Jul 19, 2021
quite and relaxing
Jul 25, 2021
Cool little koa the host was very nice, we stayed in one of the little cabins it was very clean and nice the pool and hot tub were very clean
- Ryan Poole on Google
Jul 23, 2021
First time Camping in our new RV with our Baby and I'll tell you this place is great if you like feeling like you're out in the woods but not.
- Ryan Sherman on Google
Jul 19, 2021
The KOA staff is professional and friendly. They made us feel so welcome. Clean place and beautiful. We are first time KOA members and love it!!!
- Regina McFadden-Jensen on Google