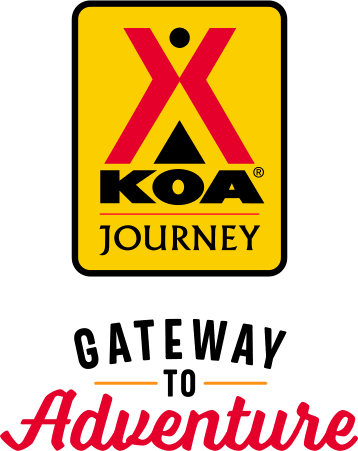 KOA Journey Campgrounds
KOA Journey campgrounds are the perfect oases after a day on the road. Whether it's along the way or a quick getaway, they've got you covered. Located near the highways and byways of North America with long Pull-thru RV Sites, they deliver convenience to the traveling camper. Pull in, ease back and take a load off.
KOA Journeys Feature:
Pull-through RV Sites with 50-amp service
Premium Tent Sites
Well lit after hours check-in service
Directions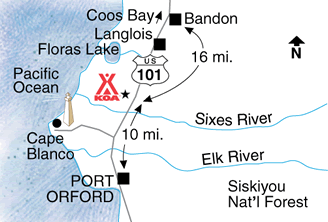 16 miles south of Bandon or 10 miles north of Port Orford on scenic Highway 101 at mile marker 291.
Directions to our Campground
Get Google Directions
May 10, 2021
very nice and peaceful.
May 10, 2021
The place was beautiful. The staff was very friendly and accommodating. I will be back.
May 09, 2021
Very clean and beautiful grounds. Staff was very nice as well.
May 09, 2021
Absolutely loved the little cabins such a great experience my kids and I had.
May 05, 2021
Everyone who makes things happens here is kind, thoughtful and helpful! When you leave you feel like you are leaving family behind. The bathrooms are kept spotless! Fantastic! Great playground for the small people!
May 05, 2021
Great staff, clean sites, pretty location with tree's.
May 03, 2021
Check-in worked great. Dog park was great. All sites were very close together and we had a difficult time maneuvering between vehicles and trees. Our site was very UNlevel and had muddy spots. All roadways had muddy spots.
May 02, 2021
We went to the beach
Apr 24, 2021
Campsite was pull through and very spacious. Quiet and serene. Lots of trees. Kathy in the office was very nice and accommodating. Will return!
Apr 23, 2021
Excellent woodsy park and will kept. We were there in early spring so the pool and the little food/treat truck was not opened yet. Bathrooms and laundry area were very clean. Will stay there again when we are in that area again.
Apr 21, 2021
Loved the cat had a great time will be back
Apr 20, 2021
Called us and left a very detailed message for me. Was willing to open the store when we got there if we needed anything. Very nice and quiet setting, wish we could have stayed longer.
Apr 20, 2021
It was nice, except it was cold in the cabin even with the heater. There are many open spaces from the door that need to be sealed and the windows need to be updated to help with noise and heat loss. And the refrigerator is very noisy. The unit next to ours had a fence around their unit which is good for privacy; this would be nice for all the cabin units.
Apr 19, 2021
We had a very private space thanks to the staff, they were very friendly and always working. The showers were clean but only provide a small spray of water. Restrooms clean. It would be really great to see this KOA upgrade and pave the dirt road and rv spaces. Our site was level front to back but not side to side. Basically we thought sprucing up the place would be what this older KOA needs.
Apr 19, 2021
Check in was very easy and instructions straight forward. Love the Wi fi, space clean. We just had the ligth burn off in our site otherwise it was a great place to be.
Apr 17, 2021
We loved the campground. Everything was clean and the staff was very nice. Unfortunately we had planned on 2 nights and had to leave unexpectedly so was only able to stay 1 night. When we found out we had to leave early we went to the office but it was 5:05 and they had closed so I went the very next morning to check out and explain hoping we would get a portion of our bill adjusted. :(
Apr 16, 2021
Beautiful, quiet, wooded sites. It has a great dog park and walk. Everyone was very friendly and helpful. We thoroughly enjoyed our stay here.
Apr 14, 2021
Campground was gorgeous with ample privacy between sites. Bathroom was nice but a ways to walk from our campsite. Showers were hot and nice. Hosts were extremely accommodating and helpful with advice for beautiful beaches. I will definitely camp here again.
Apr 11, 2021
Nice campground with even nicer hosts. Even though the office closes at a certain time, the host leave their phone number in case you need anything. Would definitely go back.
Apr 11, 2021
Due to COVID (CCP Virus) and leftist governors too many things remain closed. A hiking trail to the beach would be a great addition to this KOA. Otherwise this is a nice small site.
Apr 11, 2021
We came in late and they had the porch light on and the heater on in our cabin. Thanks you
Apr 09, 2021
The cabin was clean. The check in check out process was simple and straight forward.
Apr 08, 2021
It was just what the Dr. Ordered.
Apr 08, 2021
Nicely kept, quiet KOA with beautiful tall evergreens. Sightseeing in the Bandon area. Owners very informative in directing us to favorite sites.
Apr 08, 2021
It was great we loved the little cabin. It was perfect. Plane on staying more in future.
Apr 07, 2021
Parking was very tight. Ended up scraping the bottom of my car on a tree root because of the lack of space
Apr 06, 2021
Only on thing The water and sewer outlets are too far apart
Apr 06, 2021
The sites were a mess. There was lots of mud everywhere. Our particular site E12, had very large size gravel and it was not even close to level. Very had to find a spot to park where it was somewhat level and even. When I did find a spot I had observed after day 2 that my parking levelers were actually sinking into the gravel. Amenities were more than most places. The firepits sucked.
Apr 06, 2021
Wonderful stay--playground and having the rec room open for playing a game of pool was really fun!
Apr 05, 2021
Beautiful park. Wish the hot tub had been open but a little too early yet/
Apr 04, 2021
Was great, had good facilities, everybody was super nice and accommodating.
Apr 04, 2021
I I really enjoy visiting this area. The campground is clean and quiet. The staff is very helpful
Apr 02, 2021
Very friendly staff and the facility was very accommodating and clean. We can't wait to return this summer..
Mar 31, 2021
Cathy and team were amazing and wonderful. Campground was nice, but in the middle of no where land.
Mar 31, 2021
Nice trip, and a nice camp kitty that visited us everyday
Mar 31, 2021
Always enjoy staying at bandon/port orford Koa very clean and friendly facility unfortunately this last stay there was a group in the adjacent campground up past the 10:00 pm quiet time it was close to midnight when they finally settled no consideration for other campers plus they did not have there dog on leash at all times..I purchased a 2 bags of firewood and both bags were pieces of flat cedar
Mar 31, 2021
Had a great time!!!
Mar 30, 2021
The staff was friendly and accommodating. There were a lot of puddles in spaces, due to rainfall. The host was accommodating with changing the space as available. Staff worked diligently unloading gravel to fill the puddles.
Mar 29, 2021
very muddy, your email stated no trees....nothing but trees.no wifi, or cable at site. pit run rock at entrance to site(could /would not pull a trailor over it. it was nice you had new gravel, but not packed down, trailer ,truck, and feet sank into gravel, very dirty. thankyou for allowing us to move to another spot. ,
Mar 29, 2021
The camping area was extremely muddy. They need to bring in some gravel or do a bit of excavating
Mar 27, 2021
We called late and still was able to get in with no reservation. Thank you! Everything was great. No complaints at all.
Mar 25, 2021
The cabin we stayed in was comfortable, they had a space heater this time. My daughter found a hat in her bed but we had our own sleeping bags so it was fine. There was a cat that came to have breakfast with us every morning and it was so nice. The kids loved it! Just to warn you it doesn't eat hotdogs or sausage but does like bacon and eggs
May 06, 2021
Really nice! Very peaceful and super nice people.
- Eddie Morse on Google
Apr 30, 2021
I visited this site and planned on staying there but I came too late and was unable to check in but it looks very nice clean well-kept
- Mike Chafin on Google
Apr 28, 2021
Great atmosphere & super nice Owners & Staff! The Trees will keep you cool, & the pool warm, great park for families.
- Lynn n Denise Boon on Google