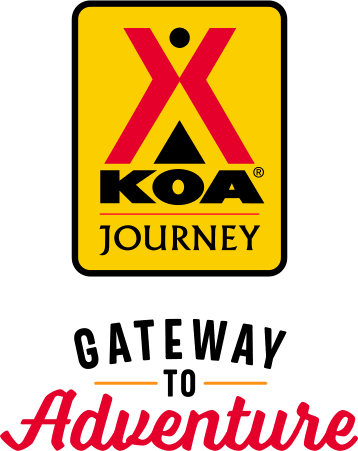 KOA Journey Campgrounds
KOA Journey campgrounds are the perfect oases after a day on the road. Whether it's along the way or a quick getaway, they've got you covered. Located near the highways and byways of North America with long Pull-thru RV Sites, they deliver convenience to the traveling camper. Pull in, ease back and take a load off.
KOA Journeys Feature:
Pull-through RV Sites with 50-amp service
Premium Tent Sites
Well lit after hours check-in service
Directions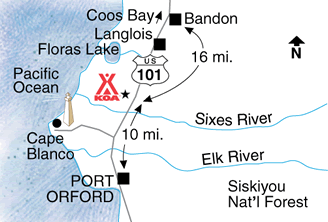 16 miles south of Bandon or 10 miles north of Port Orford on scenic Highway 101 at mile marker 291.
Directions to our Campground
Get Google Directions
Feb 21, 2021
No hot water for showers. Luke warm maybe. Went at different hours even when not used. No difference. No hot tub.... Thank you to Covid and our POS GOVENOR.
Feb 20, 2021
Very kind friendly and helpful staff! They went above and beyond to make sure we were happy and comfortable. The wooded campsites are magical. The grounds and facilities very well maintained. I look forward to staying again!
Feb 15, 2021
Had a great time. Was a great location was able to go to both Bandon and Port ordford in just a short drive.
Feb 15, 2021
Everything about our stay was awesome
Feb 10, 2021
We came in after hours and the check in process was so well organized that it made it easy to get settled into an appropriate spot. Very clean and everyone was so helpful
Jan 30, 2021
The facility was very nice and our stay was pleasant. The staff were a pleasure to do business with and attentive to our needs. The showers and bathroom area were clean and well kept. The only issue I had was that the water pressure was low, thus the 4 stars. If the opportunity to stay at the Brandon/Port Orford KOA comes again we will be happy to take it. �
Jan 26, 2021
We absolutely LOVED this campground. All of the staff were excellent. They were all extremely friendly and helpful. The campground was very very clean and well maintained. There is nothing we disliked about our stay here!
Jan 18, 2021
Beautiful campground, cabin was very cozy. Can't wait to stay again
Jan 18, 2021
Kathi was very friendly and accommodating for our after hours check in/site selection. She went out of her way to help us and made it a pleasurable overnight stay.
Jan 09, 2021
Great camp hosts! Friendly and accommodating. Pretty setting. Some rv sites have patios around the fire pits. Well maintained and clean. Hope we can get back soon.
Jan 03, 2021
Clean restrooms , overall very well taken care campgrounds, host was very nice, this was my first stay at a KOA and wasn't sure what to expect but I was surprised in a good way I definitely recommend this place.
Dec 31, 2020
It had been raining a lot. So much so that Rebecca called us before we arrived to let us know they had moved us to a less flooded site. It was perfect! So appreciated her help and jovial personality when we finally arrived. We stayed there again on our return home trip. Again, Rebecca took great care of us. We hope to return to this smaller facility and enjoy the area more.
Dec 22, 2020
Given the wet circumstances for an overnight stay, we were well taken care of. Rebecca is a sweetheart!
Dec 20, 2020
Very private sites well divided by trees, bushes and dividers.
Nov 30, 2020
Thank you for the wonderful time staying at your location. Staff was extremely friendly and helpful. Site facilities were very clean and well kept. My wife and I look forward in coming back next summer.
Nov 30, 2020
Had an relaxing stay... campground was definitely tended too, quiet, and beautiful scenery. Cathy was great to talk to and very helpful! Thank you!
Nov 30, 2020
Great spot with a patio and wonderful fire pit Close to toilet and showers. Beautiful coastal region
Nov 29, 2020
IT was great! Cabin A3 has a floor board that is really soft and needs repaired! Also, I am not sure why the bathrooms need to be cleaned at a time when most people get up and need to use it. Can it be either later or earlier? 8-9 is when most need to use it.
Nov 27, 2020
Clean nice restrooms, felt like camping with beautiful trees and loved the fire pits.
Nov 24, 2020
Wonderful, quiet, beautiful, kind hosts. Thank you!
Nov 23, 2020
Super nice check in lady.
Nov 20, 2020
This stay was definitely off season and the staff made sure I knew who to contact and check in when I arrived after office hours. Nice site Only suggestion would be to change caps on sewer covers to white so the can be easily seen. I arrived at dusk and it could barely be seen
Nov 15, 2020
We had no problems. We stayed one night and it was great.
Nov 12, 2020
The park was nice with lots of trees. The host were pleasant and helpful, will definitely stay again.
Nov 11, 2020
One night nice park lousy cable clean and quiet
Nov 09, 2020
Site was a little tight.. very quiet though and i got a great nights sleep
Nov 03, 2020
Your KOA Campground is a great place to stay while taking time to explore some of Oregon's spectacular coastline. We usually blast our way up Hwy 5 in one day to visit relatives in Oregon. So, this time it was wonderful to slow down and take time to explore places like Point Blanco and Flores Lake before heading inland to family.
Nov 02, 2020
I pulled in with a 45' and slide outs. The male host took off n his cart and left me at the office. I caught up to him (through a winding tree lined road. He signaled my spot and left. The spot was too narrow. My slide out was up against a tree and very tight getting out. I went to the office and she gave me a beautiful appropriate size spot. Trees need cutting back and firewood was damp
Nov 01, 2020
Great secluded site. Staff was very friendly and helpful.
Oct 29, 2020

Enjoyed the rental loft as an easy place to stay safe during Covid.
Oct 28, 2020
Beautiful location with well appointed landscaping and trees for privavcy and shelter. Should develop wider entranceway into the campgrounds from Highway 101 for safety and easement entering and exiting.
Oct 27, 2020
We just car- camped , it was quiet, beautiful setting ������
Oct 26, 2020
Great KOA very clean, Well run. The Staff makes you feel at home. Great Stay �
Oct 25, 2020
This was the second time my wife and I have stayed at a KOA . This stay overnight was as good as the first stay we had. The owner in the office was as friendly and personable as the first time too. We love the atmosphere of the campground and the cleanliness of it to. Thank you KOA.
Oct 25, 2020
Limited internet - very difficult when traveling with 3 people who need the internet for school and work.
Oct 23, 2020
It was Ok. Had a cabin so all of them are the same. The cost of wood was twice of other KOAs. $10 for six pieces. I also got a small can of chile. $3.95 So you better have every thing you need before you get here. There was lots of trees so that was nice. Koa is very costly. So it is up to you what you want.
Oct 22, 2020
What a gem hidden amongst the trees. It was very quiet and peaceful. The facilities were clean and staff super friendly. We'll stay there again next time we are traveling along the coast �
Oct 21, 2020
Very pretty campground in the trees. Nicely spaced out and great hosts.
Feb 27, 2021
Beautiful sites, friendly staff
- annabel taylor on Google
Nov 21, 2020
Lovely campsite in an enchanted forest. Very quiet. Camp hosts helpful and kind. Hope to return. Enjoyed visiting Port Orford, Cape Blanco lighthouse, Agate beach, Coast Guard boat museum and Lake Floras. The quilt store and Herban Farm in Port Orford great. Loved the quaint Grange on the Sixes River on the 101 too.
- Tawny Cleveland on Google
Nov 06, 2020
Nice staff ..fun
- Randall Howell on Google