Things to Do in Angola, Indiana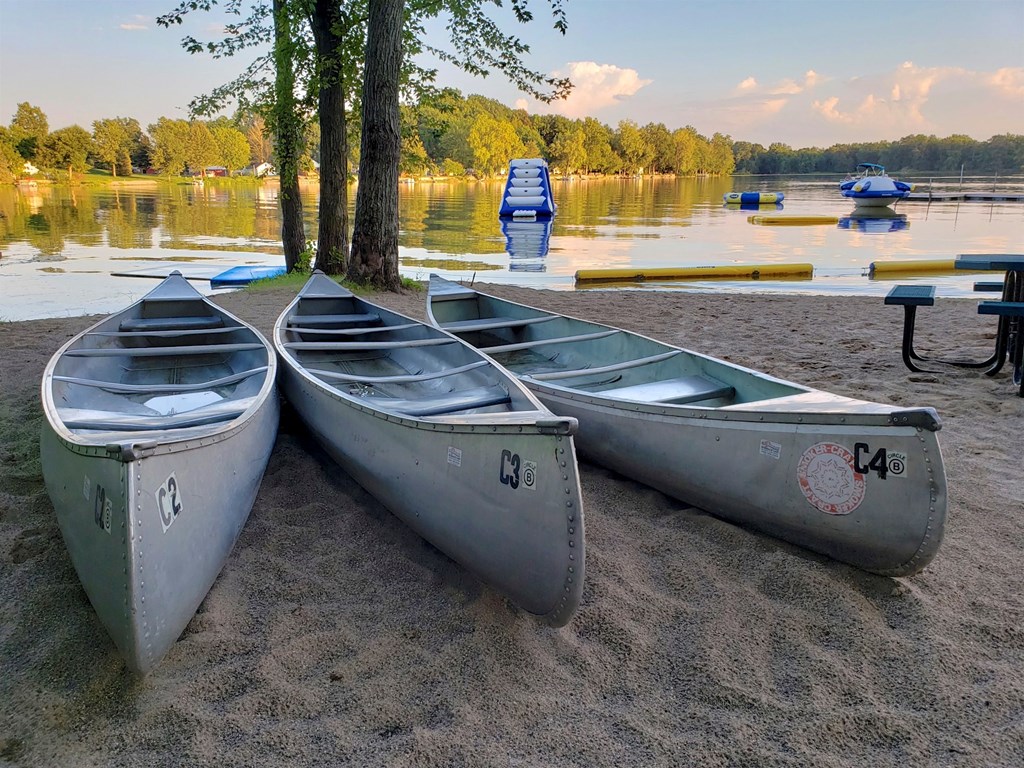 Things to Do in Angola, Indiana
Sitting against the backdrop of Indiana sky and sparkling lakes is the small town of Angola, where you will find a charming downtown, the Trine University campus and endless opportunities for the whole family. Whether you are an outdoor enthusiast with a passion for hitting the trails or you prefer the greenery of an established golf course, you can experience a little bit of everything here.
Take a look at these fun things to do in Angola, Indiana, and see how Kampgrounds of America can enhance your stay even more.
Get Outdoors at Pokagon State Park
Pokagon State Park is off I-69 near Angola. The park is shaped by Snow Lake and Lake James, and it was originally known as Lake James State Park. However, the name was later changed to reflect the legacies and heritage of Leopold and Simon Pokagon. They were father and son leaders of the Native American Potawatomi tribe that inhabited the region. When you visit this park, you will get to experience a peaceful balance of hills, glacier-formed lakes, wildflower meadows and wetlands, and there are easy and moderate hiking trails marked throughout.
You will also find a variety of fun outdoor activities for the whole family, with amenities like:
A playground.
Paddleboat, rowboat and pontoon rentals.
Fishing and ice fishing spots.
Picnic shelters.
An educational nature center.
A saddle barn with guided rides.
A sand volleyball court.
A lakeside beach for swimming and sunning.
Cross-country skiing and sledding.
If you visit during the winter, you cannot miss the seasonal Toboggan Run, with nearly 90,000 participants speeding through steep dips and valleys.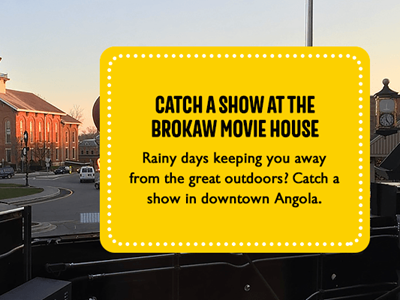 Catch a Show at the Brokaw Movie House
Rainy days keeping you away from the great outdoors? Catch a show in downtown Angola. The art-deco-inspired Brokaw Movie House first opened its doors in 1931, boasting a single screen, 50-cent admission and space for 600 viewers. Since then, much of the original interior has been restored to its former glory, with ornate decor and plasterwork that remind guests of the classic movie-going experience.
Guests can purchase affordable tickets to new and previous releases, with a concession stand serving popcorn, nachos, pizza and other cinema staples.
See the Animals at Wild Winds Buffalo Preserve
Did you know bison bulls can reach 2,000 pounds and stand at 6 feet tall? They are also fast enough to run up to 25 miles per hour. Get a firsthand look at one of America's most impressive symbols at Wild Winds Buffalo Preserve in nearby Fremont, home to about 250 wild bison that graze and thrive over the preserve's 400 acres of grassy meadows. Calving season starts in May, so see for yourself if you can spot one of the 70-pound babies. They are nicknamed "red dogs" for the orange hue they have until they mature and turn a darker shade of brown.
Tours are available at the preserve, with a gift shop on site.
Enjoy Local Food and Drink
Stock up on souvenirs and indulge in local fare at any of these favorite spots in Angola and the surrounding area.
Farmers' Markets
The Steuben County Farmers Market runs from 8 a.m. to noon every Saturday from May through October on North Wayne Street in Angola. On Wednesdays from July through October, a second market is open from 8 a.m. to noon on North Wayne Street. When you visit the market, you can find locally made goods, including:
Homemade desserts and pastries.
Raw and unfiltered honey.
Farm-fresh fruits and veggies.
Handmade craft items.
Homemade bread, jams and butter.
Goat milk soap and lotion.
Pottery and paintings from Angola artisans.
Wineries and Orchards
Spend your day sampling and touring your way through Indiana wineries, vineyards and orchards in Angola and the surrounding area. Popular destinations include:
Briali Winery in Fremont.
Satek Winery in Fremont.
Hartland Winery in Ashley.
Byler Lane Winery in Auburn.
Once you have had your fill of the local wine scene, the G.W. Stroh Orchard in Angola cares for more than 30 apple varieties, with fresh cider, apple butter and seasonal goods, like peaches, pumpkins and even Christmas trees.
Breweries and Restaurants
Angola offers a feast for locals and visitors alike, with restaurants serving delicious favorites like ice cream, pizza, donuts, steak, seafood, Mexican and deli-fresh lunch and breakfast specials. You will also find several chain eateries and plenty of options to choose from for your morning coffee and donut.
Enjoy local ale, beer and taprooms at Chapman's Brewing Company or Mad Anthony's Lakeview Alehouse for traditional brewpub fare and tasting events.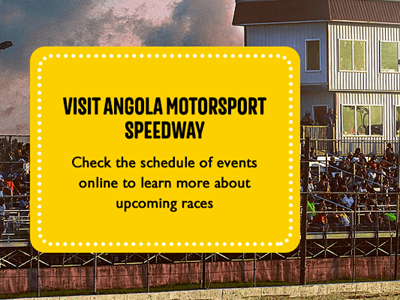 Visit Angola Motorsport Speedway
Angola Motorsport Speedway is a family-friendly venue with free parking, restrooms with changing rooms and a concession stand stocked with classic racing fare, like burgers and fries, sloppy joes and chicken strips. Elevate your experience with a suite rental, complete with air conditioning, furniture and the best view on the premises. You can also reserve a spot at the Turn 1 Party Deck and Fan Zone for the group that wants to be closer to the action.
Check the schedule of events online to learn more about upcoming races — grandstand tickets and pit passes are available at the entrance.
Go Golfing at a Local Course
Want to test your golf skills? Be sure to visit the area's golf courses and clubs, complete with varied terrain and obstacles, lush greens and beautiful seasonal foliage. You can join a league, enroll in a lesson or enjoy on-site dining at places like:
Zollner Golf Course on Thunder Avenue.
Glendarin Hills Golf Club on Glendarin Way.
Lake James Golf Club on W 275 N.
Hidden Valley Golf Course on E Metz Road.
Looking for something a little different? Skip the course and head to The Backyard Creamery & Mini Golf or the Commons Park Disc Golf Course for a fun twist on a classic favorite.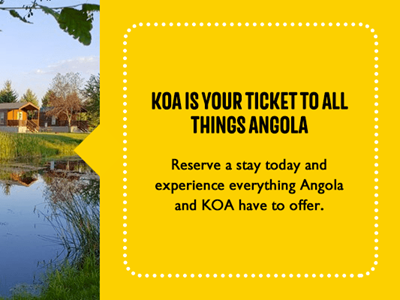 KOA Is Your Ticket to All Things Angola
As the only campground in the area open year-round, you — and your furry friends — will always have a place to stay at Angola/Hogback Lake KOA Holiday. Our helpful staff is here to help you get settled and get an inside scoop on the best places to visit near the campground, like those mentioned here. Of course, you do not have to leave KOA to find adventure with on-site amenities and recreation, including:
A lazy river.
A boat launch, rentals and docking facilities.
Golf cart and bicycle rentals.
Playgrounds.
Access to Hogback Lake fishing with a fish cleaning station.
Basketball and volleyball courts.
Water Walking Balls.
Picnic pavilions.
KampK9® and select pet-friendly sites.
Horseshoes.
A recreation room.
Themed weekend events, season and weather depending.
Choose from amp-connected RV Sites and Tent Sites. Every site is level and spacious, with a place to enjoy a fire or picnic with easy access to nearby restrooms and laundry facilities. We also have Camping Cabins and Deluxe Cabins for a rustic escape. Reserve a stay today and experience everything Angola and KOA have to offer.