9 Kid-Friendly Things to Do in Angola, IN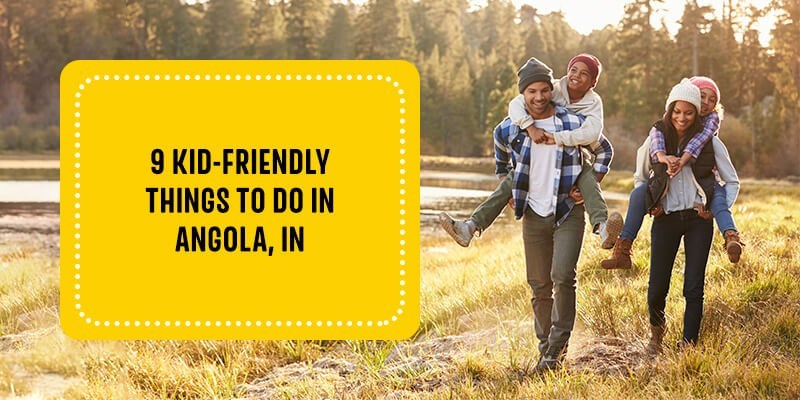 If you're bringing the kids on vacation to Angola, you might expect the brewing company and golf courses would be more fun for you than them. The good news is you can find several kid-friendly places to explore while you're visiting the area that will be especially meaningful for your kids and entertaining to you. If you ever run out of places to play in Angola, you can always go exploring in the surrounding cities, too.
Take your family to some of the nearby kid-oriented venues for a memorable adventure everyone will love.
1. Pokagon State Park
Located near Lake James, this park is a beautiful place to bring outdoorsy kids who enjoy everything the natural world has to offer. If you visit during the summer, go hiking on the scenic trails and head to one of the designated swimming beaches to cool off.
Pokagon State Park is also famous for its fresh winter fun, with a sledding track called the Refrigerated Toboggan Run that makes about a 90-foot drop through a cleared swath of forest. The experience is comparable to being on a roller coaster.
2. Lake James
If you and your adventurous young ones are in the mood for a trip out on the water, the James Lake Chain is popular for such recreational activities. Plus, it's easy to access from Pokagon State Park. Depart from the shore to go kayaking or gather everyone into a motorboat. Try pier fishing for freshwater specimens like crappie, bass and walleye, and hold a fish fry on a grill in the open air or keep score of your largest catches before throwing them back.
3. Commons Park
As the largest town park in the county, Commons Park boasts a little something of everything, which is most known for its community-built wooden playground in the shape of a castle. The kids will love pretending to explore a real castle as they climb the towers and run between the turrets.
If you want to help coach your kid in shooting hoops or perfecting their passes, there's a basketball court, soccer field and a volleyball court. The park is equipped with games like horseshoe pits and an archery range where adults can mingle as they supervise their children.
The nature trails take visitors to peaceful nooks away from the crowd, such as a wildlife overlook station near a wetland and a deck bordering a natural spring. Here, you'll find an abundant array of local wildlife that will truly wow you and your kids.
Commons Park also has several shady pavilions with barbeque grills, a bandstand and many accessible restrooms.
4. Trine State Recreation Area
This park in Fremont is only about an 11-minute drive from Angola and is located directly across from Pokagon State Park. Trine State offers a lot to take in, with over 200 acres of woods, blooming meadows and wetlands teeming with little critters.
Rent a paddleboat or motorboat for a trip out on the lake, or you can bring your own equipment. The park also has a pier where you can bring poles and tackle after getting permission to fish at the welcome center.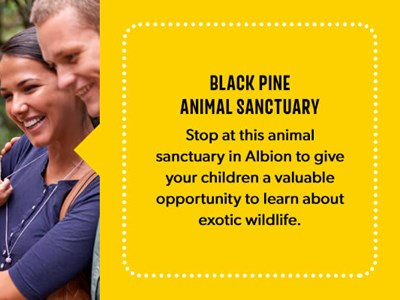 5. Black Pine Animal Sanctuary
Stop at this animal sanctuary in Albion to give your children a valuable opportunity to learn about exotic wildlife. It's less than an hour away from Angola and well worth the trip. There are over 60 species of animals from around the globe here, many of which are endangered — waiting in the enclosers are lions, tigers, bears and numerous other animals.
The Black Pine Animal Sanctuary offers different kinds of tours. If you have very young children, we suggest checking out the Toddlers & Tots tour, specially designed to entertain the youngest visitors.
6. Science Central
If your kids are curious about biology, math and technology, here's a great place to stop in Fort Wayne. Science Central features a large-scale display of the earth and the intact skeleton of a mastodon that was unearthed here in Allen County, among several other activities. Any eager learner will love looking at the interactive exhibits and listening to information about the planet and its many curiosities. There's something for everyone — the young ones can make friends in the active play areas, and older kids tend to find the displays interesting.
7. Fort Wayne Children's Zoo
Fort Wayne Children's Zoo has free parking, and all kids ages 18 or younger can enter for a discount. With 38 acres of over 1,000 exotic animals and several educational displays to read, you'll have a hard time running out of sights and things to do at this zoo.
The facility is divided into themed sections based on the national origins of the animal inhabitants. Sections include the Australian Adventure block and the Indonesian Rain Forest. If your family gets hungry, you can stop for a snack or meal at the food stands. Remember to check out the Wild Things Gift Shop for kids who love browsing for toys.
8. Botanical Conservatory
For a sight-seeing adventure in Fort Wayne, visit the Botanical Conservatory and check out the four Showcase Gardens. There are endless displays of carefully tended gardens with various flora, including rare flowers and exotic trees. The fauna is also something to behold, with exhibits to showcase butterflies and more.
Each garden is themed and has unique features running along its shady pathways, including information about the various plants. As a result, kids can learn about a variety of surprising topics from the displays, including the agricultural practices of Ancient Egyptians.
9. Hall of Heroes Superhero Museum
After you've engaged in all the best recreational activities in the area, head to Elkhart to tour a must-see superhero museum. With life-sized statues of the kids' favorite characters and colorful displays that showcase the history of superheroes in film, TV, animation, comics and more, little ones who love all things about this action-packed genre will delight in coming here. The building itself is a replica of the Hall of Justice, and a replica of the Bat Cave is featured inside.
Take pictures with the characters in their epic poses, and visit the Hall of Heroes Superhero Museum arcade room to try your luck at the superhero-themed games. There's so much to explore and see here that you just might have to make a day out of it.