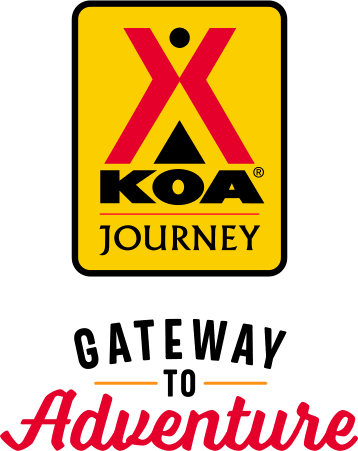 KOA Journey Campgrounds
KOA Journey campgrounds are the perfect oases after a day on the road. Whether it's along the way or a quick getaway, they've got you covered. Located near the highways and byways of North America with long Pull-thru RV Sites, they deliver convenience to the traveling camper. Pull in, ease back and take a load off.
KOA Journeys Feature:
Pull-through RV Sites with 50-amp service
Premium Tent Sites
Well lit after hours check-in service
Directions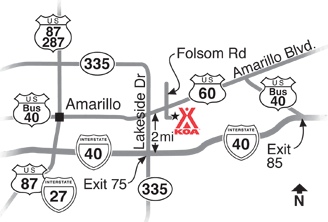 I-40 traffic take Exit 75. Go north 2 miles to Amarillo Blvd/Hwy 60 Exit, then east 1 mile.
Southbound Hwy 287/87 traffic take Loop 335/St. Francis Exit, then east 8 miles to Amarillo Blvd/Hwy 60 Exit, then east 1 mile.
Get Google Directions
May 04, 2021
Our stay at this KOA was good except for the wind. Real flat in this part of Texas. Really enjoyed the surroundings. Palo Duro canyon is great and found a good southern food resteraunt. (SAMS). Made the whole trip worthwhile. We will coms back and stay longer.
May 04, 2021
We had a great experience.
May 04, 2021
Very nice clean campground to spend a night or 2, friendly staff that do a great job keeping the park clean. Some reviews complain about noise from the road, airport and train but it's not that bad.
May 04, 2021
We have stayed here before. Staff is very friendly. We happened to be there when a storm was going through. It was a harrowing night with strong winds. But, we will stay here again. There is a service where you can call The Big Texan restaurant and a limo will come pick up and take you to restaurant or you can order delivery to campground Uber Eats or Door Dash. The limo has big horns on the hood.
May 04, 2021
Passing through the area with a group of 5 campers, so it was just an overnight stay. Staff was very friendly and helpful. The layout and sites were good. No problems or issues. Staff was helpful on restaurant recommendations and ensured we had the limo transport lined up for 10 people to the Steakhouse.
May 04, 2021
We were greeted with a friendly staff and great facility. I am grateful for the tent site so close to the bath house! I will recommend
May 04, 2021
Was treated very well and were very helpful assistant me to park my pop up trailer. Left a day early because the weather was going to change and we had a baby and they were nice to reemburst my money back in my credit card. Kept the site clean and trash cans were also kept in tip top shape.
May 04, 2021
After setting up I found no wifi available at the site and the TV cable was not good....picture was very grainy. The office did not return my call to discuss these topics. So I walked to the office after one hour to advise of poor cable reception and no wi-fi. The office personnel were not to concerned and said wifi and TV was available in the office lounge...not setup for covid-19 protocol.
May 04, 2021
The campground is very neat, clean and tidy. The staff is very friendly and helpful.
May 04, 2021
Great place to stop over night. Friendly staff and very clean restrooms. There is a train nearby so that was a bit loud, but still a great experience overall.
May 03, 2021
Nice roomy sites. Loved the staff! Very helpful.
May 03, 2021
Fantastic! Easy to arrive, sleep, shower, and then get back on the road. Loved our stay!
May 03, 2021
Great service
May 03, 2021
The problem I have with this location is just that location. Many Dilapidated and run down houses and buildings around this location. The campground itself is clean but needs to plant trees throughout the campgrounds.
May 03, 2021
Friendly staff, awesome gift shop, cute cabins.
May 03, 2021
Horrible. The space assigned to me is on a septic tank Which smells terrible with toxic gas. Worst of all when I called to the office the manager hanged up on me. It is a health hazzard.
CAMPGROUND RESPONSE / COMMENTS:
As I tried to explain to you, before you RUDELY interrupted me accusing us of discrimination. The cement structure you are referring to is not a sewer compartment. It's and old abandoned junction box for water lines. Your reservation was made online the system picked your site. It's not appropriate to yell at staff either
May 03, 2021
Grounds were not very well maintained, tall weeds all around us. We're we're turned away when we showed up at 1pm and told we were not allowed on the property until 3pm. Worst KOA experience we have ever had.
CAMPGROUND RESPONSE / COMMENTS:
Website and all correspondence states cabin check-in times. Check out is eleven and we need to make the cabins sparkle for guests checking in at 3. Just like a hotel! Everyone here works very hard and it's a shame you couldn't recognize that.
May 02, 2021
Great campground with actual grass and wide open space. Staff is conscientious and friendly, facilities and grounds are immaculate, even the WiFi was great! One of the best KOA's we have stayed in (been on the road since Nov2020).
May 02, 2021
Are you kidding me? Escorted off of the property for absolutely no reason given a trespass warning for no reason. 10 year old daughter and single mom leaving in shambles and in tears after being robbed blind and our identity stolen in Amarillo forcing us off onto the streets making us leave our support service animal behind humiliated and on top of that they charged us $25 check out late fee.
CAMPGROUND RESPONSE / COMMENTS:
The police suspected, as we did, that illegal drugs were being used on the park. We gave you more than ample time to leave the park. Our policies clearly state a $25 charge at 12:30. We had guests checking in and you still refused to leave We found your cat, and returned it as promised Good luck!
Apr 30, 2021
Nice easy camp off the I40. Host were great. Nice areas for your dogs to exercise.
Apr 30, 2021
I love the fact that the showers were private. And piping hot. Dog park could have been a bit bigger with a watering station.
Apr 30, 2021
We stayed in the studio cabin#9. Friendly staff at check in/out. Cabin located near store, laundry and entrance.very quiet Kampground. We have come to love the KOA KABINS!
Apr 29, 2021
Online stated internet access but it was only available if you walked to the office. This should be stated when looking at the web site
Apr 29, 2021
Loved the campgrounds, the wind was an issue, stayed twice on the way and then back again. WIFI was an issue both times, the second time was due to the wind, the first time not sure what the problem was. All the other KOAs no problem with wifi. Office personnel great, loved the fact that personnel took you to the site. Noticed in some campgrounds but not all.
Apr 29, 2021
We checked in and backed our teardrop trailer into our spot. We took our dogs for a 20 minute walk and when we returned our roof top tent, awning and rack had been pried off the top of our teardrop and stolen. I reported the incident to the clerk and manager. The manager stated I should call the police, which I did. I was instructed to file a police report. Feeling unsafe, we left.
CAMPGROUND RESPONSE / COMMENTS:
Fortunately we do have survellience video surrounding the park. We did look at the video and you checked in right around 6:45 Tuesday evening and the video shows that your tent topper was not attached at that time. I'm sorry that you didn't feel safe but our park is well lit with people on call 24/7
Apr 28, 2021
The accommodations were excellent, the staff friendly and helpful, the rates affordable. We especially enjoyed the free limo for our first-night-in-Texas dinner at Big Tex. Our next stay was our last night in Texas, and we wanted some good Mexican food. We asked the staff where they ate and got a great suggestion. The food and service was terrific! KOA will now be our go-to RV park in Amarillo!
Apr 28, 2021
We got there in the dark to set up our rv for the first time and it was easy. very windy the next morning but was easy to disconnect.
Apr 28, 2021
Good place to overnight. Cable was good, New hookups and table. New grass has been seeded. No trees so no shade. Wind always blows here so no awning either.
Apr 27, 2021
The staff and store were very nice.
Apr 27, 2021
Great cabin, mattresses were thin, the rest of camp AWESOME!
Apr 27, 2021
KOA campgrounds are great in general, but this one is something special. Great sites, great amenities. Fantastic staff. Albuquerque is beautiful. You'd be hard pressed to find a better campground.
Apr 27, 2021
Great office help! Increased signage would be helpful - we drove right past. Well maintained
Apr 27, 2021
Excellent stay.. very clean, very friendly!! We would stay again!!
Apr 26, 2021
Dirt.... lots of dirt. The place could use a good dose of water and some grass. It was functional for a one night stay but definitely not a destination.
Apr 26, 2021
Scheduled a 2 night stay to rest while traveling east. Unfortunately, this KOA is situated between multiple busy train lines on one side and an airport on the other. In addition, there is no shade or trees to block wind and the spots are narrow with the sewer line toward the front of the site. Witnessed a fellow traveler trying to back in to a site with low hanging trees. Narrow sites.
Apr 26, 2021
Great!! So clean and wonderful showers!!
Apr 26, 2021
The people were very good at what they do and very nice . We had a great stay Thanks
May 05, 2021
Great koa to stay at!
- Craig Keller on Google
Apr 26, 2021
Nice and friendly here-- clean & quite
- kevin gardner on Google
Apr 25, 2021
We had a lovely stay in the basic cabin. The camp was quiet and facilities were very clean. The staff were friendly and helpful. I recommend visiting and relaxing to the bird songs, wandering bunnies, and to see the nearby prairie dog field (the kids will love it — bring binoculars).
- Kimberly Dietz on Google