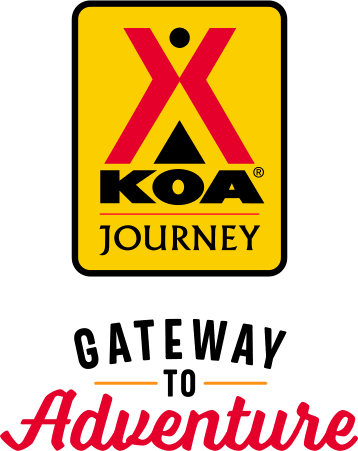 KOA Journey Campgrounds
KOA Journey campgrounds are the perfect oases after a day on the road. Whether it's along the way or a quick getaway, they've got you covered. Located near the highways and byways of North America with long Pull-thru RV Sites, they deliver convenience to the traveling camper. Pull in, ease back and take a load off.
KOA Journeys Feature:
Pull-through RV Sites with 50-amp service
Premium Tent Sites
Well lit after hours check-in service
Directions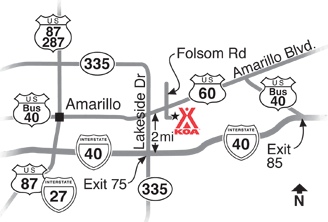 I-40 traffic take Exit 75. Go north 2 miles to Amarillo Blvd/Hwy 60 Exit, then east 1 mile.
Southbound Hwy 287/87 traffic take Loop 335/St. Francis Exit, then east 8 miles to Amarillo Blvd/Hwy 60 Exit, then east 1 mile.
Get Google Directions
Sep 25, 2021
The people were caring and professional. Wish there were more trees!
Sep 25, 2021
Cute campgrounds with cheerful hosts. Well kept and clean facilities. The sites are a little close, or that could be that my neighbor had soooo many slides!
Sep 25, 2021
This is place is the "poster-child" for KOA. We've stayed here a couple of times and it is consistently one of the best campgrounds we've stayed at. The grounds are immaculate, everything is in fine working order and the staff professional and friendly. Well located for visiting Amarillo and the surrounding area.
Sep 25, 2021
Brilliant KOA awesome staff
Sep 25, 2021
Very nice office personnel and escort in super friendly. Spaces fairly wide compared to others. Nice store . Not too far from town and shopping
Sep 25, 2021
We checked in after midnight and had no issues finding our spot and getting settled. Everything was very clean. Great stay!
Sep 24, 2021
Great campground and staff. Easy access. The only reason for the lower rating is I am not fond of train whistles all night. Not much sleep and in our case we stopped for the night to prepare for the next days journey.
Sep 24, 2021
only complaint was the amount of flies on our site...Not a few but literally a thousand. Clean BATHROOM...Nice pool..The Limo service from the Big Texan was a nice touch.
Sep 24, 2021
We were only there overnight but our site was easy to access.
Sep 24, 2021
This is a very nice kOA. It's quiet and maintained well. This was my second stay here.
Sep 24, 2021
We had a great site on an end and while some folks complain about the noise, we weren't bothered by itenjoyed. Could hardly even hear anything inside our RV. In fact, my husband enjoyed sitting outside and watching the planes and trains. There's a nice place about 30 miles away to do a "jeep tour", which we also enjoyed.
Sep 24, 2021
The staff was very friendly and helpful. Such a clean campground. Loved the wide space between sites.
Sep 23, 2021
Sites are very close together
Sep 23, 2021
Great staff! Thank you.
Sep 23, 2021
Nice place to stop overnight. Very friendly staff and level sites. We've been here several times and will be back again.
Sep 23, 2021
The place was great, hated the train passing by all night long, couldn't sleep
Sep 23, 2021
Easy check-in when arriving late and a nice map to guide us directly to our reserved spot. A very nice KOA. Plenty of room between campers and the it's neat and clean.
Sep 23, 2021
People were nice. The best part was the free limo to The Big Texan Steak Ranch. It was the highlight of our night. The spot was smaller than we thought so the car had to come off the dolly. Being by a hwy, an airport, and train, made it a little hard to sleep.
Sep 22, 2021
This is a Journey site, so not much to see other than the RV sites, and it was a bit further from I40 than we expected. That's OK though, as we are one night standers while we cross the country. Easy in - east out - pleasant welcome - clean and well kept. That's all we ask for. That's what we got.
Sep 22, 2021
Checkin was easy, the cabin/showers were very clean and overall impressed with all of the facilities.
Sep 22, 2021
Loved it! Super helpful people and easy set up!
Sep 22, 2021
out of 5 koa campgrounds i stayed at this is a modal for the rest the price is good grounds are clean
Sep 21, 2021
Rather pay more for decent WiFi.
Sep 21, 2021
Other than the trash dumpster overflowed was a nice camp.
Sep 21, 2021
One night, no big deal! Just a travel stop! Trash dumpsters were full and overflowing, not good! Everything else was fine!
Sep 21, 2021
Nice Koa I always stay at this KOA when i go to illinois.
Sep 21, 2021
Very friendly nice big spaces and I love the trains
Sep 21, 2021
First time and loved it! We stayed in a cabin because my brother has sleep apnea and needs to use a CPAP Machine. We also found out that there are tent sites with electric hookup which we can use too!
Sep 20, 2021
Always a great place to stay! Pet friendly. Great staff. Will be staying there again soon!
Sep 20, 2021
We were just passing through and only stayed 1 night. The staff was friendly and courteous, site was level, lots of room to walk the dogs in addition to the dog park. Price was reasonable for our FHU site.
Sep 20, 2021
Nice time. Quiet and I liked my premium space.
Sep 20, 2021
The park was beautiful and superbly maintained. Everyone was very friendly and helpful. Would definitely stay again!!
Sep 20, 2021
The sites were too close and the staff wasn't overly helpful or friendly. The sewer hose does not reach for use until you're ready to pull out and pull up to dump. The pool wasn't heated at all and wasn't very clean. We did not use the restrooms or showers but they looked clean. They do not respond to text messages even though they send a text telling you to use it to communicate. Not a gr
CAMPGROUND RESPONSE / COMMENTS:
Guest texted at 7:30 after our office had closed. We don't monitor texts 24/7. She had a roomy pull through. Why did we get a complete failing score because of the text?
Sep 20, 2021
Employees GREAT. The store was great. Didn't give a 5 because someone STOLE our rock tamers right off the truck and it was connected to the 5th wheel!!! We travel full time and have NEVER had anything like this happen before. Out a few hundred bucks and extremely upset. If you stay here LOCK **ALL** your stuff up.
CAMPGROUND RESPONSE / COMMENTS:
We do have cameras on the park and we've NEVER had anything stolen. The pool IS heated and cleaned at least once a day. We have not had a complaint.
Sep 19, 2021
paving the campground would be great.
Sep 19, 2021
Always a friendly Texas welcome!
Sep 19, 2021
Great place to stay. Great Camp K9. Friendly staff and efficient check in. Quiet, even being next to an airport. Will stay here again.
Sep 19, 2021
Arrived after dark and after office hour. Everything where they said it would be and able to park without difficulty. Sites long enough for our 40' fifth wheel. Wouldnt have had to disconnect. Left next morning.
Sep 19, 2021
Only stayed one night but we had an easy check-in and the place was clean.
Sep 19, 2021
It was good. The sites are pretty close together, but we were there for less than 12 hours. It was a quiet well maintained place to stay.
Sep 19, 2021
Great staff, nice level sites, free limo service to famous steakhouse.
Sep 20, 2021
I've been tent camping here for years, usually in July or August. It's always been a nice place to stay. Clean and quiet.
- Steven Campbell on Google